10+ Popular Notion Templates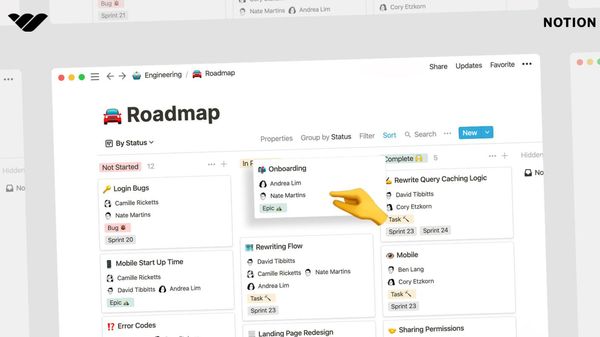 Introduction
There is no secret to the value Notion provides as a platform and software product. When it comes to organization and productivity, Notion has most other platforms beat. Whether you're buying, selling or just exploring different options available, this guide will give you an understanding of the different types of templates available.
As a workplace platform, Notion enables individuals to create their own organizational templates for a myriad of different use-cases, whether they are personal or professional. Need help tracking your finances? There's templates available for that. Your workplace lacks organization? There's a template for solving that too, and just about everything in between.
While there are thousands of categories out there for you to choose from and browse templates for, here are the ten Notion templates we love.
Ultimate tasks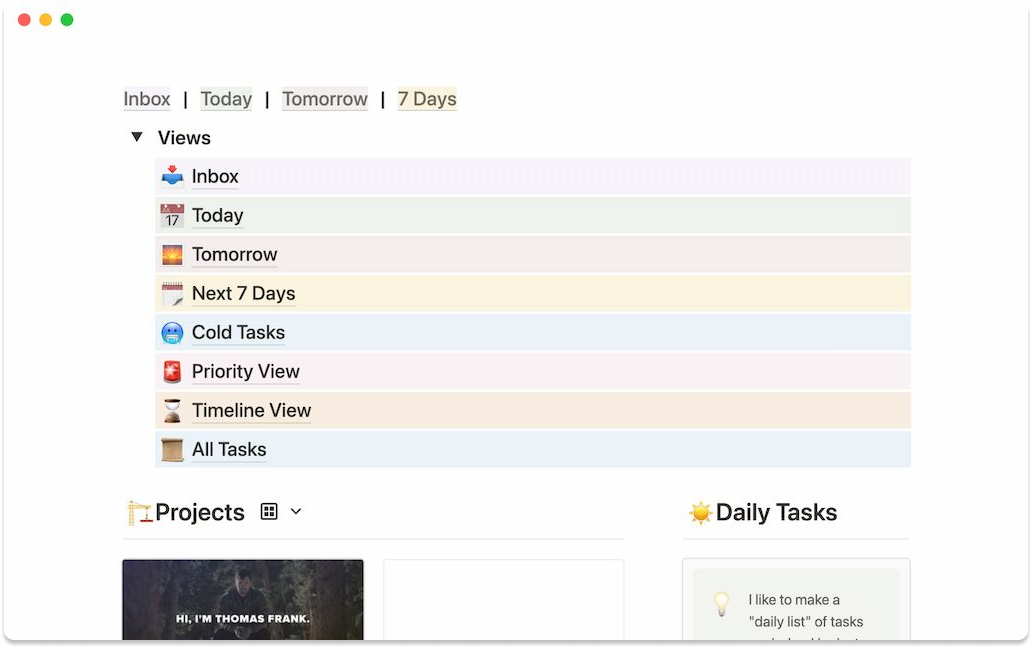 Ultimate Tasks is the perfect project management template.  By clearly setting up your calendar and inbox, Ultimate Tasks keeps everything in your life perfectly organized and gives you the ability to creat projects with easy. Simply, prioritize your concerns and let the template do the rest.

Brainstorming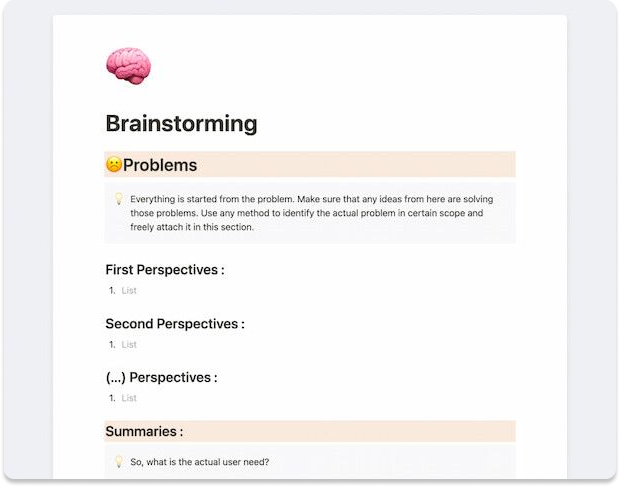 Brainstorming is perfect for solving problems with a team.  Here, you can use multiple perspectives at once and carefully organize all of your thoughts.  The "What's Next?" feature is a very key component to the template, proactively sparking future ideas for projects.  And, like the previously mentioned template, you can create a prioritized list so that you and your team can function like a well-oiled machine.  
Meeting notes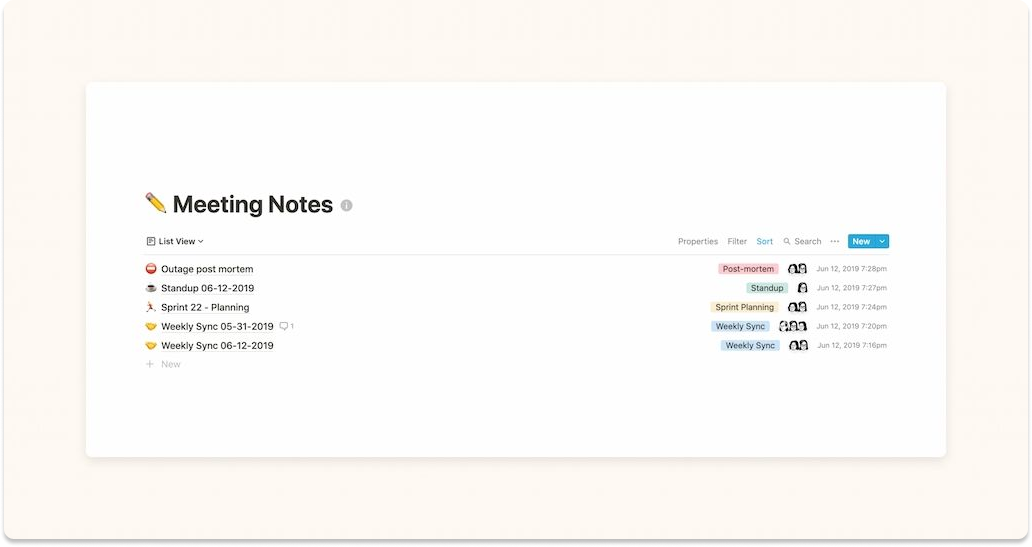 If you're a neat freak, this one's for you.  Meeting Notes is the best template for getting the most out of your meetings.  Different users can add notes to the template, creating a perfect flow for your workforce and ensuring that all voices can be both heard and seen.  Even if you don't attend the meeting, this'll have you covered.  
Roadmap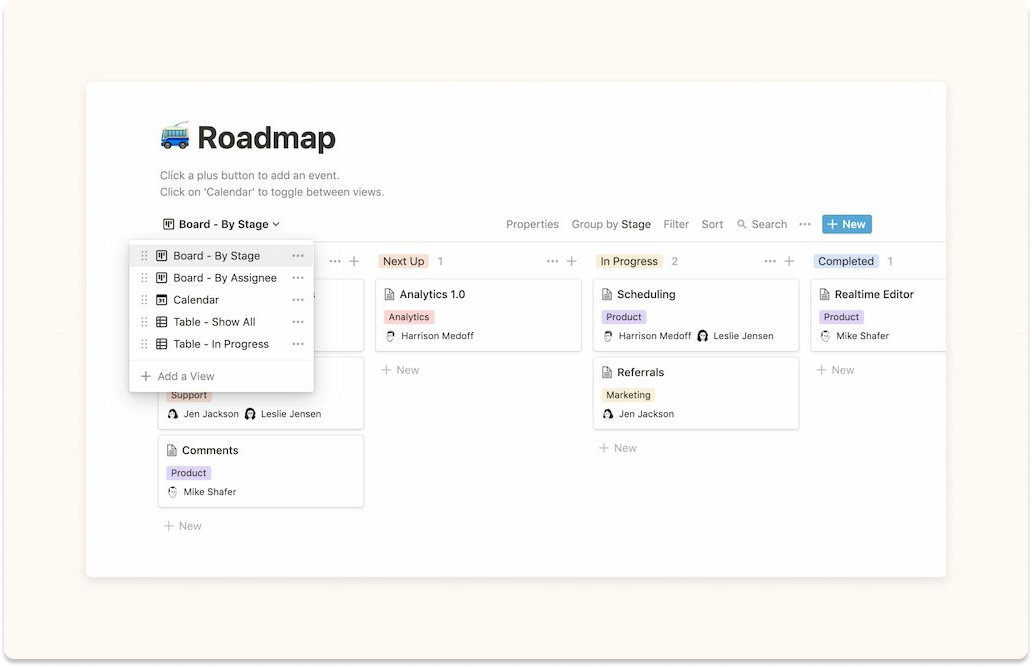 Roadmap allows you to visualize product features from each step of the process, from inception to development to completion.  By carefully highlighting the minutae of each step (by stage, by assignee), everyone in the company can have a clear view as to where things are and where they are going.  
Product FAQs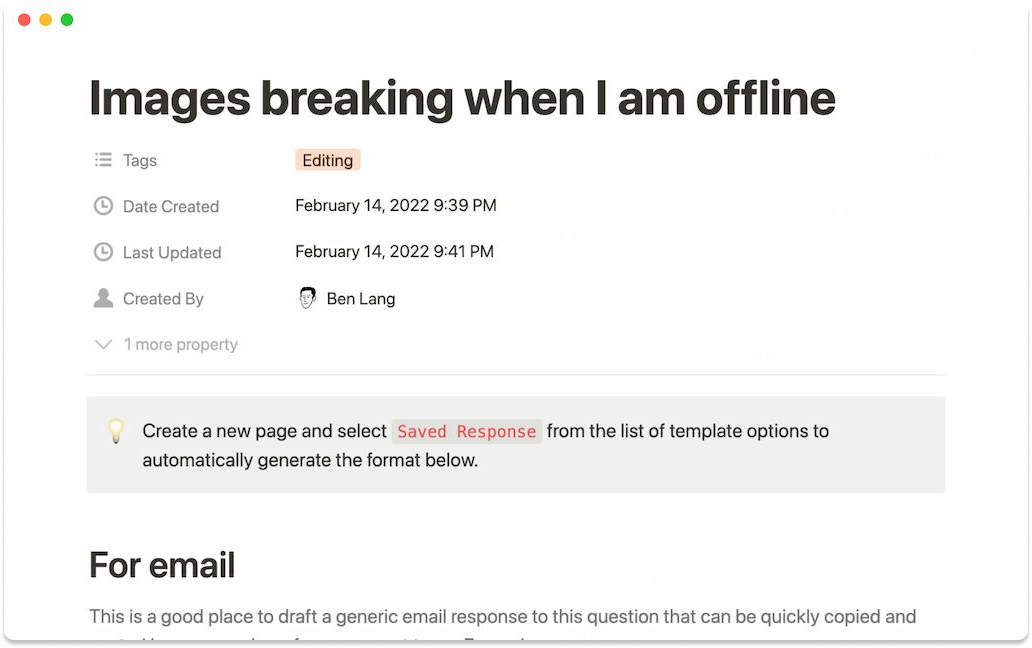 This is the perfect template for those looking to have the best relationship with their consumers.  Here you can carefully track users' thoughts on your product and how you can improve.  Plus, there's a separate page where everyone can both see and edit content.  
Weekly agenda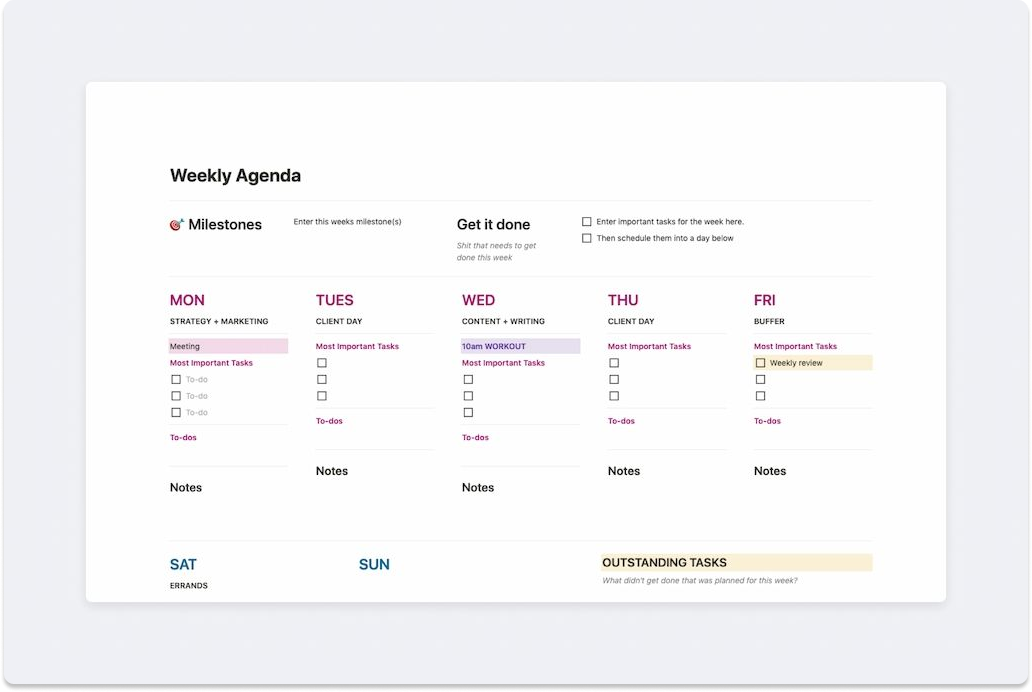 Everyone's week can get incredibly cluttered; we all know that.  Using Weekly Agenda, however, you can enhance efficiency and create time for yourself when you need it most.  By allowing you to carefully plan events - both personal and professional - down to a tee, this proves to be the perfect template for looking towards the future.  
Looking to create your own templates?
Before we get into the next 5 templates we recommend, if you are looking to sell your own templates, we would highly recommend you review our guide on selling Notion templates on Whop.
Reading list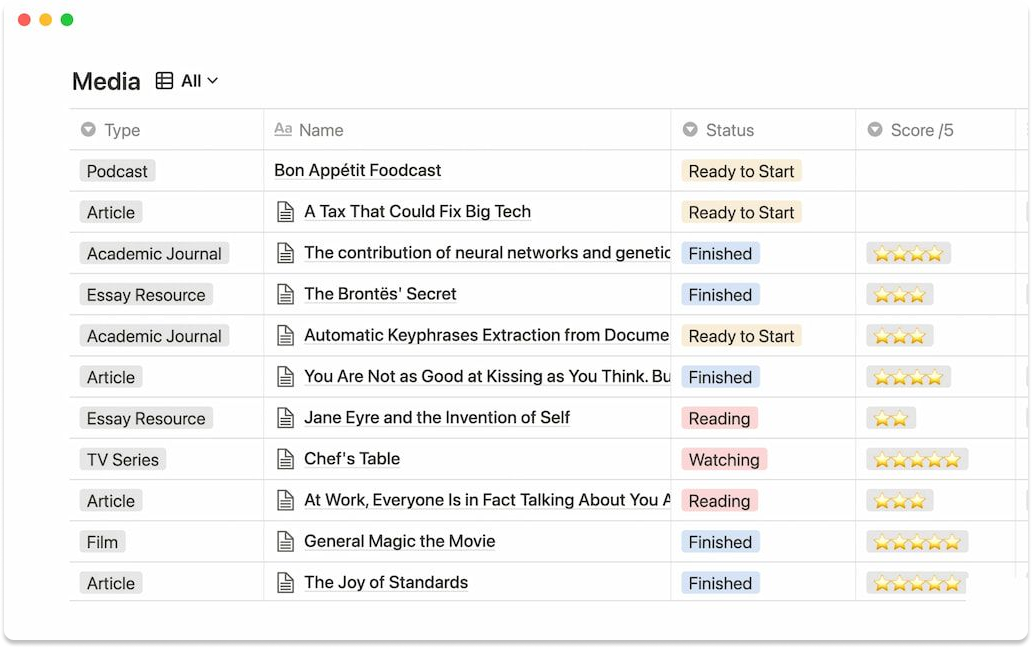 The life of a student can get very overwhelming in today's day and age.  Luckily, Notion's template, Reading List, allows you to organize your upcoming assignments and carefully mark when they're completed, a feeling unlike any other.  Plus, you can organize your work by media type, whether it be books, podcasts, films, etc.
Finance tracker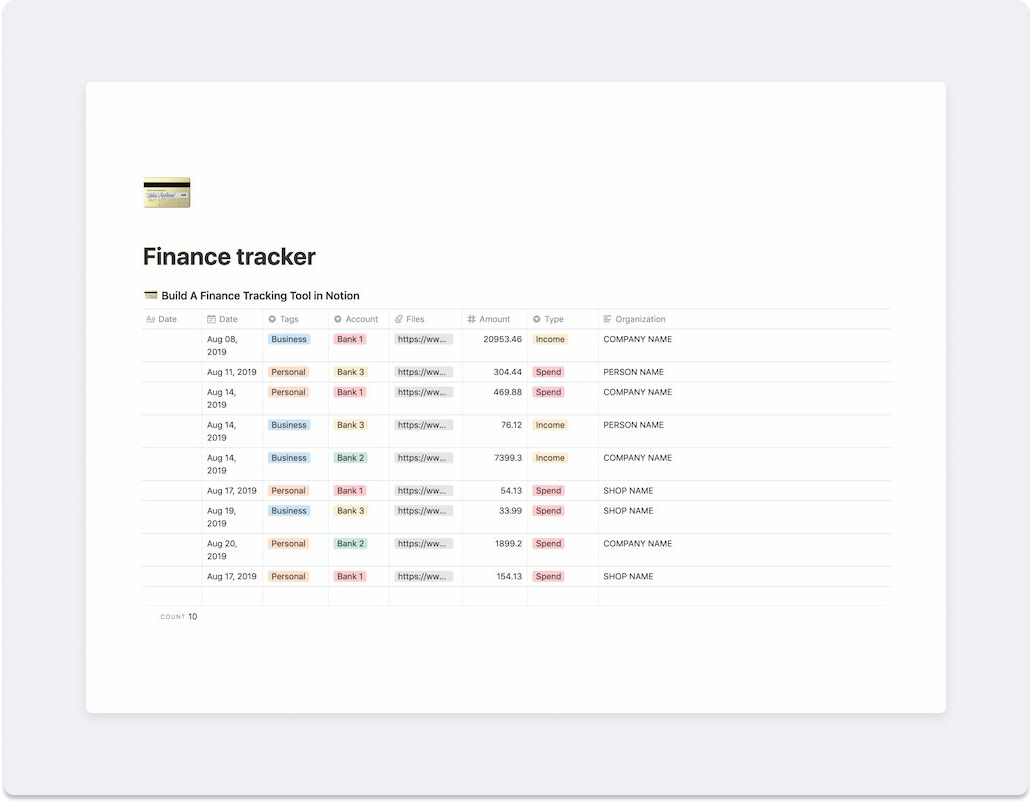 This Finance Tracker template is the most efficient way to break down and organize your finances.  By carefully marking which money is being spent or received, and whether it's personal or business, you can easily keep track of your money and ensure that no penny goes unaccounted for.  
Dream job search tracker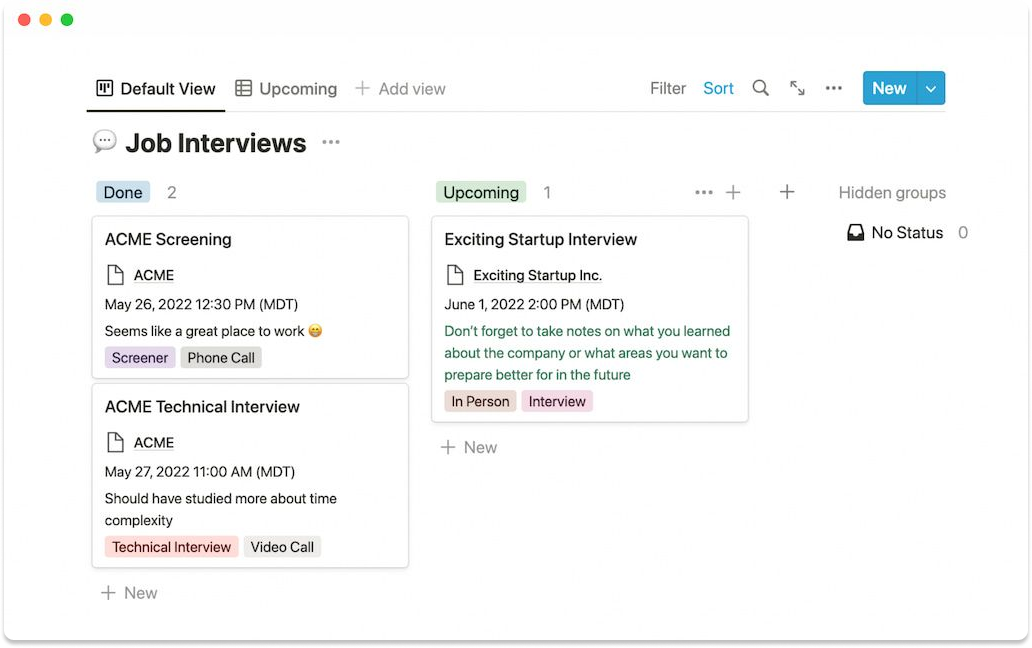 The job search process can be tedious and, quite frankly, aggrevating, so being organized and on top of everything can only makes things better.  The Dream Job Search Tracker is perfect for seeing things like what interviews you have coming up, important notes to remember, and applications you're currently waiting on.  It keeps things neat and tidy and ensures you won't miss a beat on anything.
Knowledge vaults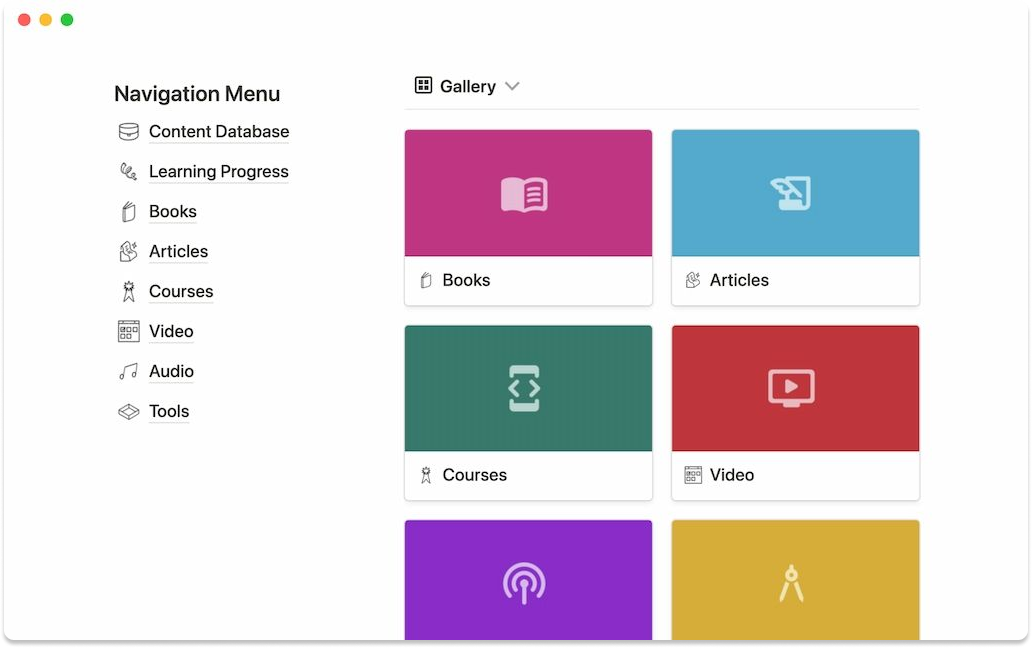 Having trouble remembering things?  There's a template for that.  Knowledge Vaults is the ideal place to keep track of all the things you're currently learning, fun facts and all.  Each "vault" is carefully (and colorfully) marked to make sure that you have easy access to all of your newfound learnings.
Important note
If you are looking to find more templates like these, we would highly recommend you browse our Notion marketplace. If you are a creator yourself, we highly recommend checking out our guides on our Notion marketplace benefits and how you can sell access to your Notion templates.
Join 500,000+ entrepreneurs getting first dibs on the best digital products.
100% free. Unsubscribe at any time.