How To Use AI Writing Tools To Enhance Your Marketing
Introduction
Generating content for your company website and other marketing strategies can be challenging. When you are running a business, you have a lot of things on your plate, and planning and creating your marketing is a big part of that. Not everyone is a naturally talented writer or editor or is perfect at getting all of their thoughts completely organized on paper. Also, not everyone simply has the time for creating perfect written content organically, even if they might want to! Likewise, content generation and marketing are ever-evolving, which can be tough to keep up with. AI writing technology is a relatively new solution on the market these days which can help with business writing and SEO strategies.
AI is short for artificial intelligence and is a very broad, general term used to describe technology that can auto-generate various forms of content, depending on its individual purpose. One popular example of an AI writing tool that you are probably already familiar with is Grammarly, which checks writing for grammar and spelling mishaps.
AI can be used for a multitude of different purposes and marketing is no exception. AI writing tools can be an effective way to generate quality content for your business website. This article will help to explain what AI writing tools are, how they work, what they can be used for, and how to use them properly. With an overview of all of the many uses and benefits of AI writing tools in mind, you'll be able to reap the marketing benefits in no time at all!
An overview of AI writing tools
So what exactly are AI writing tools, anyway? You might have a vague idea of what they are already, but for many people, the concept of artificial intelligence can be confusing. Many people don't understand exactly what an AI writing tool does or what they can use it for. Thus, there is a lot of misinformation and negative perceptions out there about AI; but that doesn't mean that it deserves this reputation. In fact, the exact opposite is true– AI has a ton of potential when used correctly.
In many ways, AI as a whole is in its infancy. However, that does not mean that it is still not useful. This is true for AI writing tools just as much as AI art generators or other automated technology. While not 100% automated yet, AI writing tools are still powerful technology that businesses can use to help grow their companies and generate quality SEO marketing content.
Here's a list of some of the things AI writing tools can do for you and your business:
Generate content based on a topic, tone, style, etc.
Edit grammar and detect spelling errors
Help you create an outline to build off of
If grammar and spelling aren't your strong suit, that's okay. AI writing tools can help prevent spelling and grammar errors since they're already preprogrammed to catch those issues.
AI can help you come up with new ideas
Overcoming writer's block can be frustrating. If you're feeling stuck, an AI writing tool can be a great assistant and help you determine a direction to go in with your marketing writing. Sometimes all you need is a little bit of help from AI to get the first few ideas down, and then it becomes much easier to write more on your own. Even just using the AI writing tool to help you come up with an outline you can then organically write an article from can sometimes be all you need.
While AI writing tools are very useful, there are a few general things to keep in mind when considering them for use with your business. AI writing tools cannot completely replace everything a human writer does.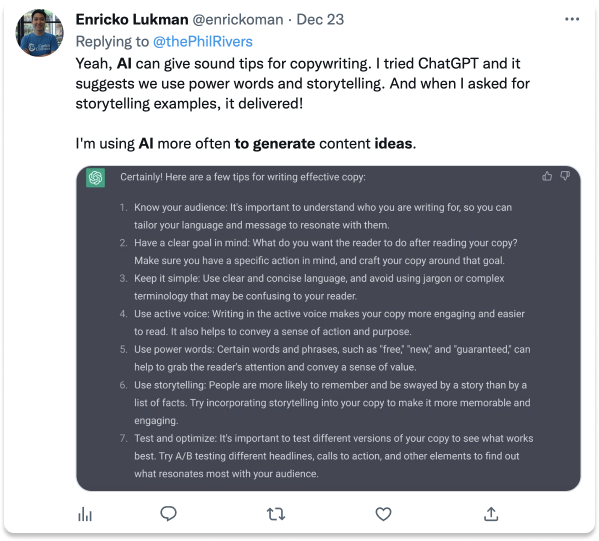 Can AI 100% replace a human writer?
While AI writing tools are great, they aren't always a perfect replacement for a human writer. AI writing tools can sometimes miss some of the nuance and context of the content it is writing about. It's always a good idea when generating marketing content to take time to read it and edit it as needed before publishing it. AI technology is very useful, but it isn't always exactly perfect.
Is AI writing good for SEO?
SEO stands for search engine optimization, which means creating content that is designed to organically generate website traffic via a search engine. If SEO sounds confusing, don't worry! It's a lot more simple than it sounds. It also applies a lot of the same concepts a successful business is already utilizing.
Using an AI writing tool for marketing your business can have the following benefits:
It's a time saver
Rather than having to waste unnecessary time writing, you can now confidently leave such content generation to your AI writing tool. Outsourcing this writing to an AI tool allows you to free up time to build and focus on your company's overall goals and visions. You'll be able to both generate marketing content faster and grow your company faster. It's an investment in your business's future, so consider your options before sitting down and trying to write yet another tedious marketing article.
There's less editing
Sometimes someone might be a science guru or business genius, but when it comes to writing, they tend to get stuck! All of us have different strengths and weaknesses when it comes to running a business, and writing is one of them. If you're not a naturally talented writer, or if you tend to struggle with grammar or spelling, AI writing tools can be a lifesaver. AI writing tools allow you to input your ideas and other preferences (such as tone of voice), then the AI translates them into a full article of your desired length.
It can help with SEO
Having your website content optimized for search engines can help generate website clicks organically for your company. You can use some AI writing tools to automatically check that your content is SEO-ready or to generate content that is optimized for search engines already. Some AI writing tools even allow you to input your desired SEO keywords to be added to your writing sample. Utilizing keywords in order to naturally generate website clicks and reduce bounce rates is a key part of SEO writing. An AI writing tool can help you generate good quality SEO writing and grow your website traffic.
It's budget-friendly
Rather than having to worry about creating a new position or going through the process of hiring a writer, you can use an AI to generate the kind of content you have in mind. AI writing tools are also a great long-term investment, as you can use them over and over to generate whatever sort of marketing content you want. You can potentially save a lot of money in the long run, and by utilizing SEO, you'll also continue growing your business to its maximum potential, establishing yourself as a trusted professional in your industry.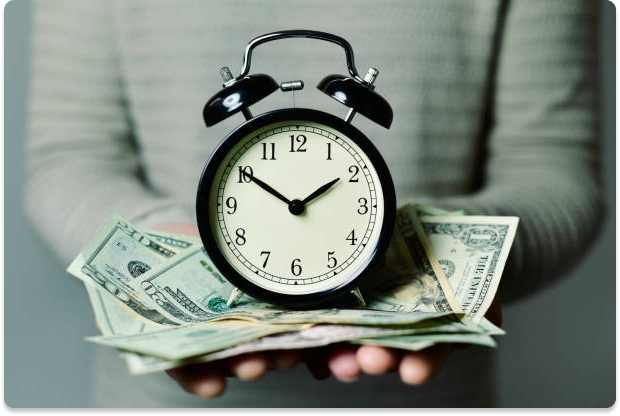 AI writing tools empower creative freedom
We've all butted heads with someone over a project now and then. It happens to everyone sometimes, and when it does it can be frustrating, especially when two coworkers just have different creative visions. An AI writing tool can allow you to customize and create your ideal writing voice collaboratively.
It can make you a better writer
Even if you don't consider yourself a good writer, you might be surprised to learn that using an AI writing tool can actually help you become a better writer. Despite what you might have heard, using AI writing tools is not just a way to "cheat" at writing.
An AI tool can flag your spelling and grammar mistakes, show you how to correct them, and allow you to recognize which mistakes you make the most often. Over time, you may learn to have a better eye for these grammar and spelling mistakes, as well as have a better grasp of tone, style, and general flow. While an AI certainly can't teach you everything and isn't a substitute for a writing or grammar class, it can definitely make you a stronger writer if you're willing to take the time to go over the content. Remember, as with anything else, you get out of it what you put into it!
Come up with new ideas
Utilizing an AI writing tool can also be a great way to get through a bad patch of writer's block and drum up some new content ideas. Pretty much everyone in the business of marketing knows that coming up with new marketing concepts and ideas can get tough from time to time. The fact is, we've all been there! You can use an AI writing tool to explore variations on new ideas and get the creative juices flowing.
AI writing tools
You might be wondering what kind of AI tools for writing are even out there. Today there are a number of AI writing tools on the market. Which one you choose will depend on your company's marketing needs. Some tools merely provide simple grammar or spelling edits, while others can help you improve your content's SEO or even create entire pieces of writing from scratch.
What can I write with AI?
AI writing tools are able to generate an extremely wide range of content, so don't just use it for writing one type of content. AI writing tools can write the following kinds of content (and more!):
Blog posts
Emails
Social media posts
Newsletters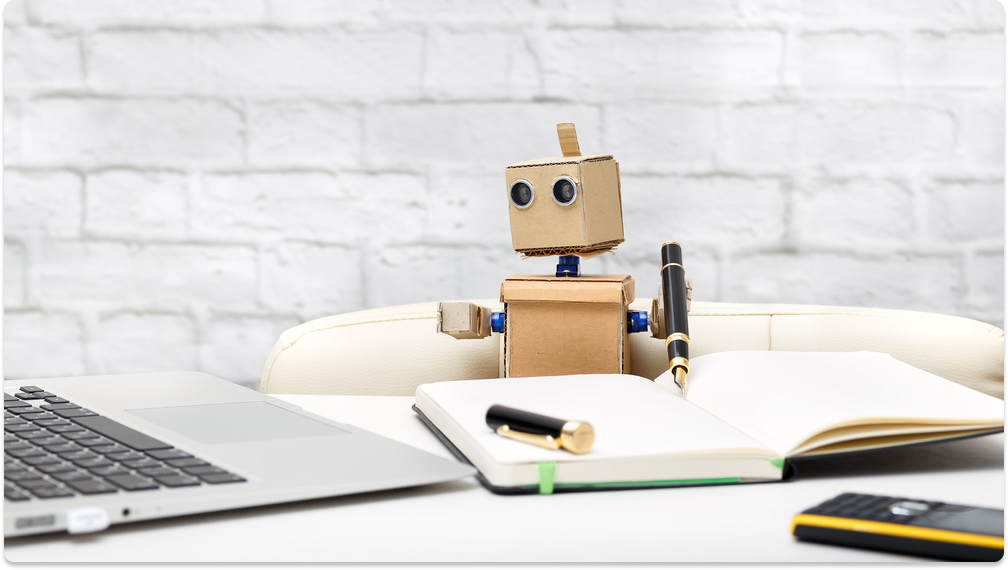 How do you use AI tools for writing effectively?
Now it's time to learn how to maximize the potential of your AI tools. Consider the following tips for getting the most out of your AI writing tools:
Get to know your AI
While it's not a new coworker whose name you have to remember, it's still a smart idea to sit down and take some time to get to know your AI writing tool. What does this mean exactly? Each AI is a little different and you will need to take the time to understand each one's purpose and how to use it effectively. Don't forget to plan how you'll implement each tool and train your team to use it as well.
Have a topic in mind
While AI writing tools are powerful technology, you will still need to input your request into the AI software itself. Outlining your requests, having a general vision in mind, and being clear with your topic can help the AI generate the best writing possible for you. All the AI needs is a little instruction first!
Create different kinds of content
You don't have to use your AI tool for writing only one kind of content, like for only writing blog posts or only writing SEO content. Much like you need to spend time learning how to type in your prompts to the AI, you should also experiment with asking it to write different kinds of content. It's also a great way to get more comfortable with writing and editing different styles and formats of content that you might be less familiar with. AI can really help you broaden your creative horizons, provided you're willing to put the time in.
Creating different kinds of content can also be a great way to ensure your voice stays fresh and engaging. It's easy to get bogged down with the same old phrases and ideas, especially when you have been in business for a long time! Use an AI writing tool to refresh the tone and style of your marketing as needed.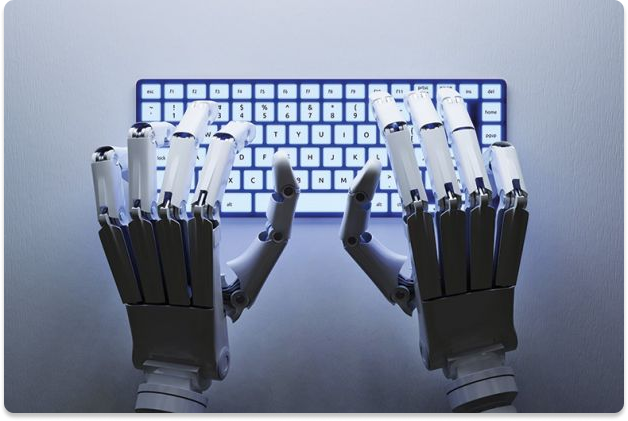 AI writing tools for the win!
AI writing tools can be a wonderful way to grow your business, especially if you have great ideas, but writing just isn't your strong suit. Likewise, it can also be a huge time saver and even help you improve your writing and editing skills over time.
While using an AI tool might sound confusing or overwhelming at first, learning how to use an AI writing tool effectively can have you generating premium SEO and marketing content in no time. AI writing tools can serve a variety of different functions and purposes and can be a great long-term investment for your company's growth.
Whop's AI marketplace
If you are interested in learning more about the different AI tools available, we highly suggest you check out our AI marketplace and discover what's out there.
Join 500,000+ entrepreneurs getting first dibs on the best digital products.
100% free. Unsubscribe at any time.