Healthy Habits: A Collection of Notion Templates for Wellness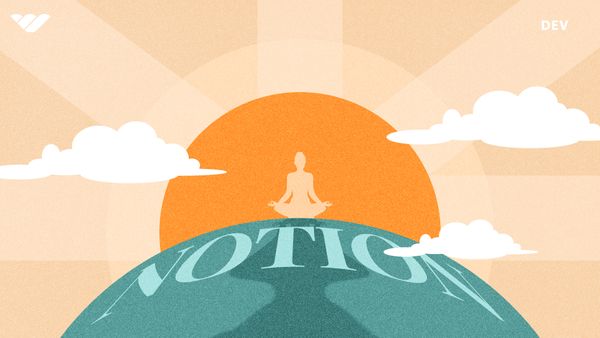 Whether you are looking specifically for Notion fitness templates and workout tracking options or you are looking for more general wellness templates, we've got you covered. If you've been using Notion for a while, you know that it has a seemingly endless stockpile of templates to choose from. These templates can range from budgeting and expense tracking to meal planning to year-long reflections.
While all of these templates can be useful, today, we will highlight five of our absolute favorite Notion templates for wellness that can help you really step up your wellness routine this year!
The Five Best Notion Templates for Wellness and Healthy Habits
But before getting into these templates, we'd like to share a quick word on free vs. paid template options. There are so many templates available for Notion that finding the perfect fit for your needs is completely achievable — it may take some time, though. But how do you know when it is right to pay for a template versus when you should simply opt for a free one? If you see a template that you love that needs to be bought, you can certainly buy it if you have the budget for it. This said you can also find some absolutely amazing free Notion templates that may even be better suited for your needs than the paid alternatives.
Bottom line, it is generally best to check out the free templates first and then move to the other options if you cannot find what you are looking for as a free template. And now, without further ado, here are our top five Notion templates to help you reach your wellness goals this year.
Life Dashboard
If you are looking to build healthy habits and take steps towards improving your overall wellness, a comprehensive Life Dashboard template is an excellent tool for you. Now, you may be able to make do with a basic habit tracker and goal template. But a template that allows you to put all of your wellness administrative tasks and trackers in one area makes life easier.

So what is included in this extensive template? This life dashboard template includes a habit tracker, to-do list, weekly goal tracker, weekly reset, weekly report, and a space to track your monthly, quarterly, or even yearly goals. The template is well organized and easy to use, so you can spend more time focusing on your goals and tracking your progress than finding the right section. And best of all? This template is completely free!
If you are the type of person who likes having everything organized in one centralized location, this template is the option for you.
30-Day Workout Plan
Maybe you're not a huge fan of elaborate trackers and goal-setting templates. Hey, we get it. Not everyone likes filling in three different sections daily. Maybe you feel like you're set on the goal-setting and habit-tracking part of your wellness routine. In this case, you may want a template that simply helps you make that perfect workout routine. Let's be honest; making a workout plan is a lot of work. You don't want to do the same exercises every day, but you also might not be sure which exercises are the best to perform together.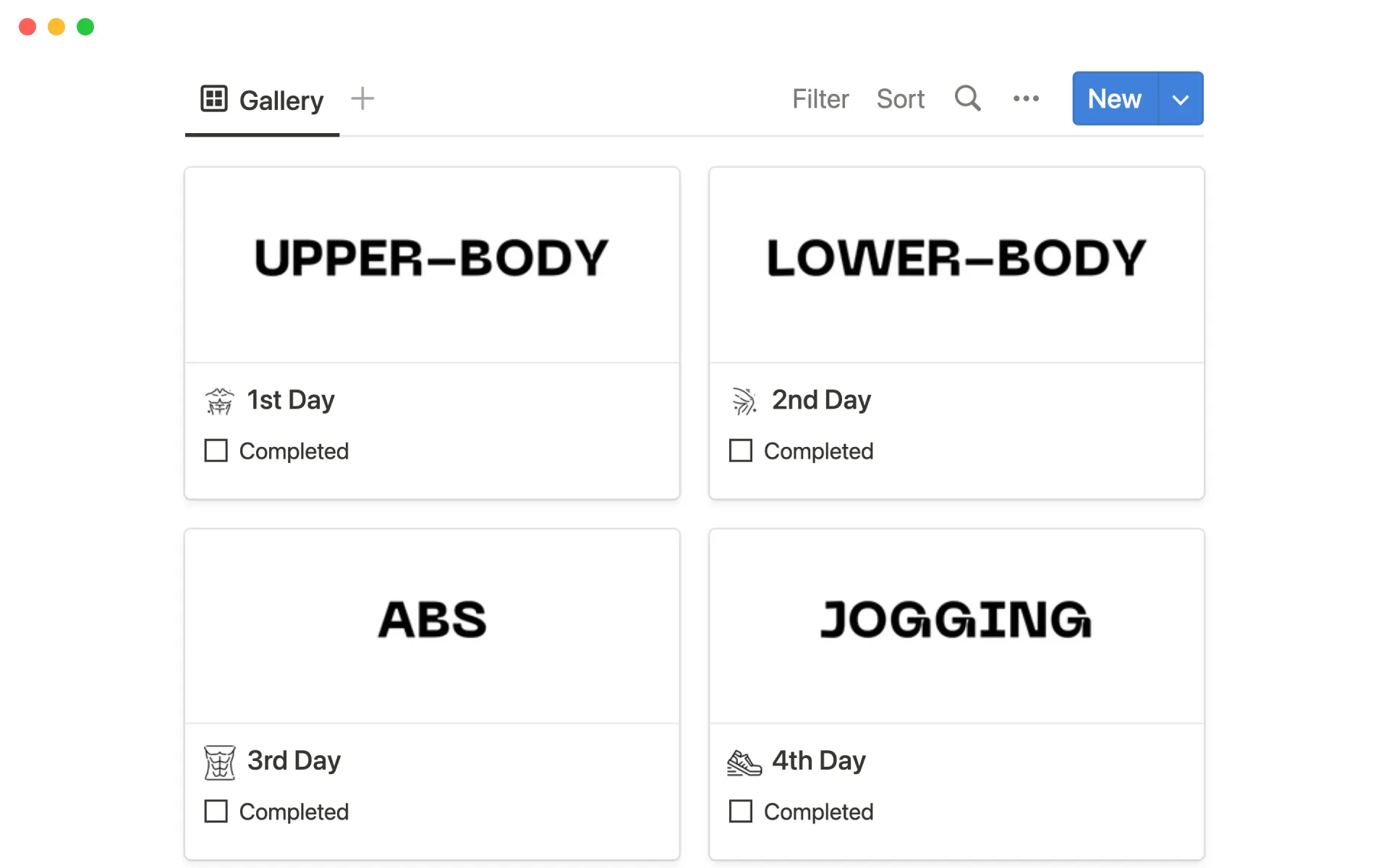 This is where a template like this 30-Day Workout Plan can come in handy. This template is extremely straightforward and simply outlines 30 days of workouts that you can use. The workouts in this template are meant to be done as a 30-day challenge as they alternate between upper-body, lower-body, abs, jogging, and rest days. But, if you're not the biggest fan of month-long challenges, you can also always use the exercises in the template for the days you are working out.
Maybe your New Year's resolution this year was to get in shape or start hitting the gym more, but you have yet to get into the swing of things quite yet. So if this sounds like you, this simple template might be an excellent one to check out. Plus, this template is free, and we're definitely not the people who want to pass up a free exercise program!
Running Tracker
Alright, maybe you're not a big fan of strength training. We don't blame you. Everyone has preferences when it comes to exercise. If going out for a nice run in the morning, after work, or in the evening is more your speed, then we've got you covered. This amazing Running Tracker is an excellent tool for anyone looking to track their progress in running. Maybe you're preparing for an upcoming race.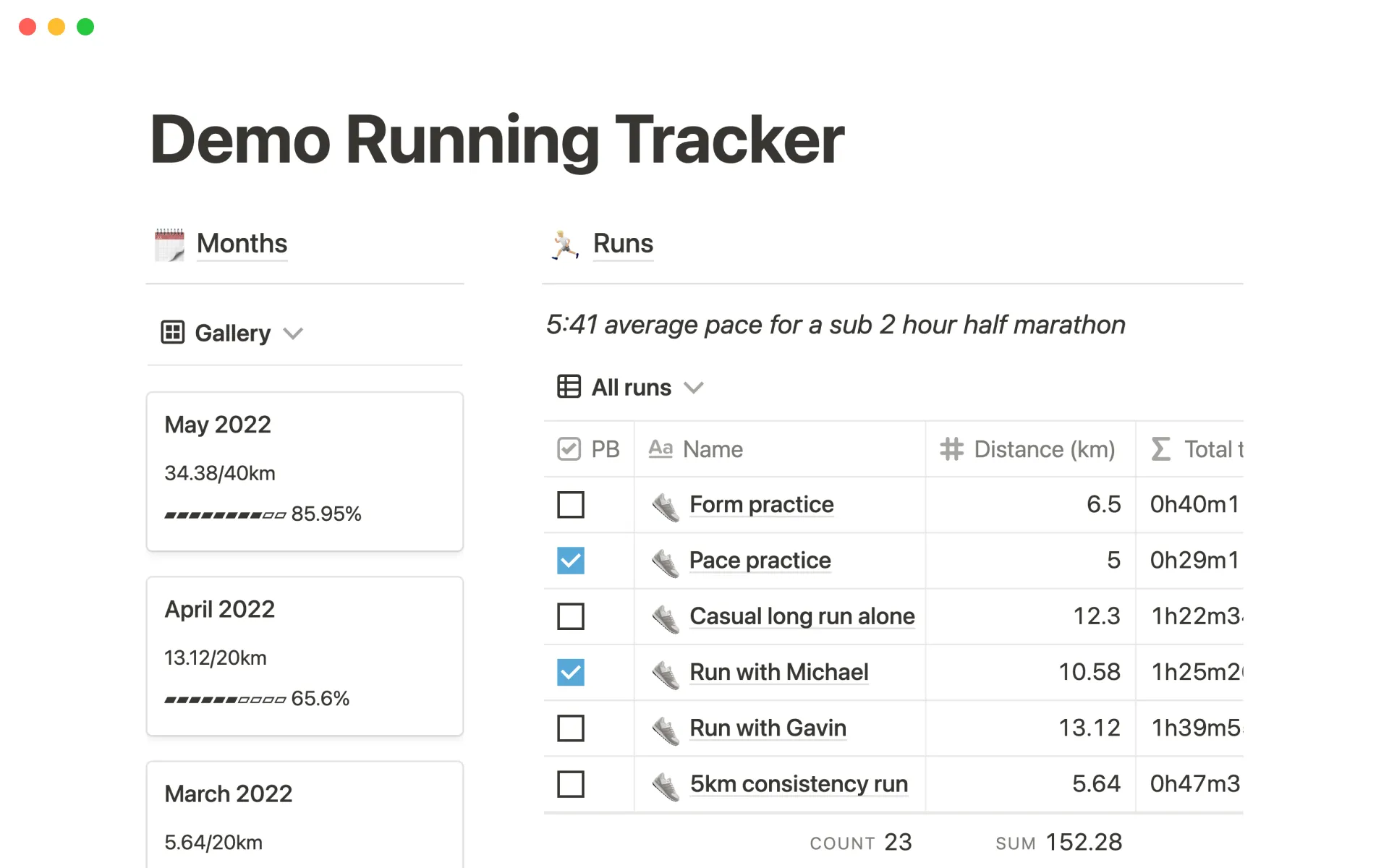 Perhaps you've been challenged by a friend or family member to join a charity run. Or maybe you are simply hoping to get in better shape without buying a gym membership or finding a place in your home for a bench press and hand weights.
This tracker template offers monthly overviews, a place to write your running goals, and customizable runs to track exactly what type of run training you do each day to achieve your goals. You can also enter each run's distance, time, and date; the template will calculate your average pace!
Like the templates mentioned above, this running tracker is free for anyone with a Notion account, so if it sounds like a good fit, give it a try!
Meal Planner
So, we've talked about our favorite templates for the exercise part of your wellness routine, but what about nutrition? Don't worry; we know just how important it is to ensure that you are putting healthy, nutrient-rich, and delicious food into your system. But even if you are someone who loves to cook, it can be challenging to know what to buy from the store on your grocery-shopping day if you don't know what you'll be eating that week.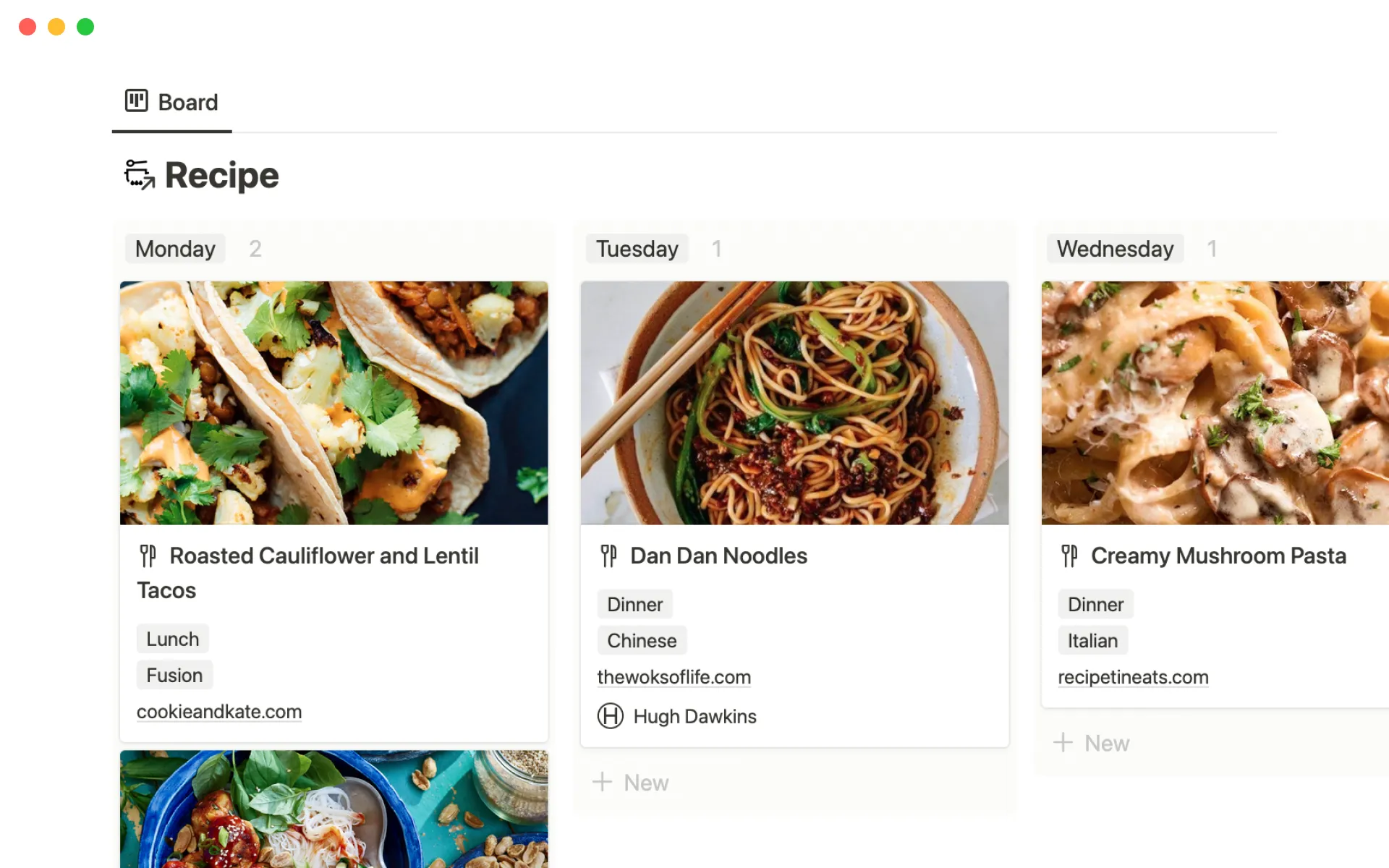 Luckily, a meal planning template can solve this problem for you. Our favorite Meal Planner template offers a comprehensive location for you to put your favorite recipes and organize them into your weekly meal plan, the ingredients those recipes use, as well as an automatic shopping list, so you always know exactly what you need to pick up from the store.
One of the best features of this template is that it automatically adds the ingredients you need for your chosen meals of the week to your ingredient list. There, they can be marked as either "in stock" or "out of stock." Any items marked "out of stock" will automatically be added to your shopping list, so you don't even have to worry about forgetting anything at the store.
And, like our other favorite templates, this Notion Meal Planner is entirely free to use!
Reflection Journals
Many people fail to include activities for the mind in their wellness routines. Luckily, over the years, there has been an increasing interest in mental health (and doing things to prevent burnout and breakdowns). Unfortunately, this is a part of our wellness routines that, more often than not, gets pushed aside to make space for an extra workout, an elaborate cooking routine, or even our work.
But, if you want to give yourself the best opportunity to improve your overall wellness, you must also take care of your mind. Now, there are hundreds of ways to do this, but if you are looking for an easy place to start, a Reflection Journal template for your Notion account can be an excellent choice. We like this type of journaling because it helps us focus on what is going on in our lives. It can be very easy to get caught up in work, social outings, or even hobbies and not take the time to reflect on our feelings and what is going on in our heads.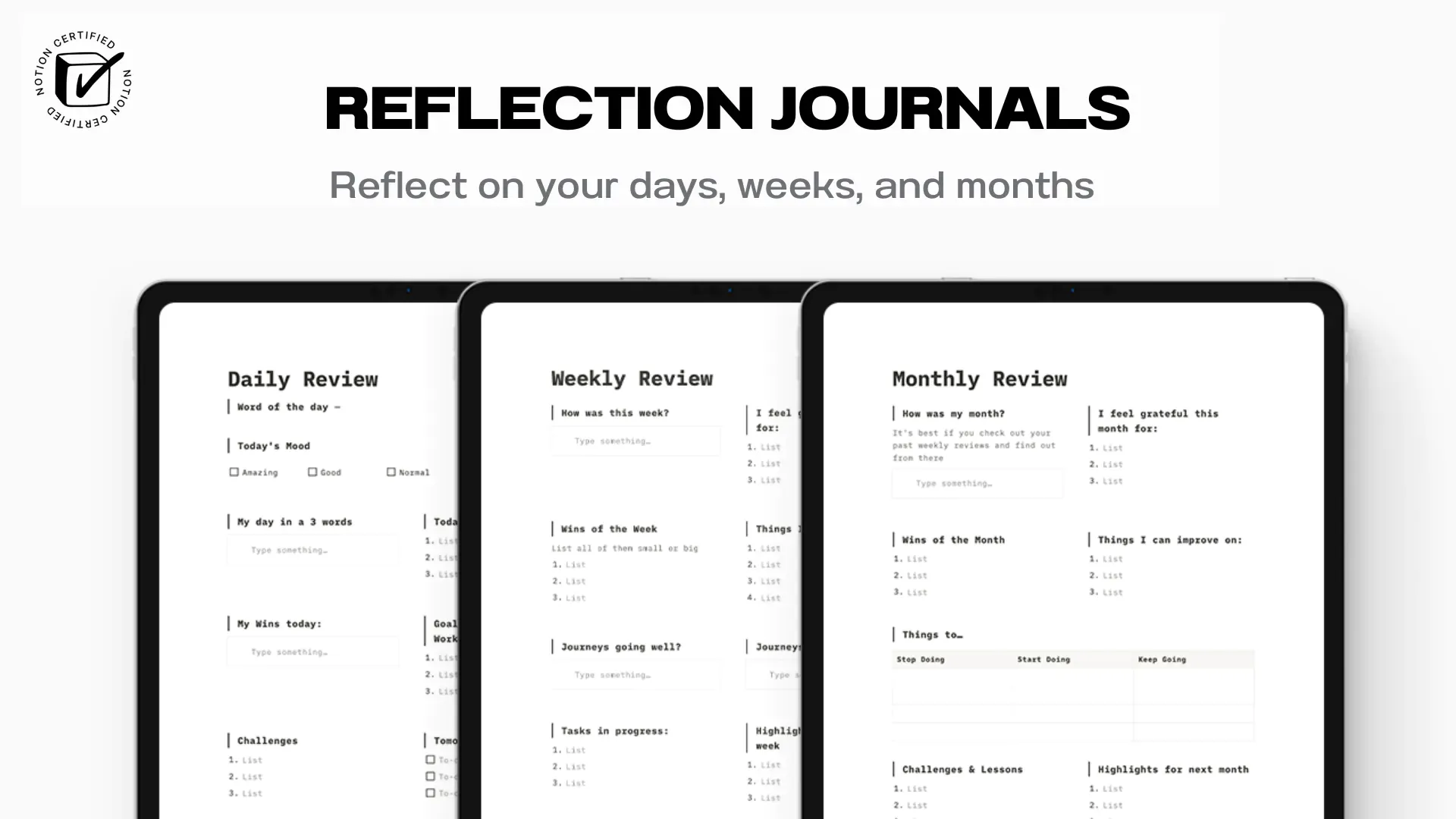 This free template offers simple and easy-to-use reflection templates for your day, week, and month so you can check in with yourself as frequently (or infrequently) as it seems best to you. We like this template because it allows you to note your mood, describes your day (or week or month) in a few words, and log wins and challenges for each reflection. These prompts can help you take stock of where you feel you are fulfilled in your life and your wellness routine and where you still feel like you need extra work.
Conclusion
Notion templates are a great way for you to stay organized in your life. When we are organized, we are better prepared to reach our goals, especially wellness goals. This is because keeping organized and routine tracking can help relieve the stress that we may unintentionally put on ourselves to get healthier. We strongly recommend trying out some of the templates above if you are feeling overwhelmed in your wellness journey. You may find that they are an excellent way for you to see the progress you are making in your health while also helping to relieve some of the stress that has been holding you back.
If you are looking for more Notion templates, check out Whop's Notion marketplace. There you can find templates for habit tracking, budgeting, or even student life!
Join 500,000+ entrepreneurs getting first dibs on the best digital products.
100% free. Unsubscribe at any time.