Notion Vs Google Docs 2023 Review
Introduction
Most people have heard of Google Docs, but more and more people are discovering a newly-developed potential rival: Notion. In this article, we will be looking at some of the key matchups between Notion vs. Google Docs in terms of their functionality and capabilities – as well as some of the things users can accomplish when utilizing both together. We will also cover the advantages and disadvantages of both Google Docs and Notion, and we'll assess their abilities as workflow catalysts and sources of ingenuity within collaborative efforts. Then last but not least, we will discuss and give our recommendation on which platform is better suited for various applications.
A brief overview of each platform
So, you may be considering whether your business should use Notion, Google Docs, or both. Here is a quick overview of each platform and the ways that they are similar.
Google Docs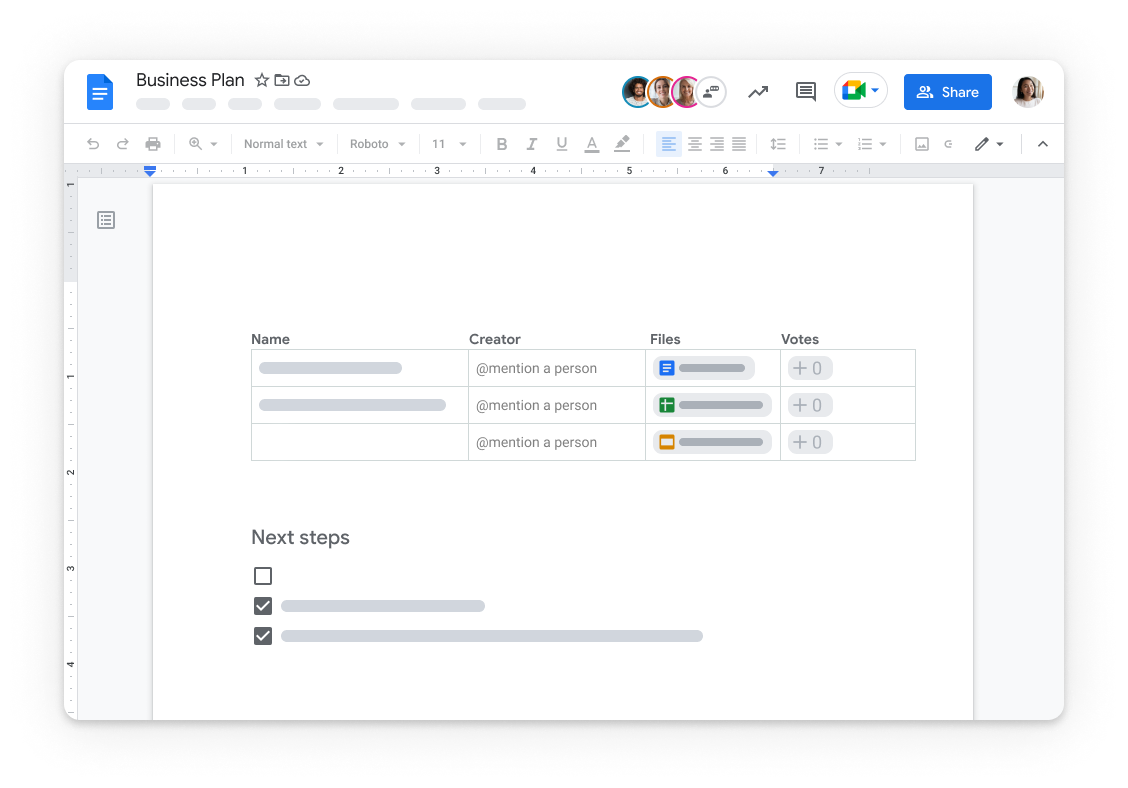 Google Docs can be used similarly to assist users in the creation, sharing, and printing of various documents. It's a free cloud-based solution that provides virtually endless possibilities for editing, collaboration, and the Google Suite, including Google Docs, has approximately 2 billion users from every corner of the globe. Such prolific use generally means that users are more likely to be familiar with or comfortable using Google Docs as opposed to some of the other cloud-based word processing platforms that are available on the market.
Notion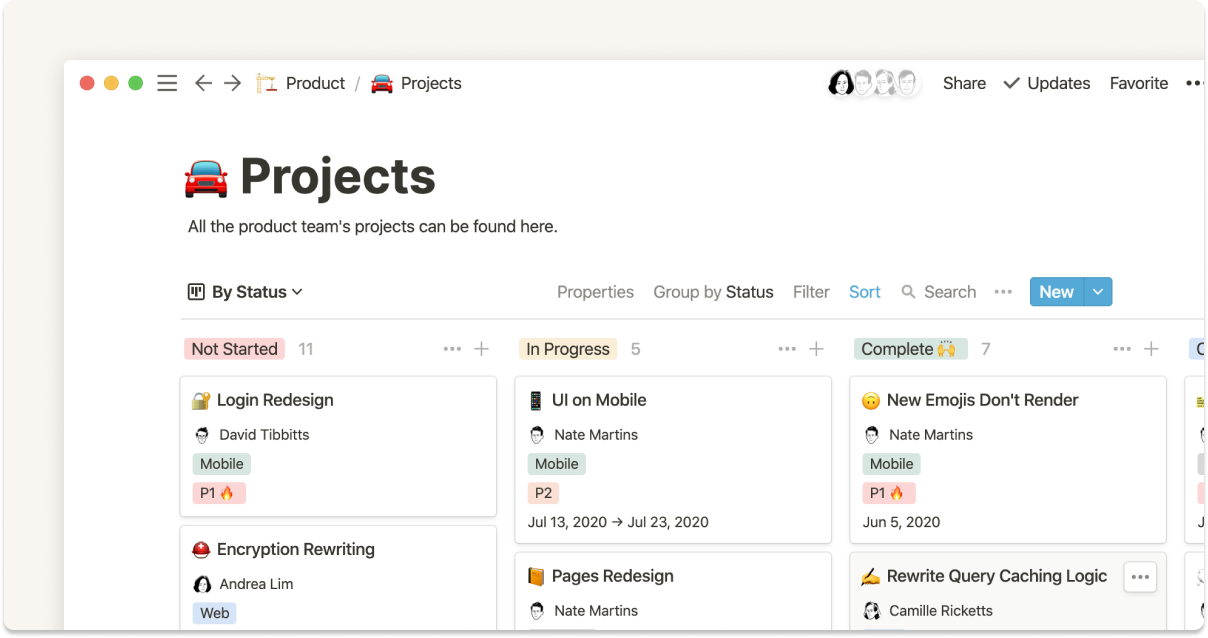 Notion is one of the premier note-taking programs that can help users take and store their notations in a centralized, easy-to-access location. Notion can be helpful with general note-taking, planning projects, designing ideas, and even tracking health observations, dreams, or habits, and it has many other uses as well. Because of its note-taking capabilities and functionality in several unique settings, Notion can also be used by teams to store valuable communications information, project files, or other important company data. There's a burgeoning online community surrounding Notion, and as such, there are numerous sources of collaboration and inspiration to make the most of Notion's features and capabilities.
How they are similar
Notion and Google Docs are similar in that they allow users to be creative in a variety of ways; both provide a comprehensive chest of tools to customize and organize documents as individuals see fit, and both allow for synchronous collaboration. Their differences may be subtle to some, but they are two distinct entities that can provide individuals and businesses with different solutions, depending upon the situation. Notion is a robust note-taking platform with easy-to-use project management features that allow everyone involved with a project to stay informed and on-task. Google Docs is generally used to create and edit documents, although its diverse features may allow teams to collaborate synchronously on virtually any type of document from anywhere in the world with an internet connection.
Now, we will cover some more in-depth information about each individual platform, how they compare to each other, and how some organizations are using them together.
What you need to know about Notion
Because contemporary jobs require contemporary tools and solutions, Notion combines many useful tools into one centralized location to help teams get started building a product roadmap, fleshing out the company wiki, organizing meeting notes, and much more. With so much flexibility and customizability, it's fairly easy to recognize how Notion can help optimize practically any workflow – from small, family-owned companies to medium-sized and large-sized global enterprises.
Notion templates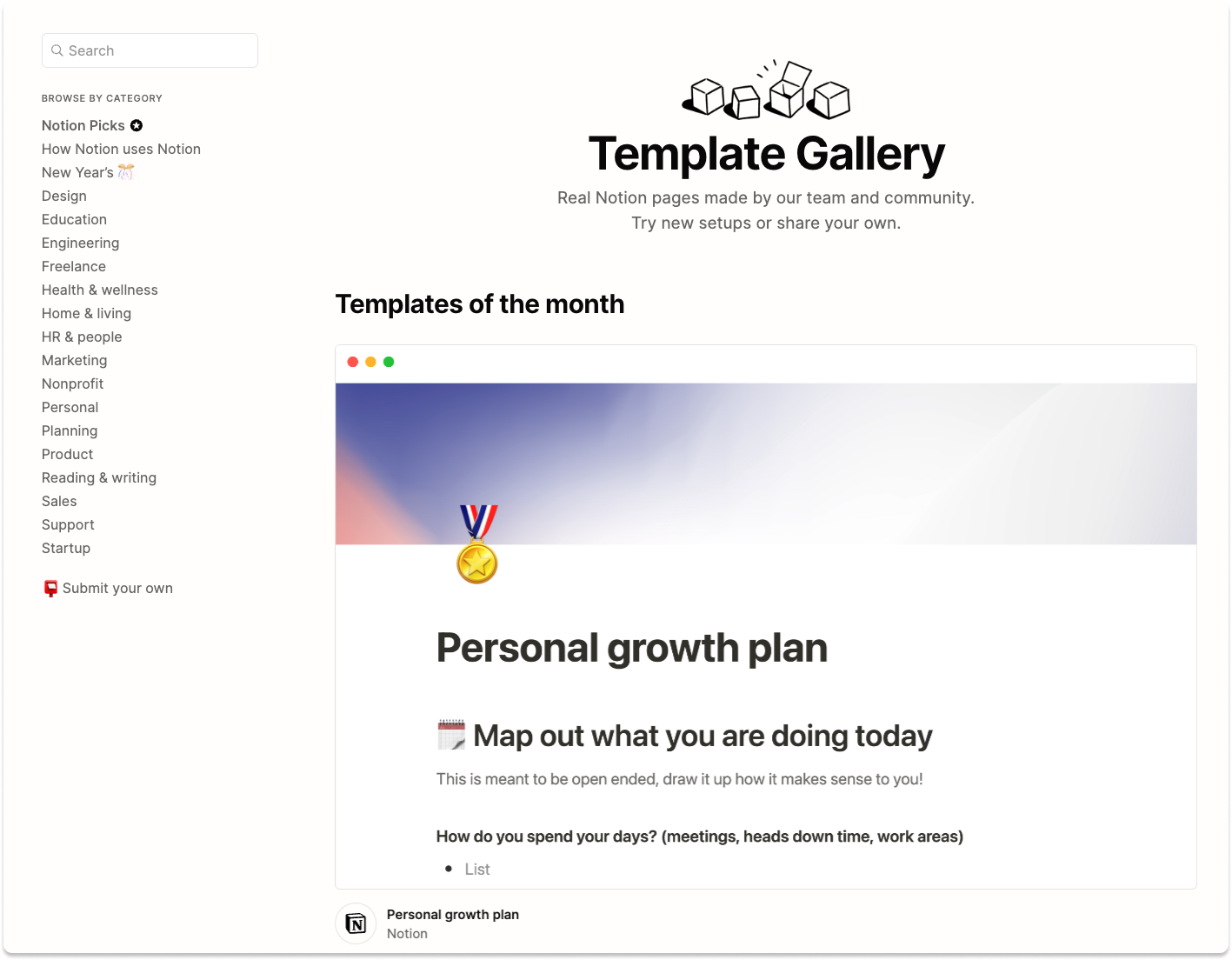 Notion Templates are one of the nicest aspects of the whole platform – there are dozens of templates available for free and many others that can be purchased as needed. Users may also choose to customize Notion by hand by utilizing the convenient drag-and-drop workflow tool. Plus, since everything that appears on a Notion page is technically a block, users can add supplemental content (like graphs, diagrams, checklists, schematics, etc.) without having to code or use some sort of third-party application. Notification settings can ensure that users never miss a message and that users are able to access and edit documents without getting in each other's way.
Asynchronous workflows
As with many other workplace software solutions, Notion understands the importance of uninterrupted asynchronous collaboration. Notion's modular approach allows for much greater flexibility in terms of visualization and presentation, and because of this, it can be an invaluable resource on longer projects that require multiple steps within a process.
Pricing
Notion is available to download for free with paid plans starting as low as $8 (with annual billing; $10 per month with monthly billing). With a Notion Enterprise plan, your organization can access additional security measures and protected access features (like audit logs, user provisioning, SAML SSO, unlimited version histories, etc.), in addition to a dedicated customer success manager for plans with over 100 seats. There are also Plus and Business plans available with additional features to help your organization optimize workflows to suit your objectives.
Google Docs
Since it was first made commercially available in 2006, Google Docs has become one of the most well-respected and widely utilized online productivity platforms full stop. In addition to editing word documents, Google Docs users can also create and edit Google Sheets, Google Sites, Google Slides, and Google Forms, among others. Users are able to edit, import, update, and collaborate with others on online documents that can be accessed from virtually any device (phone, tablet, laptop – as well as iOS and Android and Chrome, of course) as long as the device has a reliable internet connection and an eligible web browser.
How to set up Google Docs
In order to access Google Docs software, users are required first to create a free Google account which is then tied to an email (Gmail) address. Signing up and getting started is lightning quick, and new users can be set up and ready to create or collaborate in only a few minutes.
Collaboration features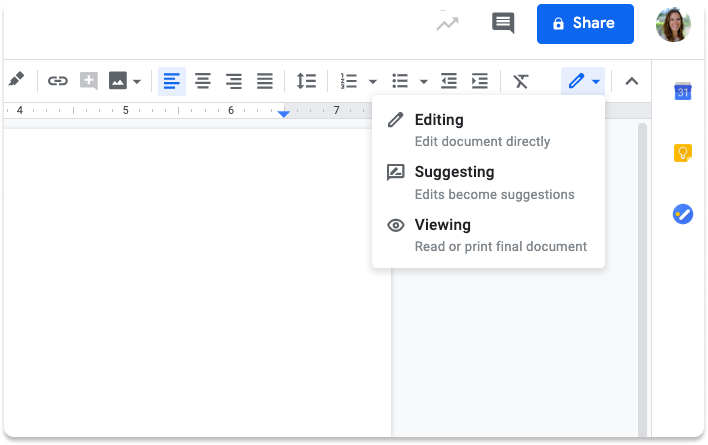 There are numerous benefits that Google Docs can afford its users, but one of the best features is the ability for collaborators to view a document's version history – or, in other words, previous iterations of a document as well as information about who made any changes and when those changes were made. A number of other communication features also enable collaborators to comment on specific parts of documents to discuss certain changes or make notes about what to include in future drafts, specific notes for other members of the team, or to convey any pertinent information that needs to be visible to everyone who can access the document.
Sharing options
Documents created within Google Docs can be saved online in the cloud or on personal devices to mitigate the potential risk of complete data loss. Additionally, documents can be shared with individuals even outside of your company – in some cases, anyone with a link can edit or comment on a document. However, certain privacy settings and security measures ensure that individuals without permission or access to certain files cannot access or edit said files.
Versatility
Because of its versatility and copious features, Google Docs can provide an ideal word-processing solution for businesses, small and large, as well as individual writers or students who may use it for note-taking or completing essays and other writing. At the end of the day, one of the best features of Google Docs is its ability to help teams and small groups work together on a single project. Even for organizations with complicated workflows, Google Docs can provide a simple solution for individuals in different departments to communicate and collaborate effectively to help achieve a shared goal.
Pricing
While Google Docs may be free to use for anyone with a Gmail account, there are also Google Workspace (formerly G Suite) plans that start as low as $6 per user per month. There's the Business Starter plan, the Business Standard, Business Plus, and Enterprise plans. Every plan comes with all of the tools within the Google Suite – Gmail, Drive, Meet, Calendar, Chat, Jamboard, Docs, Sheets, Slides, Keep, Sites, and Forms.
Notion vs. Google Docs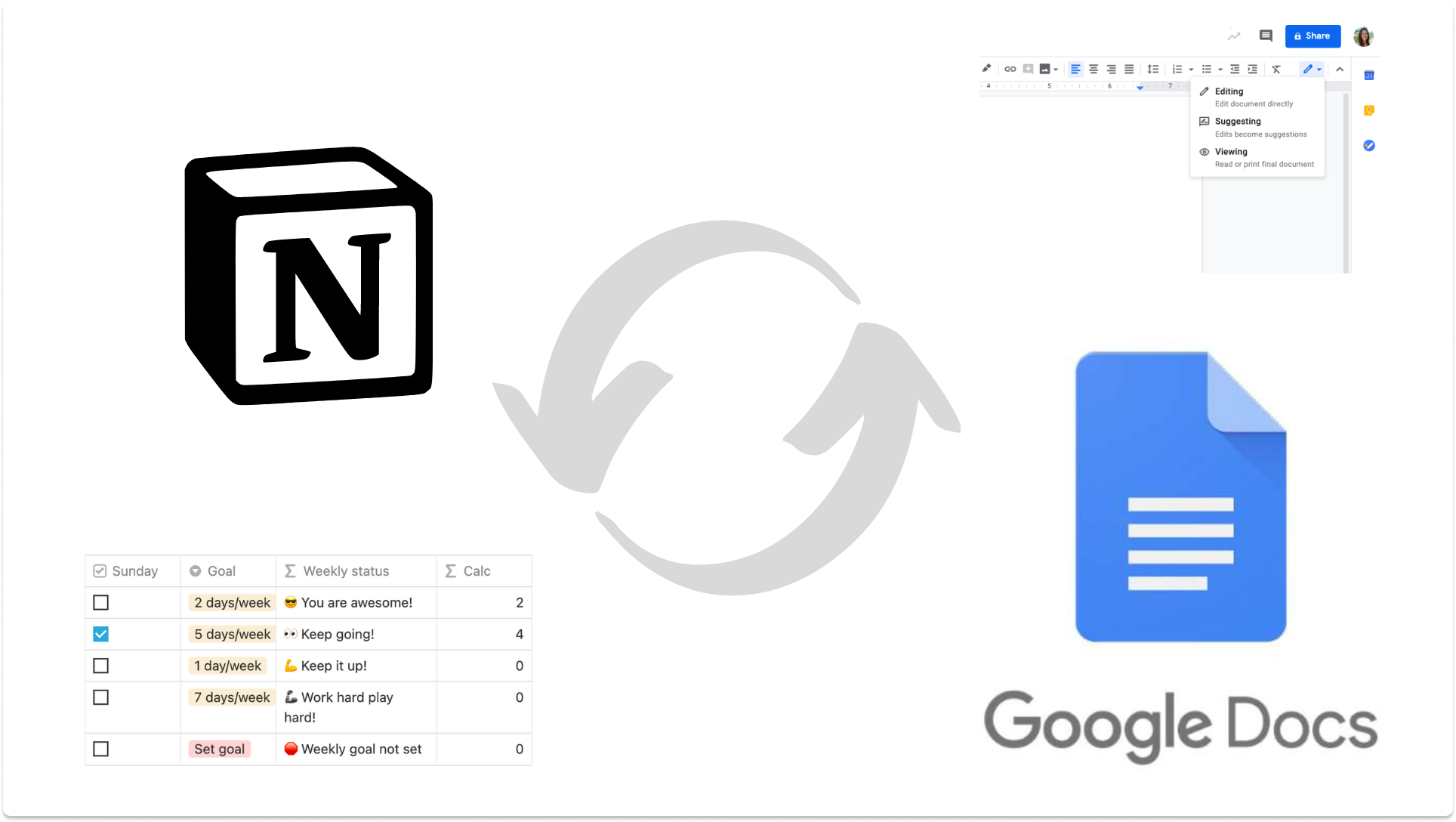 On a functional level, both Notion and Google Docs can provide many of the same services with only a few minor caveats. From a user-interface perspective, the two differ quite a bit. Google Docs includes a menu with drop-down options and commentary features. Users can install add-ons, change their viewing mode (between editing, suggesting, and viewing), and manage any sharing or collaboration efforts.
Pros and cons of Notion
Notion's board view also allows users to access multiple views to provide a more comprehensive picture of an ongoing project or task. Additionally, many users like Notion's user-interface design, which displays only necessary, relevant information to reduce the possibility of overwhelming new users with an overload of information. However, because of Google Docs' proliferation within the digital landscape, generally, people will find that users are more familiar with Google Docs' features and capabilities and are less likely to view Google Docs as having a steep learning curve.
Pros and cons of Google Docs
One of Google Docs' biggest drawbacks is its lackluster graphical capabilities, especially when compared to other basic word-processing platforms. Notion, on the other hand, supports a robust graphical interface with highly customizable graphic elements. Even many users who generally like Notion and use it regularly can acknowledge a somewhat steep learning curve, but once an individual grasps the basic concept and functionality of the program, it becomes one of the most versatile and capable word-processing solutions.
Notion templates vs. Google Docs templates
Both Notion and Google Docs have a variety of options when it comes to templates. However, Notion templates are much flashier and are generally more visually appealing than those offered by Google Docs. While Google Docs may have a handful of templates for fairly common applications like resumes, formal business letters, sales documents, or invoices, Notion has a diverse range of available templates for virtually infinite uses – stylized dashboards, calendar planners, to-do lists, recipes, content queue and knowledge base, and countless others.
Notion pricing vs. Google Docs pricing
Price-wise, Google Docs and Notion are pretty evenly matched. Both platforms offer free trials and may generally be used freely in perpetuity with only a handful of limitations on data storage and things of that nature. Both Google Docs and Notion also have paid plans available at monthly or annual subscriptions for reasonable fees. Both Google Docs and Notion also offer individual plans as well as various sizes of plans for businesses and larger organizations.
Benefits of linking together
Some users are able to further streamline workflows by utilizing Notion and Google Drive together. The two platforms can be connected by way of existing built-in apps or by using third-party services (like Zapier or IIFTTT, for instance) to facilitate the connection. This integration can enable your organization to synchronize data across your platforms and can potentially lead to a more streamlined workflow and/or increased efficiency.
There are other resources available that cover Notion and Google Drive linking and integration in much greater detail. To some extent, the method of integration dictates how users are able to make use of the linkage, but linking Google Drive and Notion is also possible without the use of a third-party service.
Conclusion
To summarize the most prominent points of comparison and contrast, both Notion and Google Docs can fulfill a variety of business and personal needs alike. Both platforms provide individuals with quick and relatively simple solutions for a number of activities – they are both great for students because of their prowess and capabilities as word-processing entities, and they provide businesses with sapid project management and collaboration capabilities.
For organizations with a greater need for increased organization and project management initiatives, you might want to go with Notion. For companies that have a firm and effective workflow system already in place, Google Docs may provide more opportunities for greater collaboration efforts across departments or when working with clients on a particular project. Both Notion and Google Docs are highly effective platforms and can fulfill a variety of needs in the right hands.

Join 500,000+ entrepreneurs getting first dibs on the best digital products.
100% free. Unsubscribe at any time.