Beat the Books is a top-notch sports betting community run by "Joke". The community focuses not on flaunting big wins but on transparency, positivity, and multiplying your bankroll with responsible, efficient betting. Basing performance on units rather than showing off with $$$$$, Beat the Books puts performance in the open—win or lose, it's all out there for everyone to see.
This puts Beat the Books entirely in a league of its own, since it's all too easy to broadcast a big win while wiping all of those near misses under the rug. Joke and his team recap all of the results daily, and the numbers tell the story—he and his 10 world class Sports Consultants are really, really good at what they do.
What makes Beat the Books so great? That's what we will be unpacking in this article.
Why Join Beat the Books?
Beat the Books is a community that's guaranteed to sharpen your sports betting edge by doing exactly what it says on the tin. You can beat the books yourself thanks to access to daily slips and insights from Joke and his team, along with up to the minute notifications for cappers you might want to tail.
The community follows a wide array of sports, and while Beat the Books' consultants are true experts when it comes to the NFL and NBA, they also provide fantastic analysis of the MLB, NHL, soccer (or football, if you're not from North America), tennis, and MMA. Not only this, but there are also Discord channels dedicated to college sports, KBO, and even golf—so whatever sport you fancy a flutter at, you can level up your expertise with Beat the Books.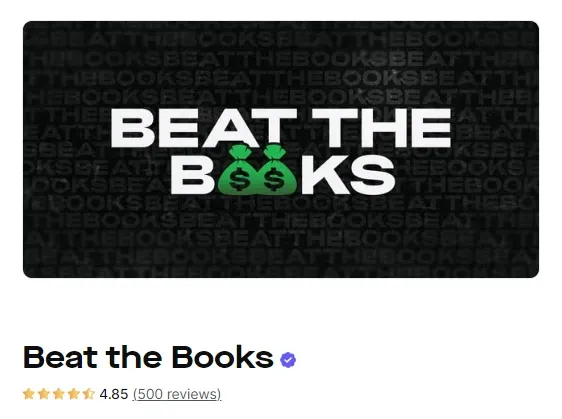 BTB is known for being an extremely positive and knowledgeable sports betting community, and it's one of the highest-rated groups out there. It's got hundreds of reviews on Whop, and the average score speaks for itself!
Responsibility and Transparency
Gambling is risky by definition, but Beat the Books sets down a responsible approach right from the get-go. As soon as you join their Discord channel, you'll be notified that they preach and teach Unit Gambling. This boils down to responsible management of however much money you choose to gamble with, referred to as your bankroll.
This bankroll, whether it's $200 or $50,000, is then broken down into Units of around 1-3% of the total bankroll—so $2-6 if your bankroll is $200 or $500-1500 if it's $50,000. What this means is that you're placing bets that only take a small chunk out of your total bankroll rather than wagering it all in one go. That approach might be exciting but it's also irresponsible in the extreme, and the Beat the Books team looks at sports betting as a marathon rather than a sprint.
Talking about slips, wins, and losses in terms of units not only levels the playing field, it shifts perspective of sports betting to more of a science, and brings the focus to efficient wins rather than the dopamine rush of winning big bucks. It's all about doing well with your units, and plenty of Joke's community members have made millions not by gaping at a wrapped G Wagon, but from poring over detailed spreadsheets or tailing all of a capper's plays.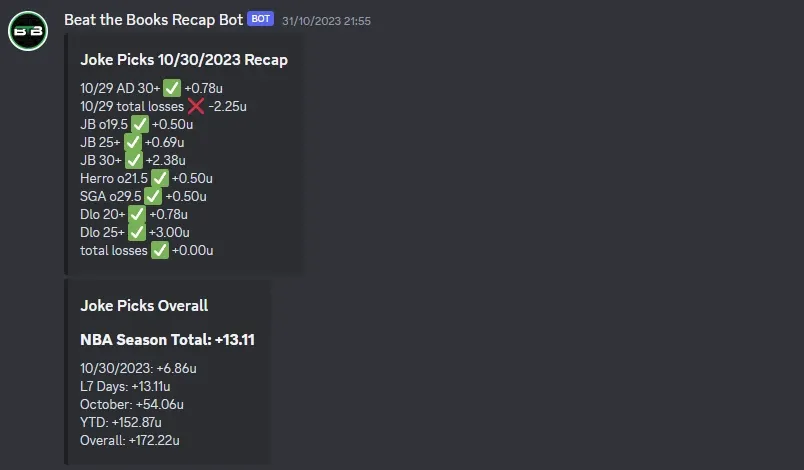 Another key pillar of Beat the Books is transparency. All of the experts you can follow at BTB - including Joke himself - post all of their picks in a recap every single day, win or lose. This helps no end, because you know that they're not just legit, but also legitimately skilled at what they do!
What You Get With Beat the Books
Joining the Beat the Books community is a shortcut to success when it comes to upping your knowledge, and there's heaps of value on offer when you subscribe to their community. Let's break it down:
Key insights. Learn from world class sports consultants including Joke himself, and level up your sports gambling knowledge immediately!
Daily picks. Get daily alerts and picks for all major sports, all the way from MLB, NHL, NBA and NFL to MMA, KBO, tennis and golf!
Experts to track. Pick one or more sports you want to bet on and sign up for notifications to follow the moves of experts, compare their sportsbooks to yours.
Daily recaps. Get daily reports about the expert picks you're following for full transparency, so you know that you're tailing the very best.
Boosts and promos. No more searching high and low for boosts and promos, let the experts do it for you so you can win at a moment's notice!
Request a Rep. Talk to the Beat the Books team if you need help getting settled into the Discord community or following cappers.
Bankroll management. Learn all about responsible betting and the BTB fundamentals, as well as unit tracking fundamentals.
Sports discussion. Share your slips or just chat about sports in dedicated Discord channels.
Positive community. Link up with other punters and talk shop, exchange insights, and share in the highs and lows together.
Picking the Right Package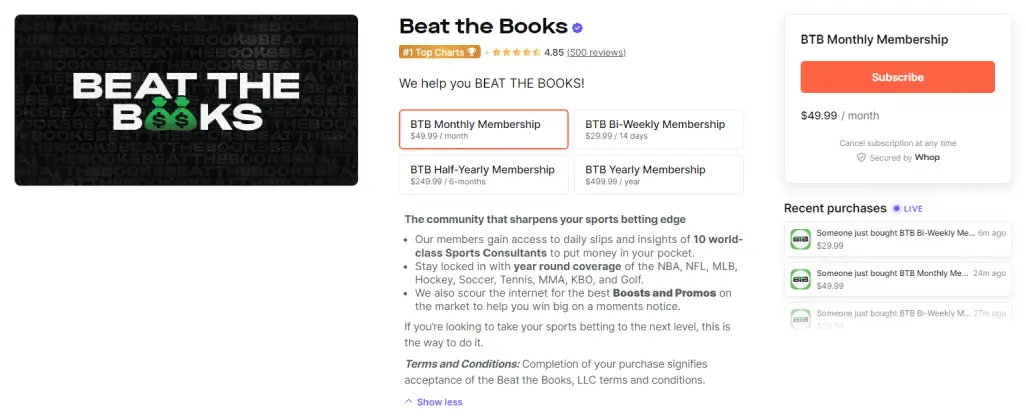 Sold on Beat the Books, or think that it might be the sports betting community for you? We're not surprised, because they're a fantastic group with the track record of performance and transparency to back up every single claim that they make. So, where to start?
Well, Beat the Books has a nice selection of options for you to consider! If you'd just like to dip your toes in and see what the water's like, you can't go wrong with the BTB Bi-Weekly Membership option, giving you 14 days of full access for just $29.99. This is definitely long enough to check things out and decide whether you'd like to stick around.
Then, if you do decide that BTB is right for you, you can jump over to the monthly membership plan. That'll save you $10 over the bi-weekly option, so it's a great deal. That said, we'd recommend the Beat the Books Half-Yearly Membership, which is currently priced at $249.99. It works out the same as the $499.99 Yearly Membership but lets you boost your bankroll a bit in the here and now, while also giving you a free month compared to the monthly deal.
Sign up to Beat the Books today!
Beat the Books is a brilliant choice as far as sports betting Discord communities go, and it's hard to find another group that provides as much value for the price. They've got experts specializing in all of the major sports, so whatever your jam, you've got cappers to tail. Transparency is part of the BTB edge, and you can check out all of the experts' performance as soon as you join via the daily recaps.
👉 So, if you want to learn more about sports betting, all the way from bankroll management and responsible betting to sports books secrets of the very best, Beat the Books is the group for you. Check them out today and sign up to join the rest of the community—most of whom say that they've more than paid off their subscriptions from the picks and insights gleaned from the group!