Sports betting has grown increasingly popular in recent years, and the potential for massive wins comes with that. Many sports bettors can rake in vast amounts of money from their bets, and these massive wins come in parlays, which are the key to any successful professional sports bettor.
So, what are the biggest parlay sports betting wins of all time, and how can you replicate their success? This article will explore the biggest ever sports parlay wins, how to pick parlay winners, and the importance of sports handicappers and premium sports pick communities to help you win the next big parlay.
Winning Big With Sports Betting
While it might not sound like the most profitable pastime, it's possible to make a massive profit from sports betting if you take a strategic and well-informed approach. So while these next stories are the exception and not the rule...it's still fun to dream. Let's look at some of the most profitable parlay wins ever.
1. How Three Friends Went from $0.50 to $130K
It may sound ludicrous, but you read it right: three friends could go from betting $0.50 to a whopping $130k just by betting on a super-first basket scorer parlay. This massive sum of money only took a couple of quarters and a dream to make it big–and, of course, knowledge and strategy to beat other bettors.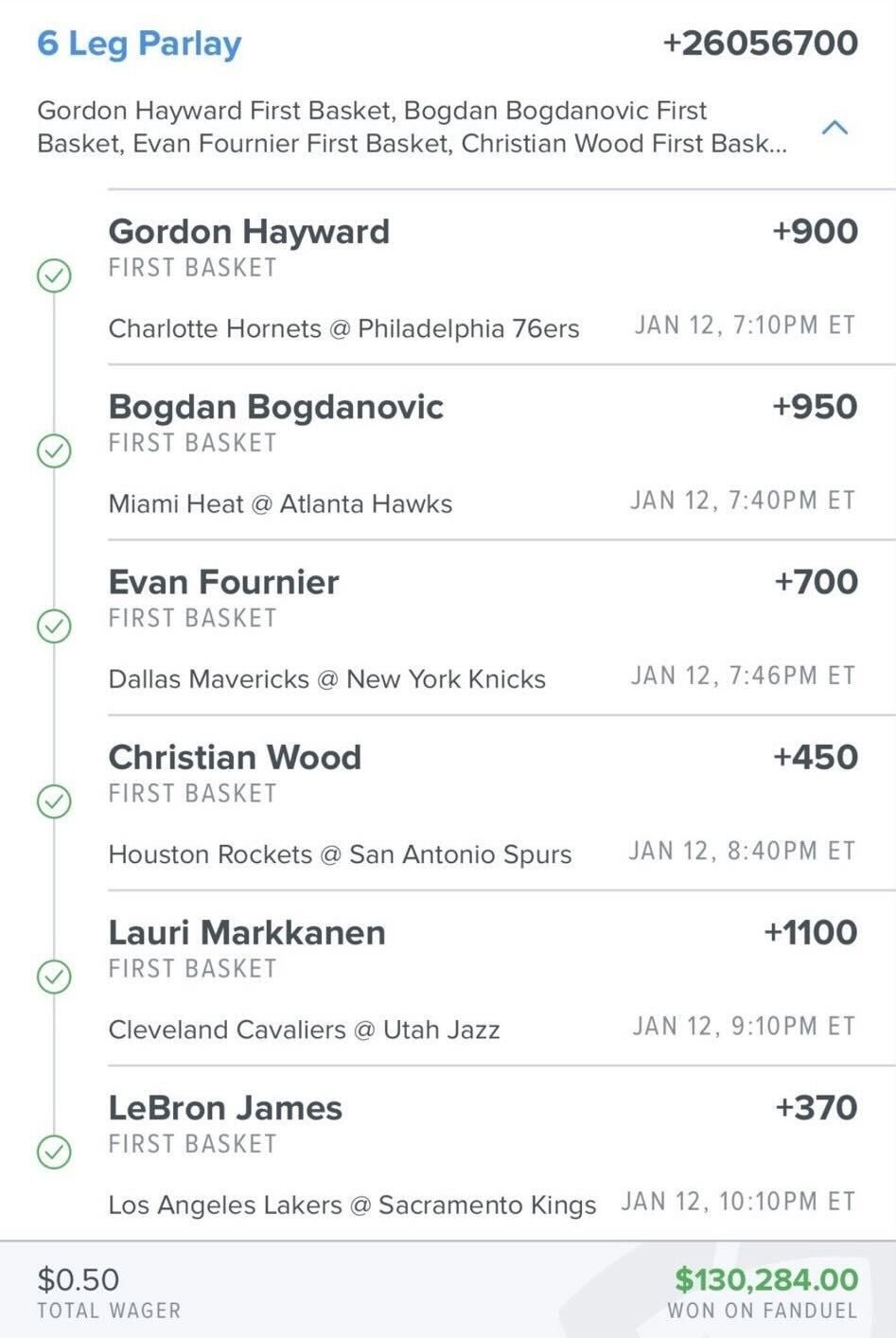 This larger-than-life story is a perfect example of the endless possibilities of sports betting. With the proper guidance, there's no need to put all your money into a bet–no matter how big or small your bet is, you can make a massive profit.
2. From $10 to $100k in a Sports Parlay
Another mind-blowing experience comes from a simple bet on a first-basket scorer parlay. Imagine tossing a spare $10 bill and seeing that tiny amount transforms into a massive six-figure win.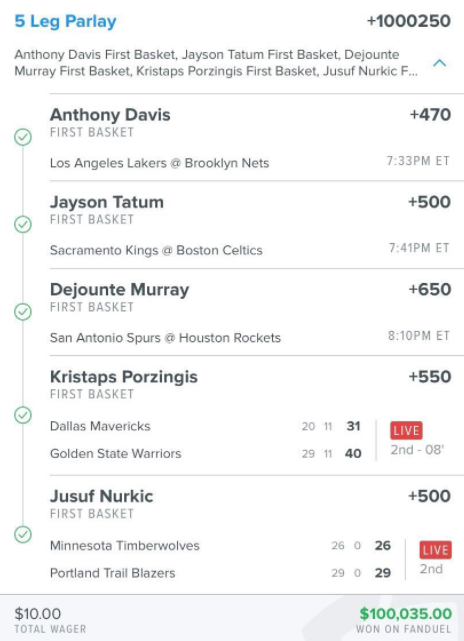 It might sound impossible, but with the proper guidance and support, you can increase your chances of winning big on your next bet.
3. From $13 to Nearly One Million
If you want to see just how massive a profit you can make from sports betting, look no further than this case. A NASCAR bettor was able to transform his $13.49 to gain nearly one million dollars–you read that right.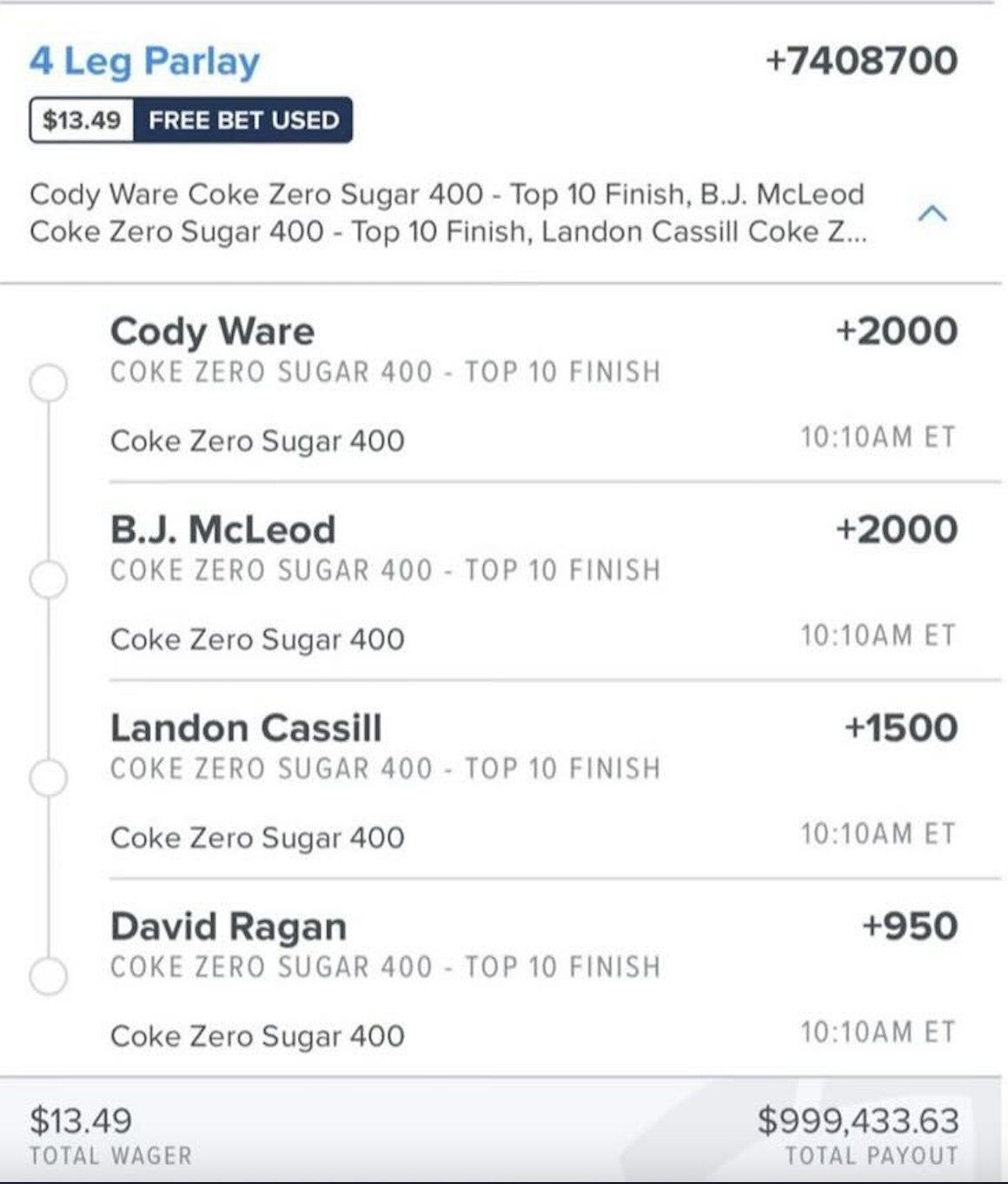 This unlikely four-leg parlay win is more possible than you might assume if you know who to turn to for expert help in making the right bets.
4. Transforming $6.90 to Over $219K Against the Odds
Sports betting is often a combination of skill, strategy, and luck, which is undoubtedly the case for this massive win. A bettor placed a small $6.90 bet with a 16-team parlay ticket and transformed that money into $219,746, plus some change.
The odds seem impossible–approximately 31,847 to 1 odds of winning–but this bettor shows us that anything can happen when you make the most intelligent bets.
5. Betting Big and Earning Bigger: $30K to a Life-Changing $1.2 Million
Experienced sports bettors with some extra cash may consider betting more significant sums on their favorite teams and players. With the proper knowledge and skill, you can transform your significant bet into something beyond your wildest dreams. Take this case, for example. Sports bettor Marco Piemonte transformed his $30k bet into a life-changing $1.2 million by betting wisely in this parlay.
With an initial cashout exceeding $950,000, Piemonte made the wise decision to let the funds grow during this parlay and went on to win eight more bets in the following year that skyrocketed his earnings to over $1 million. Piemonte teaches us a valuable lesson: patience is essential to sports bettors hoping to make it big.
6. How a Sports Bettor Tycoon Collected Over $75 Million
Sports bettor Mattress Mack is a prime example of how dedication and strategy can help you earn big bucks when betting on your favorite teams. Mack placed no small bet on his favorite team, the Houston Astros–in fact, he wagered nearly $10 million with multiple sportsbooks for the team–but his massive investment paid off unimaginably.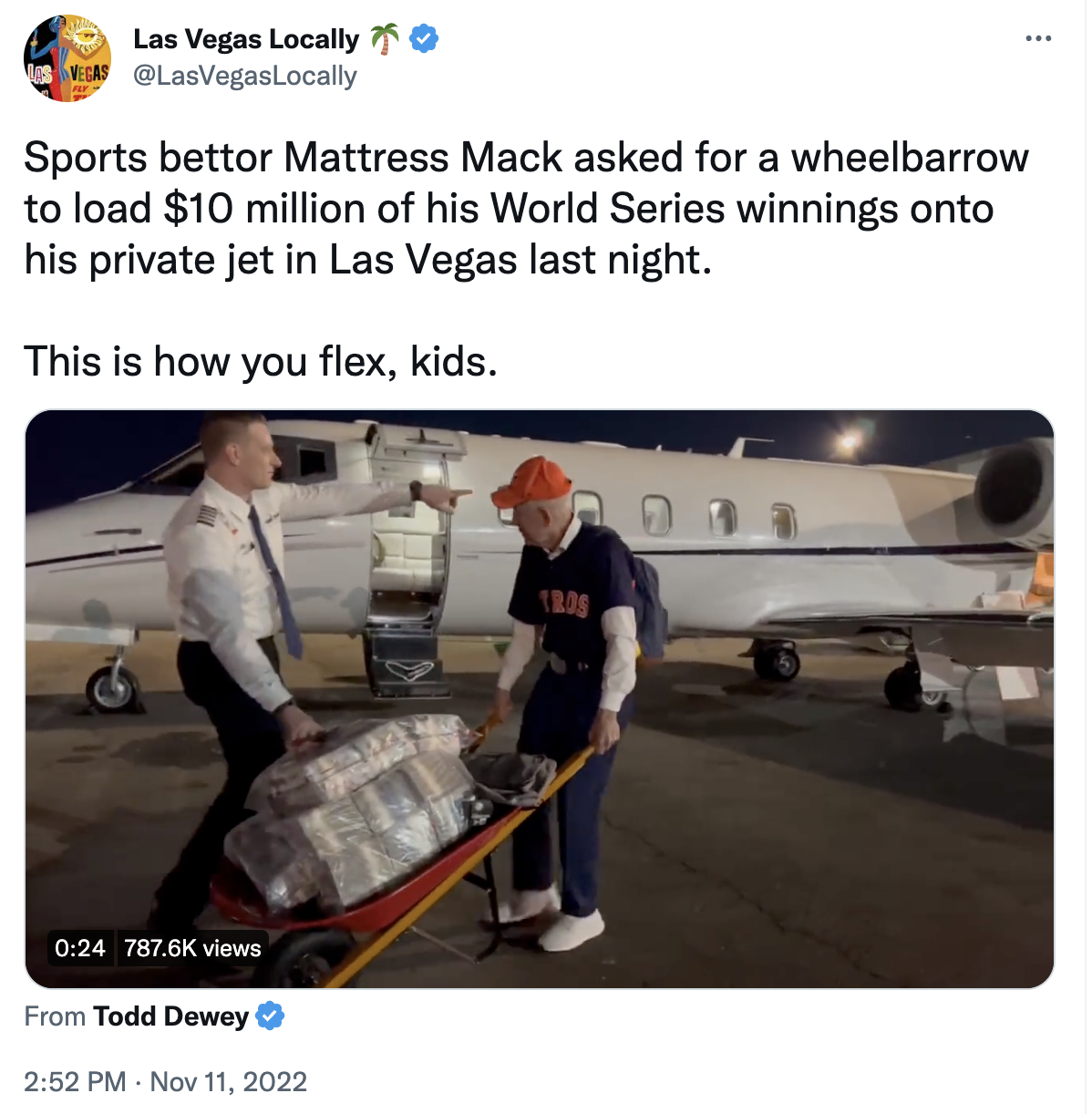 In 2022, Mack took multiple sports books to collect the all-time biggest betting win, taking home over $75 million when the Astros beat the Philadelphia Phillies in the World Series. While sums like this are challenging even for the most experienced bettors, Mack's massive win shows us that anything is possible in sports betting.
How to Pick Parlay Winners
Picking sports parlay winners involves more than just randomly selecting teams or games. While your best option is to turn to professional sports handicappers or a community of sports bettors, there are other tips to consider when choosing parlay winners. Consider tips from expert sports handicappers before placing your bet for a parlay winner.
1. Do Your Research
The first step in picking sports parlay winners is to do your research. It's crucial to study the teams involved, the match-ups, the weather conditions, and other factors that could influence the game's outcome. It would help if you also considered using resources such as sports handicappers, who can provide valuable insights into the games.
2. Stick to the Sports You Know
Regarding betting on parlays, it's best to stick to the sports you know. If you're a fan of a specific sport, you'll have an advantage when picking a sports parlay winner. You'll be more familiar with the teams, the match-ups, and the players involved.
3. Spread Your Bets
When placing a parlay bet, it's essential to spread your bets. This means you should pick various games from different sports and leagues, reducing the risk of losing your entire wager if one of the games doesn't go your way.
4. Follow the Trends
Following the trends when picking sports parlay winners is also a good idea. Pay attention to the performance of teams and players over time. If you see a trend emerging, it can be a good indicator of future outcomes.
5. Don't Chase Losses
It's important to remember that parlay betting is a long-term activity, and you should never chase losses by placing increasingly risky bets. Stick to a strategy and stay disciplined--you're playing the long game.
Why Sports Handicappers and Premium Sports Pick Communities Matter
Sports betting is a trendy pastime and a great way to make extra money. But it's not always easy to consistently pick the winning teams, especially when it comes to parlays, and that's where sports handicappers and premium sports pick communities can help.
The Benefits of Consulting a Sports Handicapper and Sports Pick Community
You can expect numerous benefits when you consult a sports handicapper or join a sports pick community. Below are a few of the top benefits of these services to highlight their immense value. Sports handicappers and sports pick communities can:
Help you make more accurate predictions, taking into account factors like a team's recent performance, injuries, and individual player performances.
Help you sort through information to make a fully informed decision.
Help you remain ahead of the game and make money in the long term.
Help you access up-to-date information about teams and players, as well as insider tips and advice from other community members to give you an edge over other bettors.
Help you make the most of your cash to ensure you don't waste your funds on losing bets.
Access Premium Betting Advice Through The Whop Marketplace
The Whop Marketplace is an essential hub for sports bettors seeking access to the most exclusive sports gambling communities. If you're looking for premium sports pick communities or seeking guidance from experienced sports handicappers, Whop Marketplace has what you need to find the right groups and take your betting skills to the next level.
Signing up with the Whop Marketplace and gaining access to our top sports betting information and advice is easy–follow this link and get started on investing in your favorite teams.
With Whop Marketplace, you can learn from the pros and make sports bets that pay off. Turning to our expert communities for advice can maximize your chances of winning big. With our help, you can better understand the games and outcomes and increase your chances of winning big. Who knows? Maybe you'll be the next big winner. Good luck!