Introduction
Whether you are a sports betting casual or a professional gambler, getting advice from people who predict sports outcomes for a living is a bright idea. Getting game predictions (and the opportunity to see how professional handicappers analyze sports) is an engaging, entertaining, and sometimes even lucrative endeavor.
Savvy gamblers know that crucial insight and information can uncover incredible hidden value. Studying the analysis of the best gamblers in the world can help you up your game. That's why we've compiled the resource in this article. We've put together lists of the top professional handicapper communities on the internet, as well as the best podcasts where you can listen to expert analysis and advice.
We'll discuss what makes these picks interesting and why you should consider investing in a sports gambling community membership. We'll also touch upon some of the most common factors that sports handicappers utilize in their analysis of professional sports.
Top Professional Handicapper Communities
A sports handicapper is someone who studies everything there is to know about who is going to win games in a particular sport. They use their insight to predict the outcome of games, as well as individual performances, such as how many home runs a batter will hit or how many yards a quarterback will pass for. Sports handicappers may charge users a fixed price to know their picks and predictions on a given day. Alternatively, they may offer their insights on an ongoing basis in the context of a private slack channel or discord server.
Tailing a handicapper (that is, consistently gambling on their predictions) can be a good strategy for people new to gambling and looking to learn the basics of analyzing matchups and predicting results. Of course, it is also essential to think critically and apply your analysis in all situations to make the best pick.
Let's take a quick look at a few of the most popular handicapper communities featured on the Whop marketplace. Each of these groups offers picks across various sports, typically featuring a team of handicappers. While some "cappers" are generalists who offer picks on a diverse array of sports, the majority hone in on one or maybe two games to expand their depth of knowledge and understanding. Thus the requirement for these communities to boast an entire team to help them cover it all.
Meezy Picks
Meezy Picks (now called Parlay Banditz) is one of the top-rated sports handicapper discords on the Whop marketplace. Covering NFL, MLB, MMA, Soccer, and more, Meezy picks is a great place to start if you are new to sports betting or looking for your first handicapper experience.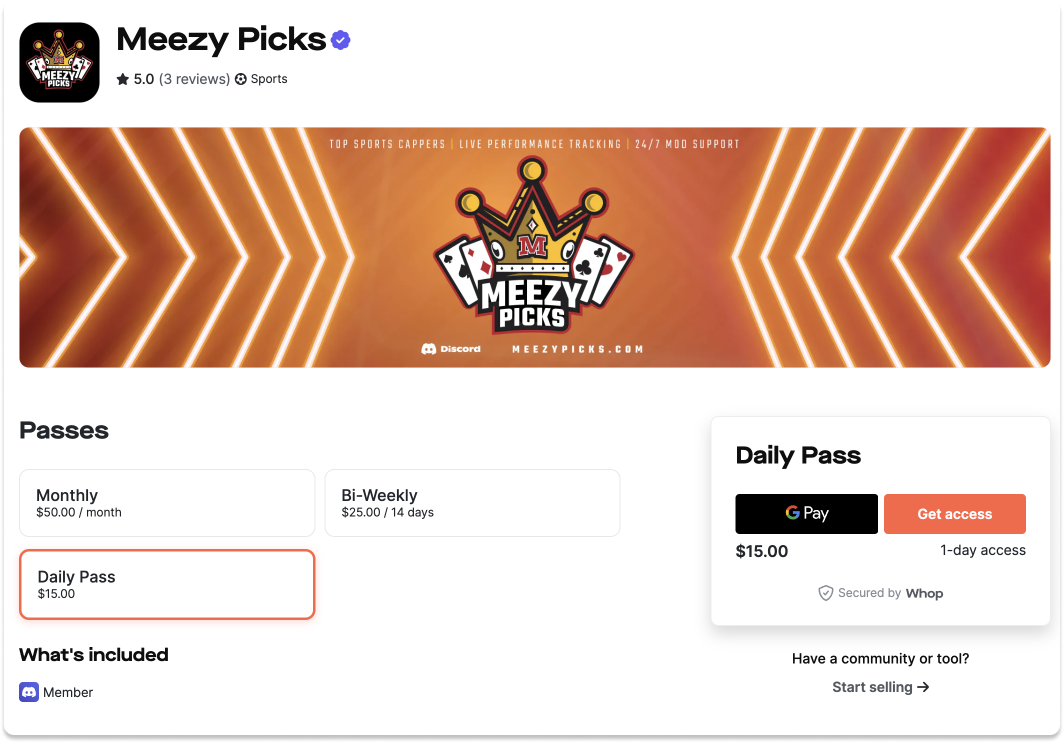 Access to Discord can be gained for:
$15 for 1 Day
$25 for 14 Days
$50 for a Month.
Geechi VIP
If you're looking for a slightly higher-end sports handicapping option, Geechi VIP may be a good choice for you. This discord has a variety of channels for every sport, extensive analysis and breakdowns, and exclusive giveaways. The price tag is higher for Geechi VIP than for Meezy, especially because the terms are for longer periods. However, this tends to result in a more stable, dedicated group of users that provides better discussion and a sense of community.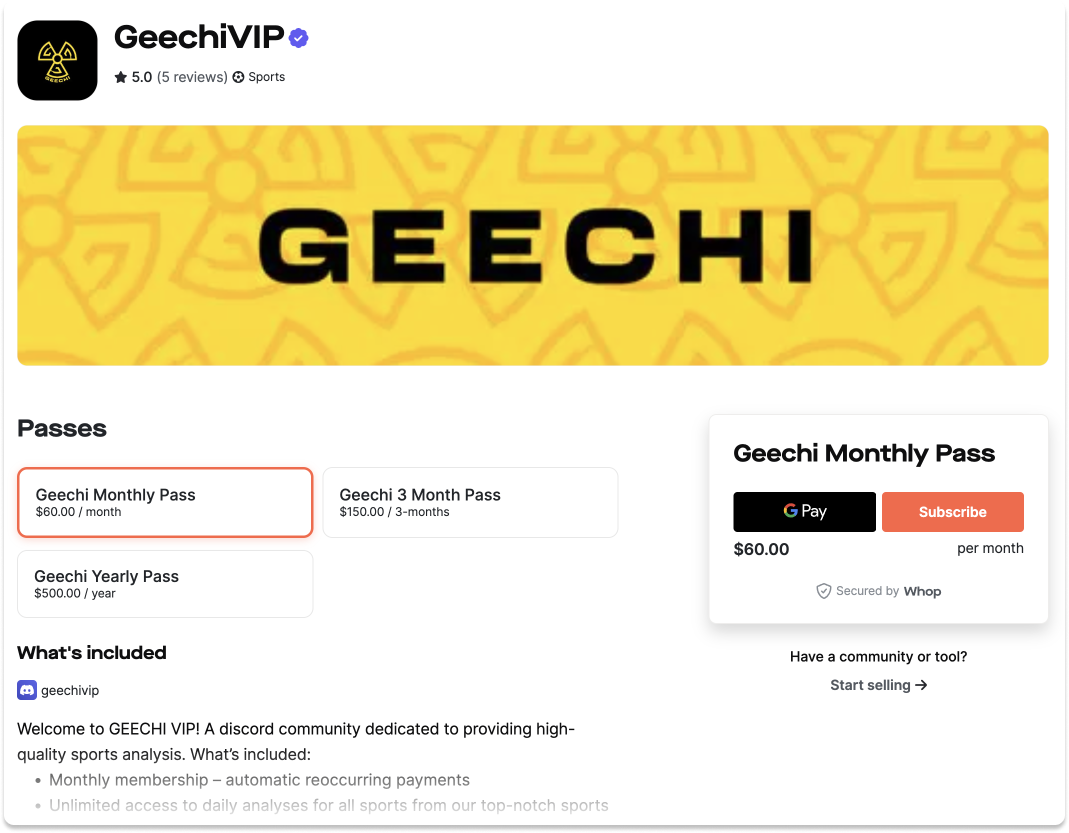 Prices are:
$60 for a month
$150 for 3 months
$500 for a year
OnlyParlays Discord
As the name indicates, the OnlyParlays community offers insights on the best sports parlay every day, so if you're looking for the inside scoop on how to win a big jackpot this could be the community for you. Membership includes access to daily expert sports picks and breakdowns, bankroll management tips, sport-by-sport chat rooms, and various other resources.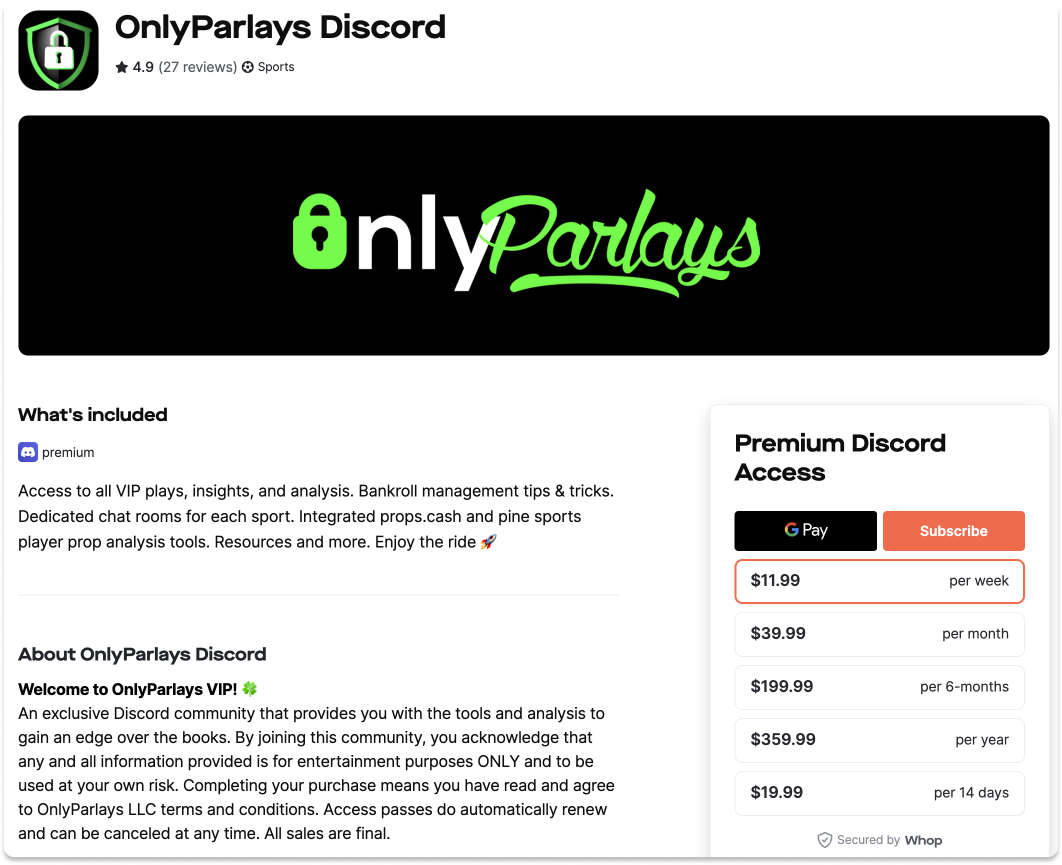 Payment options are:
$11.99 per week
$19.99 per 14 days
$39.99 per month
$199.99 per 6 months
$359.99 per year
LCaptain
This community focuses on a narrower range of sports than the others: NBA, NFL, NCAAB, & NCAAF. According to their promo copy in the Whop marketplace, LCaptain is focused on helping players "accumulate long-term profit with a focus on bankroll management." LCaptain is the moniker of the community's main handicapper, which explains both the focused nature of the group, as well as its loyal following.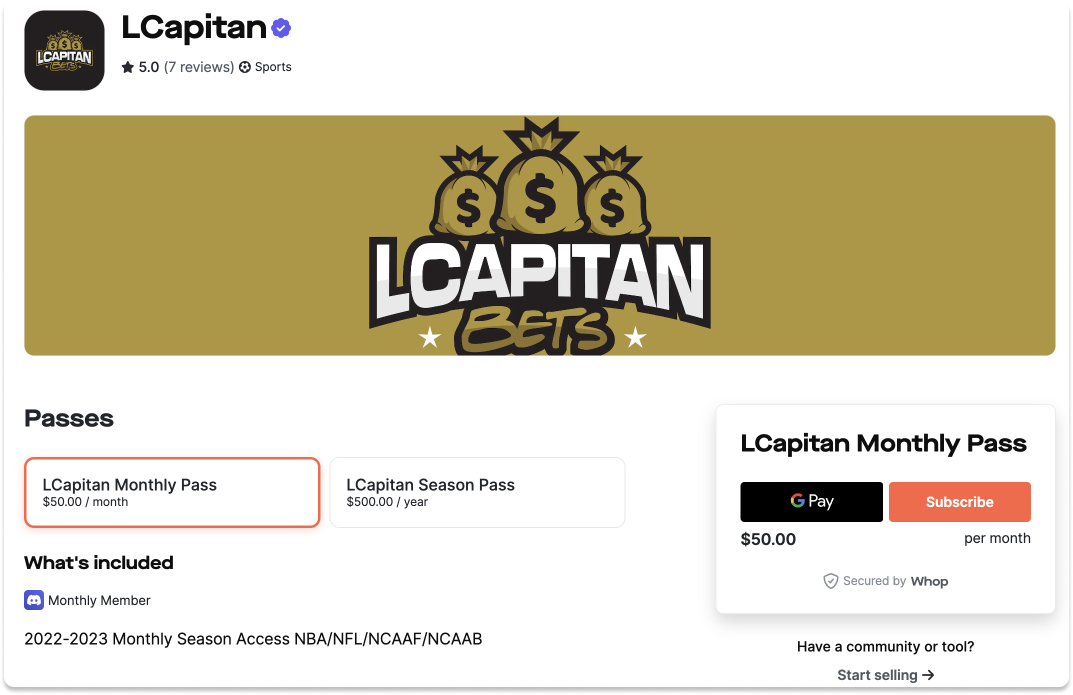 Prices are limited to longer-term deals in keeping with the channel's focus on long-term strategy:
$50 per month.
$500 per year.
xEP Network
The xEP Network is unique from the other options listed here because it does not center around the insights and analysis of live human handicappers. Instead, this innovative sports betting community offers access to a sports betting algorithm focused on the NFL and NBA. The standard price is $35 per month, and special bundle deals are available to get you through the NFL or NBA season, which change based on the time of year.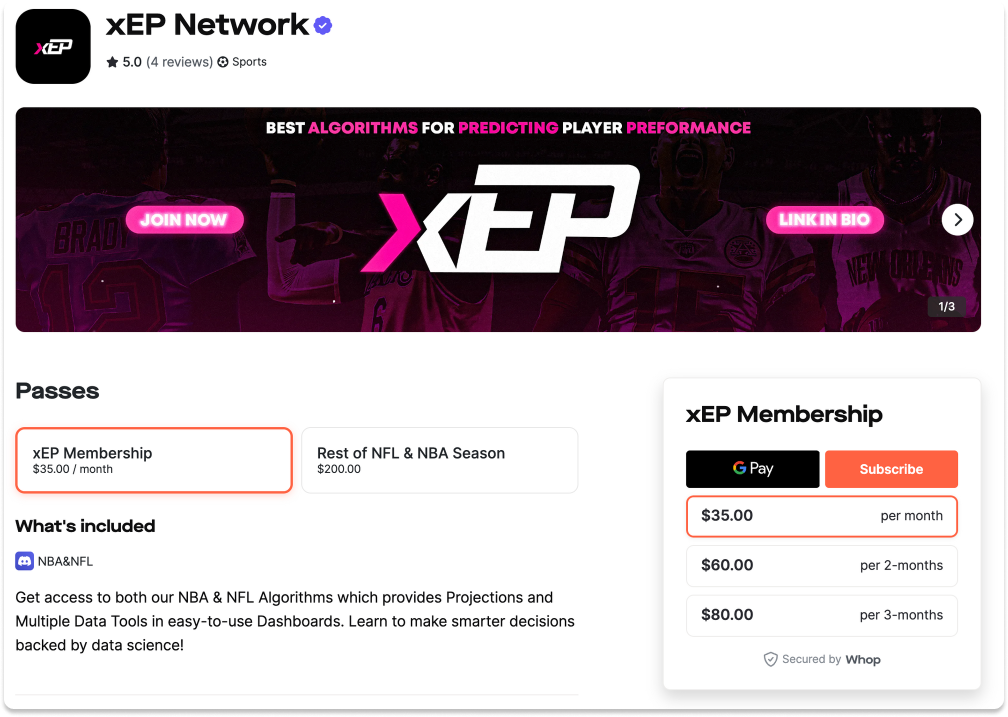 Top Sports Betting Podcasts
In addition to following sports handicapper picks and participating in online communities, another great source of inspiration, entertainment and insight is the world of podcasts. Here are a few top picks that can help expand your understanding and enthusiasm for online sports betting.
'Beating the Book' with Gill Alexander
Gill Alexander is a sports betting expert and host of the VSiN show A Numbers Game. in Beating the Book, Gill offers free picks, a breakdown of common gambling strategies, and a variety of guests who are subject matter experts in leagues such as the NFL, MLB, and more.
'Cash Considerations Show' with Dave Sharapan
The Cash Considerations Show with Dave Sharapan, Carl Hascall, and Dan Neubert features cutting insights as well as entertaining banter between some of the sharpest minds in sports betting. If you're looking to learn more about betting while having a great time, this might be the show for you.
'Daily Wager' with Doug Kezirian
Doug Kezirian boasts an illustrious career in sports broadcasting, including many years at ESPN. That should give you an idea of the high quality and professionalism behind "Daily Wager." If you're looking for experience and an impressive depth of knowledge in a diversity of sporting types, you can't go wrong with Daily Wager.
Vegas Insider Sports Betting Podcast
Vegas Insider Sports Betting Podcast features insight on sports ranging from UFC to football to futbol, with a great deal of humor and fun mixed in to boot. As one of the top-rated sports analysis shows on Apple Podcasts, the Vegas Insider show can teach you a lot about predicting sporting outcomes and managing your bets.
What Kinds of Bets do Handicappers Analyze?
There are a lot of different ways to bet on sports. While gambling on the simple outcome of a game (i.e., who is going to win) is one option, it certainly isn't the only one. Here are a few of the most common bets that handicappers analyze and promote:
Moneyline Picks
This is perhaps the simplest type of bet to make: simply predict which team you think will win. There is a catch, however: odds are attached to each outcome in order to make betting for the underdog a more viable option. (And to ensure that the house makes money, of course.)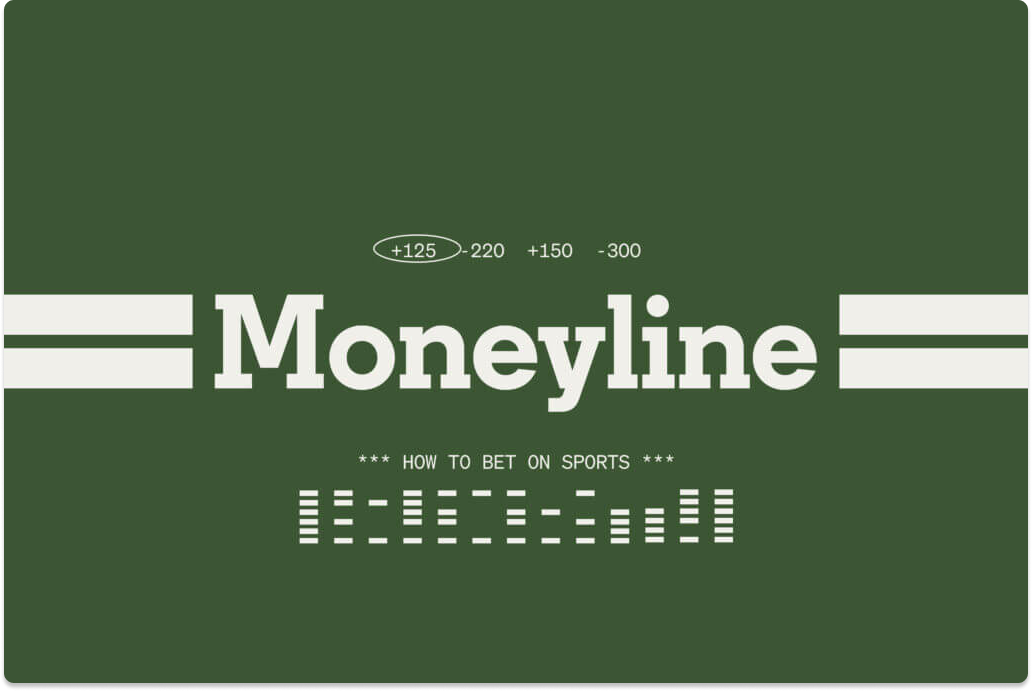 You've undoubtedly seen money lines before, they look something like this:
Indianapolis Colts +250
Cincinnati Bengals -300
In this example, the Bengals are favored to win the match, and therefore the prize is bigger for betting on Indy. If you bet $100 on the Colts, you will win back $250 should the underdog come out on top. Conversely, in order to win $100 in profit betting on Cinci, you would need to place $300 on the favorites.
Over/Under Picks
Over/Under bets focus on a specific statistic within a game. For example, an over/under of 9 runs in a Yankees vs. Red Sox game would require bettors to predict whether the two teams will combine to score over 9 runs, or under 9 runs. Similar bets can be placed on points in any sport, or even on individual performance stats like touchdowns thrown or shot percentage.
In the case that the over/under is matched exactly by in-game results (i.e. if the Red Sox and Yanks combined for exactly 9 runs in the example above), this is known as a push. Typically sportsbooks handle this situation by refunding all bets, though individual policies can vary.
Picks Against the Spread
Against the Spread gambling, also known as ATS for short, is a type of bet that handles the underdog / favorite dynamic a bit differently than in the moneyline style of gambling.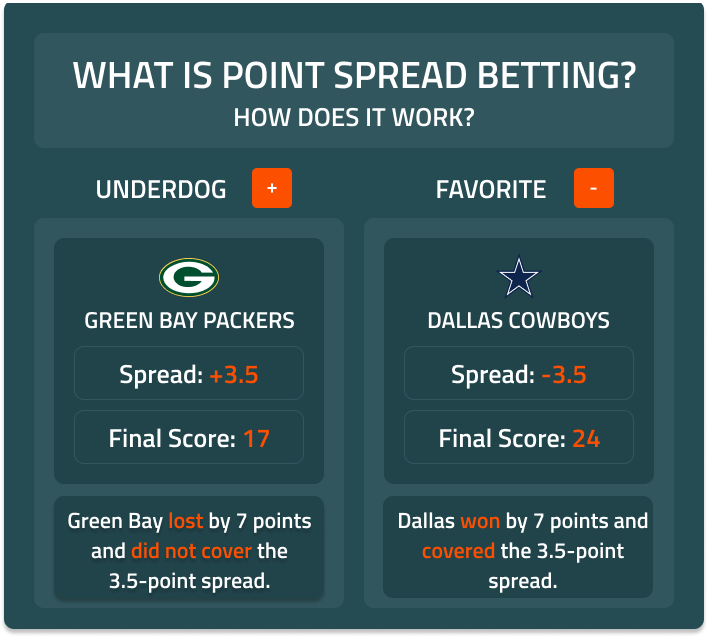 With against the spread, lines will look like this:
Mavs +6
Clippers - 6
If you wish to take the favorite Mavericks for this game, you will need them to win by more than 6 points to win your bet. Conversely, if you pick the Clippers, LA could actually lose by 3 points and you would still win your bet!
Parlay Picks
In a parlay, you combine two or more bets together in order to win much larger prizes. For example, if you bet on the Yankees to win and Aaron Judge to hit a home run, your odds of winning are lower, and therefore your prize is much higher. The downside is that winning half your bet means nothing: Judge could homer but the Yanks could lose, and you'd be out of luck.
What Factors Does a Handicapper Look At?
Here are a few of the many factors that handicappers examine in order to make the best possible picks on each given day.
What Lines Offer the Best Possibility of Success?
In theory, sports books set their gambling lines based on their best analysis of probabilities. However, sometimes there are exceptions to this rule. For example, if a disproportionately large number of fans are all gambling on a beloved hometown hero, the sportsbook may alter its line to offset its liabilities. This allows savvy gambles to recognize the exceptional value in the line offered and make a smart bet.
In other scenarios, handicappers may recognize the value of a bet because they believe they see a statistical insight that the sportsbook is not taking into account. There are many potential variations on this concept, but at the end of the day, one job of a sports handicapper is finding bets that set you up to make a lot of money relative to the risk you run. As Sun Tzu teaches, every battle is won before it is ever fought.
Who is Playing?
Many good teams become sub-par with the loss of a star. The Best sports handicappers pay close attention to lineup trends, injury rumors, and other news that could indicate a significant player will be warming the bench for their team. Make a bet with this information before sportsbooks get wise and update their odds, and you may find yourself an absolute no-brainer of a bet.
A good handicapper will also understand each team's historical performance against the opponent and will weigh whether those statistics are significant enough to take into account or if they are just standard variance or small sample size.
Where is the Game?
Sometimes a passionate hometown crowd can be like having an extra player on the field. Of course, we've all seen that exception-to-the-rule team that somehow performs better on the road, too. Understanding these trends, and being able to attribute them to real-life factors rather than just statistical anomalies, can help handicappers make better predictions.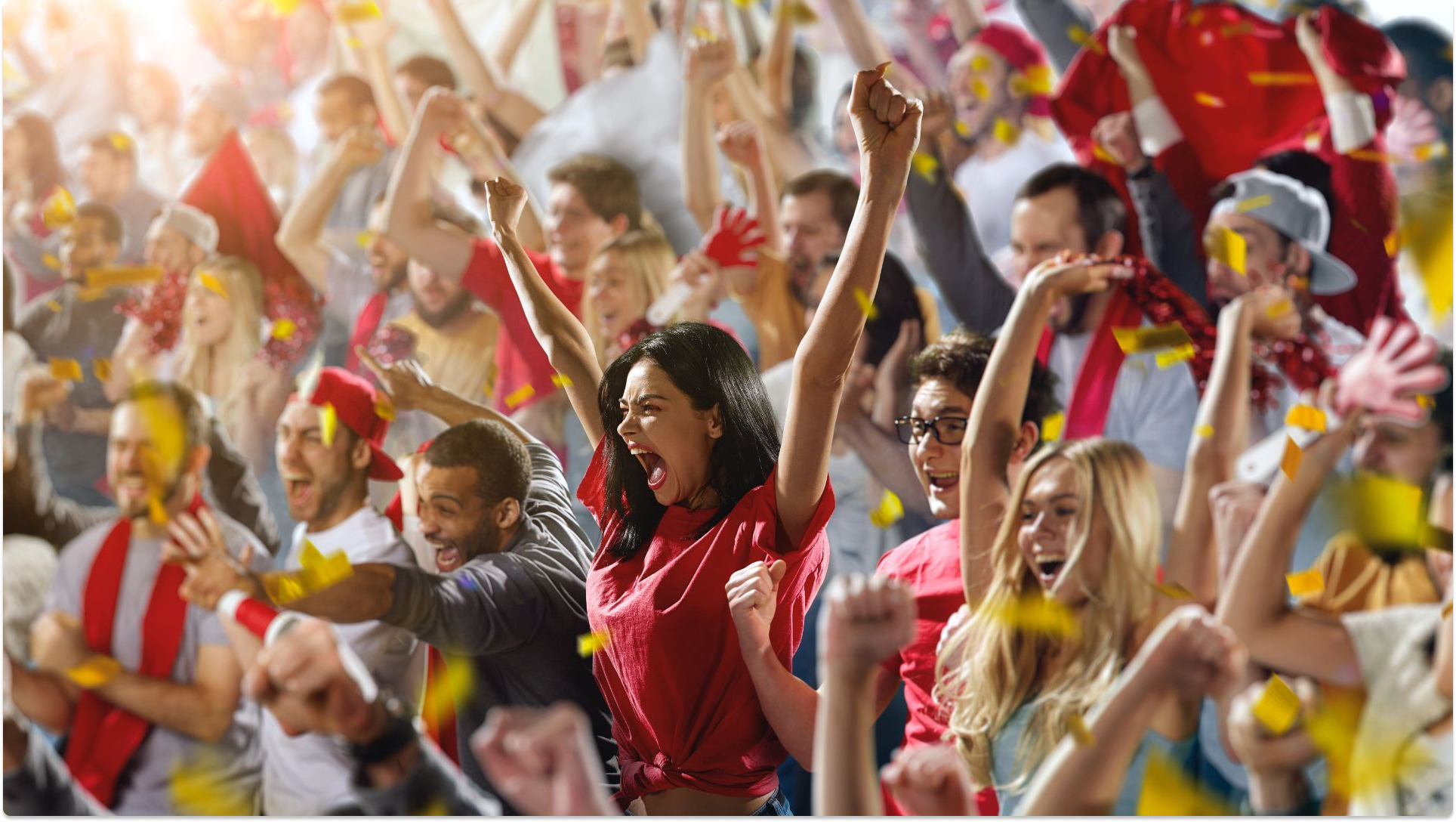 On a related note, the weather at game time can also impact the outcomes on the field. Strong winds can wreak havoc on quarterbacks and outfielders, for example. Icy weather causes some players to stiffen up, while it seems to provide a shot of adrenaline for others. For sports that are played outdoors, taking time to analyze weather conditions and make informed guesses about how those conditions will affect the game can be a valuable source of strategy and insight.
How is the Public Betting?
As we mentioned earlier in this article. Sportsbooks commonly adjust their betting lines based not on the actual predictions for the game but in response to how the public perceives the matchup. Sometimes the whims of the crowd are hard to guess, but during certain special occasions, they can be very predictable.
It's possible to use line movement to your advantage as a gambler. Generally speaking, if you plan on betting on the favorite, it's best to bet early. This is because if the line does move, it will usually move against the favorite as more and more people make bets for the better team. This will cause the sportsbook to even the odds by adjusting accordingly. Conversely, if you plan to bet for the underdog, it's often a good idea to wait until closer to game time.
Incorporate Expert Insights to Improve Your Sports Betting Game!
If you've read this far, you're definitely serious about improving your strategies, techniques, and understanding of the sports betting world.
👉 Why not shop around and find a Discord or Slack community on the Whop Marketplace? We promise you'll learn a ton and have fun doing it!