If you've been running a SaaS business for any length of time, you'll know that managing subscriptions and subscription revenue is key to your success. Without effective management of your subscriptions, it can be difficult to keep your customer count on a steady growth trajectory. Not only this, but churn can also get out of control far too easily.
So, if you want to get ahead of the curve and lock your subscriptions down, this guide is for you! We'll get into the ins and outs of subscription management, and give you what we think are the 9 best options for subscription management software to help your business run smoother than ever.
SaaS Subscription Management Defined
Before getting into what the best options are when it comes to SaaS subscription management software, it's important to define what SaaS subscription management is so you can set your expectations and requirements.
So, what is SaaS subscription management? Generally, subscription management encompasses everything related to customer lifecycle operations. Your software should begin interacting with customers right from the outset, as soon as they want to sign up. It should also cover trials, along with changes to subscriptions, add-ons, and even refunds.
Subscription management is often confused with payment providers. However, good subscription management software works hand in hand with your payment provider of choice. While payments can be tracked and facilitated easily by your provider, your SaaS subscription management software should take care of the customer beyond just billing them. This means dealing with issues as and when they come up, and keeping your customer base subscribed for as long as possible.
The Importance of SaaS Subscription Management
Subscriptions are the lifeblood of your SaaS business since recurring revenue is king. Therefore, getting customers subscribed and keeping them with you has a direct impact when it comes to your top line. So, let's take a look at how SaaS subscription management software can help you take the best possible care of your customers:
Sign-up Stage
If your customers are willing to sign right up, there's not too much need for your SaaS subscription management software to kick in here. However, good subscription management can really shine when it comes to customers who might need that extra little push.
It's up to you when it comes to picking which strategy to choose, but you can instruct your subscription management software to entice customers with a discount or offer a free trial. This can help when customers are on the fence or put off by your price point.
You may also be able to take action once a customer's free trial is at an end via your SaaS subscription management software, heightening your chances of acquiring the customer.
Customer Retention
The best SaaS subscription management software can help to retain customers once they're signed up. From offering them upgrades and other pricing options, to working through your service tiers, your subscription management system can ensure that your customers are at the right tier of service and payment for their needs.
SaaS subscription management software is also extremely useful when it comes to communication with your customers. By informing customers about updates and features, you can ensure that they're getting maximum value from your software and are open to upgrading their subscriptions.
Financial Modeling
Recurring revenue is your lifeblood as a SaaS business, and good SaaS subscription management software not only keeps your subs with you, but it helps you track your metrics too. Accurate SaaS metrics can help you maximize the potential of your business, so it's a perk you shouldn't sleep on.
👉 Read all about SaaS metrics in our comprehensive guide right here!
Cancellation and Termination
When a customer initiates cancellation, your SaaS subscription management can help. For one thing, you may be able to retain the customer with a final discount offer. This isn't something you should bank on, but it might give you a chance of keeping the customer.
More importantly, though, you can also use the software to ask your customers for exit feedback. Churn is one of the biggest issues to look at in SaaS, and by asking your customers a few targeted questions about why they're canceling their subscription, you may receive some priceless insights. These in turn will help you implement strategies to reduce your churn rate going forward.
Dunning Management
Payment failures and declines are an unfortunate reality when it comes to operating an online business, but a good SaaS subscription management software can help you mitigate the impact on your revenue.
If you only have a small number of customers, this isn't too much of an issue since you can contact them individually and follow up to recover whatever amounts are due. Once your customer base starts expanding, you need your subscription management software to take over by automatically acting on failed payments.
This is especially helpful because it can reduce your passive churn rate. Customers who leave involuntarily don't necessarily want to stop subscribing to your services, so a follow-up or nudge from your SaaS subscription management software may be all that's required to get them back on board.
Now that we have covered why SaaS subscription management is important, let's take a look at the top 9 software options on the market.
Top 9 SaaS Subscription Management Software Options 🏆
#1. Whop

We couldn't list the best SaaS subscription management software options without including Whop. Whop is a digital marketplace for entrepreneurs and creators and offers extremely robust SaaS subscription management features while taking care of all your SaaS business needs. It's also extremely easy to integrate with your existing tech stack, featuring an easy-to-use API wrapped and served in a JavaScript SDK.
The powerful Whop business dashboard is packed with features designed to boost your SaaS revenue, from affiliate management to upgrades, upsells, offers upon cancellation, annual subscription options, and much more. You can also encourage potential customers to purchase via discounts and promo codes, nip disputes in the bud via the Whop Dispute Fighter tool, and automate customer emails to drive conversion and retention.
Whop takes care of operations so that you can focus on perfecting your products and services. Payments are accepted from national currencies of over 130 countries as well as select cryptocurrencies! You can also integrate other payment providers, so Whop can work hand-in-hand with services you might already use such as Stripe.
Given all that is does, Whop is easily a top contender when it comes to SaaS subscription management options. Best of all, you can get started with Whop in minutes, so give it a try today!
Whop at a glance:
Handles payments from national currencies from 135+ countries as well as crypto
Improves customer retention via a suite of subscription management features
Upsells and cross-sells
Strategize with discounts, promo codes, trials, upgrades, and more
Serves as your Merchant of Record (MoR)
Easy set-up with the Whop API
Integrates with other services including Stripe
24/7 customer support with a 97% satisfaction rating
#2. Stripe Billing
You may know Stripe best as a payment provider. However, its subscription management feature, Stripe Billing, is a powerful and convenient option for many SaaS businesses. It's an extremely easy option when it comes to getting started, and businesses of any size can use it comfortably.
Stripe features support for various subscription models, so whether you're running usage-based or tiered subs, you shouldn't have any problems. It also has something of a competitive advantage when it comes to payments, with direct integrations with the different card networks and banks out there.
The downside of using Stripe Billing is that it caters to a wide audience. This means that it's great when all you need is the basics, but you may be out of luck if you're after certain advanced features or options.
That said, Stripe's wide audience helps in other areas, and it integrates easily with various third-party platforms and software out there. This is crucial for SaaS businesses since it means your CRM, customer support tools, accounting software, and various other software can work together seamlessly.
Stripe Billing at a glance:
Easy to set up and get started
Extremely flexible payment options
High security via 2FA, encryption, and fraud detection
Automatic billing and invoicing
Integration with a wide variety of other platforms
Detailed analytics and reporting tools
Supports different subscription models
Charges percentage fee per transaction
#3. Chargebee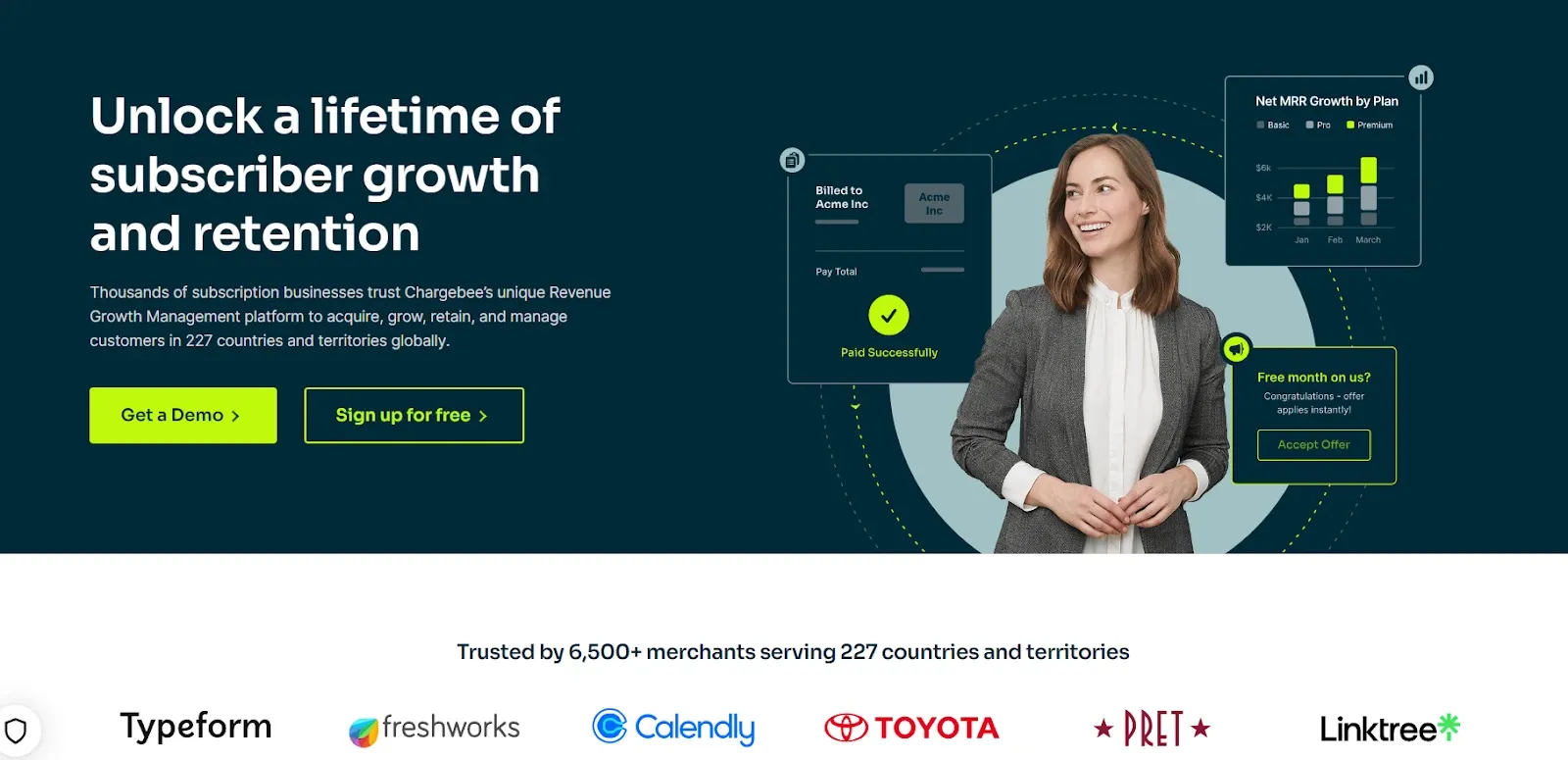 Chargebee is another extremely popular SaaS subscription management software used globally. It's excellent for managing your subscriptions and ensuring growth and retention, and a great choice for international operations since it tailors a localized experience in over 150 countries.
Whether managing subscriptions and billing or dealing with coupons, add-ons, trials, upselling, and cross-selling, Chargebee has something to offer. It can take some work to set up, but offers different pricing tiers including a free plan for new businesses that only starts charging when a certain revenue threshold is met.
Chargebee at a glance:
Manages subscriptions and billing
Customization of add-ons and built-in coupon system
Prorated billing for plan switching
Offers self-service options in customer portals
Can be tricky to set up
Free for new businesses up to a certain revenue threshold
#4. Zuora
A professional solution for various industries including SaaS, Zuora positions itself as a monetization platform rather than a SaaS subscription management platform. However, it does the job proficiently, automating complicated revenue streams while offering a whole host of other features.
Zuora takes care of dunning management and links up with over 40 payment gateways, with support for 180 currencies, supporting your business from quote-to-cash to revenue recognition. It also takes care of subscribers throughout the lifecycle using a purpose-built software called Zuora CPQ.
However, Zuora is generally considered a premium provider and tends to work with large-scale businesses. You may want to look elsewhere if you're operating a new or smaller-scale business.
Zuora at a glance:
Supports various pricing models
Scales billing to very large amounts of customers
40+ payment gateways and support for 180 currencies
Zuora CPQ software for quoting throughout the subscriber lifecycle
Easy integration with an existing application ecosystem
On-demand pricing
#5. Pabbly
On the other end of the spectrum from Zuora lies Pabbly, a simple, effective recurring billing provider with built-in affiliate management features. It helps to automate subscriber lifecycle processes and takes care of a lot of the essentials such as dunning management, customization of checkouts, and offering free trials.
Pabbly is a great choice for new or smaller businesses because of its affordability, and while it doesn't offer a lot of the premium features and advanced analytics you may be looking for, it does a lot of the smaller things well.
Pabbly at a glance:
Integrated customer portal
Manages recurring as well as one-time payments
Supports over 25 currencies and has no transaction fees
Offers customers trials, coupons, and discounts
Creates branded invoices for customers
Limited analytics features
Extremely low-cost alternative
#6. FastSpring
FastSpring is a service that specializes in SaaS, offering features ranging from subscription management to payments, tax collection, and remittance. Supporting over 21 languages and 23 currencies and available in 200 regions, FastSpring is a scalable alternative for your SaaS business.
You can take care of all your subscription management needs using FastSpring, including upselling, cross-selling, upgrades, and even unique subscription options. Whether it's recovering failed rebills, managing free trials, or zero-code set-up, it's a powerful tool that can take care of most of your needs.
FastSpring at a glance:
Manages subscriptions
Handles tax collection and remittance
Serves as Merchant of Record (MoR)
Supports over 23 currencies and 21 languages
Offers unique subscription options
Lets you deploy special promotions, trials, and more
#7. Paddle
Paddle is a subscription management software that provides an all-in-one payments infrastructure while also taking on liability for charging and remitting sales taxes as well as any fraud that may take place. It handles all billing-related support queries too, and helps to cut down churn by recovering failed payments.
With Paddle, you also have access to accurate revenue reporting and analytics, and the software helps you make data-driven insights when it comes to pricing.
In terms of pricing for your deal with Paddle, too, they're flexible—the service offers a pay-as-you-go option of 5% plus $0.50 per checkout, but also custom options for rapidly scaling or large-scale businesses, as well as those selling products under $10 (where their fee structure might otherwise eat into your profits significantly).
Paddle at a glance:
Handles all things payments and billing
Manage subscriptions from one place
Multiple currencies and payment options
Fraud protection and tax compliance
Upsell insights
#8. Maxio
Maxio is another popular SaaS-focused subscription management provider that can help you with billing issues and make recurring billing easy. It gives you a handle on your business with full access to financial reporting data, and this focus on crucial SaaS metrics can help set it apart from some of its competitors.
The service also offers "no code" subscription management software that allows you to manage everything you need directly from your platform. This makes handling the operational side of your business via Maxio a breeze, and you can create individual contracts as well as unique subscription plans easily.
Maxio is a new brand but an experienced firm when it comes to subscription management because it was formed with the merger of Chargify, a B2B SaaS subscription management specialist, and SaaSOptics, a firm specializing in the automation of B2B SaaS financial operations.
Maxio at a glance:
Robust subscription management platform
In-depth SaaS metrics and analytics
Handles billing including tailored invoicing
Simplifies customer lifecycle management
Build unique subscription plans and individual contracts
Formed via merger of Chargify and SaaSOptics
#9. Recurly
Recurly is primarily a billing platform but offers advanced personalization and subscription management options. Given its strengths in billing, it supports extremely complex billing options and various subscription plans, so if this is what you need, ignore the fact that Recurly's is in the ninth spot.
It's also designed by developers for developers, so you can customize practically every aspect of its API to your needs. The ability to create workflows in this manner is extremely valuable, and it goes without saying that Recurly integrates easily with various other software and platforms including payment gateways, CRMs, and much more.
Recurly at a glance:
Supports complex billing options
Set up any sort of subscription plan
Highly customizable API
Wide variety of integrations with other software
Different pricing options to choose from
How to Choose a SaaS Subscription Management Software
Now that we've looked at a variety of top subscription management options as well as how they can benefit you, you may still be wondering how to go about picking one! Let's take a look at how you can go about it by asking yourself four crucial questions:
Question 1: What are Your Needs?
This is a great place to start when it comes to making any kind of product purchase, and it's especially true when evaluating different SaaS subscription management software. The option you choose needs to fit with your requirements, so setting those requirements out in black and white is your first step.
When you look at your current operations and strategy, it'll become apparent fairly quickly where a SaaS subscription management software can help. If your clients are struggling to manage their subscriptions on their own, or if you have different options when it comes to pricing, you may want to prioritize software that has features in these areas.
SaaS subscription management software can help you fix problems such as dunning, and it can help you stay compliant across various geographies. Identify what your business needs, both now and in the future.
Question 2: What Features Satisfy Your Needs?
Now that you've figured out what your requirements truly are, you can start shopping around for software and seeing what features can serve your business needs. Different SaaS subscription management software solutions focus on different things, but the list of options earlier in this guide should cover all the possibilities.
What's important is that you make sure you know what you're getting. If customer experience is your main consideration, for example, you'll want software that provides a fantastic UX throughout, solid customer support, easy access to functions, and even a good deal of personalization options.
If on the other hand, you need software that provides top-tier analytics, look for a wide selection of available metrics, the ability to customize reports, and highly detailed data.
Question 3. Which Third-Party Integrations Do You Need?
Don't forget to think about your existing tech stack when deciding which SaaS subscription management software to go for. Easy integration with third-party tools will ensure that your operational backend works as it should.
Remember that you'll want to think ahead, here—don't just check for integrations with whatever you're using today, but also whatever other tools or services you may want to add down the line.
Question 4: Does Your Marketing Approach Fit?
The SaaS subscription management software you choose will let you have different levels of control over your marketing communications, and your customers will interact with it at various points such as checkout, upgrades, and renewals.
Therefore, you may need to think about which software hits the right tone and stays consistent with your approach. Keeping all of these interactions on-brand is extremely important.
PSA 🚨: Recurring Billing vs. Subscription Management
Remember, it's important not to confuse subscription management software with recurring billing when choosing the right alternative for you. This is vital because many of the outlined functions and benefits of SaaS subscription management software are not features that you can expect to get from a recurring billing provider.
A subscription management service can work with your recurring billing provider, though, working to enhance your customers' experience and maximizing your chance of retaining them as long as possible.
Choose Whop to Manage Your Subscriptions!
Subscription management is key to the health of your SaaS business, and the right SaaS subscription management software can be priceless not just in surviving the competition but heading the pack and scaling growth to meet your goals. Choosing the right software is a matter of identifying exactly what you need, and then looking through our list to see which option has the features that solve your particular set of problems or requirements.
👉 We think Whop can do a great job for your business, no matter what size, scale, or stage you're at. It offers everything you need as a SaaS platform, offering high-end subscription management features, crucial analytics, payments services, billing, and even serves as your Merchant of Record. Visit Whop and talk to the team today!