Introduction to Whop
To catch you up to speed, Whop is a digital marketplace that helps 1M+ entrepreneurs make money online. From Discord communities to software & courses - Whop hosts different digital products in niches such as sports betting, reselling, trading, e-commerce, and more.
What is the Whop Affiliate program?
The Whop affiliate program rewards current Whop customers for referring products hosted on Whop and bringing new customers to our marketplace. As an affiliate, you can claim a custom link from any company with an active affiliate program, share the link with whoever you choose, and a recurring cash reward for you referral.
How do I become an Affiliate for a product?
The affiliate dashboard showcases all products live on the Whop marketplace. The dashboard promotes transparency and provides ease of use. You can filter and browse the available products, sort from companies with the highest review count, check the amount of money you will make, track statistics around your referral, and earn your rewards. To become a Whop affiliate, head over to our affiliate dashboard here.
Hot tip: The more positive reviews a product has, the more likely a customer is to convert :)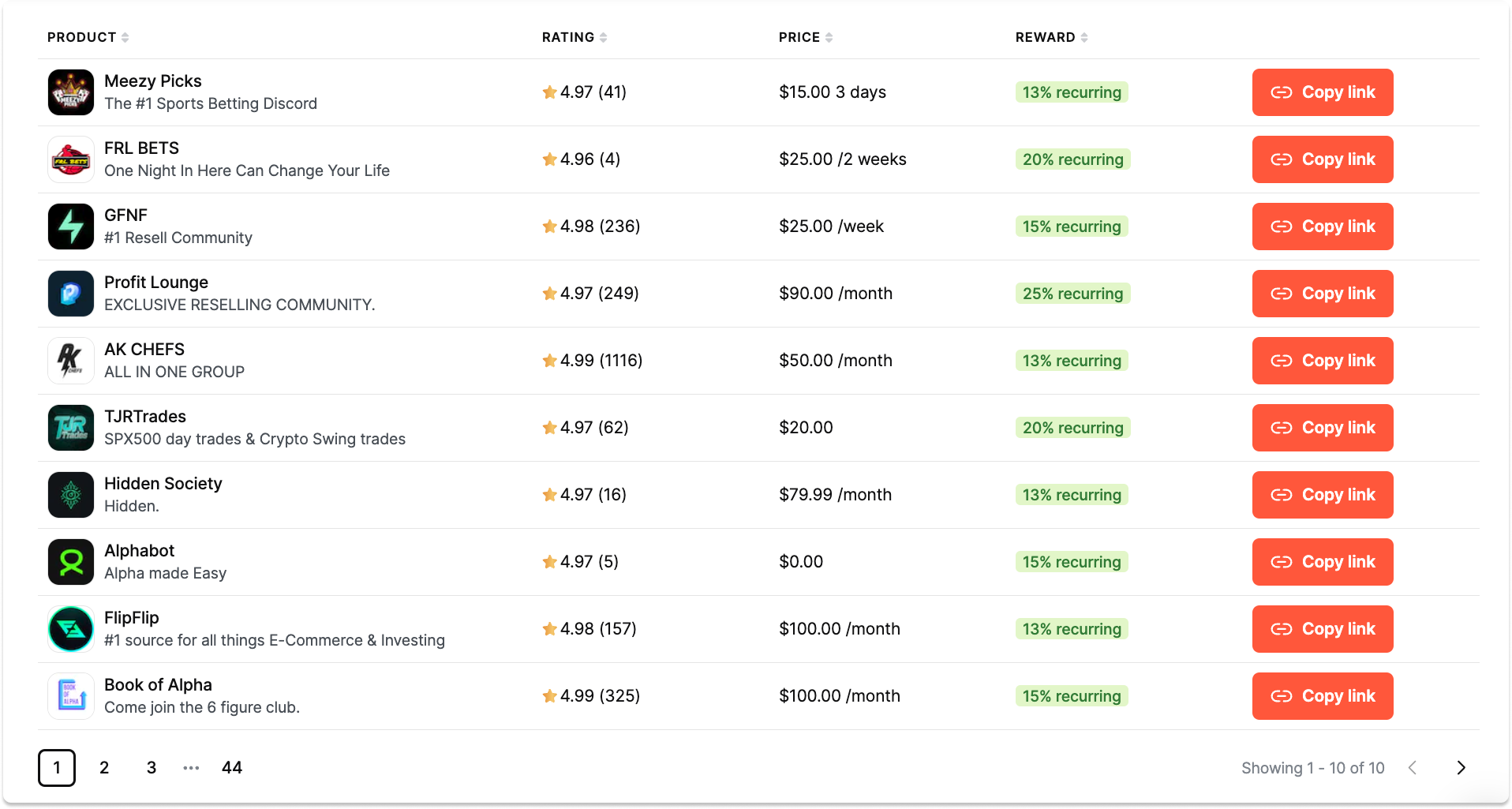 Can I become an affiliate for a category?
On Whop, our marketplace is segmented into eight core product categories. If you are prefer not to recommend a singular product, you can refer customers directly to a category of your choosing and make money off of any sales generated from your referral.
Are you thinking of creating content about trading? Refer customers to the top trading products at Whop.com/trading.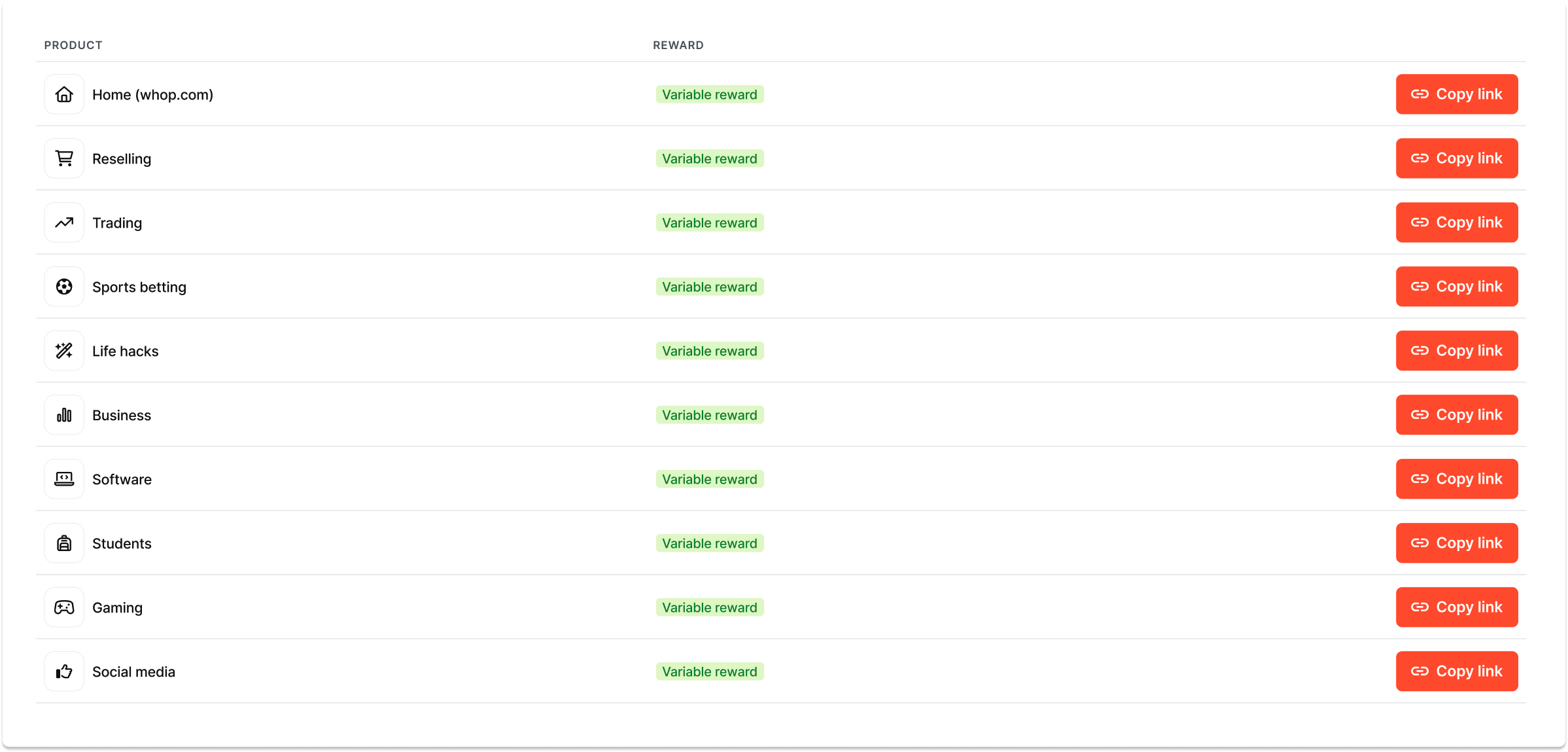 Where do I manage my custom affiliate links?
If you have a personalized affiliate deal or are a customer of a product with a custom affiliate program, you can actively see which affiliate programs you can access and claim your link like any other custom link. Whop will automatically calculate and provide you with the correct payment amount.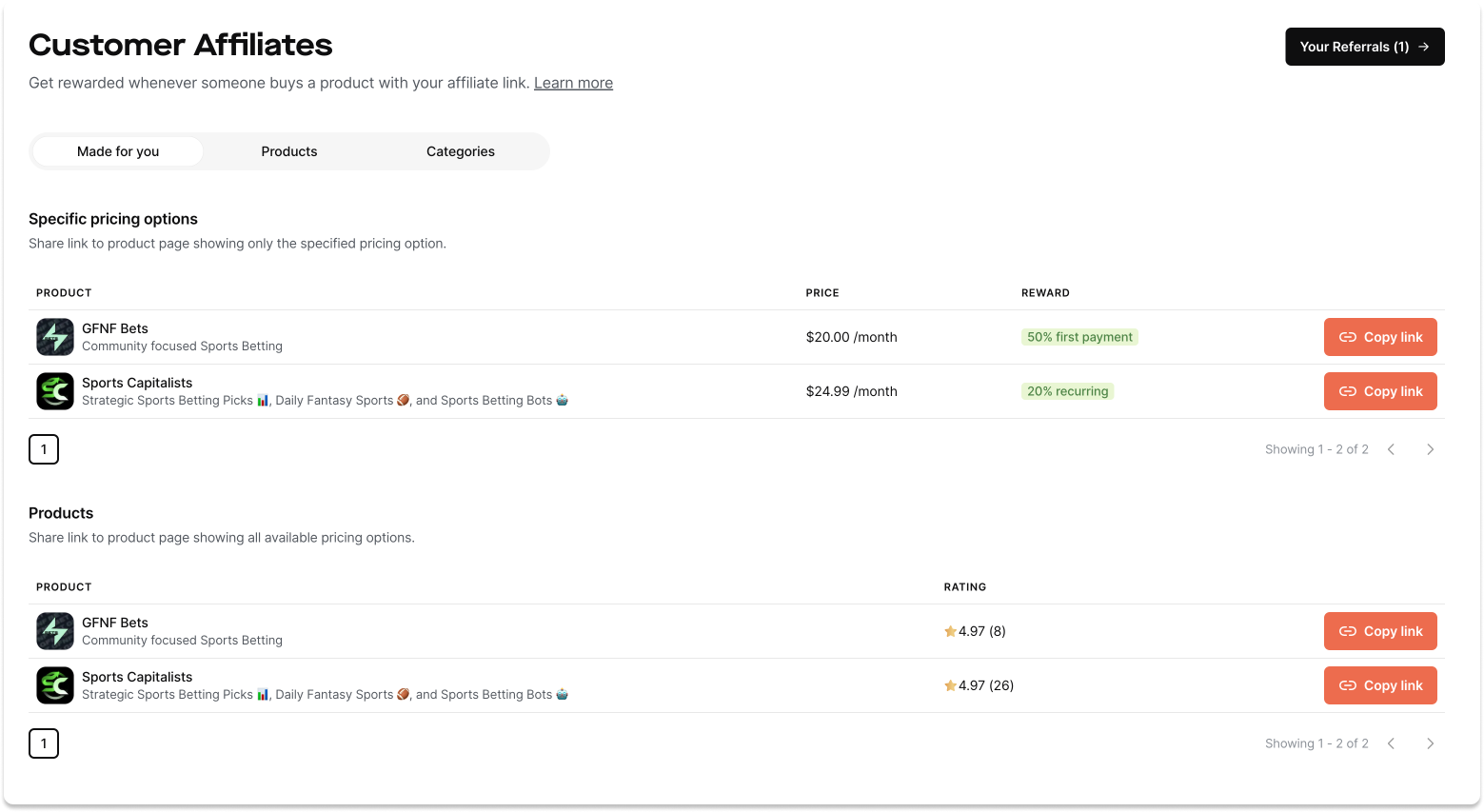 How do I manage my affiliates?
Once you have started to refer customers through your affiliate links, you will be able to directly manage your referrals. You can do this by either clicking 'Your Referrals' on the Affiliates home page or go to the link here.
On your referrals page you will be able to:
View how much money you have made
View how many clicks your affiliate links have gotten
Withdraw your funds
View how much impact each of your affiliate campaigns are having

Article reviewed and checked for accuracy on 09/14/2023 by Colin McDermott