Attention sports fans! Have you heard about the latest craze in the betting world? It's called eSports betting, and it's taking the world by storm.
But what exactly is eSports betting? It's a form of betting. You can place wagers on the outcome of competitive video game tournaments and events.
The Massive Growth of eSports Betting
The rise of competitive video gaming has captured the attention of millions of people around the world. More and more tournaments and events popping up all the time. It's no wonder that the number of people betting on eSports tournaments is skyrocketing.
eSports betting has something for everyone. Whether you're a gamer, a sports bettor, or looking for a new and exciting way to place bets. Get in on the action, join a server and see what all the fuss is about!
The Top eSports Betting Discord Servers
Joining an eSports betting Discord server, or creating your own, is a great way to connect with other like-minded individuals. It will help you stay up-to-date on the latest news, tips, and odds in the world of eSports betting. If you join a discord server you can stay up to date on eSports events.  This will help you win big in the betting markets. Here's a peek at top-rated Discord servers on Whop:
Meezy Picks
Meezy Picks is a popular sports betting Discord server. It provides valuable resources and support to sports bettors. The server offers daily tracking of profit and loss. They also provide value-based sports betting picks for various sports.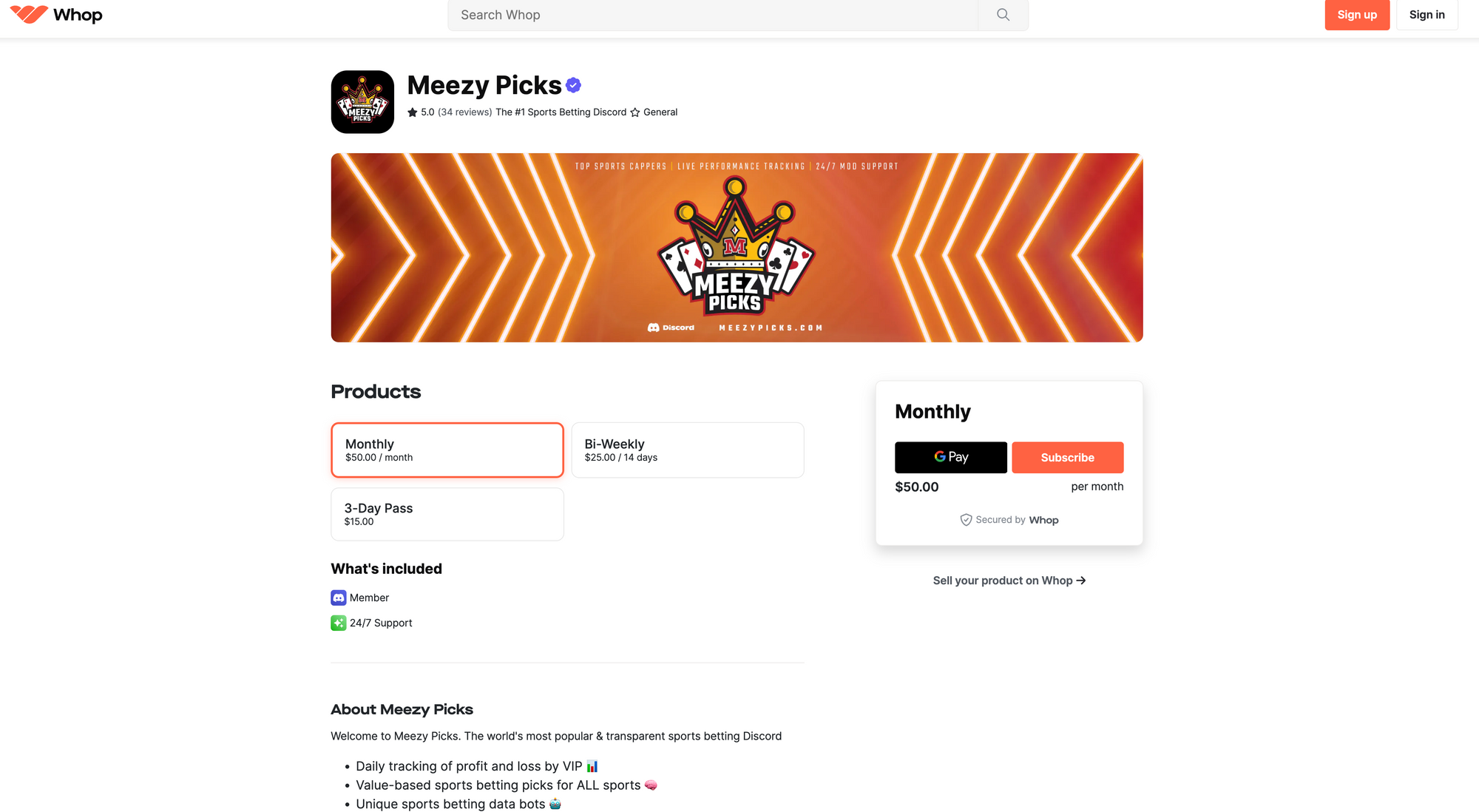 Members of the Meezy Picks community have access to a chat platform.  On this platform they can discuss their eSports bets. This is a great place to receive feedback from other members.
Sports Capitalists
The Sports Capitalists community helps fans create another source of income through sports. The platform offers a variety of tools. Including strategic sports betting picks, daily fantasy sports, and eSports discussions. It's also home to a popular and transparent sports betting Discord server.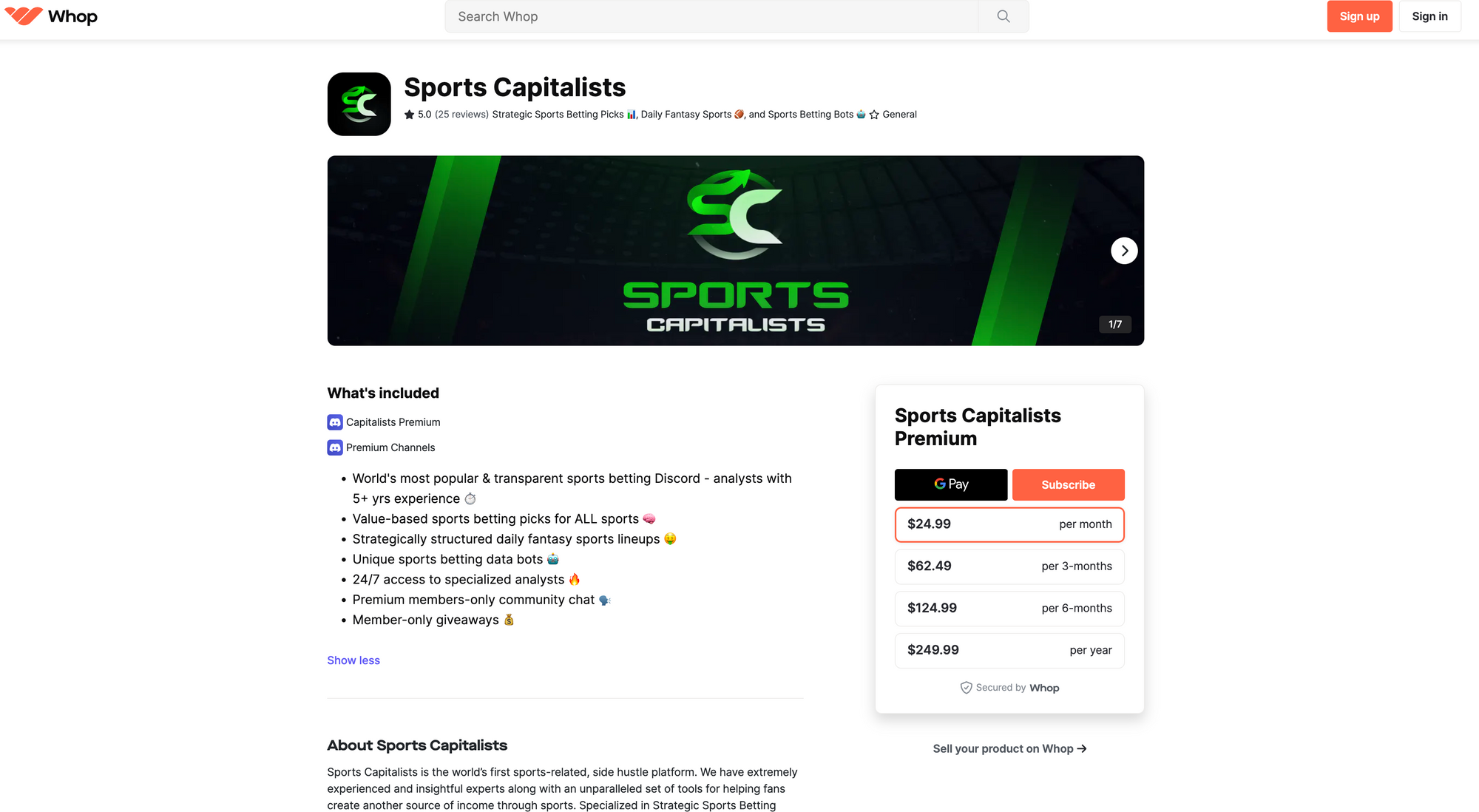 The analysts at Sports Capitalists have over five years of experience in the field. They can provide value-based sports betting picks for all sports.
They also offer strategic structured daily fantasy sports lineups to help maximize profits. Members of the Sports Capitalists community have access to unique sports betting data bots. You can access the analysts 24/7.
Sandbox Sports
Sandbox Sports is a discord community. It has insights, statistics, and analysis for sports betting enthusiasts. The community offers dedicated chat rooms for each sport. Data resources help members stay informed and make informed betting decisions.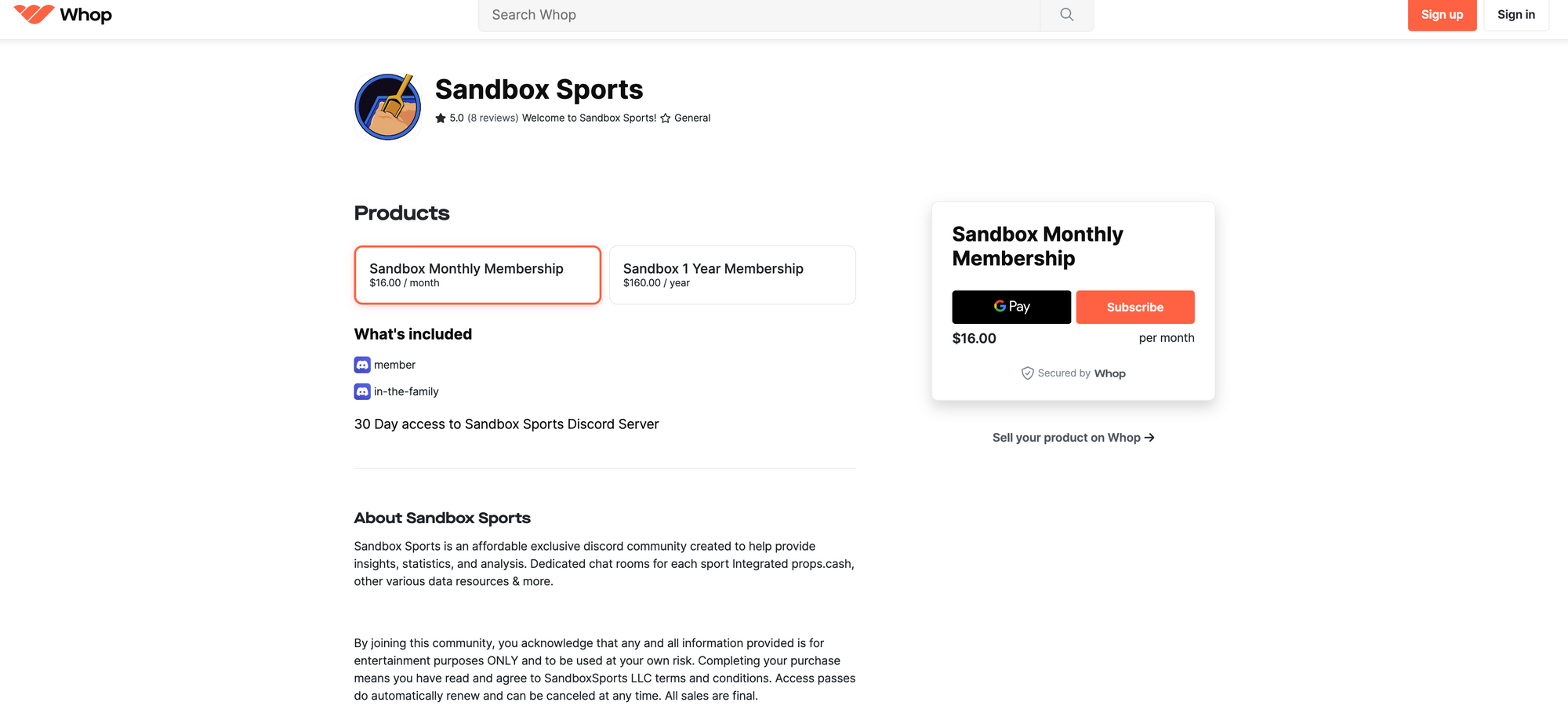 Members of Sandbox Sports have access to a wealth of information and support. With a focus on affordability, Sandbox Sports provides an exclusive and supportive community.  They are great for anyone looking to improve their sports betting strategy.
GeechiVIP
GeechiVIP is a discord community. It provides high-quality sports analysis to its members. By joining GeechiVIP, you'll have unlimited access to daily analyses for all sports. They use a  team of top-notch traditional and eSports consultants.
GeechiVIP also offers a supportive community environment.  You can share your own analyses for feedback.  You can learn from other members to help each other grow and develop in the world of sports.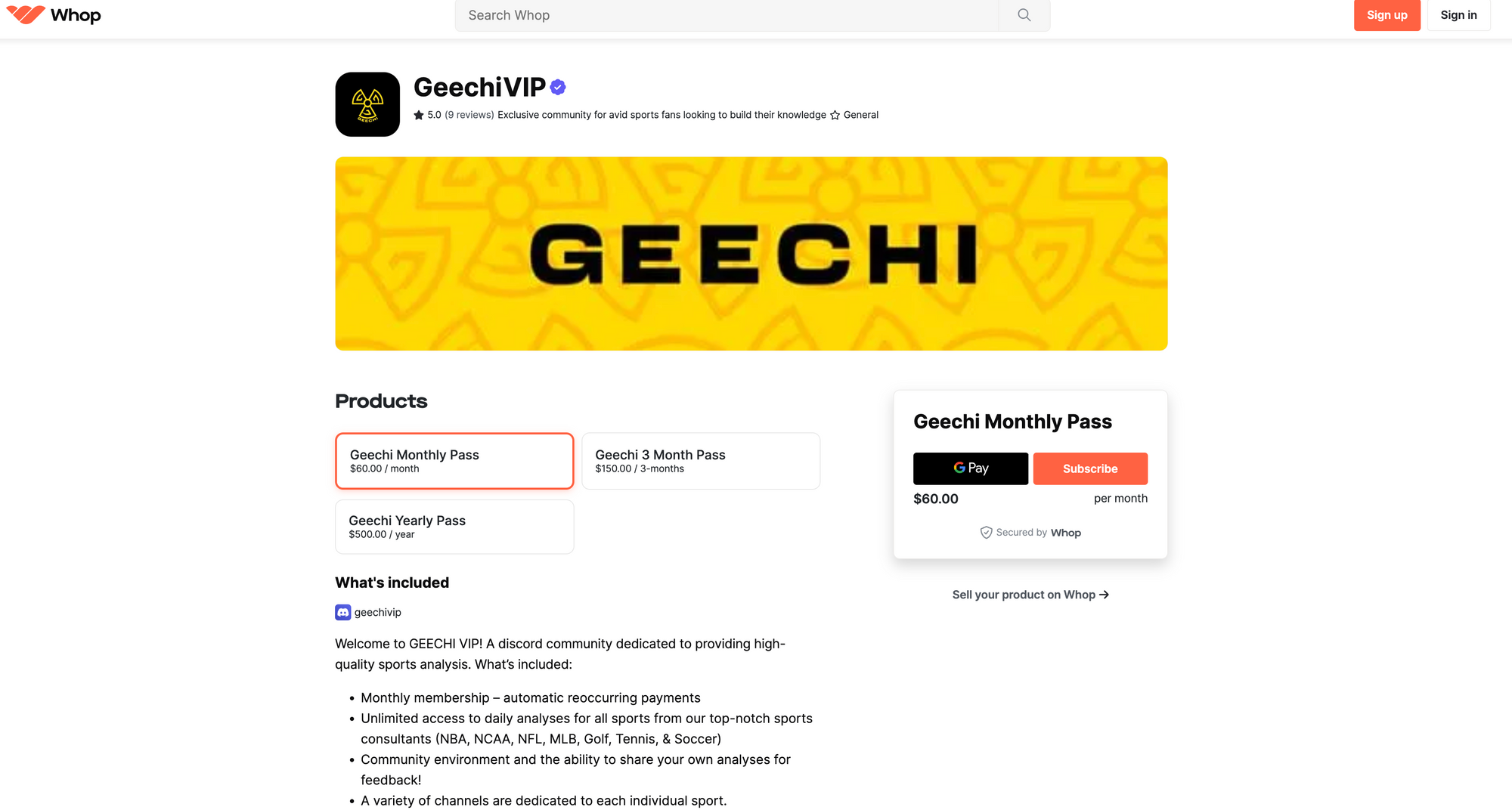 The dedicated channels for each sport are a huge pro of this platform.  The focus on sports analysis, including odds, boosts, and promos make GEECHI VIP is a great resource. It is perfect for anyone looking to improve their sports betting strategy.
Browse Whop Marketplace if you're looking to get involved in eSports betting, . Check out some of these top eSports betting Discord servers. Start chatting with other bettors!
The Impact on the Sports Betting World
The rise of eSports betting has definitely affected the sports betting world. One of the biggest changes is the increased competition for sports betting companies. With so many people flocking to eSports as their preferred form of betting, these companies have to work hard to keep up.
But it's not only the sports betting companies that are feeling the effects of this rise. You, as a bettor, now have even more resources and platforms to choose from when it comes to placing your bets.
But who exactly is betting on eSports? Well, it's a mix of gamers, sports bettors, and people who are looking for a new and exciting way to place bets. The customer demographic is changing, and sports betting companies are taking notice.
As a result, many sports betters are focusing more on technology and innovation. Experts and novices want to ensure they get the best betting experience possible. They want the most up-to-date odds and advanced betting tools.
This has led to the growth of expert-led digital betting and sports betting Discord communities. These communities make the eSports betting world much less challenging to navigate.
Challenges Facing the Industry
Despite the massive growth and popularity of eSports betting, there are still a couple of challenges facing the industry.
One of the biggest challenges is regulation. There are many different laws and regulations around online betting.
It can take time for companies to keep up. This can lead to confusion for bettors. Luckily, there are many legal markets in the U.S.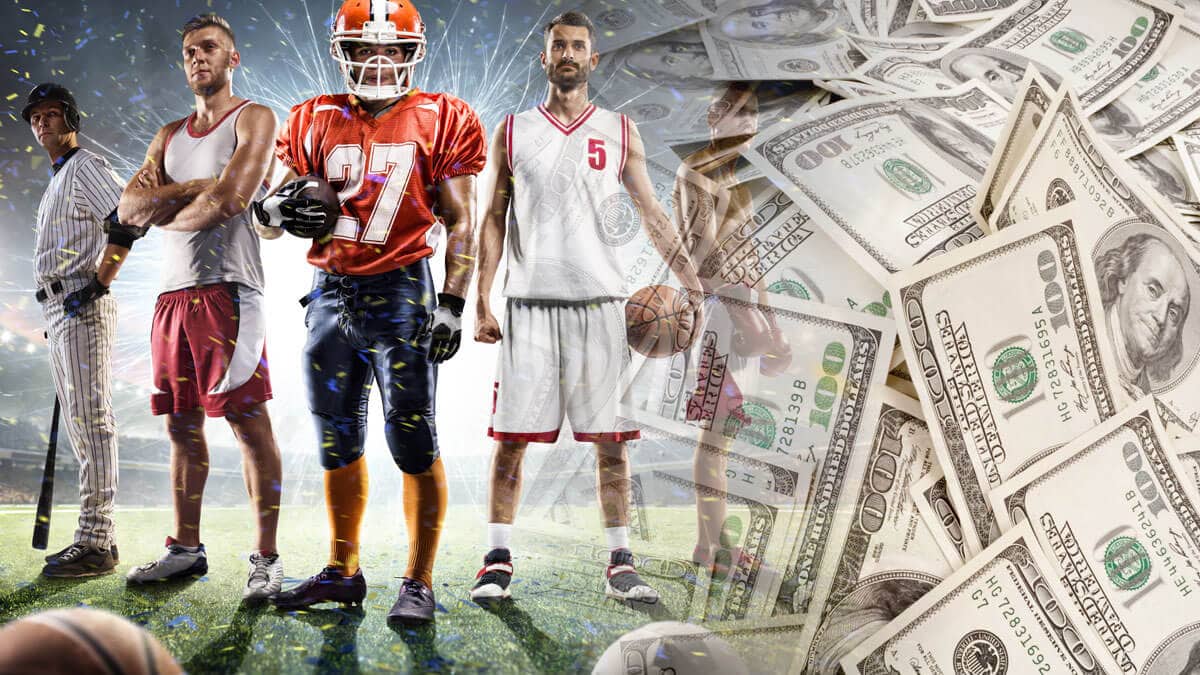 Another challenge facing the industry is match-fixing in competitive gaming. Players have been fixing matches to increase their gains from betting outcomes. This damages the integrity of the competition. It puts the industry's reputation as a whole at risk.
In the end, it's up to everyone—communities, players, and bettors—to work together to ensure the growth and success of the industry. With the right steps and the right focus, the future of eSports betting looks bright.
Join a Sports Betting Community
The rise of eSports betting has been nothing short of phenomenal. From its humble beginnings as a niche form of betting, it's now one of the most popular and fastest-growing forms of online betting. With more and more people jumping on board every day, it's clear that the future of eSports betting is bright.
If you love video games and sports betting or want to try something new and exciting, then eSports betting is definitely for you. So why not join the community and see what all the fuss is about? Joining the community is easy. Find a reputable and trustworthy sports betting site that offers eSports betting, and start placing your bets.
You can also join the Whop Marketplace sports betting Discord servers.  There you can chat with other like-minded people.  Get the latest tips, tricks, and insider information.
👉 Whether you're a seasoned bettor or a complete newcomer, there's never been a better time to join the community.  Create an account on the Whop Marketplace sports betting Discord servers now. Start making the most of your eSports betting experience.