If you're an e-commerce merchant and sell your digital products and services on platforms like Whop, you already know how important satisfying your customers is. Unfortunately, payment disputes are an inevitable reality of the business—nobody enjoys them, but it can happen to even the best merchants for a number of reasons.
This guide will take you into the realm of disputes and chargebacks, and show you what tools Whop can offer in order to help you better deal with disputes.
What is a Dispute?
A dispute occurs when a customer encounters some sort of issue with a transaction and contacts either their payment provider or you, their merchant, for clarification and resolution.
A dispute can lead to situations such as refunds and chargebacks, but is generally seen as a preliminary stage since the customer will often attempt to contact you directly and seek clarification of the issue.
If however the customer contacts their payment provider directly, the provider may choose to investigate the claim, seeking information both from the customer and  merchant. The main down-sides of this situation is that the funds under dispute may be frozen for the duration of the investigation, and the fees resulting from this can even outweigh the disputed amount.
Reasons for Disputes
You may encounter disputes for a variety of reasons, some which may be legislated for by adopting best practices, but others are impossible to avoid. Billing discrepancy or confusion, for example, is something you can get ahead of easily—if you find a customer initiating a dispute because they don't recognize the charges, avoiding the problem in future is just a matter of improving your billing descriptor.
Customers may also raise disputes due to misunderstandings about product details or terms of service, or non-delivery and delivery delays. Unauthorized transactions due to card information being compromised can happen, and it's possible that technical problems can also result in doubling of charges.
How does a Dispute Work?
When a customer considers there to be an issue with a transaction, such as unauthorized account activity, non-delivery of goods, or even dissatisfaction with the product or service, they may choose to raise a dispute.
Their first step is usually to get in touch with you to notify you of the problem and seek clarification and resolution. However, they may choose to do so by contacting their bank instead, which then investigates the claim. If the claim is found to be valid, the bank reverses the transaction and credits the customer's account—this is called a chargeback, and we've got a guide to chargebacks here.
If the customer contacts you directly, you have every opportunity to resolve the dispute in the most beneficial manner for all concerned parties. It's advisable to keep communication open, positive and transparent, to give full attention and acknowledgement to the customer's concern, and provide personalized solutions if needed.
Chargebacks and Refunds
A dispute isn't necessarily a chargeback or a refund, but could certainly end in either. Chargebacks and refunds aren't the same, though—a refund is arranged directly between you and your customer as a measure of dispute resolution, while a chargeback engages the entire payment system that's at play and could end up being quite expensive.
Chargebacks take time and involve various fees, but you can execute a refund directly to your customer. This means no extra fees, and everything can be done quickly to the satisfaction of both parties.
What Whop Can Do For You
If you believe that a customer's dispute is unfair or unwarranted and can't be resolved fairly through direct communication, Whop has a suite of tools that can help!
First of all, our Dispute Fighter tool is built especially for these situations and can help you combat disputes that go badly or end up in chargebacks. Dispute Fighter uploads customer access logs, your unique TOS and refund policy, and all other relevant information that'll help you make your case.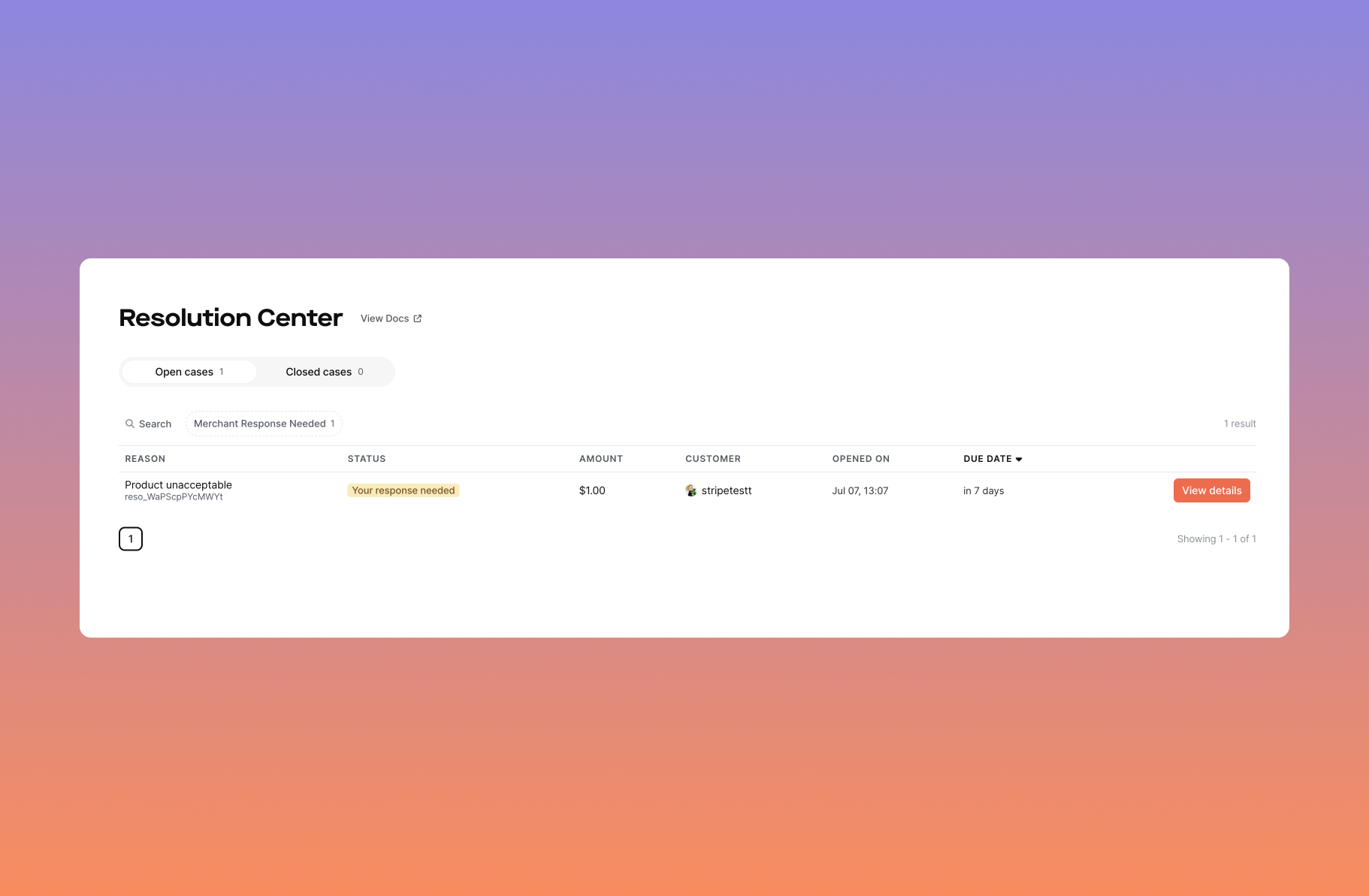 On top of Dispute Fighter, Whop's Resolution Center can also help. This powerful tool can facilitate charge disagreements between you and your customers, and help you get ahead of the case before a chargeback becomes likely.
Preventing Future Disputes
While it may be impossible to avoid them completely, here are some best practices to reduce the likelihood of future disputes or chargebacks coming your way:
Provide clear product/service descriptions and images.
Set accurate delivery expectations and provide track and trace information.
Provide good customer support and address customer concerns and queries promptly.
Use a clear, recognizable billing descriptor so that the customer recognizes the charge.
Implement advanced fraud detection tools and systems to prevent fraudulent transactions.
Get familiar with Whop's Resolution Center and Dispute Fighter in case the need arises.
---
Key Takeaways
Disputes are an unavoidable reality of being an e-commerce merchant, and you may wind up facing disputes through no fault of your own. They can often be resolved through clear communication with a client, but the worst-case outcome is when the customer charge back on their card.
👉 Whop's Resolution Center and Dispute Fighter can help you deal with disputes should the need arise. If open, attentive communication and the offer of fair resolution or a refund doesn't work, then take a look at the Whop Resolution Center and see how it can help you prevent chargebacks and protect you as a seller.