Telegram has quickly become a favorite for many individuals, among various niches, as it's one of the perfect choices for bootstrapping a community.
However, with more channels comes more competition, making it harder to stand out. Promotion is vital to help get more eyes on your Telegram channel and accelerate your community to new heights.
Understanding Your Audience
Before you even consider different promotion methods, you need to first understand your audience/target market. What are their interests? What sort of person are they?
Understanding your audience's interests and preferences is crucial, as doing so will allow you to devise a perfect plan to captivate them. To put it simply: if you don't understand your audience, you won't understand how to promote your channel effectively.
Your channel and promotion methods should have content that aligns with people's interests to garner better engagement.
When your content resonates, members will stay around for longer and potentially recommend it to like-minded peers.
Check: Sell access to your Telegram
List on Whop's Marketplace & Affiliates
Whop's Marketplace is an excellent place to have your Telegram channel listed, as it allows potentially millions of people to see your channel and read more about it.
Whop also allows you to monetize your Telegram channel (if you're not doing so already), so you can earn from people joining. Around two million memberships have been sold via Whop and that number is growing every day.
If your Telegram channel isn't a paid offering, don't worry! You can list your Telegram channel on Whop even if it's completely free to join.
Listing your Telegram channel on Whop's Marketplace will introduce your channel to a wider audience of people who are seeking quality content.
If accepted to be listed on Whop Marketplace, your Telegram channel will be visible to over one million active customers.
Imagine how this could help accelerate your channel's growth! Whop Marketplace is a fantastic way to promote your Telegram channel to many others, so why not try it?
Another awesome thing Whop offers is its affiliate scheme, which is an excellent way of attracting new community members via your existing members.
Whop's affiliate scheme allows community members to recommend your product to others and turn a profit. This is an awesome strategy that everyone benefits from and can help boost sales.
You can view Whop's documentation for more info on affiliate marketing here.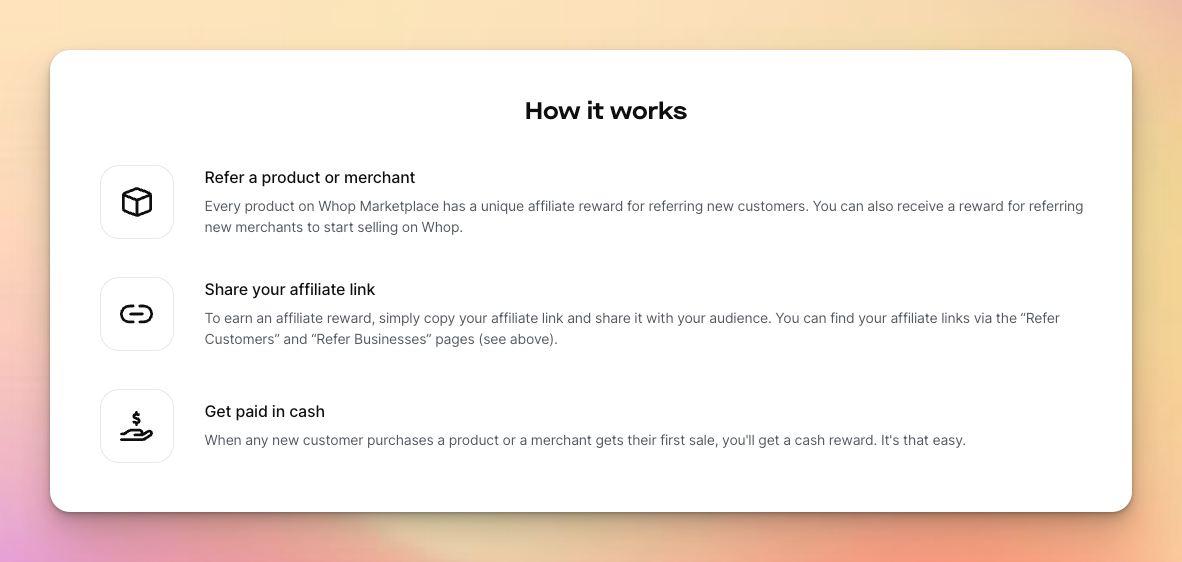 Collaboration and Paid Promotions
If you're already fairly well-established and your Telegram channel has a decent amount of members and/or is popular in a particular niche, collaborating with another Telegram channel or influencer can be an excellent way of growing your community.
For example, if your Telegram channel is focused on trading/investing, you may host a joint Q&A session with a notable trader/financial analyst.
Collaborations often offer mutual benefits for both you and the other party - whether that be for you/them personally, or your communities (or both). What's not to love about a win-win situation?
Paid promotions are pretty straightforward, and are ideal to help you gain momentum in the early stages of your Telegram channel.
As the name suggests, this involves you paying an individual/business for them to promote your channel to people in a similar niche as you. You should choose who you're promoted by wisely, so you don't pay to be shown to an audience with no interest in what your Telegram channel has to offer.
On the other hand, we'd recommend being cautious to not overdo this promotion method, as it may give your group a negative public perception.
Giveaways and Contests
Who loves free stuff? The answer to this question is everyone! Giveaways and other forms of contests can be a brilliant way of promoting your Telegram channel as the benefits for consumers tend to be quite appealing. For example, say your Telegram channel is focused on music.
You may decide to host a giveaway for some popular albums/vinyl on social media, and to join this giveaway, individuals must share your giveaway online and also join your Telegram channel.
This will help boost the amount of people who join your community and also make people more aware of your channel's existence and legitimacy.
As for other types of contests, your options are almost limitless. Referral contests are quite common, due to how effective they can be to draw in new channel members.
Using a platform like Whop, for example, you can let channel members refer their friends and peers, and you can give a prize to whoever has brought in the most people after a specified period.
Methods like this can be very effective and are mutually beneficial for both you and your members.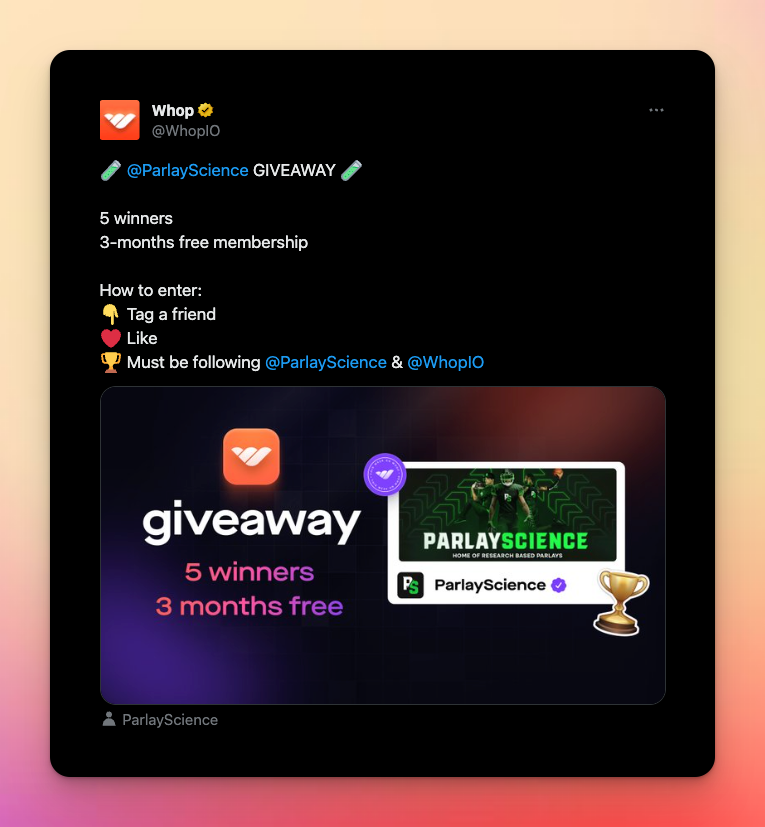 Search Engine Optimization (SEO)
Even though this is more common for websites, your Telegram channel's Whop Marketplace description, and any associated content (like a landing page or blog) can be optimized for search engines.
This can increase visibility when potential members search for related keywords.
You might also want to think about your Telegram group's name. Often this is an after-thought - but carefully choosing your name to be unique and have a good keyword focus can potentially yield results and help people to be able to find your channel more easily in search engines.
Telegram Channel Directories
There are websites and other Telegram channels that serve as directories for popular or niche-specific channels.
Make sure to get your channel listed in such directories.
Monitor and Analyze
No matter which methods you use to promote your Telegram channel, you should always monitor and analyze various aspects of your channel. You should be looking at how your Telegram channel grows after each promotion, so you can see which basket you should be putting your eggs into (i.e. which is most effective and worth your time and money).
Another thing you should be looking at is engagement. How engaged is your community during promotion events/contests? Are they becoming more or less engaged & happy? Things like this should be monitored with a keen eye and taken note of.
Build a Community: Don't Only Focus on Numbers
At the end of the day, one of the key aspects of your Telegram channel is the community itself. Whether your channel is paid or free, you shouldn't solely focus on numbers and metrics. Focus on always keeping your community happy and engaged. Sure, higher numbers are an indication of growth, but you can still have a large community with little engagement, and that's fairly common.
Invest time into your community to make sure everyone is happy and seek honest feedback so you can see where you need to improve. If your Telegram channel is subscription-based, keeping the community engaged and happy is also vital to keep a high retention rate. Members of your community who enjoy it are also likely to refer friends to your channel, meaning more members (and therefore potentially more money).
---
Conclusion
In this article, we've just scratched the surface of the many promotional methods available at your disposal. The methods we've mentioned are some of the most popular and effective promotional methods out there, which you should certainly consider to promote your Telegram channel.
However, we encourage you to explore other options too, to find the perfect promotion methods for your specific niche. What works well for others may not work for you. So what are you waiting for? Your Telegram channel could be huge! So get out there and start promoting!
👉 Want to sell access to your Telegram channel or group? You can with Whop. Click here to get started, or find out more in this guide to creating a paid Telegram group.
Article reviewed and checked for accuracy on 08/31/2023 by Colin McDermott