Are you tired of hearing that all online sports betting is dangerous? Have you heard that you should steer clear? Well, we're here to tell you that isn't true! There are definitely safe places to bet online! We'll show you where to find them.

We want to ensure sports bettors like you have all the information you need. We want you to be able to make successful decisions with online sports betting. So, sit back, relax, and let's dive into the world of safe online sports betting.
Safe Sportsbooks and Gambling Sites
When it comes to sports betting, the first thing that comes to mind for many people is a traditional sportsbook or gambling site.
Two of the most well-known sportsbooks are FanDuel and DraftKings. They are highly advertised. They offer user-friendly platforms. Their odds are competitive. They have a wide range of betting options for different sports.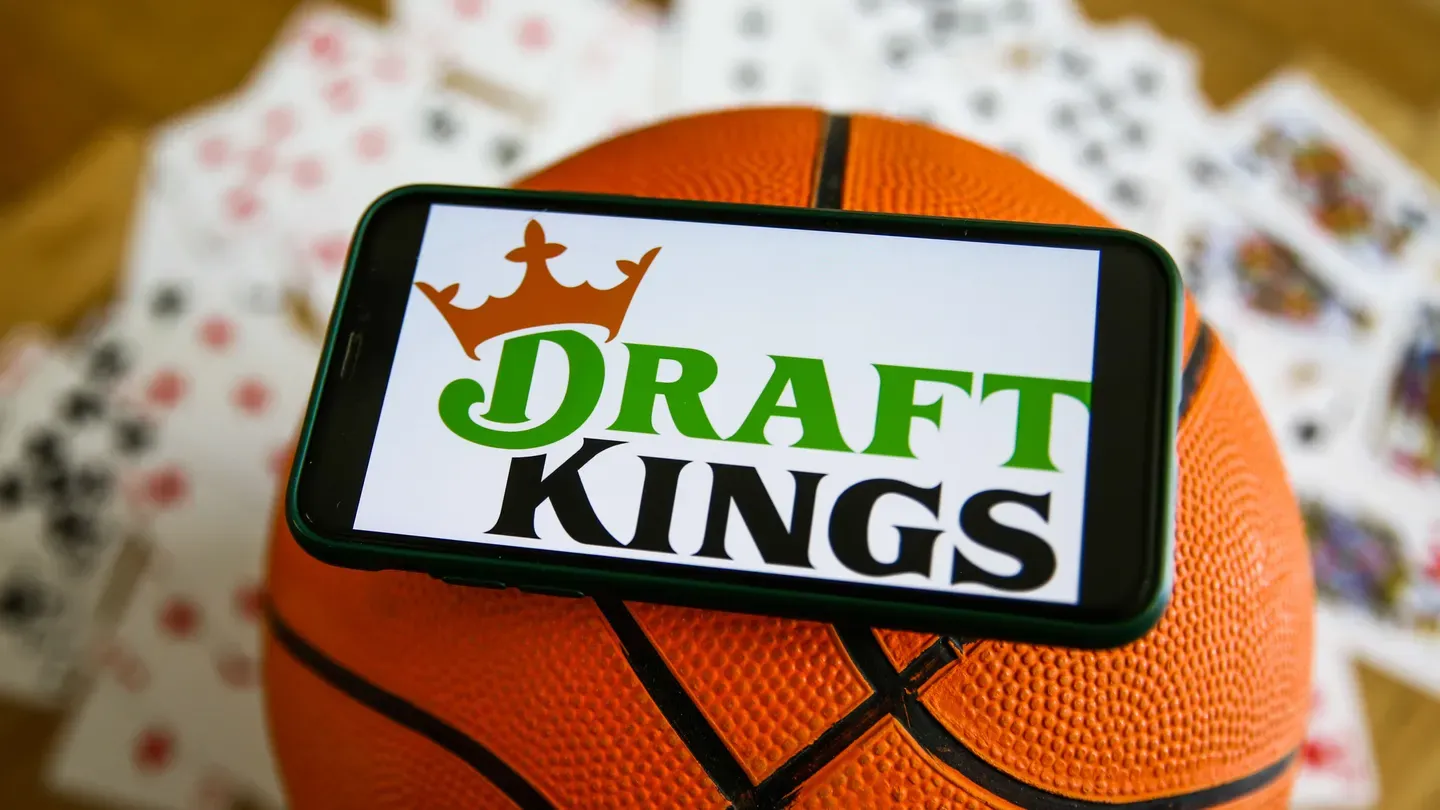 They also have a mobile app that makes it easy to place bets on the go. So if you are out on the golf course or sitting at your desk at work you can easily place some bets.
There are many other sportsbooks and gambling sites. These include BetMGM, BetRivers, and more. Each site offers unique features, odds, and betting options.  It's worth researching and comparing the options before you decide where you want to place bets.
It's important to note that when choosing a sportsbook or gambling site, make sure it's reputable and trustworthy. Top tip to find a trustworthy betting site is to make sure that it has encryption. The encryption will protect your personal and financial information. It's wise to make sure the site has a valid license from a reputable regulatory body.
Discord Communities for Sports Bettors
Traditional sportsbooks and gambling sites are popular options for sports bettors. But they're not the only way to get in on the action. Another great option is joining a Discord community for sports bettors.
If you haven't heard of Discord you'll want to know what it is about. Discord is a communication platform that allows users to create and join different communities, known as servers. These servers can be used for all sorts of activities, including sports betting.
When you join a sports betting Discord server, you'll connect with sports bettors from around the world. These communities are great places to learn about different betting strategies. You can get advice from experts and share information about the latest odds and lines. Some popular Discord communities for sports bettors on Whop include the following.
Pristine Picks
Price: $25/month

Pristine Picks is a community of sports bettors created by four professionals with a combined 17 years of experience in sports betting. The server offers a trial period of 24 hours for new members to try out before committing to a $25/month membership fee. The community aims to provide helpful insights and strategies for better betting decisions. It offers a relaxed, entertainment-focused space for members to share their reactions and insights on games.
Sports Capitalists
Price: $25/month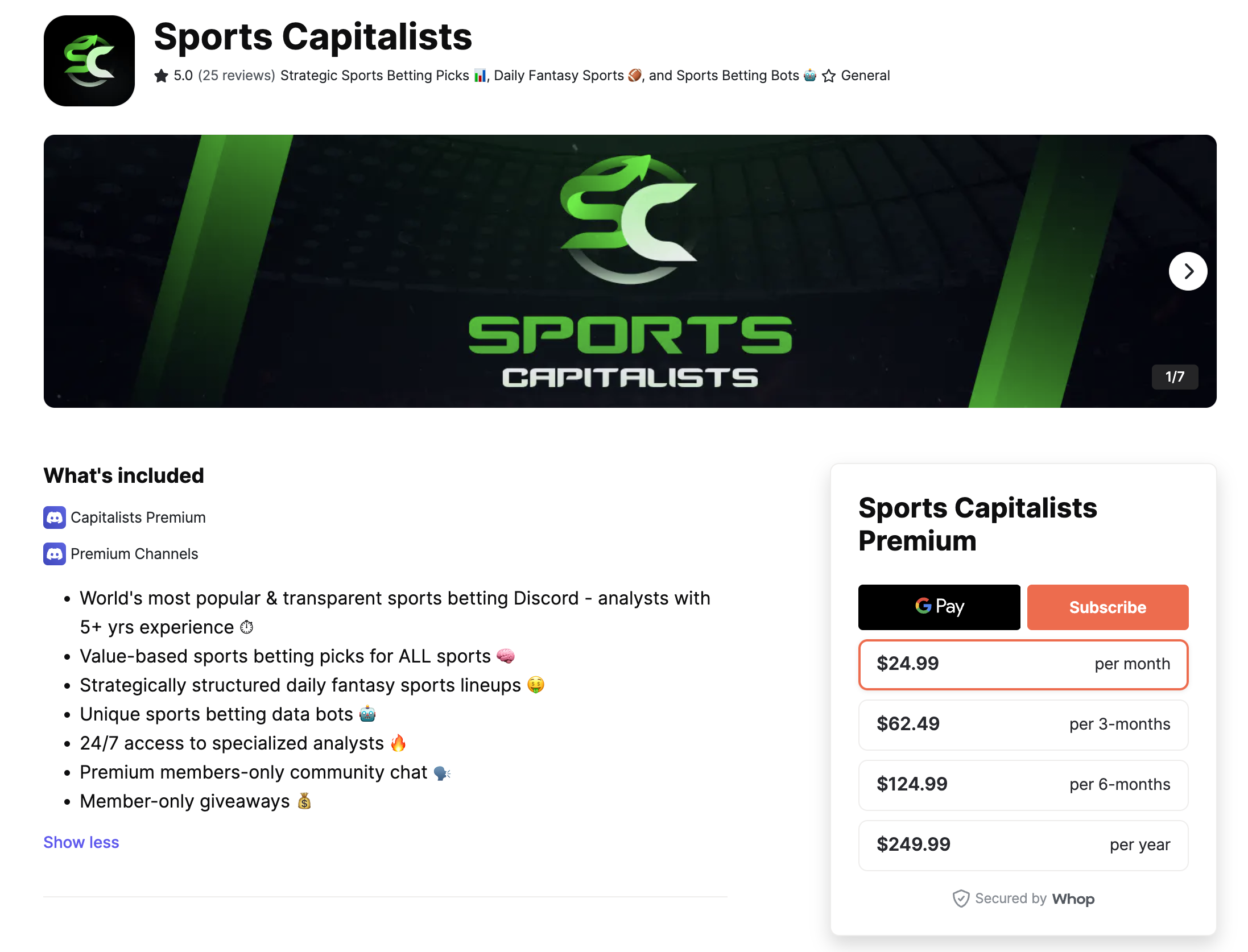 Sports Capitalists is the largest sports-betting Discord server. It covers all major sports and fantasy sports. It's a great option for serious sports bettors.  The paid membership offers access to perks. Perks include premium chat channels, data analysts, sports-betting data bots, and exclusive giveaways. It's considered a transparent sports betting Discord with analysts with over five years of experience.
FilthyFive Discord
Price: $20/month

The FilthyFive Discord is a close-knit and friendly community for sports betting. It offers amenities like bots, expert support, and frequent lotteries for members to win big. The community also hosts group activities and events for members to enjoy.
MySportPick
Price: $40/month
The MySportPick community is fantastic for new bettors and expert enthusiasts alike. This server has over 10,000 Members. It has many handicappers who do research and studies behind each pick. They also have a useful leaderboard to track handicappers.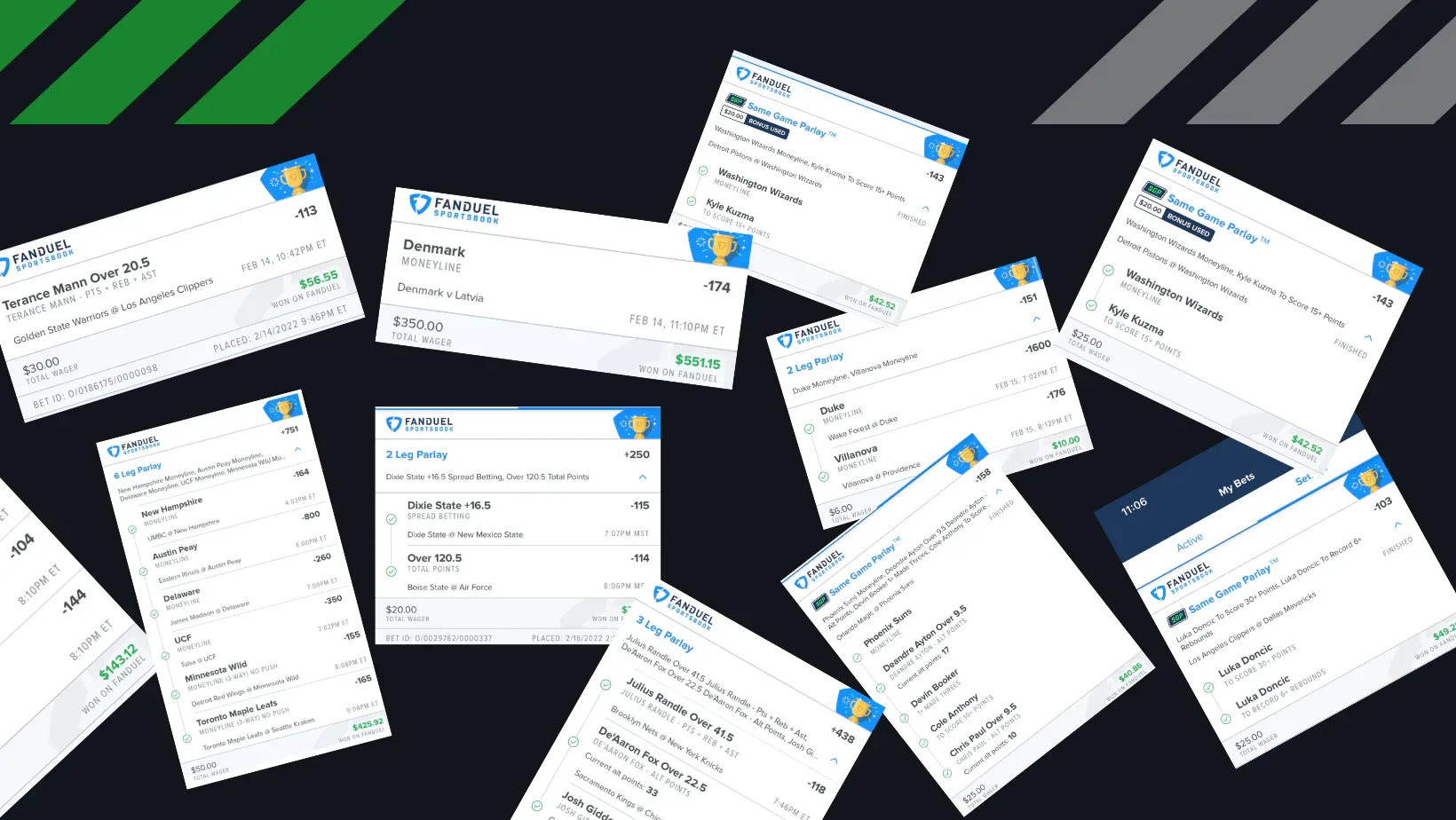 Joining a sports betting Discord server can be a great way to improve your sports betting skills. You can definitely increase your chances of winning. Also, it's a great way to connect with other sports bettors. In this Discord community you can share knowledge and get advice from experienced bettors.
How To Join Sports Betting Discord Server
Joining a sports betting Discord server is a simple process. First, you'll need to create a Discord account if you don't already have one. Once you have an account, you can search for sports betting servers on Whop Marketplace.
When you find a server you want to join, click on the "Join Server" button and paste it into the server invite link. This link can be given to you directly or found on the server listing page. After you paste the link click join.  You will then be a member of the server and can participate in the community. You'll be able to access all the resources the server offers.
Remember that some servers may need a membership fee. They may have certain requirements to join. So check out the server's rules and guidelines before attempting to join. Once you're ready, click join—and you're in!
Make Money with Safe Sports Betting
Sports betting can be a fun!  You can make a lot of money.  Just make sure you do it in a safe and secure environment. Use popular sportsbooks and gambling sites. Join a sports betting Discord server. This way you can ensure that you're betting in a safe and reliable space.
Ultimately, gambling online doesn't have to be a dangerous endeavor. There are plenty of safe places to bet. By joining a sports betting Discord server, you'll be able to make better betting decisions. You'll learn new strategies and enjoy the camaraderie of other sports bettors.
Now's the time to find your perfect betting community on Whop Marketplace. We offer a wide selection of popular betting servers on Discord and templates for Figma, Notion, and more. If you can't find the right one, consider creating your own server. You can definitely make some passive income by selling access on Whop Marketplace!