If you're skilled in Pinescript and looking to turn your expertise into profit with TradingView indicators, you're in the perfect spot!

Here's a quick and easy 5-step guide on how to sell TradingView Indicators on Whop - the best digital marketplace for entrepreneurs looking to monetize top quality content.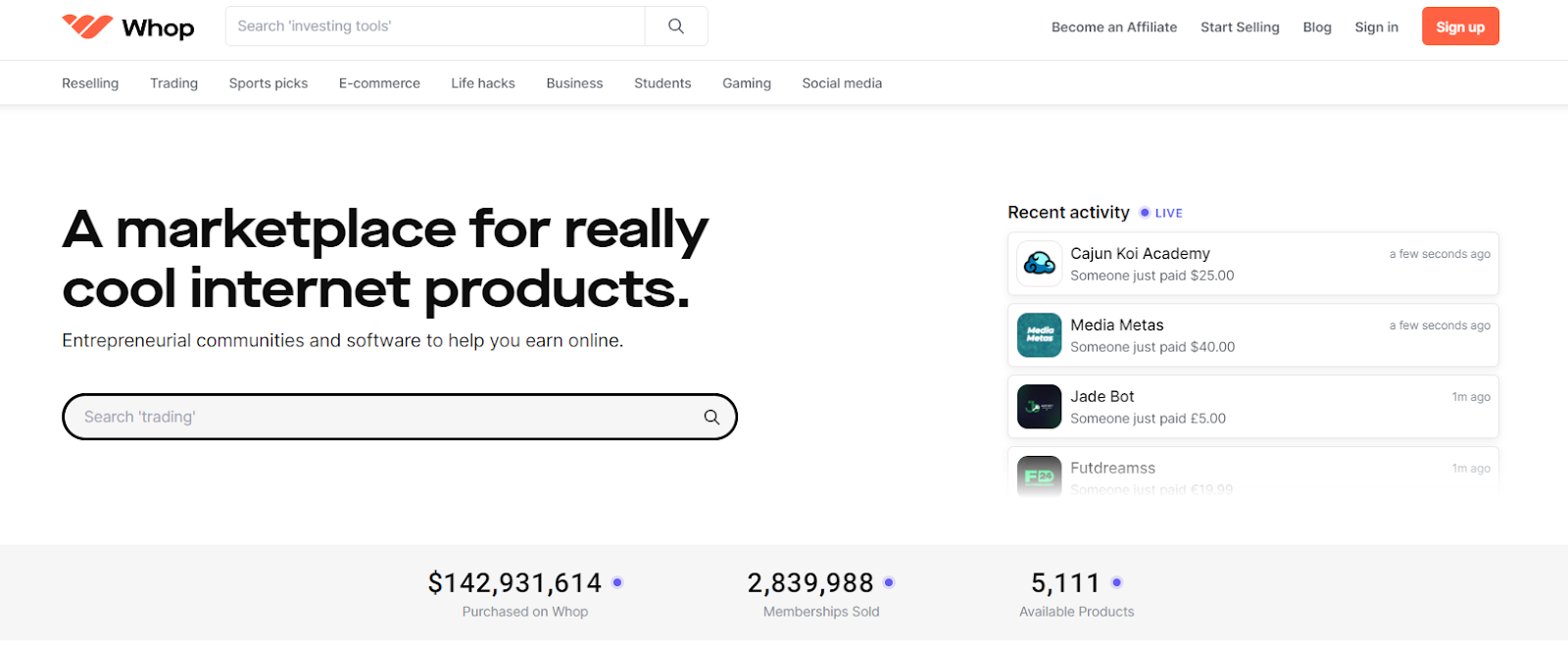 Step 1: Sign up with Whop
Signing up as a seller with Whop is really easy, and as the landing page says, it'll only take you a few minutes! Just click "Start Selling" to get started!

All you need to do now is create an account using your email address. If you already have an existing Google account, Twitter, Apple ID or Discord for your business, you can also sign up using one of these accounts.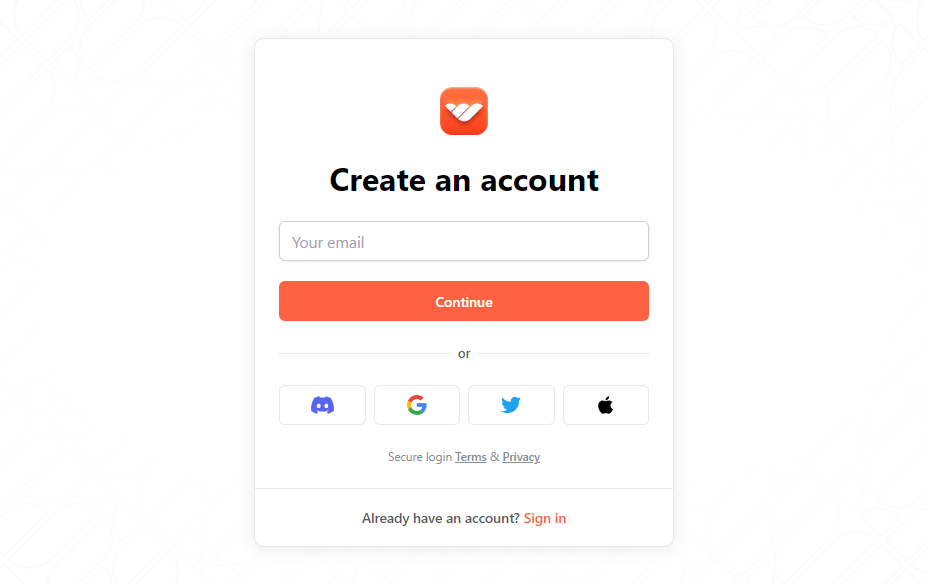 Signing in with one of the above options only takes a couple of clicks, and that's all there is to it. You're now successfully signed up and logged in to Whop. 👏
Step 2: Create a Company on Whop
After completing Step 1, your browser will redirect you to your brand new Whop Business Dashboard! As a new user, the dashboard will prompt you to create your new company. Go ahead and enter the store name you want - or, you could even let Whop generate a name for you.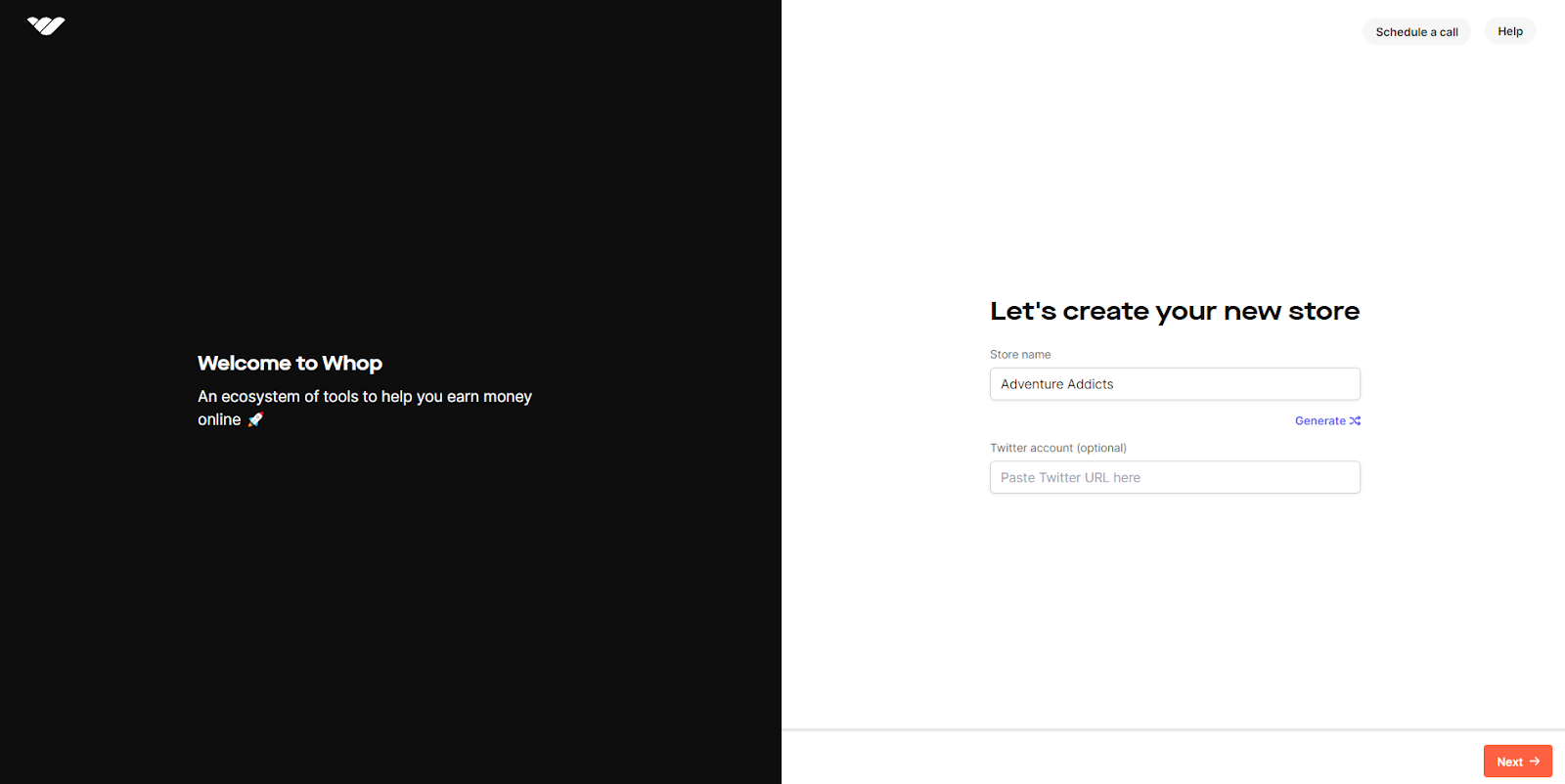 You also have the option to link your X (formerly Twitter) here. However, this is an optional step that you can complete later if you prefer. For now, take all the time you need with naming your company. Then, once you're done, hit Next.
Step 3: Choose TradingView Indicators as Product
Once you've hit next, Whop will ask what it is that you are selling. As you can see, there's a whole lot you can do with Whop! However, TradingView indicators are your thing, so select that option from the list.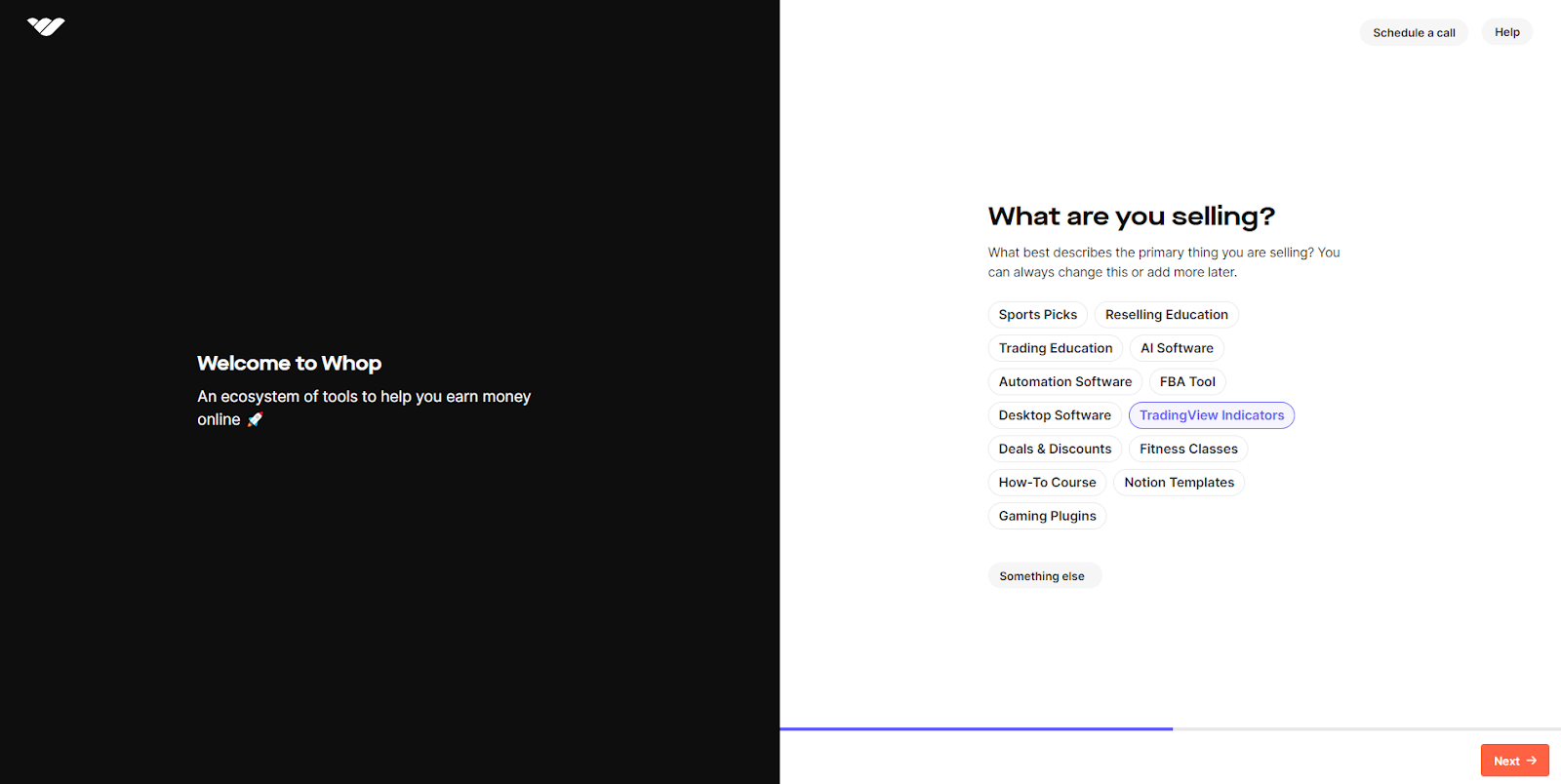 Once you hit Next, you'll be taken to your live Business Dashboard. You now have access to all of Whop's features.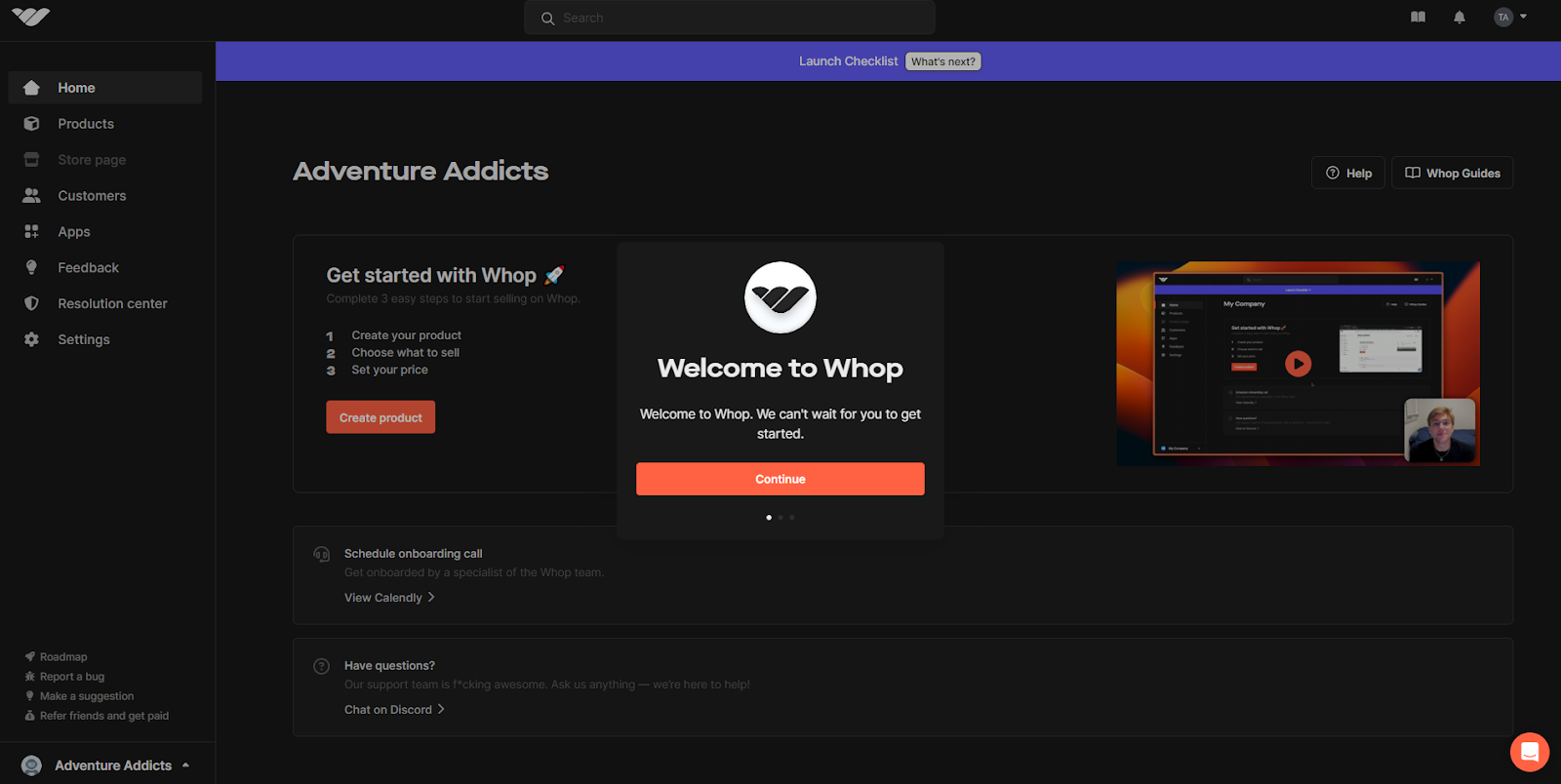 If you're not a fan of dark mode, then the prompt in the middle of the screen will let you change the theme of your dashboard.
👉 Hot Tip: You can also check out video tutorials on setting up your business on Whop and managing different aspects of the Dashboard, read through our documentation, or even schedule an onboarding call via Calendly with one of our team!
Step 4: Create Your First Product
Once you're happy with the setup of your store and are comfortable with the dashboard, it's time to create your first product.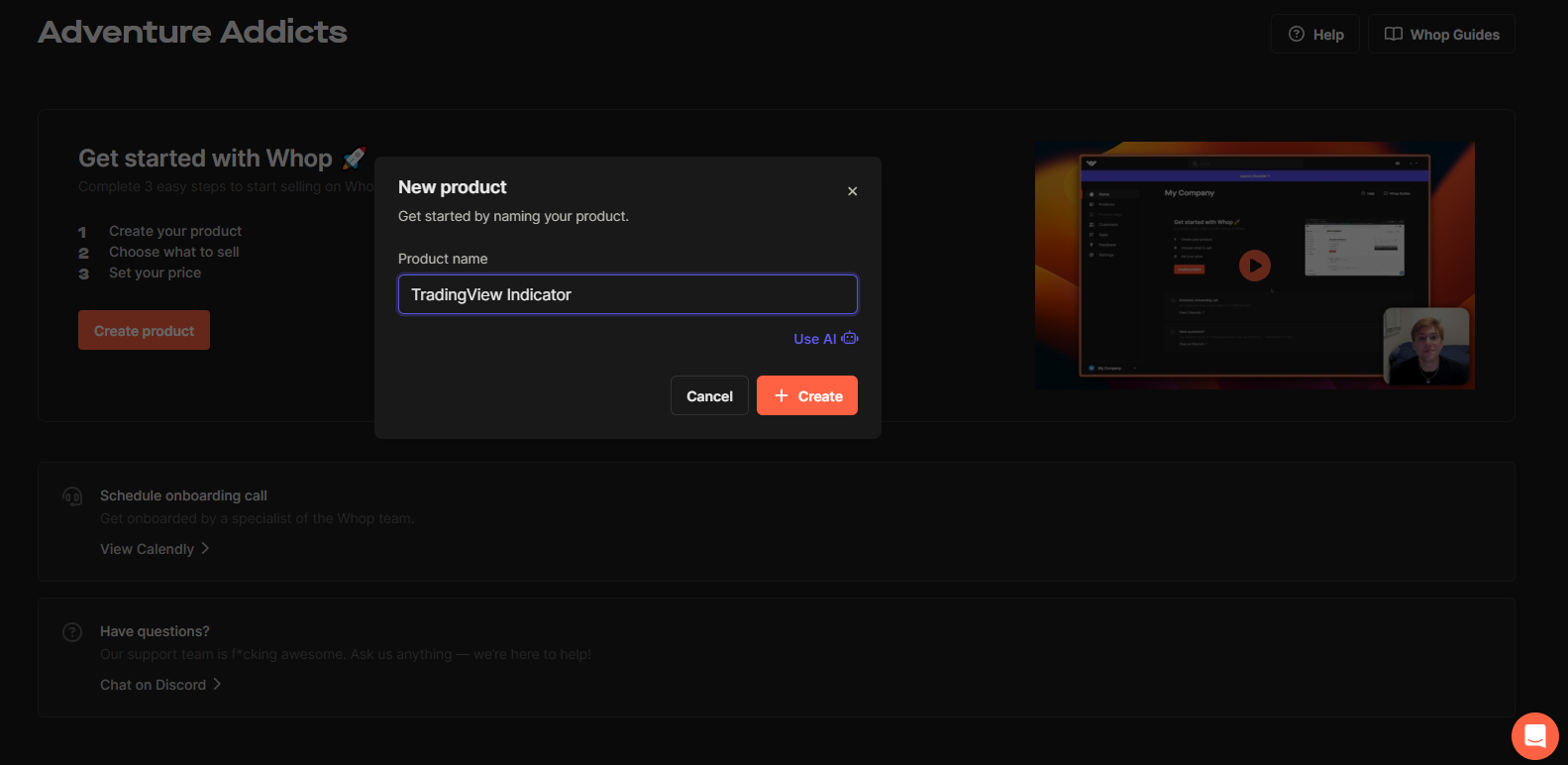 To start, you need to give your first TradingView indicator a name. We've given ours a generic name here, but your product name should be descriptive—your customers need to know what they're getting at a quick glance. Click the "Create" button when you're ready.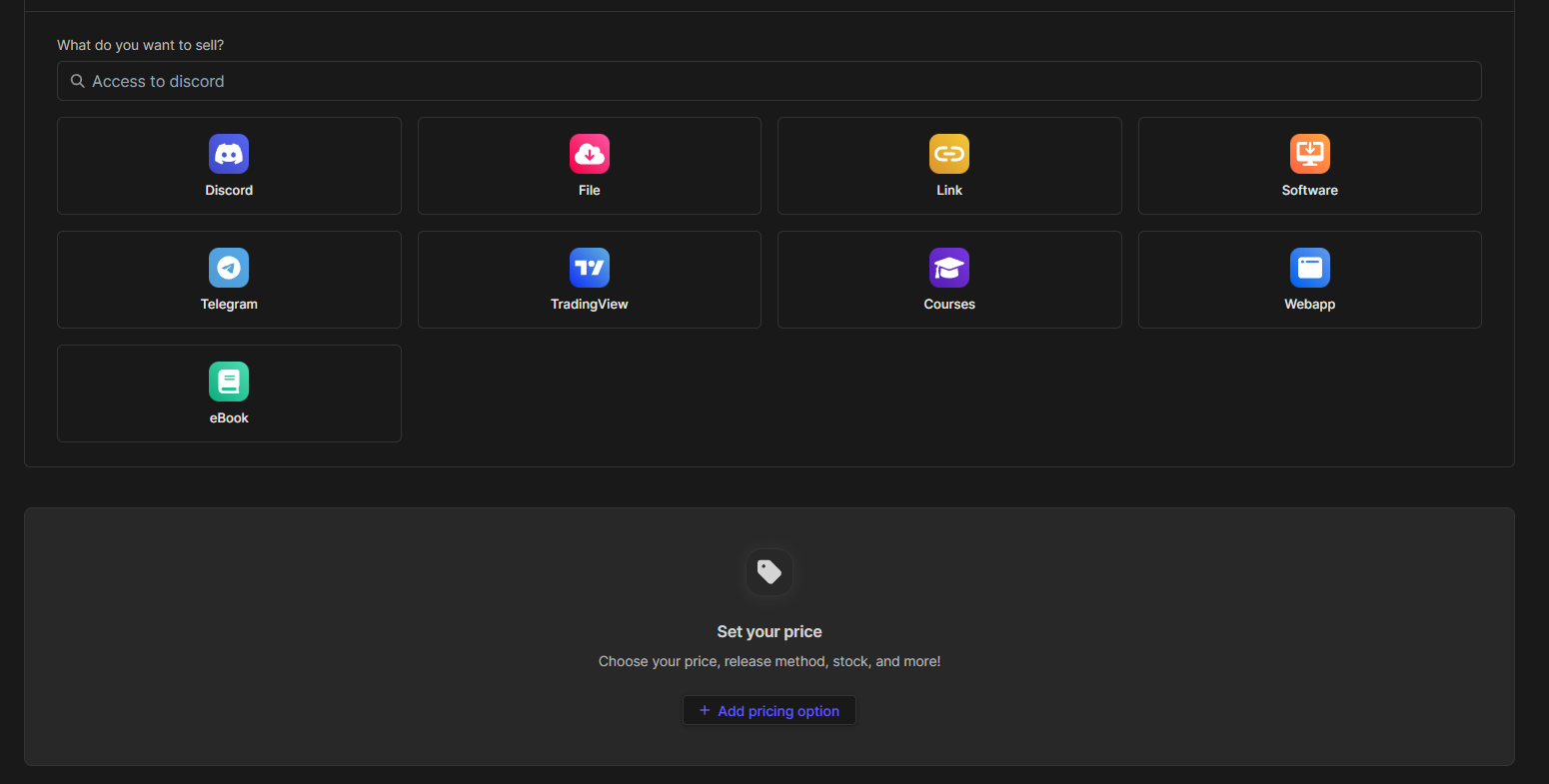 Now you can configure your product and give customers an idea what they're getting access to. You can set up pricing options and more if you scroll down, but the main step here is to click on the TradingView button.

Now hit "Add TradingView indicators" to proceed. This will open up a dialog box where you can set things up. (Plus, the box also includes a link to our documentation if you need a hand with integration.)
Step 5: Register for Stripe Payments
Stripe is one of the best payment processors to use when running an e-commerce business or selling digital products and services. So, it should come at no surprise that Whop uses it to collect and process payments from your customers.
Setting up Stripe is simple. All you need to do is go into Settings on the left of your Dashboard, and click on the Billing tab. You can take payments in PayPal or Crypto, but the most convenient option for vendors tends to be credit or debit cards via Stripe.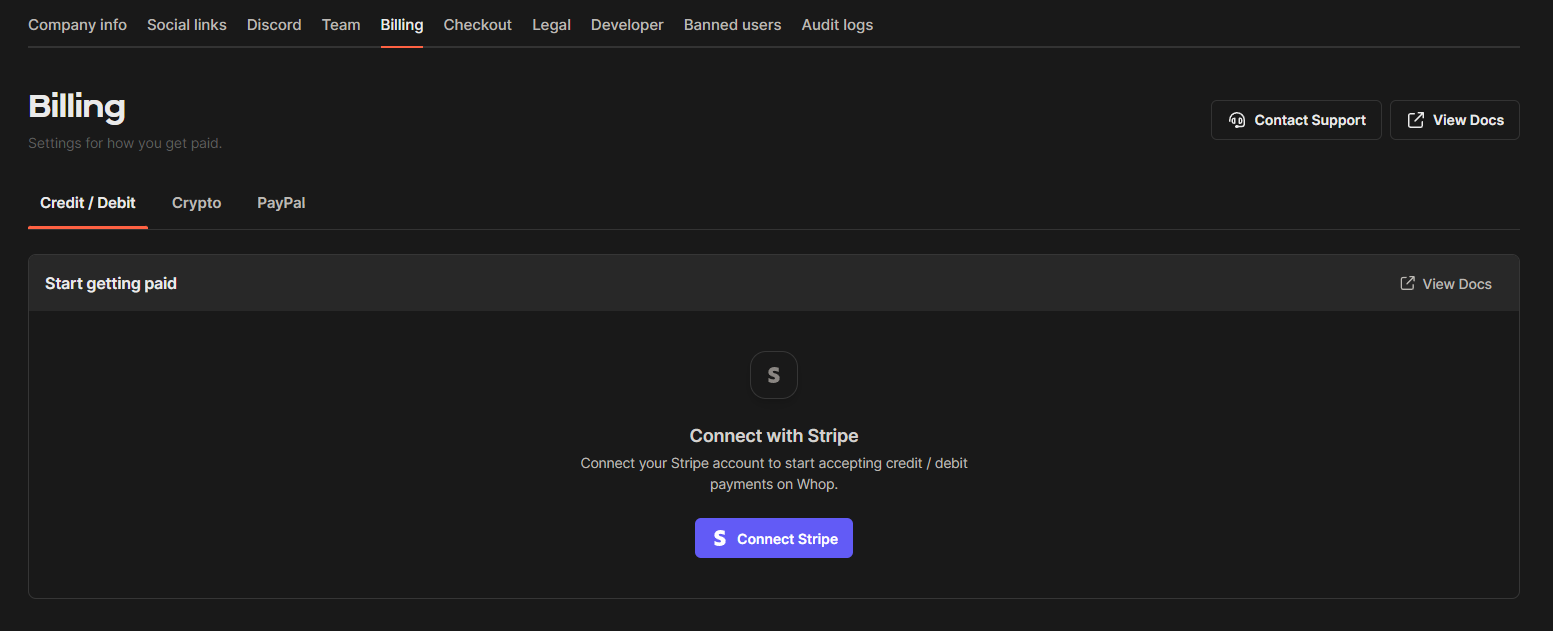 Hit "Connect Stripe", then enter your Stripe API keys and you're good to go! If you don't have a Stripe account, hit the "No, I don't have a Stripe account yet" button. That will take you through Stripe's setup and link you up with Whop.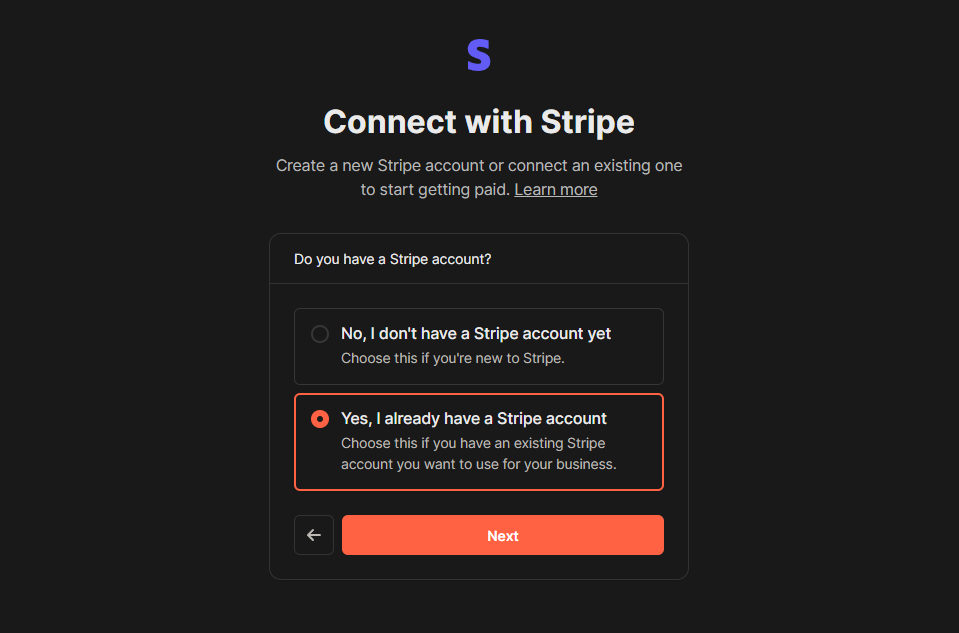 Once you're set up with Stripe, that's it - you're ready to start selling TradingView Indicators on Whop! Don't hesitate to get in touch with the team at Whop if you have any questions or need further assistance.
You can also sell TradingView indicators on social media, via Discord or Telegram or any other means, but Whop makes the entire process simple while also giving you access to an even bigger audience with the Whop marketplace.
Becoming a TradingView Vendor
Although it is easy to get started, there are certain complexities of selling TradingView indicators you should be aware of. Primarily, that providing paid access to public or private invite-only scripts makes you a Vendor as far as TradingView is concerned, meaning that you have to meet TradingView's Vendor Requirements as well as its General House Rules and Script Publishing Rules.
You might already be familiar with these given that you're an advanced TradingView user, but if not, they're worth a look. The principles governing the TradingView Vendor Requirements simply cover Vendors being honest and responsible, and having trading experience and know-how enough to offer worthwhile services, build original and useful trading tools, and provide helpful content to traders while engaging in a realistic and responsible manner.
It's also worth noting that TradingView content can't be used as outright advertisement, and content is expected to provide immediate value to traders. Private ideas or scripts are not moderated if kept private, but selling access to them lifts their 'private' status and subjects them to TradingView's Script Publishing Rules.
Best Practices for Selling TradingView Indicators
Staying on TradingView's good side is important in order to avoid a ban - if your business is tied to the sale of indicators, then being denied access to the platform means a loss of income. Luckily, TradingView is very clear about what is expected of Vendors, and also has published rules dockets governing the use of the platform and publishing scripts, linked above.
However, TradingView has also authored a set of guidelines or best practices when it comes to being a Vendor. Here are some of the highlights:
#1. Publish Open-Source Scripts
One way that consumers can compare vendors of TradingView indicators is to check their developer records. What this means is that an empty field when it comes to open-source publications can hurt you in the eyes of potential customers—releasing a few open-source publications to contribute to the community can be a move that pays off, since that immediately means that you have even more value to sell.
#2. Don't Use Misleading Marketing Practices
TradingView has a strong policy of realistic expectations and a controlled tone when it comes to marketing. This means that you can be frowned upon, and even risk a breach of their policies, if your marketing practices make bold claims or promises, or fail to include disclaimers and address customer expectations.
#3. Don't Use Misleading Branding
Just like with your marketing practices, it's important to stay realistic and transparent when it comes to branding. Providing value and good customer service is part of this, along with products that don't make any outlanding promises of profit. It's also wise to provide customers with a generous refund policy in case they get the wrong idea about your product.
#4. Unique Products and Value Proposition
Your product itself is an important part of the mix since there are so many similar products on the market. It's important to make sure not to try and copy or even completely mimic other products. In this market, the true value proposition from your product can come from the community and education attached to your brand, as well, or the way you engineer your paid indicators to be more interoperable with other applications.
Key Takeaways
If you're among the select few with the expertise to create TradingView indicators, it's time to unlock your potential and start monetizing with Whop today.
Sign up, create your store, select TradingView indicators, and you'll have access to the Whop Business Dashboard within minutes. Join Whop and start selling now!🤑
📚 You can also read our TradingView documentation here.