Created and lovingly stewarded by 30-year veteran of the stock market Chad Christian, better known as "CoachCWC", American Dream Trading is one of the internet's top trading communities focused on not just stocks and options but trading education.
Stock picks and technical trading aren't easy to find, and the knowledge transfer from Coach and his team of 10+ mentors helps ADT to stand out even from the top echelon of trading communities. But what really makes American Dream Trading so highly rated in the community? Let's take a closer look!
Why Join American Dream Trading?
American Dream Trading is all about educating traders, and the first mark of quality the group offers is an immense library of completely free resources available to anyone who joins their Discord server.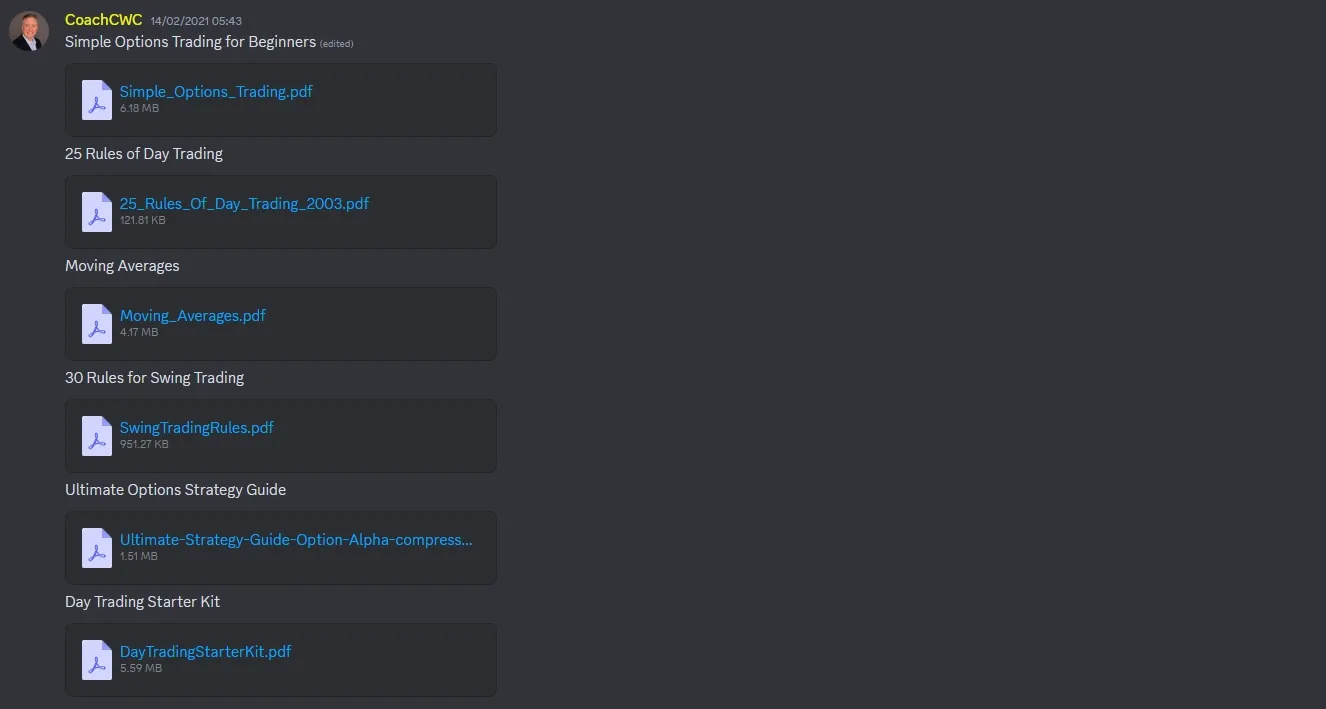 Even if you don't start with a paid membership right away, you'll have immediate access to resources such as e-books, how-to guides and videos. You can also watch thousands of videos created by the American Dream Trading team on Youtube and TikTok.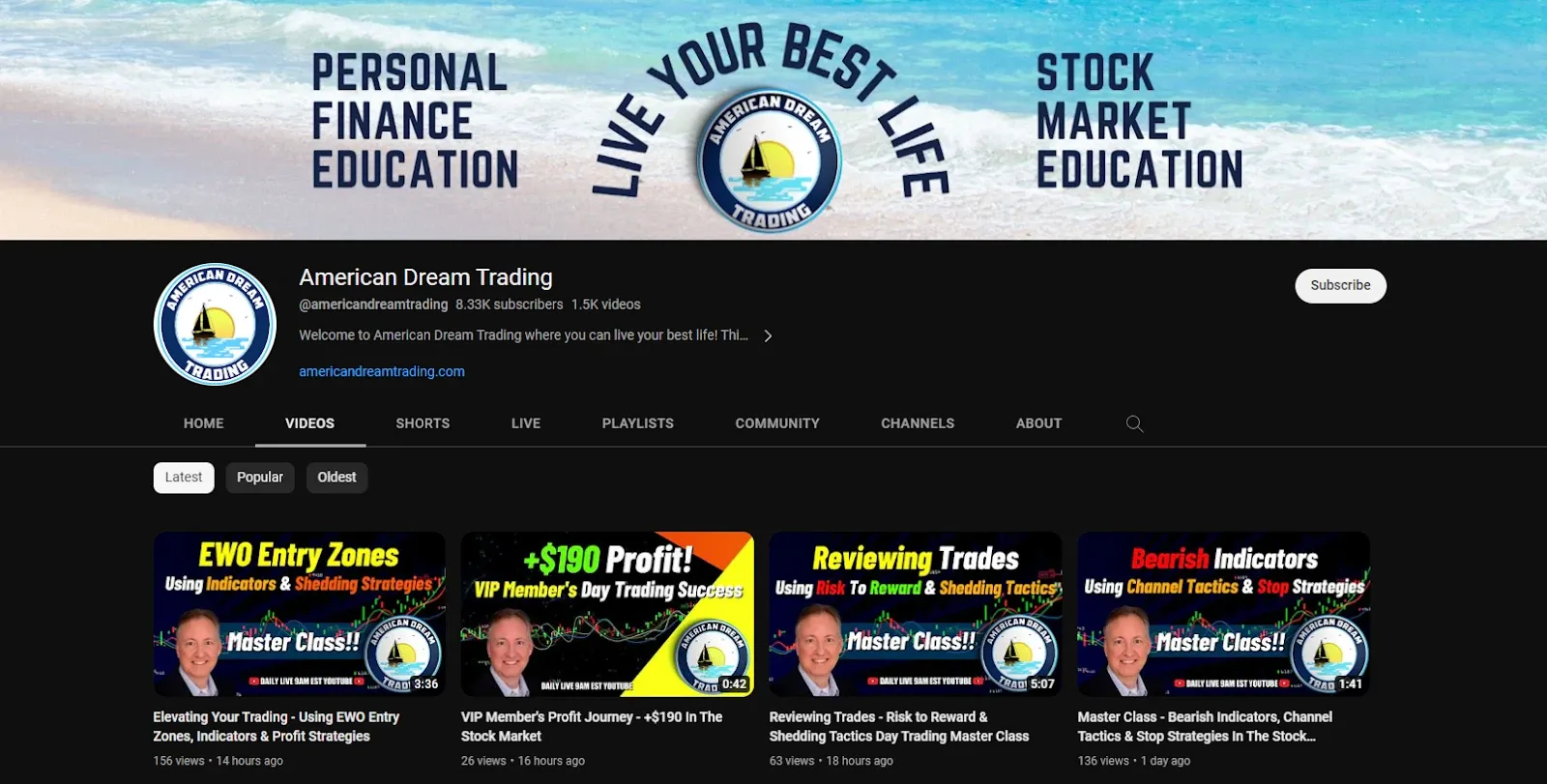 There's hundreds, if not thousands of hours of free multiformat content on American Dream Trading. That's a true sign of quality, and it speaks to the group's confidence that they can make so much available for free and still deliver plenty of quality to paid members. Plenty of this quality comes from Coach's experience, and with over three decades in the market, he's seen and done it all.
American Dream Trading is all about education and knowledge, and is meant to give traders the tools and guidance they need. Paper trading is heavily encouraged so that members can put some of their lessons and learnings from mentorship to use before risking real money, but you'll also find guides on how to best navigate broker interfaces and adapt to real market conditions too.
More Knowledge, Every Day
One of the biggest advantages of joining American Dream Trading is the access you get to Coach and his team of mentors. They're on and available at almost all times, and Coach himself fires up a Zoom meeting at 9am every day for live training through the trading day and into after hours trading.
One on one training is also available with American Dream Trading, allowing members to get some personalized instruction on trading from one of the ADT mentors. There's discussion of pre-market sessions and hot stocks on a daily basis, meaning that members are learning constantly—there are simply no lulls in the flow to worry about.
Beyond all of this, ADT has videos on demand exclusively for paid members offering in-depth training on complex topics such as trading covered calls, cash secured puts, and scalping. You'll find channels to discuss IPOs, earnings releases, trading ideas, real time finance news, and much more.
What You Get With American Dream Trading
We've covered a lot of the great features offered by ADT, but here's a quick list of everything you get when you sign up:
Full Access. Priceless mentorship from a trader with 30 years of experience in Chad Christian along with his team.
Live Training. Daily meetings to follow the market and after hours, training and discussion provided throughout.
Educational Content. Thousands of hours of free and premium resources including e-books, videos, and recorded workshops.
1-on-1 Mentoring. If your package allows it, you can schedule personalized sessions with an expert trader.
Real-time Alerts. You can get instant alerts on potential trades during market hours.
TradingView Indicators. Set up TradingView Indicators from American Dream Trading to give yourself the edge you need for success.
Stock Discussion. Earnings, hot stocks, daily trade ideas, earnings and IPOs—everything in the stock world is covered in dedicated channels.
Awesome Community. Paid and VIP members get their own lounges where they can hang out with other members of the community!
Picking the Right Package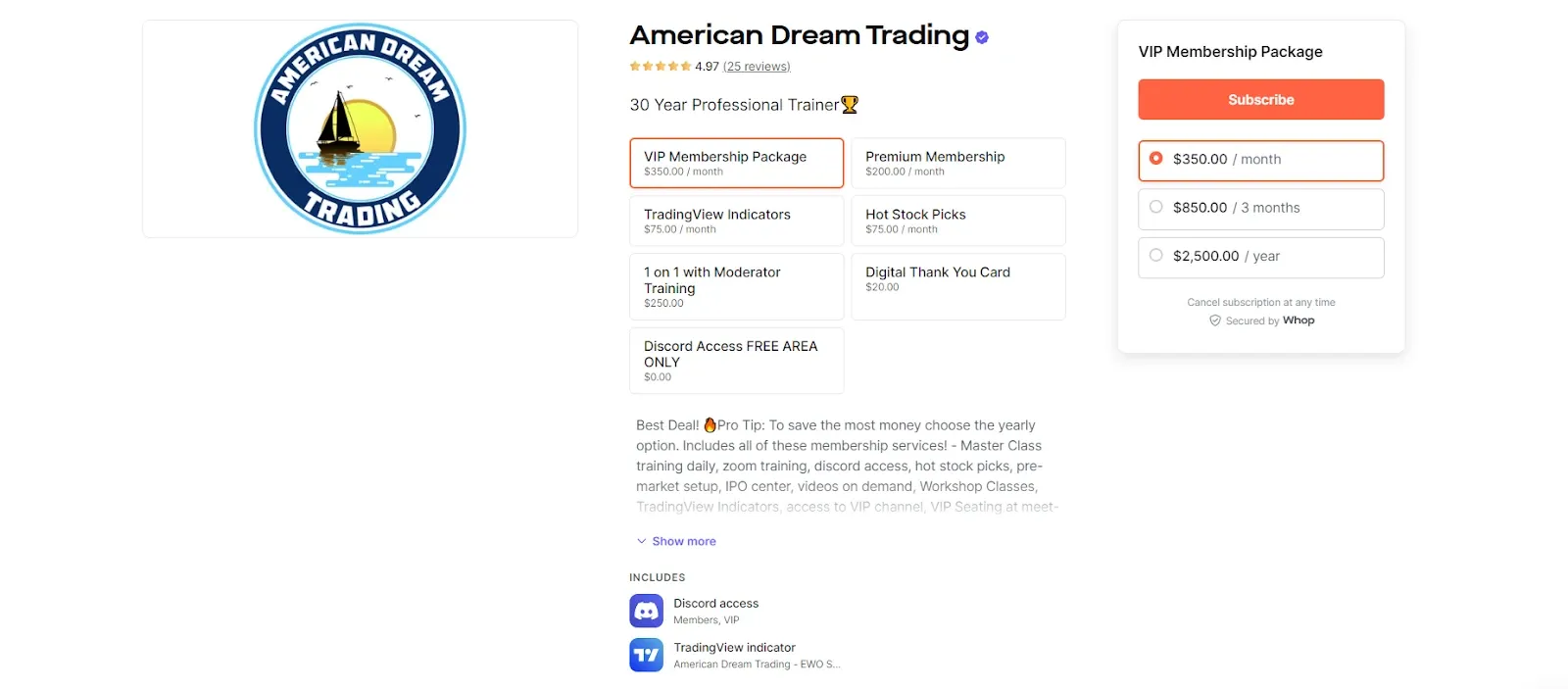 Considering becoming a part of American Dream Trading? Signing up is just a matter of a couple of clicks! However, you may be wondering which package might suit you best, and that's a fair question given how many options the team has for you.
If you're the type who'd prefer to take your time and digest as much information as you can before committing, you're in luck—ADT features free access to selected channels in their Discord server, where you can access plenty of their educational materials before taking the plunge.
Once you've decided that American Dream Trading is for you, though, you might be looking at the different premium options and wondering which to pick. Hot Stocks Picks and TradingView Indicators are limited packages which give you access to exactly what they say on the tin—so if those are what you want, go for it.
On the other hand, Premium Membership and the VIP Membership Package provide full access to the Discord including ALL of the resources made available by American Dream Trading. With the VIP Membership, you'll get access to the exclusive VIP lounge in addition to the standard membership areas, access to VIP Zoom meetings with Coach and the mentors, and VIP-only Master Class workshops on various trading skills and techniques!
American Dream Trading - For Traders of All Levels
American Dream Trading is a great choice for traders of different levels, and the reviews will show you that even old hands can learn new tricks with ADT. The community's warm and welcoming too, and you can have all of your questions answered in the paid members' and VIP lounges with an active member base and mentors online throughout the day.
👉 So, if you want to learn as much as you can about trading and step up your skill and knowledge when it comes to trading, investing, and wealth-building in general, look no further than American Dream Trading. When it comes to top-tier knowledge and incredibly effective training along with the experience only years of trading can bring, this community is the place to be!