Sports betting is a popular pastime, and the potential to make extra money is a huge draw. But it takes skill and knowledge to be successful at sports betting, and that's where sports handicapping services come in. The best sports handicapping services can provide you with the edge you need to make smarter bets and get the best return on your investment.
Whether you're a newbie or a seasoned sports bettor, knowing which sports handicapping services are the best can be challenging. We've put together this guide to the best sports handicapping services in 2023. We'll walk you through the services available, how to connect with the best handicappers, and how Whop Marketplace can help you quickly get the best picks.
What is Sports Betting?
Sports betting is the process of placing a wager on the outcome of a sports game. Bettors can place bets on any sporting event, from football and basketball to horse racing and golf, and each sport has its own set of betting rules and regulations.
When you bet on a game, you are predicting the outcome and wagering money on that prediction. If your prediction is correct, you will win a predetermined amount. When betting on sports, it is essential to understand the different types of bets available and the odds associated with each bet. The most common types of bets include point spreads, money lines, and over/under.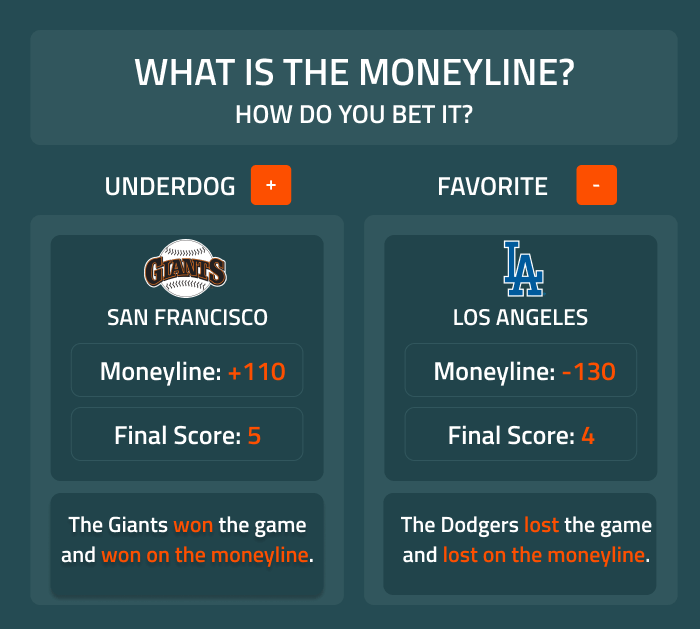 Point spreads involve predicting the margin of victory for the favored team. Money lines require the better to predict the winner of a game outright without any points being awarded to either team, while over/under involves predicting the total number of points scored in a game.
In addition to understanding the types of bets and the odds associated with each bet, it is also essential to understand the handicapping services available. For sports fans looking to start betting on their favorite teams, investing in high-quality handicapping services is often a wise move.
What Is Sports Handicapping?
Sports handicapping is the art of analyzing sports betting trends and statistics to make predictions about the outcome of a game or event. Handicappers use various methods to predict the outcome of games, such as studying team records, analyzing weather forecasts, and tracking player performance.
The goal of sports handicapping is to make informed predictions that can help you make the best possible bets.
Types of Sports Handicapping Services
There are various types of sports handicapping services available, and each offers something different. Depending on your needs, you may consider one type over another. Below are brief explanations for some of the most popular sports handicapping services.
Professional Handicappers
Professional handicappers are experienced sports betting experts who use their knowledge and experience to provide picks and predictions. These services typically charge a fee for their expertise, but they can be well worth it if they help increase your winnings.

Sports fanatics often choose professional handicapping services that provide an unbiased and comprehensive look at sports games to give you the information and insight you need to make informed decisions regarding placing bets. Handicappers are not just looking at the current standings of teams but also analyzing the long-term performance of teams, players, and coaches. They also look at historical data, trends, and statistics to give you the most accurate information and predictions.
Handicappers also have access to specialized data and analytics that can give them a complete picture of the game. Professional handicappers offer invaluable advice on how to bet in certain situations.
There are some factors to consider while seeking a professional handicapping service. First, look for a service with a proven success track record. Look for a service that provides real-time information, analysis, and helpful advice. Finally, make sure the service is affordable and offers good customer service.
Free Handicapping Services
Handicapping services can range from free to expensive. Free sports handicapping services are excellent for novice bettors looking to get their feet wet without spending too much money. These services provide fundamental analysis and advice on upcoming games and picks on which team to bet on.
Free sports handicapping services usually provide picks based on recent performance and statistical analysis. They also offer various other services, such as statistical breakdowns of individual games, betting trends, and advice on which bets to place. However, it's important to remember that free sports handicapping services are not a guarantee of success. Despite their best efforts, handicappers often make mistakes. It's important to double-check the picks and advice given by a service before you place a bet.
Additionally, remember that sports betting is a form of gambling, and, like any other form, it carries a risk. Because free handicapping services are usually run by amateur bettors or hobbyists who provide picks without charging a fee, the results might not be as accurate or reliable as professional services.
Automated Handicapping Services
Automated sports handicapping services use a variety of algorithms to help bettors make more informed decisions. An automated handicapping service uses data from past events and current trends to give bettors an edge in their sports betting. The service will analyze the data to determine which teams are likely to win, which players will perform well, and which games are likely to be close.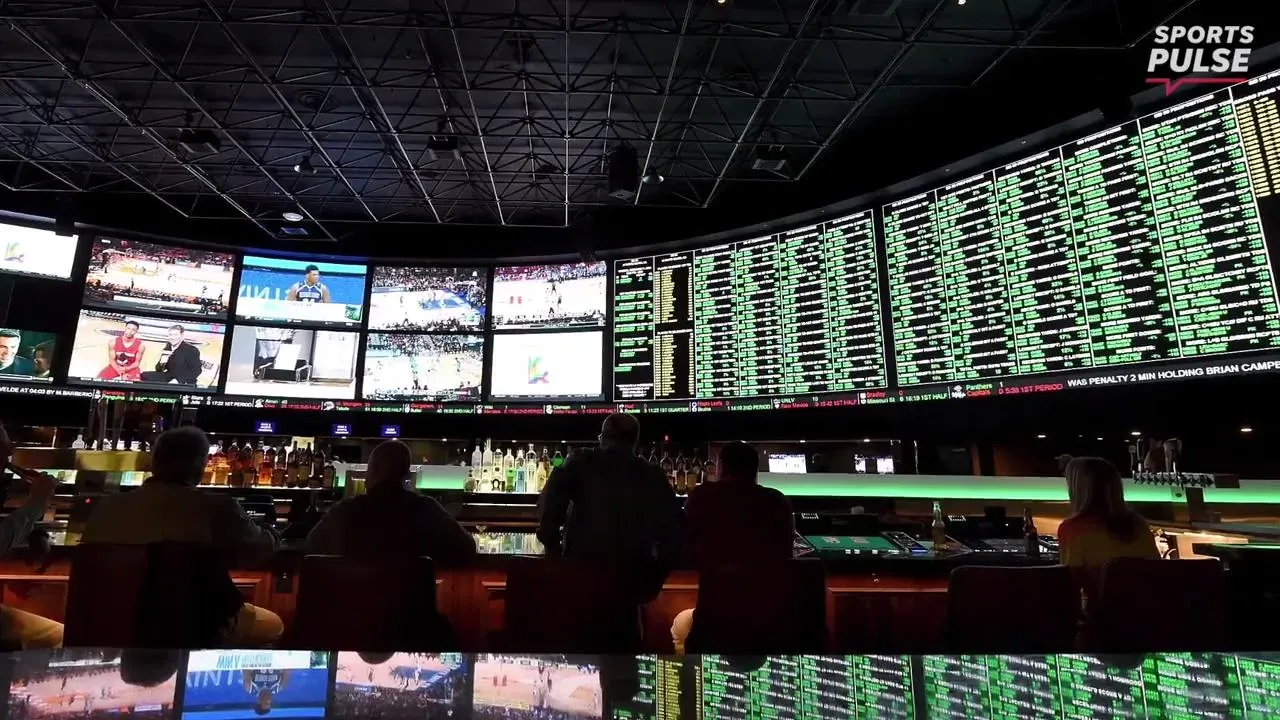 This data can be used to create a betting strategy that helps bettors to maximize their winnings. An automated handicapping service can also be used to track and analyze the performance of individual players and teams. By tracking and analyzing the performance of players and teams, bettors can gain a better understanding of how the game will play out and make more informed betting decisions.
Automated handicapping services are also helpful in tracking betting trends. By tracking trends, bettors can avoid making bets on teams and players unlikely to win. While these services can be expensive, they can be an excellent investment for dedicated bettors who want to maximize their winnings.
Handicapping Software
Sports handicapping software is designed to analyze sports trends and statistics. This software can help bettors identify profitable betting opportunities and evaluate team and player data, including past results and recent performances. This data can be used to help bettors make informed decisions about wagers.
Sports handicapping software can also be used to compare different betting lines. This feature can be beneficial when placing wagers on multiple sports, as betting lines can vary from one sportsbook to another. By comparing different lines, bettors can find the best value and increase their profit chances.
Another benefit of sports handicapping software is that it can help bettors manage their bankrolls. This software can calculate the overall profit or loss to help bettors stay within their budget and avoid making risky bets.
What Qualities to Look For
When it comes to betting on sports, having access to a reliable sports handicapping service is essential for any bettor. An excellent handicapping service can provide valuable insights and analysis to help you make better decisions and increase your chances of winning. However, not all handicapping services are created equal, and it can be challenging to find one that is reliable and trustworthy. That's why it's important to know what qualities to look for when choosing a service. Below are four essential qualities to consider before selecting a sports handicapping service.
Years of Experience
The most important quality to seek in a reliable sports handicapping service is a long track record of success. Look for services that have been around for several years and have proven their ability to handicap different sports accurately. Experienced handicappers can provide you with valuable insights into the nuances of different sports and can help you make better decisions when it comes to betting.
High Success Rate
Another quality to look for is a service with a consistently high success rate. While no sports handicapping service can guarantee 100% accuracy, look for one with a proven track record of success and a win rate that is consistently above 50%. This is a reliable indicator that the service is capable of providing you with valuable insights.
Comprehensive Research
When finding a reliable sports handicapping service, it's essential to make sure that they do comprehensive research. A good service should look at not only the statistics and trends of the teams involved but also factors like weather, injuries, and other external factors that could affect the game's outcome.
Customer Service
Choosing a reliable sports handicapping service means more than just looking at their success rate and research; it also means finding a service that provides excellent customer service. Look for a service willing to answer any questions and provide prompt and helpful responses.
How to Connect With the Best Handicappers
Finding the best sports handicapping services can be difficult, especially if you don't know where to look. Fortunately, there's an easy way to connect with the best handicappers: Whop Marketplace. Whop Marketplace connects users with the industry's most trusted and experienced handicappers.
Handicappers on Whop Marketplace have a proven track record of success, meaning that when you connect with a handicapper on Whop Marketplace, you know you're getting the very best in sports handicapping services.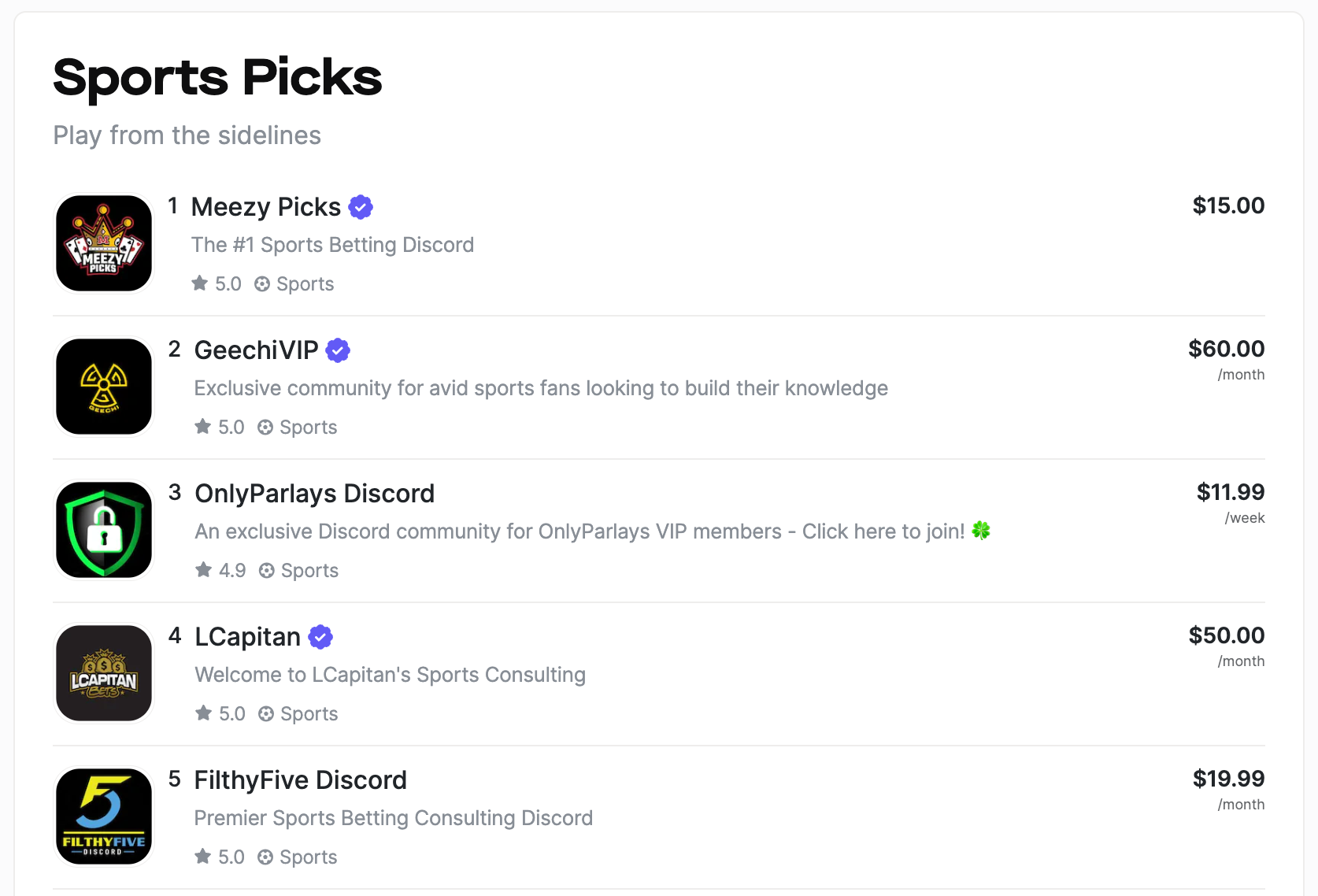 The Whop Marketplace platform also makes it easy to find the right handicapper with options to filter through the available services by sport, experience level, and ratings to ensure that you connect with the right handicapper for your sports betting needs.
The reliability of handicapping services on Whop Marketplace is only one reason you should consider Whop when searching for a qualified, experienced sports handicapper. Below are six additional reasons Whop Marketplace is a wise choice for sports bettors looking to connect with high-quality sports handicapping services.
Transparency
Whop Marketplace provides complete transparency regarding finding the best sports handicapping services. All the services provided by the handicappers on the platform are clearly outlined so that you know what you're getting for your money. Customers also rate all services so that you can get a better idea of the quality of services provided. This allows you to make an informed decision when choosing a handicapping service.
Quality
Whop Marketplace has a rigorous vetting process so that only the best sports handicapping services are featured on the platform. All handicappers must have a proven track record of success and demonstrate the knowledge and experience to provide reliable handicapping services. This ensures that all the handicapping services on Whop Marketplace are of the highest quality.
Variety
Whop Marketplace offers a wide range of services to find the perfect handicapping service for your needs. Whether you're looking for daily picks, season-long advice, or a specific type of handicapping service, you'll be able to find it on Whop Marketplace. This means you won't have to settle for a service that doesn't fit your needs.
Flexibility
Whop Marketplace offers flexible payment options so that you can find the best deal for your budget. Whether you're looking for a one-time payment or a recurring subscription, you'll be able to find the perfect payment plan for your needs. This makes it easy to find the best services without breaking the bank.
Accessibility
Whop Marketplace is easy to use and available on desktop and mobile devices. This makes it easy to access the platform and find the best services no matter where you are. You can even use the platform to compare different services and find the best one for your needs.
Personalization
The handicappers on Whop Marketplace provide personalized services tailored to the individual needs of each user. You can work directly with your chosen handicapper to discuss strategies and get insider tips. This personalized approach gives you the edge you need to make informed decisions and maximize your potential profits. Finally, Whop Marketplace offers competitive rates for handicapping services, so you can get the highest quality sports handicapping services without breaking the bank.
Get Started With Whop Marketplace
With the right sports handicapping services, you can give yourself the edge to make smarter bets and increase your winnings. Finding the best services can be challenging, but Whop Marketplace makes it easy to connect with the best handicappers. No matter your needs, you can easily find the best picks for you. So, if you're looking for expert picks and the best sports handicapping services in 2023, Whop Marketplace is the place to be. Check out the endless possibilities and services available through Whop Marketplace today to get started on placing your bets.