Have you ever wondered if you could make money from selling Figma templates? With the increasing popularity of Figma and its growing user base, it's no surprise that many people are curious about the potential of selling templates.
As a powerful design tool loved by thousands of professionals, students, and tech-focused individuals, Figma is essential because it is easy to learn, intuitive, and perfect for users looking to quickly create complex designs.
In recent years, Figma has become increasingly popular as a platform for creating and selling templates. For those who have a knack for design and are hoping to make some extra money, selling Figma templates is a great way to make a side hustle.
In this blog, we'll be discussing how to sell Figma templates through the Whop Marketplace. We'll also look at case studies of people who have successfully sold templates as a side hustle.
What is Figma? 🤔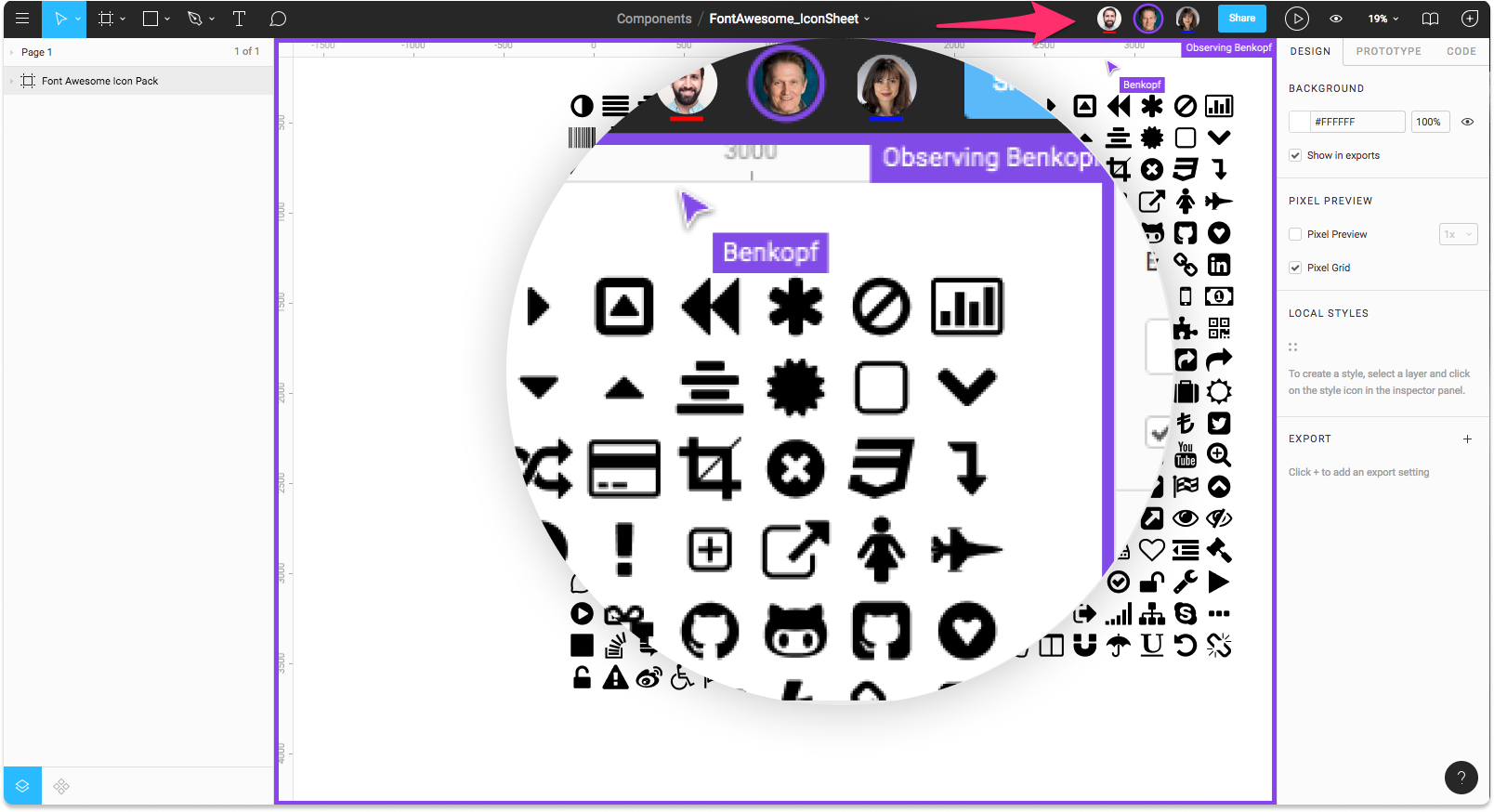 Figma is design software that helps teams create, collaborate, and design digital products and interfaces. It is a cloud-based platform that allows numerous users to focus on the same project simultaneously. With Figma, teams can store, view, and edit their designs, making it easy to work together on a project.
Who Uses Figma?
Figma is used by many professionals in the design industry, from web and app designers to product and UX designers. It is also used by software engineers, developers, and marketing professionals.
Figma is excellent for teams because it provides a single place for everyone to collaborate on a project. Designers can create mockups, developers can code features, and marketers can provide feedback. With Figma, all of these tasks can be done in one place, making it easier to stay on the same page and move a project forward quickly.
Figma is also great for teams working on open-source projects. Many open-source projects have their designs hosted on Figma, making it easy for anyone to contribute their ideas and feedback. This helps to keep open-source projects organized and allows for more collaboration between developers and designers.
What are Figma templates?
Figma templates are pre-made designs that are ready to be used. Designers often use them to quickly create complex designs without starting from scratch. There are many different types of Figma templates, from website design to logo design templates.
They are a great way to save time and energy when designing a website, mobile application, or digital product. Templates are pre-designed components that you can easily copy and paste into your own Figma project. This makes it easy to get started quickly and create a consistent and professional look across your designs.
Figma templates come in a variety of forms. Some are fully designed websites or mobile apps, while others are just starting points with essential components and layouts. This makes it easy to customize your project and make it your own. You can select from a variety of templates that are designed to suit different needs and industries.
When your team uses the same template, everyone can be sure that their designs will have a consistent look and feel. This ensures that the final product looks professional and cohesive, making Figma an invaluable asset for many designers. These templates help save time, energy, and money and make it easier to get started quickly and to create a consistent look throughout the entire project.
Can You sell Figma templates? 🤑
Can you sell Figma templates? The answer is yes! In fact, there are a variety of services and platforms that allow you to do just that. With the help of high-quality services like Whop Marketplace, you can create and sell templates that are tailored to fit a variety of different types of projects or businesses.
What to Consider When Selling Figma Templates
When it comes to selling Figma templates, there are a few things to consider. First, you'll need to decide what template you want to create. There are a variety of kinds of templates, so you'll want to be sure to choose one that fits your niche. You'll also need to consider the pricing structure you'd like to use. For instance, depending on your preference, you could charge a one-time or recurring fee.
Creating Your Templates
Once you've determined the type of template you'd like to create and the pricing structure you'd like to use, you'll need to create the template itself. Figma makes it easy to create and customize templates, so you'll be able to quickly create a template that looks professional and is easy to use. You can also use Figma's components library to quickly create custom templates.
Selling Your Templates
After you've created the template, it's time to start selling it. There are a variety of services and platforms that allow you to list and sell your templates. Some of these services include Envato Elements, Creative Market, and Gumroad. Each of these services has its rules and regulations, so read up on them before you start selling your template. By creating and selling templates, you can make money and help others create beautiful designs.
Can Selling Figma Templates be Profitable? 💰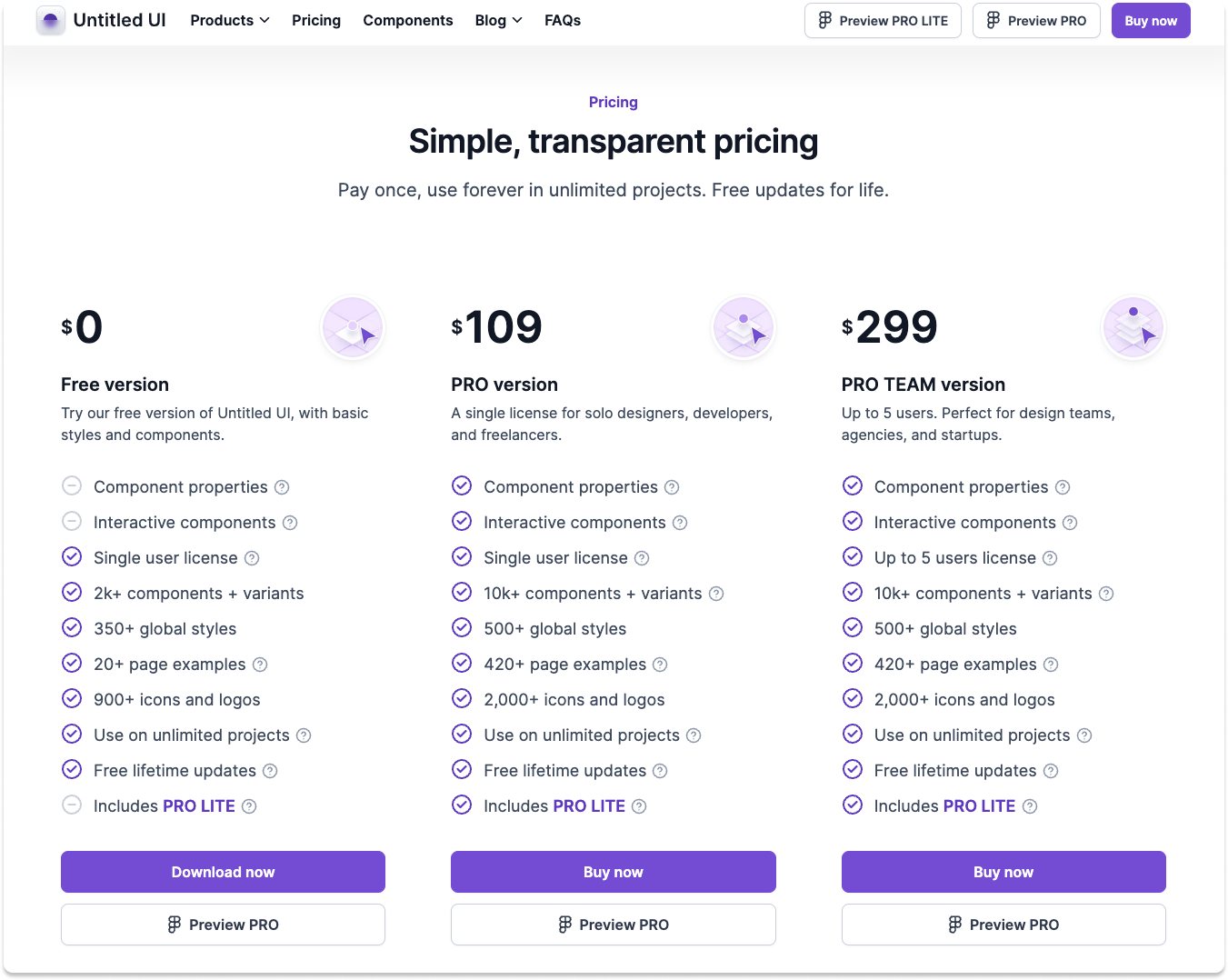 Profiting from original design templates is the dream for many designers hoping to reach a broader audience. However, sometimes these dreams sound too good to be true. Therefore, it's helpful for you to know the proof and studies behind selling your Figma templates and why it is wise to consider this additional revenue option.
Major Companies use Figma templates
One example showing the potential for success with your Figma templates is the massive companies that use this platform for their design elements. Companies like Netflix, Google, Facebook, and Uber rely on Figma templates to create extraordinary designs. However, Figma's low price makes it a viable option for many small businesses or freelancers looking to purchase unique design templates.
Figma is Profitable
In a short amount of time, Figma has become a prevalent and profitable platform for freelancers and businesses seeking a high-quality design that represents their brand voice. Suppose you are still determining how profitable Figma can be. In that case, you will be happy to know that as of 2021, the company was valued at $10 billion. By the end of 2022, Figma's success skyrocketed. The company now has a revenue of $190 million and is valued at $20 billion.
Consider Success Stories from the Source
While the massive amount of people using Figma annually is enough to intrigue many designers, there's nothing more reassuring than looking at success stories from designers who have successfully sold their Figma templates. In just one year, some designers can achieve significant success in sales for their Figma templates. With the right drive and dedication, you can achieve success when selling your unique Figma template designs.
The Benefits of Selling Figma Templates
A key benefit of selling Figma templates is that you can earn an income doing what you love. If you're looking for a simple technique to make extra income or create passive income, selling Figma templates is an excellent option. By creating and selling Figma templates, you can make money while helping other entrepreneurs, businesses, and professionals make their projects look better.
Sell Multiple Times
Figma templates can be sold multiple times. Unlike many other services and products, once you create a Figma template, you can sell it repeatedly. This means you can make a good amount of money with minimal effort.
Show Your Skills
Creating and selling Figma templates also offers a great way to showcase your design skills. When you create a template, you can include your design elements and ideas, giving customers an insight into your style and creativity. This can be an excellent way to promote yourself and your design skills.
Do What You Love, Without Years of Experience
You don't need to be an experienced designer when creating Figma templates. Suppose you're familiar with design basics and have some experience working with Figma. In that case, you can easily create templates that look professional and easy to use. You don't need to be highly experienced in design to create quality templates that customers will love.
Make Money Without Producing Physical Products
Selling Figma templates is a great way to make money without producing physical products. This is especially useful if you don't have the resources to create and ship physical products. You can make money with minimal overhead costs and effort by selling digital templates.
Gain Exposure for Your Work
Finally, selling Figma templates is a great way to gain exposure. By offering templates on the Whop Marketplace, you'll be able to reach a broad audience of potential customers.
How to Sell Figma Templates on the Whop Marketplace
First, it's essential to understand the basics of Figma and the Whop Marketplace and how to sell Figma templates online. Figma is a cloud-based design and collaboration platform that allows you to create and share designs. The Whop Marketplace is an online marketplace where users can buy or sell digital products, such as templates, website designs, and more.
Now that you know the basics, let's jump into creating your Figma template and selling it on the Whop Marketplace.
Step 1: Create Your Template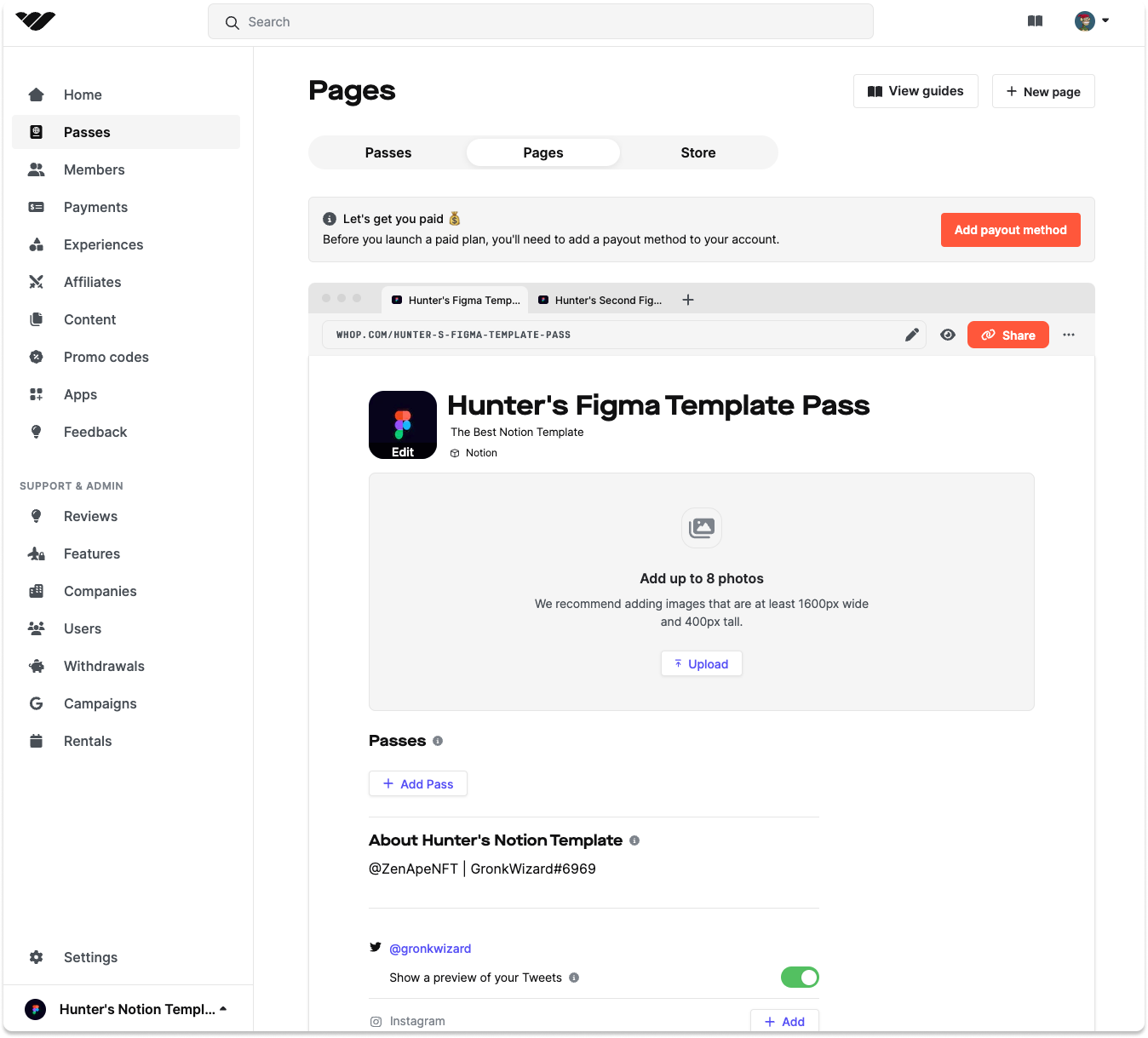 The first step to selling on the Whop Marketplace is to create your Figma template. Start by deciding on the type of template you want to create and the design elements you will include. Once you know what you want, it's time to get to work.
When creating your template, it's vital to ensure it is well-designed, visually appealing, and easy to use. It would be best to consider how you want to present your template on the Whop Marketplace and ensure it stands out from the competition.
Step 2: Upload Your Template to the Whop Marketplace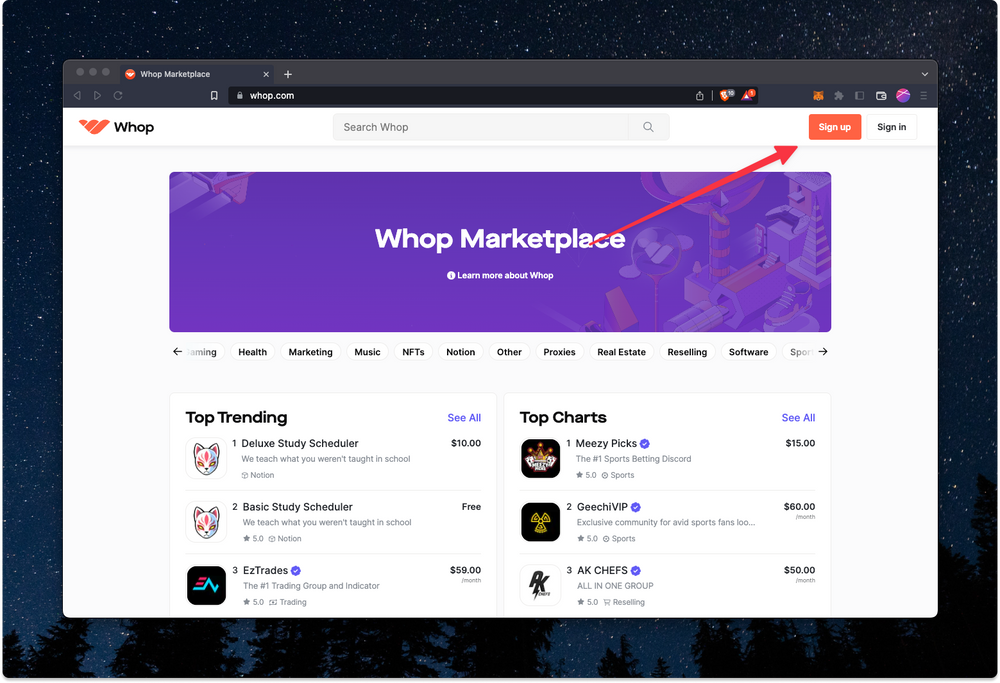 Once you've created your template, it's time to upload it to the Whop Marketplace. To do this, you must make a Whop account and then upload your template as 'Link' perk. Make sure you include a description of your template, a preview image, and any other relevant information.
Step 3: Set Your Price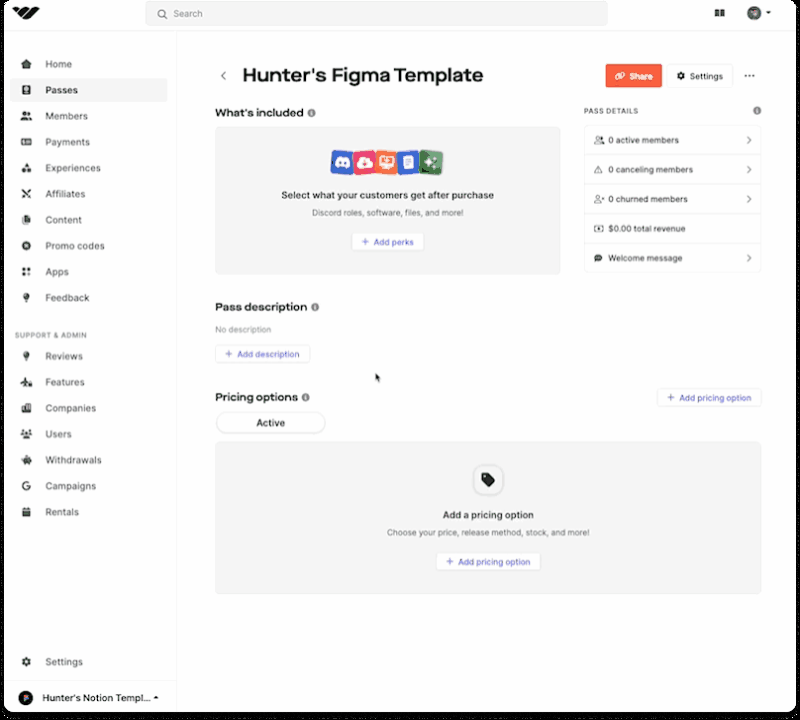 Once your template is uploaded, you'll need to set a price. Consider the complexity of the template, the value it provides, and the market rate for similar products to determine a fair price. Additionally, ensure that you set a price suitable for your experience. Individuals with an extensive portfolio, multiple years of experience, and satisfied customers may be able to get away with prices that are slightly above average.
Step 4: Promote Your Template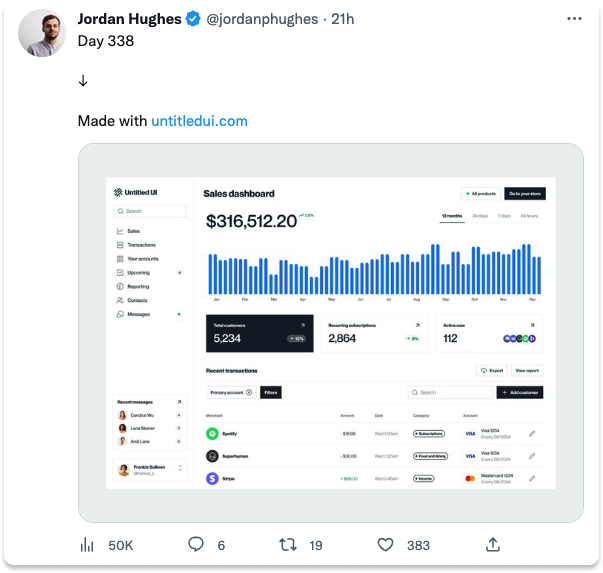 Now that your template is ready, it's time to start promoting it. There are various ways to do this, such as creating a landing page, using social media, and sharing it with your network. You will likely struggle to reach your target audience if you do not have a portfolio or social media account to share your stunning designs.
Step 5: Monitor and Respond to Feedback
Finally, monitoring and responding to any feedback or questions you receive about your template is essential. This will help ensure your customers are satisfied and show potential customers that you take customer service seriously.
Selling Figma templates on the Whop Marketplace is a fantastic way to earn money from your design skills. By following the five steps outlined above, you can create and sell your template in no time.
Selling Your Figma Templates With Whop Marketplace
The Whop Marketplace is an ideal resource for designers hoping to profit from their unique Figma templates. With Whop Marketplace, individuals can browse and purchase various products and services for various purposes. For instance, many brands may use Whop Marketplace to purchase high-quality Figma designs.
👉Selling Figma templates on the Whop Marketplace is a great way to make extra money. It doesn't require any prior design experience, and you can profit from it. So if you have Figma templates that you'd like to sell, the Whop Marketplace is the perfect platform for you.