Introduction
Within this guide, we will highlight all things Whop Marketplace as it relates to a Figma template creator. From benefits to infrastructure, this guides will breakdown all you need to know in the following order;
Whop marketplace
Benefits of selling your Figma templates on Whop marketplace
Whop exclusivity
If you already understand the marketplace and want to start selling on Whop now, we would suggest starting with our guide on selling access to Figma templates.
Whop marketplace
At its simplest form, Whop is an ecommerce marketplace where consumers can browse, discover and buy Figma templates. Consumers can read reviews of your templates, browse images of your product and even check out your social links.
Once a consumer has found a template they like, they are taken to your product page. This is where you can give a full breakdown of the template, as well as add some cool integrations like the ones mentioned above. (Reviews, social links, etc)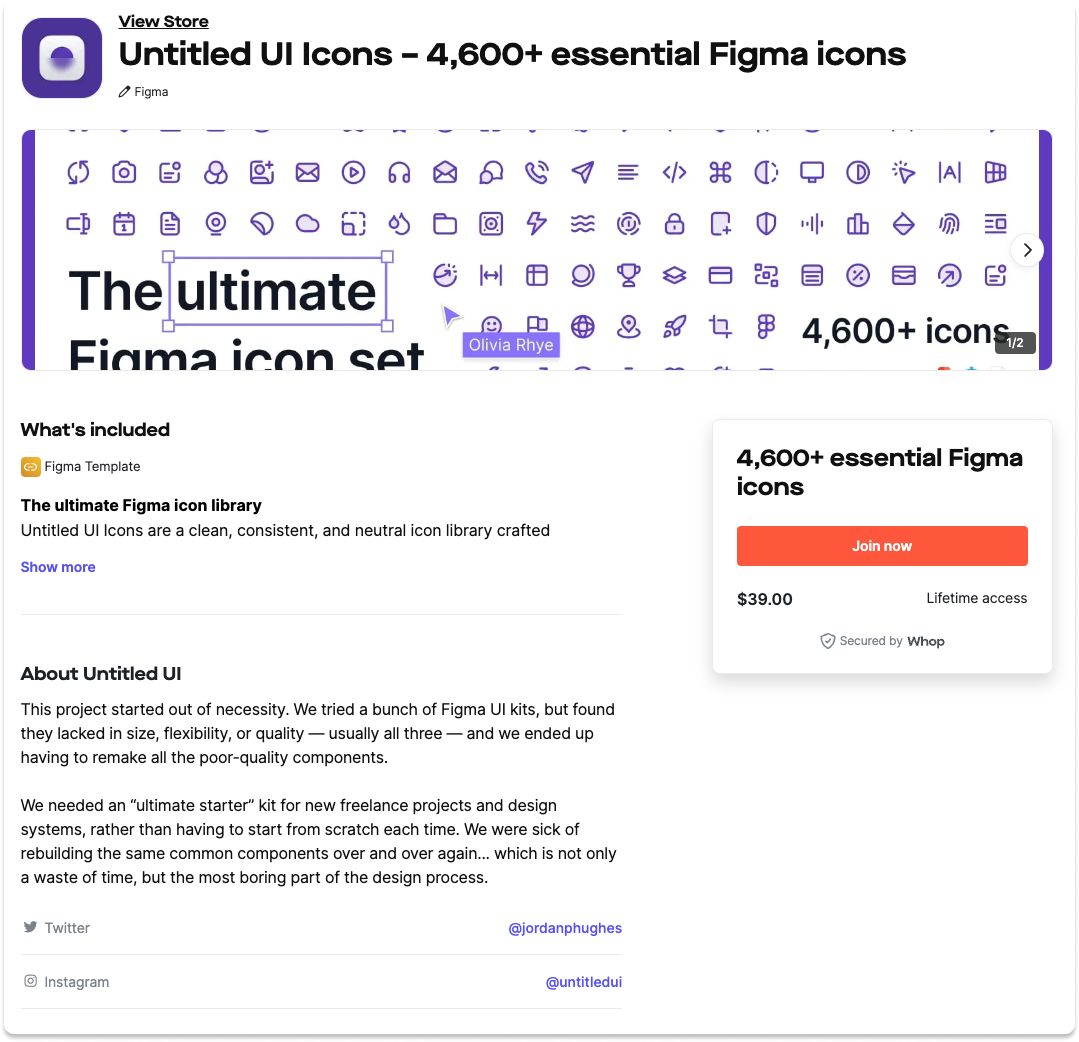 Benefits of selling your Figma templates on Whop marketplace
Traffic driven to your product
One of the biggest issues current Figma template marketplaces face is that creators are solely responsible for generating the traffic to their product. Whop understands this issue and is focused on bringing more users to your product as a perk of hosting on us.
Our current operations include:
Partnerships with top Figma blogs to drive SEO traffic
Our own SEO campaign via our blog to rank for Figma related search terms
Youtube partnerships with top and upcoming Figma creators
Google Ads Campaigns
Tiktok Campaigns
Newsletter partnerships
Whop currently averages over 500k unique monthly visitors. We plan to scale this to our Figma category and help your business grow with us.
Infrastructure
One of the main perks of selling on Whop marketplace is the business infrastructure we provide for merchants. A comprehensive feature overview can be found on our business landing page.
Features our users love include:
Comprehensive Reviews
Member Management
Affiliates
Promo Code
Automatic Chargeback Fighter
Crypto Payments
Cutting edge UI/UX
and most importantly, Whop makes discoverability of your products easy - harbouring more sales and traffic.
Leading Pricing
Whop is #1 for pricing - with merchants being charged a profit-maximizing 3% take-rate on each sale.
Whop Exclusivity
If you are looking to exclusively sell your Figma templates with Whop, we are offering creators like yourself the following perks.
6 Months with No Fees
Verified Badge
Potential Advisor ( Have your say in our product )
If you are interested in becoming a Whop advisor. Reach out to @WhopIO on Twitter or join our Discord.