Are you looking for the best way to distribute and sell your eBook? Look no further! We think that Whop is the ideal place for digital creators, and this article will show you just how easy it is to start selling your eBook today.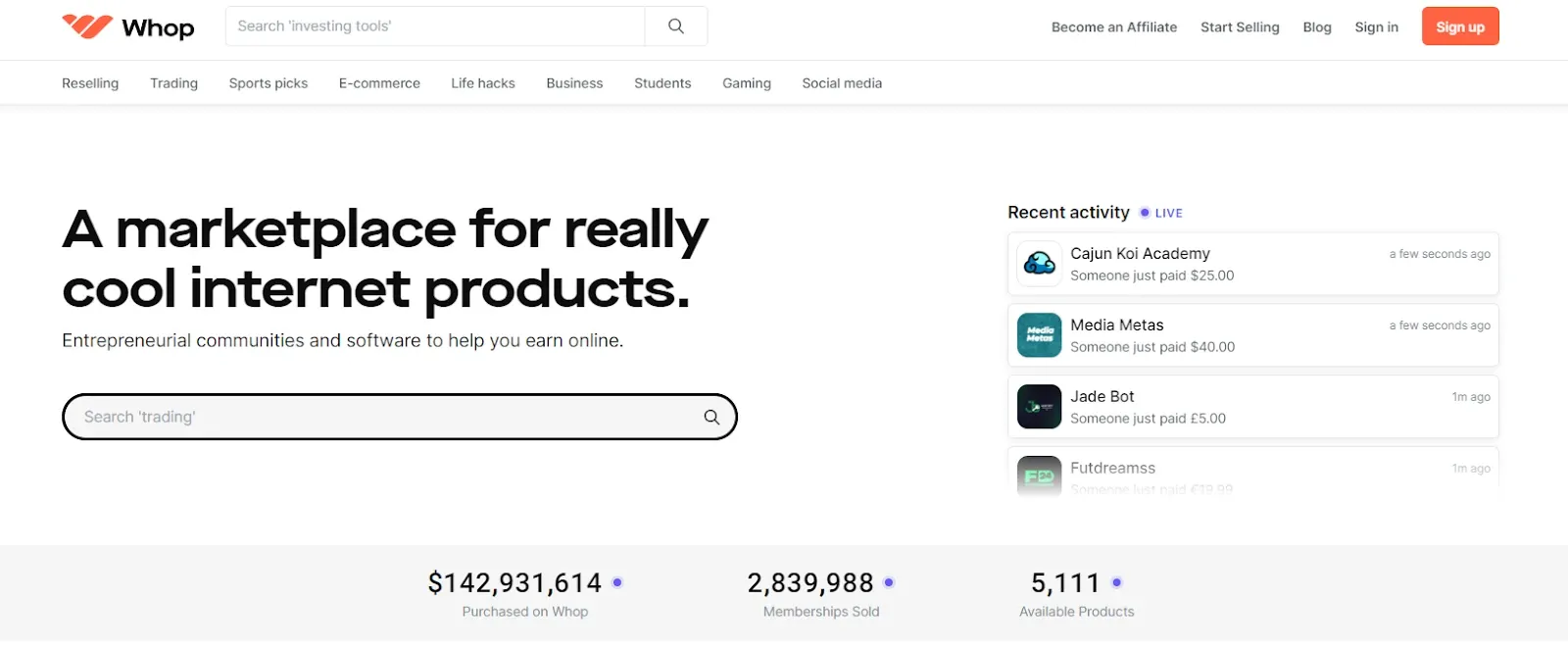 Read on for a simple, easy-to-follow 5-step guide on how to sell eBooks on Whop - the best digital marketplace for entrepreneurs selling top-quality content.
1: Sign up with Whop
Whop is all about making your life as an entrepreneur easy, and signing up is no exception. Just visit Whop.com and click on "Start Selling" at the top right of your screen. Here you can watch a quick introductory video, or just click right through to get started!

Account creation is really easy, too. All you need is an email address, so if you've set up a dedicated business email or Twitter account for your eBook, sign in with that instead of creating an account.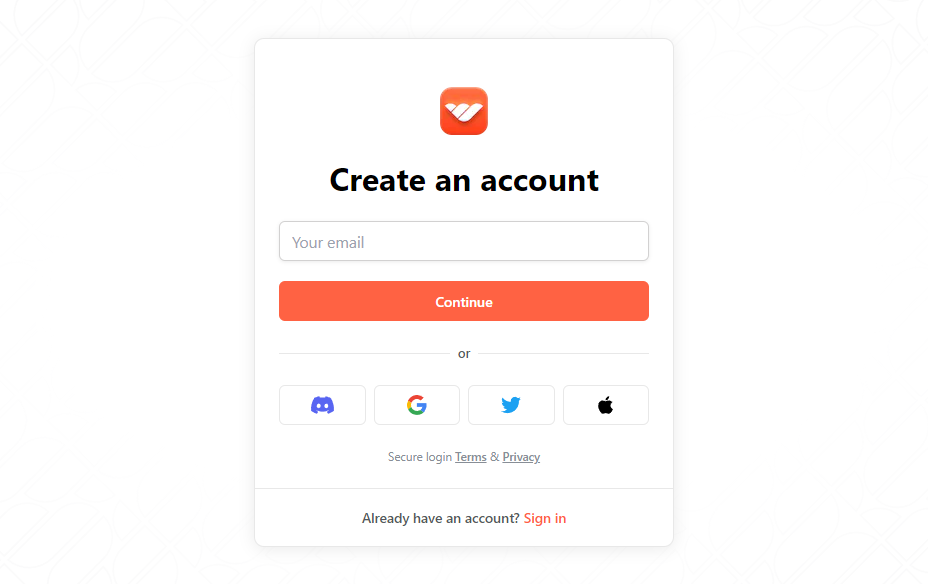 Congratulations! You've successfully signed up to Whop and are now logged in. Time to take the next step.
2: Create a Company on Whop
Since you signed up as a seller, Whop will now prompt you to create your new store. This is similar to creating a company, so if you already have your branding for your eBook, use that.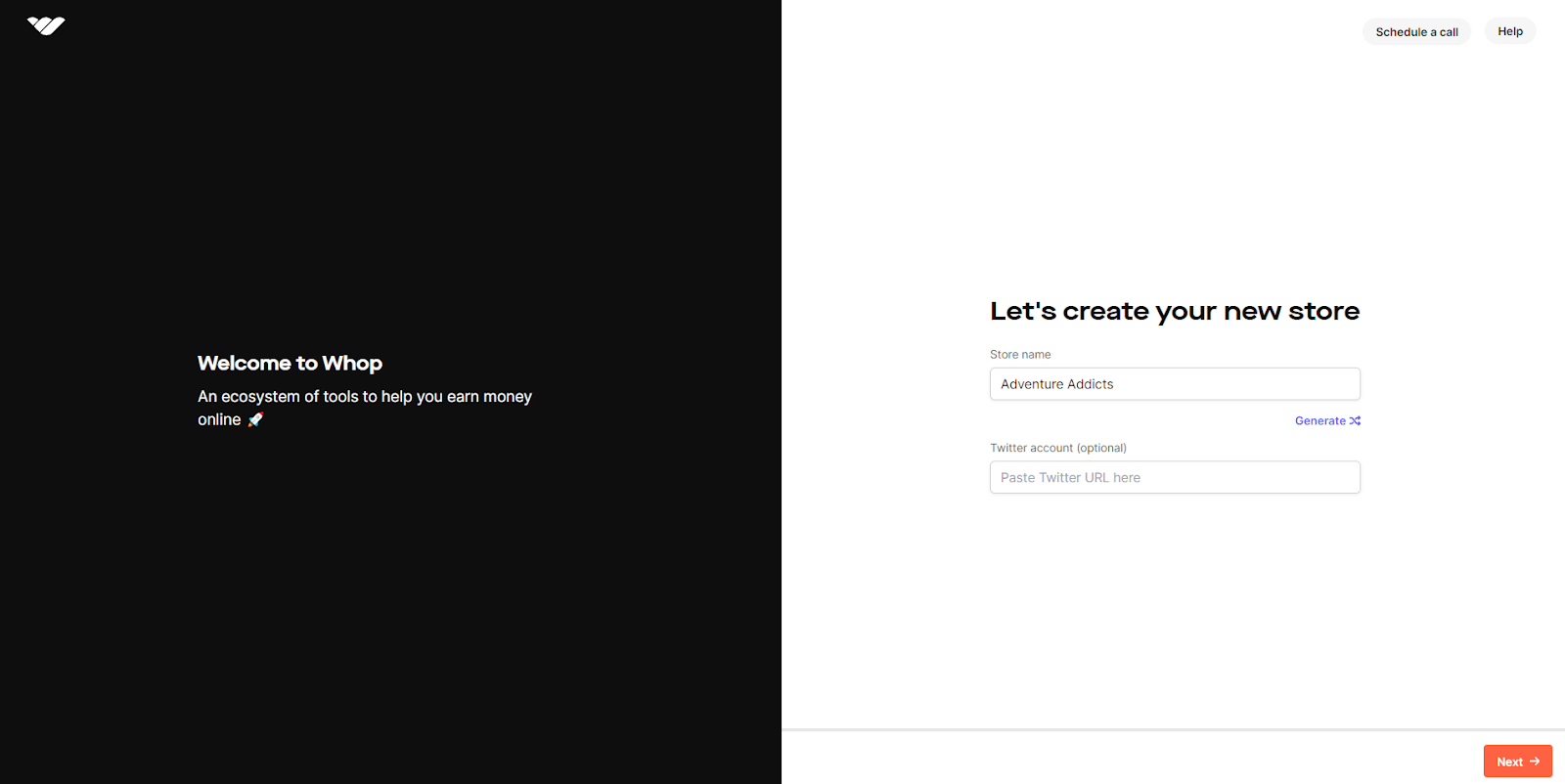 You can also drop your Twitter information here, but don't worry, you can also do that later on. Just hit Next to proceed.
3: Choose eBooks as a Product
You should now be presented with a prompt asking you what sort of products you want to sell. If you don't see eBooks listed here, just select "Something else" and you're good to go.
Welcome to your brand new Whop Business Dashboard! Your first order of business is to select your mode of choice, of course—whether you're the dark mode or light mode type, Whop's got your back.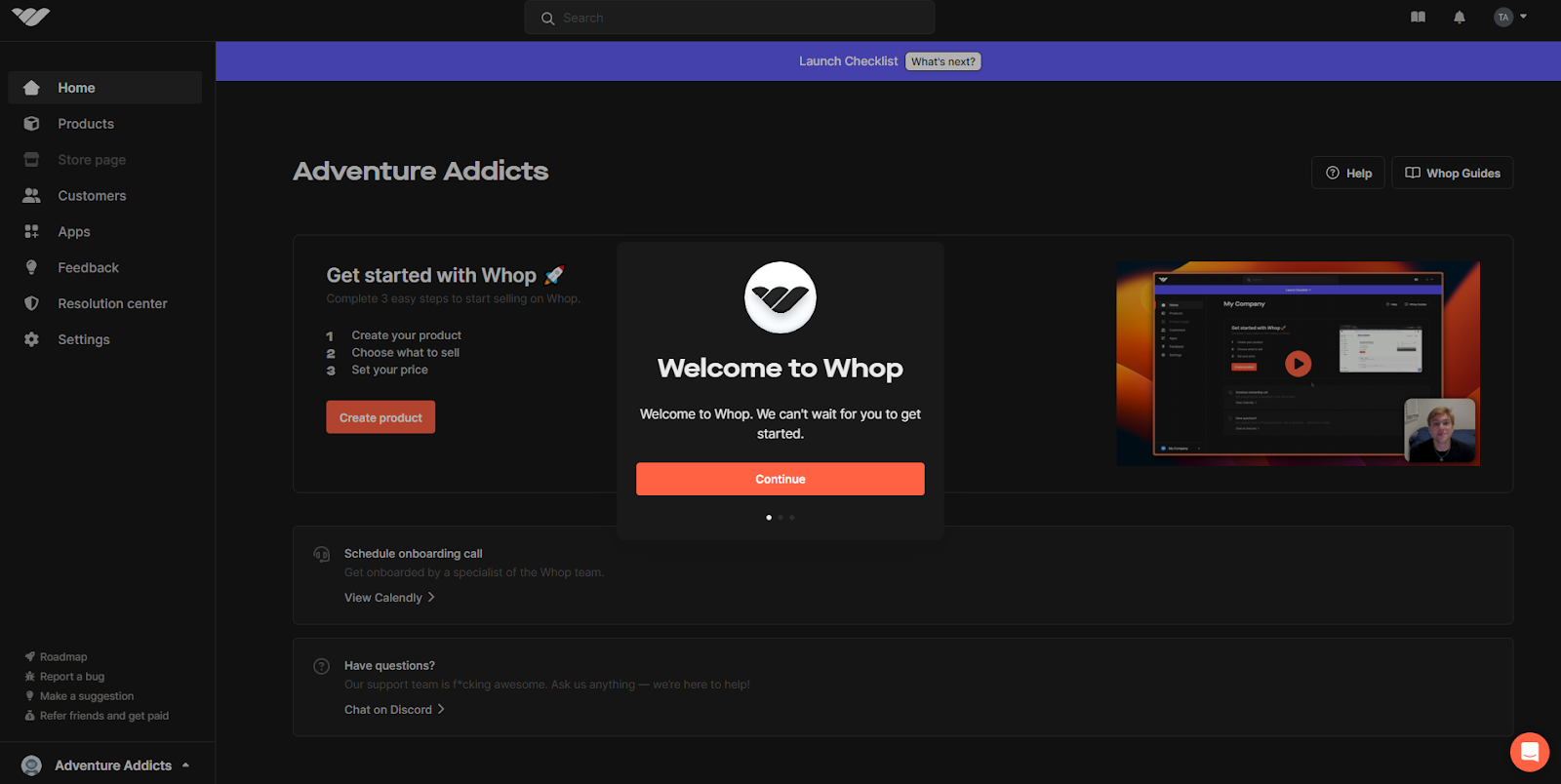 It might be a good idea to check out Whop's video tutorials here, and your dashboard will point them out now. They won't go away, though, so don't worry—you can always come back and watch them later. There are also some helpful links to other dashboard tutorials, documentation, and you can even create an appointment for an onboarding call with the Whop team via Calendly.
4: Create Your First Product
Now that you're comfortable with your Whop business dashboard, it's time to put your eBook up for sale! If you're not quite there with your book just yet, don't worry, you can also test the process out with a placeholder product. Simply click "Create Product" and you'll be prompted for product type once again: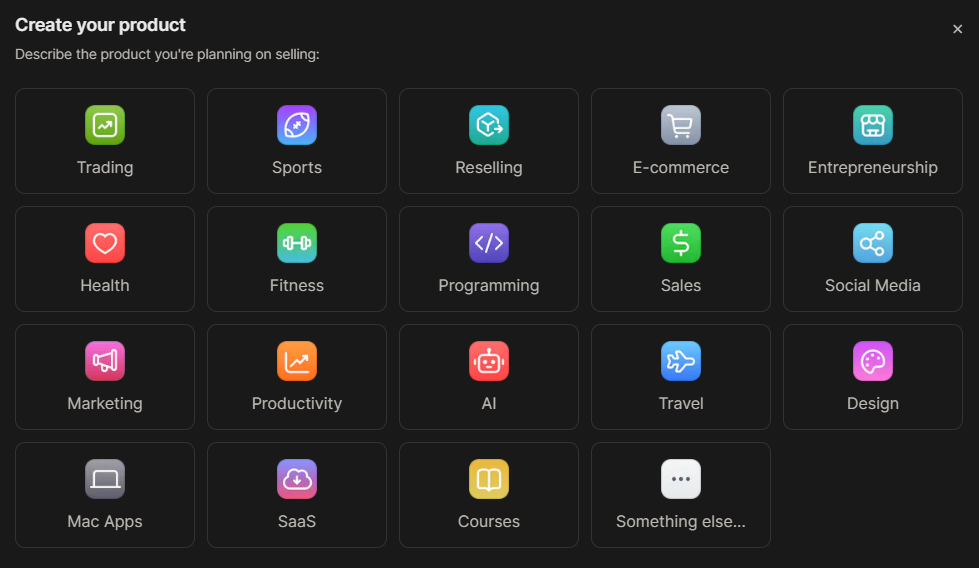 If eBook isn't an option, pick Something Else again. On the next screen, you'll be asked what you want your customers to see. Here, you'll find eBook as an option on the bottom right. Go ahead and choose that.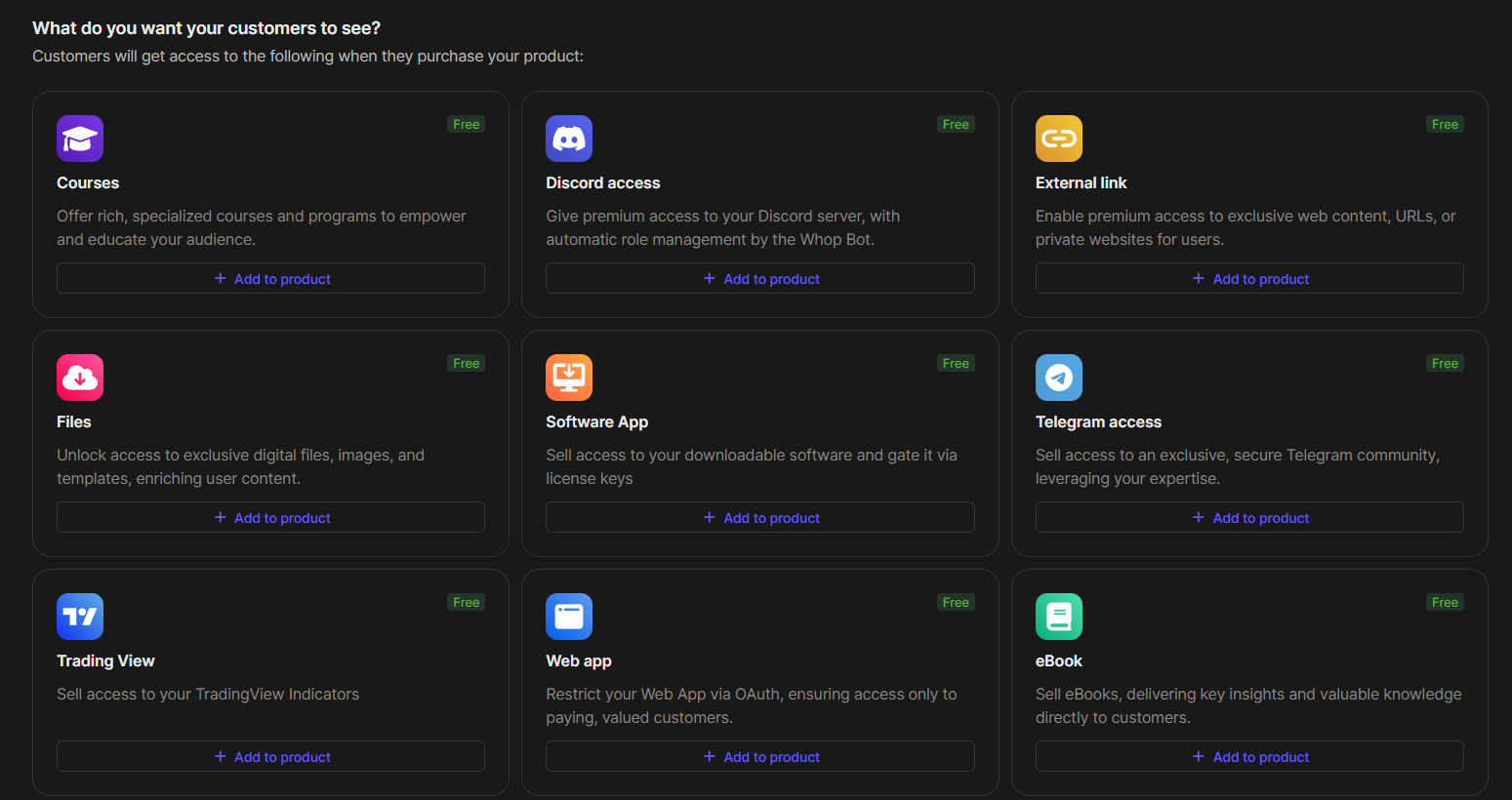 Now just hit "New eBook" and upload it. Once you're done, your customers can visit your Whop storefront to download it!
5: Register for Stripe Payments
Remember that you're not finished until you give Whop a way to send the revenue from all those eBook sales to your bank account! One of the most common ways to do this with minimum fuss is Stripe. Whop offers a Stripe integration to make payments a breeze.
To set it up, go to the Settings section of your dashboard and click on the Billing tab. This shows you all of your options, so give them a look—but when you're finished, go to the Credit/Debit field.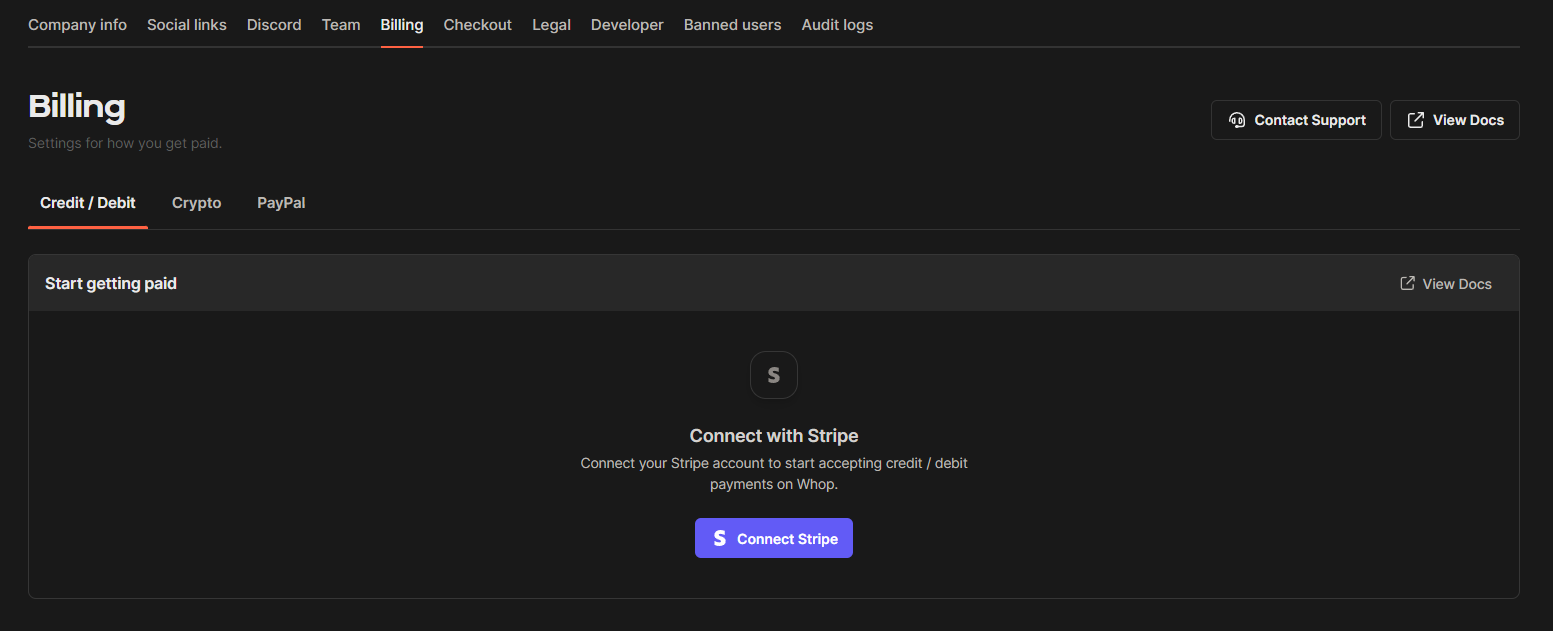 Now just click "Connect Stripe" and then enter your Stripe API keys! If you don't already have a Stripe account, click on "No, I don't have a Stripe account yet" instead. That'll get you all set up with Stripe and link it to your Whop store.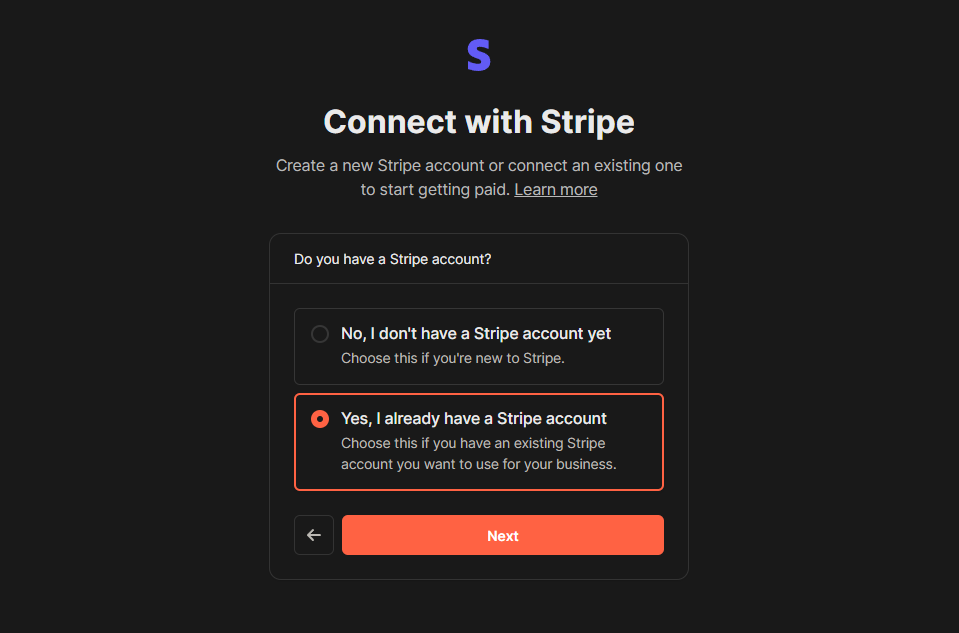 👉 And that's it, you're ready to start selling eBooks on Whop. You can also sell your eBook on other stores simultaneously, but you'll be hard-pressed to find a platform where setup is quite as fast and easy. Click here to start selling today!
For a visual run-through of the setup process, watch this video tutorial on getting started as a seller with Whop:
---
How to Become an eBook Author
Now that you know how easy it is to sell your eBook, all that remains is to create your eBook. If you have already created your eBook, consider reading through this guide anyway to make sure that you have hit all the key points as an eBook author. Creating an eBook is easier said than done, and given how easy Whop makes selling, making your eBook is the hard part. So, we'll try and make it easy for you by outlining some of the main steps you need to take to get your project off the ground.
Identify Your Niche
It goes without saying that a successful eBook is all about the value the author provides, so the best place to start is with this. It's likely that you've got at least a couple of eBooks in you, whoever you are—you just need to find them. What you'll write about will likely depend on what subject areas you're experienced in or passionate about.
A lot of successful eBook authors are industry experts and have significant amounts of expertise in certain areas, but just as many are hobbyists. You can have as much success with a cookbook or even a children's book as you might with self-improvement, money-making, or productivity.
Whatever you decide to write about, you have every chance of success if you either have knowledge or passion about your niche—having both doesn't hurt either!
Create Quality Content
As mentioned, a good eBook is all about the value you can provide the reader. Regardless of what your niche is and what sort of book you're writing, you need to give the reader what they want—whether that's answers to a big question, expanded knowledge in a certain area, or just a light-hearted escape from reality.
An eBook is a product, and you're probably not going to be giving it out for free. Your readers are going to pay good money to read your eBook, so you need to make sure their money has been well spent. There's far more quantity than quality when it comes to content in the digital space today—so by providing high quality and real value, you're differentiating yourself right away.
How you go about this is up to you. There's a famous quote by George R. R. Martin, author of the Song of Ice and Fire series, that reads:
"There are two types of writers, the architects and the gardeners. The architects plan everything ahead of time…they have the whole thing designed and blueprinted out before they even nail the first board up."
This "architect" archetype is often recommended, but Martin describes himself as a gardener, someone who "plants a seed" and then "finds out about it as it grows". Granted, this approach may not always work with the shorter format of an eBook, but you can write first and chop things into shape later.
What's important, therefore, is the end product, and not the journey. Your book needs to accomplish what it sets out to do in an insightful, engaging manner, and it needs to be professionally proofread and edited to ensure that it's polished.
Don't Neglect Design
This one may be unfortunate if you're more of a wordsmith than a designer, but your cover design is just as important as your content when it comes to attracting a reader. It's quite likely that your book isn't going to be the only option when it comes to its subject, so an attractive cover and a good title will help the reader pick your eBook over the others.
You may wonder why this matters since it's an eBook, not a physical book that a reader needs to pick out of a shelf full of others like it. The reality is that your eBook will face a very similar level of competition, the only difference being that readers will see it on a webpage instead. Cover design matters, so don't skimp.
In fact, many eBook authors tend to hire professionals to figure out their cover and theme. Remember to stay involved with the process, though—you need to ensure that your designer's work aligns with your vision and the niche and subject matter of the book.
Publish and Distribute
Even once your eBook is ready for publishing, there are several big decisions in front of you. Publishing used to be a huge hurdle for authors in previous generations, with book publishers serving as gatekeepers to the world of literature. Luckily, the internet has changed this, and all you need to self-publish an eBook is the right platform.
Finding the right platform isn't always easy, but a little research will get you past this challenge. Most people think of a certain large platform for self-publishing, and while a large platform does offer great reach, many authors have suffered major problems with the industry's giant. This includes having knock-off sellers of their own eBook on the very same platform.
To avoid these issues, choose a trusted digital marketplace like Whop! It offers everything you need as an author, from a wide audience of consumers to fantastic customer support, and it only takes a few minutes to get set up and start selling.
Market and Promote
Marketing and promotion is another major component of success with eBooks, and as an author, it may sometimes feel as if it's outside of your wheelhouse. If you neglect marketing completely, the fact is that your book just won't gain any traction.
As such, it might be a good idea to brush up on social media. It's both more effective and has greater reach than traditional advertising—for an eBook, you're probably not looking at more traditional marketing routes like classifieds, radio ads, or even TV commercials. For one thing, those routes can be expensive, especially TV. They also may not reach your target audience as effectively as online marketing.
The readers you regard as your target audience will probably dictate how you go about marketing your eBook. Different platforms may take precedence over others—if you're going for a younger audience you might look at services like TikTok, whereas professionals tend to be easier to reach via LinkedIn.
You should look to establish a consistent theme when it comes to branding and messaging which ties into your eBook's subject matter and have a landing page to funnel interest in. Create content to engage your readers via different channels, and consider paid advertising campaigns and collaborations with other creators in your niche too.
Tips for Selling eBooks Successfully
If you want to be successful with your eBook, there are lots of challenges to accept and overcome. Here are some quick tips not just to ensure your eBook is a success, but to maximize your potential earnings from it!
Be Consistent: Writing and publishing an eBook isn't accomplished quickly, and it's important to stay consistent during the entire process. Have a plan and stick to it!
Outsource: As we described earlier, your eBook is not just about the content—you need design and marketing resources too. If you're not comfortable handling these areas yourself, there's nothing wrong with outsourcing or hiring professionals.
Use Feedback: Feedback is an important part of any creative process, but it's important to know how to channel it. Don't get brought down by any negative feedback you might receive, learn instead to use it constructively, and deal with it professionally.
Don't Expect Miracles: However good your approach and content, there's every chance that your eBook isn't an overnight success. It may take a while, or even several eBooks, before you can rely on it as a primary source of income.
Be Aware of Copyrights: Don't use any materials in your eBooks that may be protected by copyright. This means characters, places, themes, and even graphics and illustrations.
Multiple Income Streams: Once you do make it as an eBook author, you can boost your income by looking at complementary streams. Merchandise, audiobooks, online courses - all of these are great options to make more revenue from your successful project.
Sell Your eBooks on Whop!
Now that you know all about eBooks, from how to get started and choose a niche and structure to how to self-publish, market, and promote your book, it's time to dive right in!
👉 Whether you're an experienced writer or just getting started in your craft, remember that Whop truly is the best platform to sell your eBook on. With a diverse and ever-growing array of customers who'll see it, to all of the benefits you get as a seller, Whop takes care of the operational details so that you can focus on creating. Check out Whop and sign up today or talk to the team to see how Whop can help you!