Created by professional trader and popular trading educator "Jdun," Team Bull Trading is one of the world's most popular and sought-after trading communities, boasting years of successful results.
Team Bull Trading houses a team of more than eight skilled traders, all there to help members in their journey to trading glory.
Sure, Team Bull Trading is one of the most well-respected and largest trading communities out there, but what makes it such a popular option? That's what we'll explore in this article, so buckle up!
Knowledge is Power
Trading can be risky, especially if you're not properly educated. So why would you blindly follow "trading signals"?
That's not what Team Bull Trading is, as they understand the importance of education well, which is why they carefully crafted a team of more than eight professional traders to teach members everything they need to know in the trading world.
This team of teachers is dedicated to teaching you everything about the markets and doing so in efficient, inclusive ways, such as daily Zoom calls with live trading, trading floor channels, one-on-one support, etc.
On top of teaching what you need to know about the markets and trading in general, the Team Bull Trading team also teaches you what to do with your money so you can ensure you're doing the right thing.
Whenever you have questions or need assistance, Team Bull Trading's expert team is always willing to lend a helping hand and give you information on all things trading. Having assistance like this at your fingertips is truly priceless and essential if you want to succeed.
Community: A True Family
If you want to be successful in anything, one of the most important things you can possibly do is surround yourself with like-minded individuals in that niche. Fortunately, Team Bull Trading's community is seriously like no other.
The owner of Team Bull Trading, Jdun, once called Team Bull Trading the "number one [trading] family in the entire world with a gameplan for you." The key word here is "family," as that's exactly what it feels like to be part of this group's community.
The main text chat channel is nearly always active, full of friendly individuals discussing the markets, learning from one another, and having genuine conversations with each other.
Being such a friendly community, Team Bull Trading welcomes newcomers, regardless of skill level. It doesn't matter if you've never traded or if you've been trading for years; the community will welcome you and treat you with the utmost respect.
Team Bull Trading is focused on educating, not spoon-feeding, so the team will go out of its way to ensure every member is fully educated and equipped with the knowledge needed to tackle the markets.
Trading Floor & Chat
This is where Team Bull Trading really shines: the trading floor/trading chat channels. These text channels provide some of the most valuable educational information you can get your hands on.
The trading floor is separated into two different channels: the admin trading floor and the elite trading floor. The admin trading floor is where the well-educated teachers of Team Bull Trading frequently post trading ideas and further discuss them with each other.
The elite trading floor is similar, but instead of the group's teachers posting, it's the members who have achieved the title of "elite" thanks to hard work, dedication, and willingness to help others. When following these channels, you'll understand how professional traders think - further improving your own decision-making skills.
The "trading chat" text channel is quite different from the trading floor channels, as any community member is able to talk within it whenever they like. The trading chat is no joke; it's seriously brilliant.
The trading chat is a great way to network, as you'll be surrounded by over 5,000 like-minded individuals, each with the same goal: financial freedom. You can also be sure that whenever you ask a question, you'll get a helpful answer. Once you interact with and experience this channel, you'll wonder how you lived without it!
Webinars & Guest Speakers
When you join Team Bull Trading, you'll notice that you get access to all of their previously recorded webinars - yes, the whole back catalog! Team Bull Trading frequently hosts webinars via Zoom, aiming to do so either once a day or every other day.
These interactive webinars allow you to ask questions throughout and get detailed responses, which is a great way of obtaining new knowledge. They sometimes host webinars with special guests, such as book authors and highly successful traders - with one of their most recent special guests being Umar Ashraf, who owns TradeZella (the number one online trading journal) and has made over $18 million within his 10+ year trading journey.
The information within these webinars is priceless, and webinars like this simply aren't available anywhere else. It's not every day that you get to interact with highly experienced and extremely successful individuals like this, but Team Bull Trading makes it possible. This is an awesome way of leveling up and expanding your trading knowledge.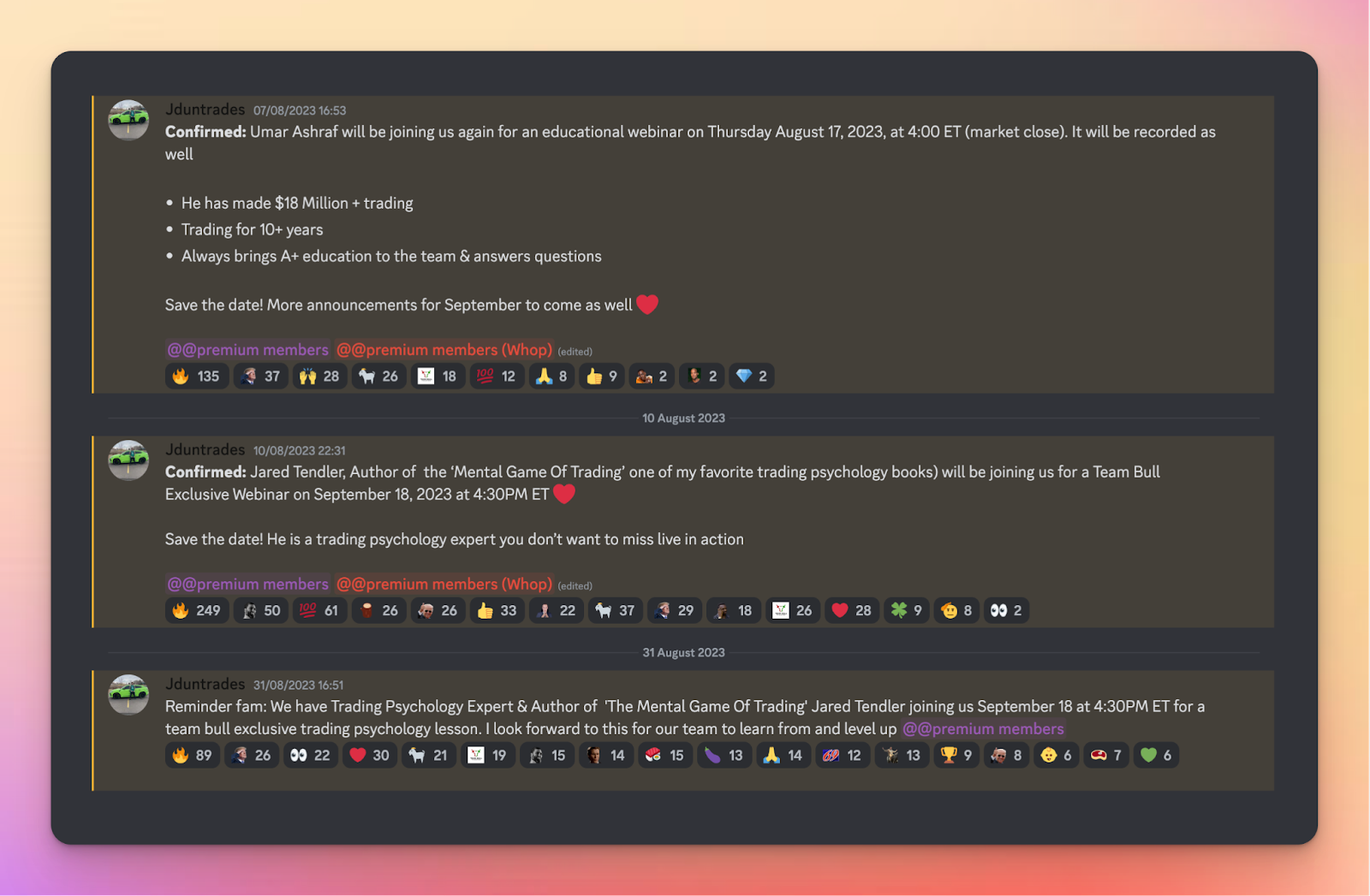 Conclusion
As you can see, Team Bull Trading is a solid choice for anyone looking to level up their trading skills. Are you a newbie trader? Or maybe you're a veteran trader? Either way, we don't doubt that you'll feel at home in Team Bull Trading.
Whether you just want to have a nice secondary income stream or buy a brand-new superyacht, the results you'll see depend on the effort you put in and how determined you are to reach your goals.
🏆 Team Bull Trading is Whop's best-selling trading community for a reason: their insightful trading information, effective teaching methods, lovable community, and because they produce results! Team Bull Trading really is an excellent option for a trading group; it's the real deal!