TJR Trades is an education-first trading community run by Tyler, an entrepreneur and trader with over six years of hands-on day trading experience. Known for his enthusiasm, clarity, and energy in ensuring all of his Discord community's questions are answered during every session, Tyler's goal is to teach you all he knows about trading as fast as possible.
Already an extremely successful trader and even more successful content creator, the emphasis TJR Trades brings to its Discord community lies in empowering members with the skills and resources needed to become outstanding day traders. From the right psychology and approach to the top tools and strategies in the business, you can get it all right from the source when you sign up.
Why Join TJR Trades?
Within the TJR Trades Discord community you can learn all there is to know about day trading across several markets, so whether you're more comfortable with Forex, Crypto, or just the good ol' S&P 500, there's plenty for you.
Regardless of assets and amounts, though, the name of the game is education. TJR Trades is above all else focused on educating members, and they've already got plenty of resources for you to get through. The "TJR University" features a detailed bootcamp series focused on various aspects of day trading, including the all-important areas of trader mentality, psychology, and risk management.
In fact, despite day trading being a risky game, TJR Trades takes responsibility seriously. By giving traders access to as much knowledge as possible, they're helping you reduce risk - and for the first few days in the server, you can just kick back and watch Tyler's moves. You can see him work in real-time and, most importantly, talk through and explain his philosophy and reasons for doing everything he does.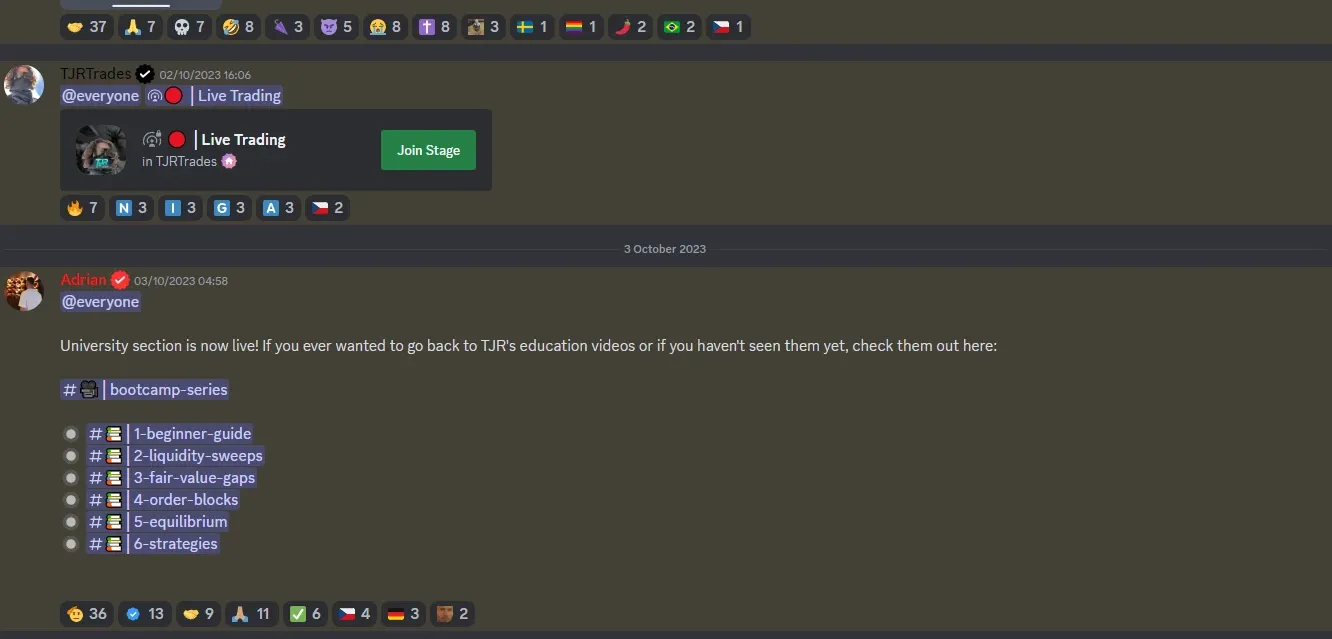 TJR Trades is known for being a positive community full of encouragement, but while there's a success chat to talk about those big wins, the focus of the community remains very much on knowledge intake and education.
Learning Every Day
One of the biggest things with paid communities, whatever the niche, is that you need to be assured of value for your money. Content creators like TJR Trades do rely on compensation for the value that they provide, but how do you as a consumer know whether that outlay will be worth it?
Well, a sure sign of quality is when a creator is willing to put out lots of their content for free. Not only does this give you a free sample of the style of content in question, but it points to the fact that there's going to be so, so much more behind that paywall. The more you get for free, the more you're likely to get once you subscribe, so check out what TJR Trades puts out on YouTube: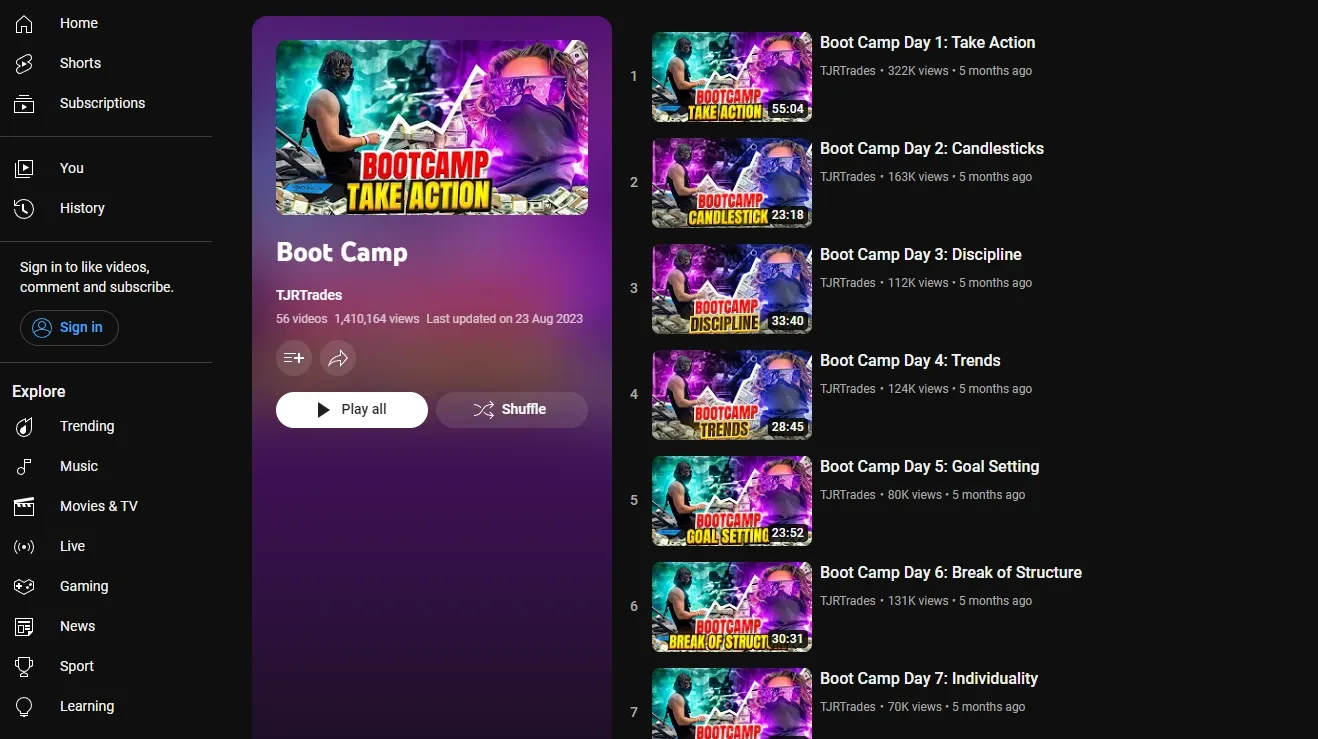 That 56-video Bootcamp playlist is just a sampling of what the TJR Trades YouTube channel has to offer, with close to 100k subscribers and over 750 videos posted in under a year and a half.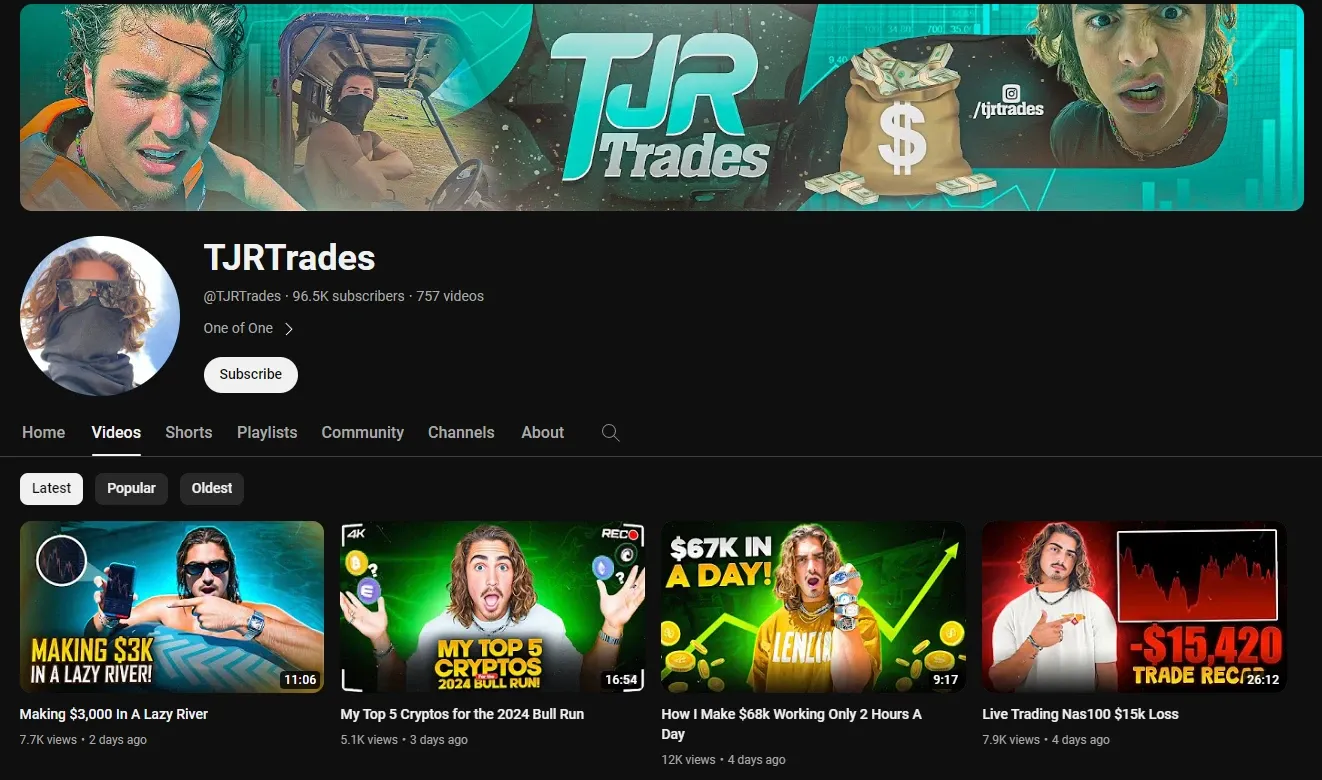 This much free content is practically a sure-fire guarantee of value for money once you do sign up, but it's not something to take for granted. In fact, it's a great idea to check out a few of their videos, especially the Bootcamp series and some of the trade recaps, to learn more about TJR Trades and how they deliver all of the extra content you'll get once you're part of the community. If you like the vibe, jump right in!
What You Get With TJR Trades
Let's take a detailed look at what you'll get by signing up with TJR Trades and joining their Discord community via Whop:
Expert insights. With the TJR Trades Discord, you have unprecedented access to the mind and methods of an extremely successful day trader with his own signature style.
Hands-on education. TJR Trades is all about education, and by following the daily trading sessions, you can learn how a trader approaches every challenge and assesses options. Plus, there are plenty of educational resources and tips posted in the Discord server.
Your questions answered. Signing up for a VIP package allows you to send questions directly to an expert day trader and their team, and you're guaranteed a quick response.
Market sentiment. Get to grips fully with market sentiment on a weekly basis by tuning in to the weekly TJR Trades call focused on market sentiment and where things are going.
Day trading expertise. TJR Trades is a day trader, meaning that there's no playing around with risky options or calling out stock picks. It's all about training in psychology and methodology to develop consistent day trading strategies.
Free webinars. Don't miss out on the chance to sign up for a webinar with TJR Trades, absolutely free even if you're not a Discord member.
Trading e-book. If all you want is TJR Trades' methods and none of the coaching, you can also pick up their trading e-book. At $20, it's an absolute steal given what you might be able to do with all of that knowledge!
Crypto insights. Cryptocurrencies are a mystery to many people, and that includes some of the most experienced traders out there. TJR Trades is a bona fide crypto trader, though, and you can learn a lot about this promising tech platform and how it works from a trading point of view by being on the TJR Trades Discord.
Picking the Right Package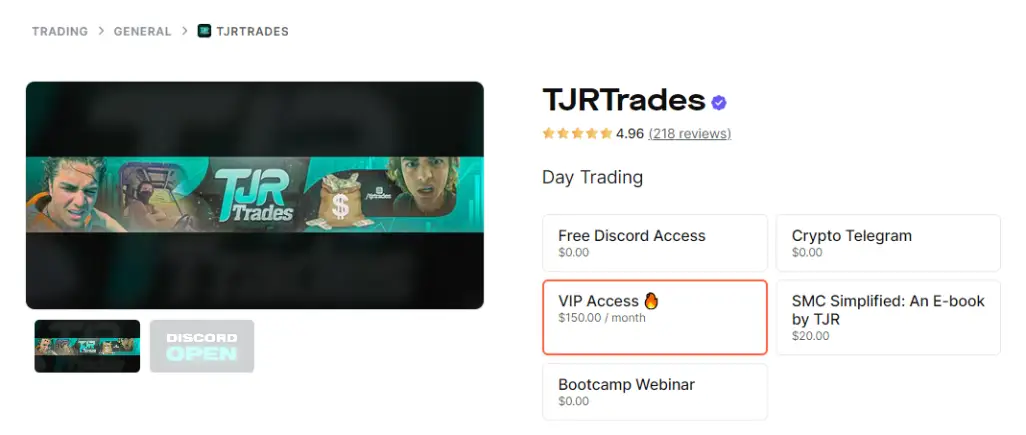 If we've got your attention by now, you're probably wondering what sign-up options are best for you! Well, TJR Trades simplifies this in the same way that they do the complex world of day trading by offering you a number of simple sign-ups.
Full access to the Discord server as well as the ability to ask TJR Trades questions, join Zoom calls to discuss market sentiment, and follow along with live trades all come with VIP access, priced at just $150 a month. Right now, there aren't any tiers to think about - with TJR Trades, you know what you're going to get.
If you'd like to read up on TJR Trades' methods and think you'd rather digest as much information as possible before the hands-on stuff, you could consider the TJR e-book, SMC Simplified.
That being said, we've already mentioned the sheer quantity of free information available to you even before signing up. Consider checking out TJR's videos on YouTube and going with Free Discord Access to get a taste of their content before deciding if you want to go for the full experience.
Sign Up to TJR Trades Today!
If it's day trading expertise you're after, you need look no further than TJR Trades. It's the ideal place to learn all about the mentality and psychology you need to develop as a trader in addition to all of the technical tools that you already associate with the trading process. TJR Trades is all about empowering you and fostering the right mindset to skill up and become a successful day trader.
👉 So, if you want to learn more about the ins and outs of trading all the way from traditional assets such as forex to emerging tools like cryptocurrencies, TJR Trades is where it's at. Check them out today and sign up to join the community, and enjoy unprecedented access to all the tools, educational resources, and training you'll ever need!