Is It Profitable To Resell Watches?
Resellers can make a living selling basically anything, but those who bring in the most consistent income are niche specialists. Focusing on a niche will allow you to not only deepen your domain knowledge and expertise, but it will also open up the potential for a loyal audience that recognizes your unique focus.
Well known reselling niches include sneakers and sports cards, with multi-billion dollar reselling markets. If this piques your interest, then many helpful cook groups exist that cover these areas. However, while sneakers and sports cards have their fair share of successful resellers, some complain that they are saturated with declining profit margins and a fickle audience.
Enter the luxury watch market - an area that appears to be largely untapped, and has grown considerably over the recent years. You only have to log in to social media to see names like Vookum and Phil Reid, who have shown that the hustle is not only possible, but apparently quite profitable. Brands seem to have taken note too, and in recent years, some watch models have dropped and resold with the same hype as sought-after sneakers.
So, let's dive in to see if flipping watches holds potential, and uncover what knowledge you might need before starting out.
Watch Reselling: A New Frontier? ⌚
Recent statistics are pointing towards the bullish case for high end timepieces. With a global market cap estimated at over $40 billion in 2022 and a projected annual growth rate of 5%, it looks like the luxury watch market has potential to be a new wave for resellers. Additionally, the rising trend of luxury purchases is largely immune to inflation or rising interest rates, which typically negatively affect consumer markets.
There is also an interesting shift in demographics – Rolex is no longer your grandpa's boring timepiece. Instead, many Generation Z and Y account for a large chunk of the growth segment for high end watches.
This change in demographics makes sense when you consider that there has been an influx of young wealthy people who made their money through crypto or ecommerce. Now, they are spending their disposable income on high-end timepieces. Beyond the flex, these purchases have financial utility as well. Unlike clothing items which largely depreciate in value the moment they leave the store, luxury watches can hold and even rise in value over time.
New Social Media Trends for Watch Flipping 🤳
Social media trends show a rise of interest in not just the watches themselves but also the dealing of them.
23-year-old Tyler Mikorski, aka Vookum, captivates his audience of nearly 2 million followers with fast paced, big money watch deals. His "Fast Flips" series on TikTok showcases Vookum pocketing up to thousands of dollars in a matter of minutes. He first posted on TikTok in June of 2020, with the majority of his followers arriving in the 2022.
While many view these videos as pure entertainment, those who are entrepreneurially minded and wonder if it really is possible to make a living flipping watches, just like Vookum does. Vookum covers this topic in numerous videos, giving out advice like starting out with a lower budget and working your way up, and warning that the overall business can be difficult and sketchy.
On another end of the WatchTok spectrum, millennial Mike Nouveau has made a name for himself as a vintage watch specialist. Although he doesn't primarily focus on deals or flipping, he does document himself making profits in some deals. His channel is diverse, featuring watches and deals in various price ranges, and it even includes celebrity watch commentary.
Twenty-something Phil Reid, who has a popular YouTube channel dedicated to trading watches, carries the message that watch dealing has totally changed his life. He describes that it is possible with the correct time, education, and commitment, and has videos describing the process in depth.
All of these watch-slinging individuals are symptomatic of the current trend of younger watch buyers, and act as effective marketing for others in their demographic to join them.
Perhaps the biggest draw of all is the potential profit to be had for anyone who understands the industry.
The Growth of Luxury Watch Prices in Recent Years 📈
In terms of investing, watches such as Rolex, Patek Philippe, Audemars Piguet, and Omega can make excellent alternative assets, with many models outperforming other assets like gold and real estate. In fact, according to WatchCharts.com, the market index for Rolex is up nearly 50% in the past 5 years, which is a greater return than the Dow Jones.
However, nearly all of the brands and their models that have reliably appreciated in value are often in the five or even six figure range. That's a lot of money to part with from the out-set. Also, the buy-and-hold strategy of investing differs from traditional reselling, which is often a quick flip made immediately after a brand new purchase.
Still, while this is the most common way that money-minded individuals approach the watch market, opportunities exist for a quick flip.

One example is the Vookum style aftermarket arbitrage, but this is only profitable if you have knowledge, capital, connections and ideally the location of the Diamond District in New York. While flipping a brand new Rolex is possible in theory, not only are retail prices high, but also individuals must be approved to purchase by an authorized dealer. Then, even if you're on the list to buy, immediate reselling is discouraged and it requires trust - normally in the form of a previous connection - to find a buyer.
Despite these barriers, flipping high end watches still happens - but is reserved as more of an inner circle game.
If you don't have the budget or connections, don't worry - you can still take part in watch reselling. Recent affordable collaborations with Swatch, all of which have been reselling in the traditional sense, are starting to bridge the gap.
Recent Watch Collaborations with Resale Value
Omega x Swatch "MoonSwatch"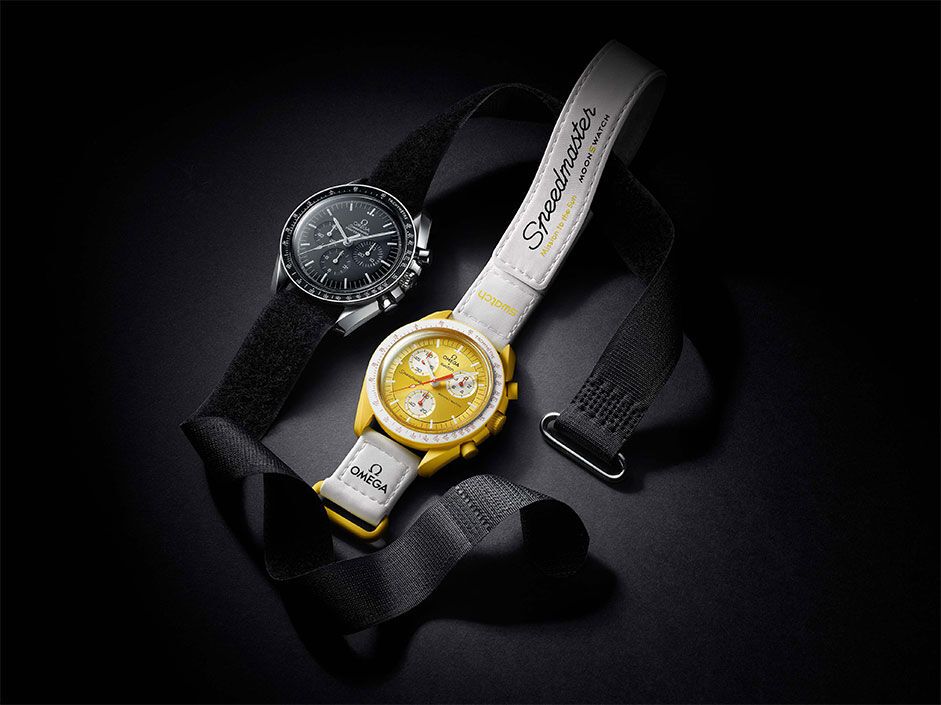 In March 2022 Omega shocked the watch world by dropping the MoonSwatch, a collaboration with Swatch. This has a nearly identical design to their timeless Speedmaster at less than 10% of the retail price.

Reception for the piece was mixed. The model has been criticized by watch aficionados for being built of plastic, calling it a 'disgrace' to the original Speedmaster line. However, the limited quantity and relatively cheap price of $260 has caused a strong aftermarket, where the resale value is anywhere between $300-$600+ depending on the color.
The price point for this watch, the resale value, and consumer behavior strongly mirror that of a hot sneaker drop: the original release was hyped up, sold out quickly, immediately sold for around twice the retail on both eBay and StockX, and prices were dependent on the color.

Over 1 year later, the Moonswatch continues to sell on the aftermarket at a premium. With ongoing press from sources like Highsnobiety, it appears that the market's interest has been piqued and that the consumers want more.
Blancpain x Swatch "Scuba Fifty Fathoms"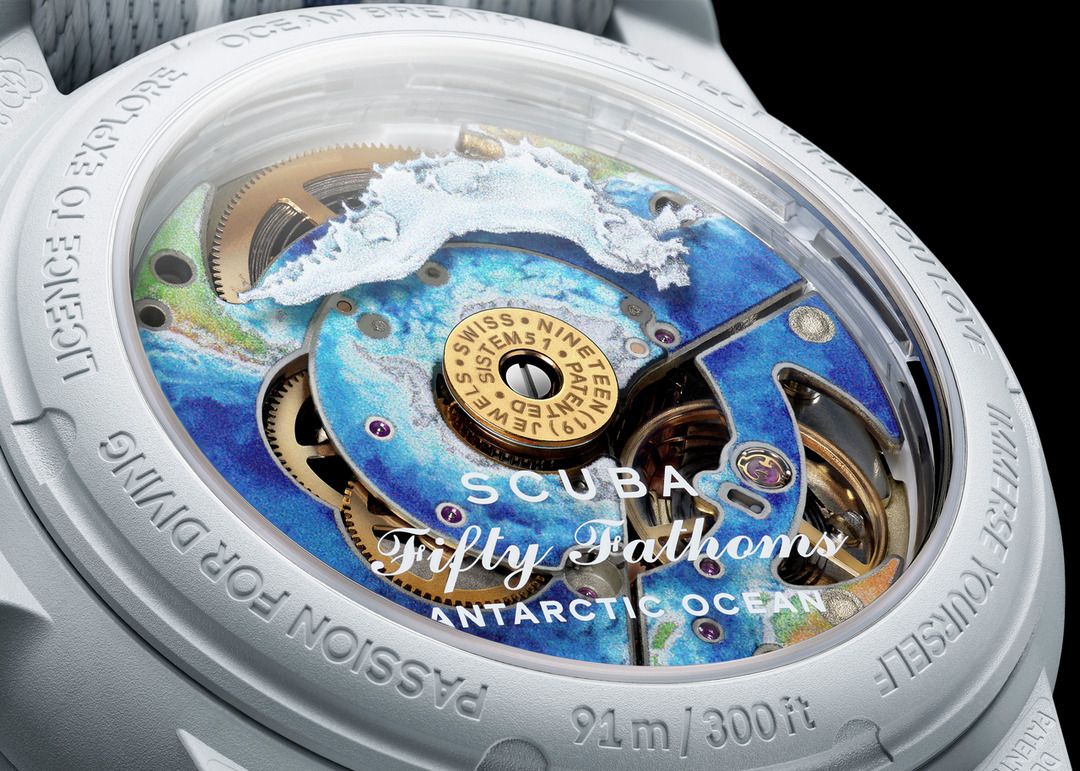 In September 2023, Blancpain, a luxury Swiss manufacturer, joined the Swatch party with a Bioceramic version of their iconic Fifty Fathoms model.

While the original model retails around $10,000 or more, the Swatch collaboration released for $400.
Like the MoonSwatch, it sold out quickly and immediately resold for close to twice the retail price or more, depending on the color.
We expect to see more releases like this for at least two reasons.
The first is that Swatch owns just about every mainstream major luxury watch brand, including Tissot, Longines, Glashütte, which are just three of the overall eighteen that the empire has acquired over the years.
Secondly, both of these models were received incredibly well by the market. Much of the pushback comes from old school watch buyers, but these models are perfect targets for the growing segment of younger buyers.
It would make sense for Swatch to release additional collaborations with Omega, Blancpain, and to debut a collection under one of its other brands to keep the momentum going.
G Shock GM6900WTC229 "Wu Tang"
G Shock also occasionally releases collaborations with resale value. A notable recent drop is the "Wu Tang" colorway of their GM6900 line, which retailed at $280 in early 2023 in limited quantities, and has a current resale value of around $500.
A look at StockX shows that various G Shock models accompany the Swatch Omega and Blancpain collaboration for watches that have a price premium above retail.
Where To Buy and Sell Luxury Watches 💵
The upcoming prominence of watches on StockX might be the biggest sign, as it points towards the bullish case for watches reflecting the hype and resale value that sneakers have.
Although most cook groups aren't targeting watches specifically, the interest in sneaker reselling has been fading in recent years. So it seems that watches are primed to take a role in the resale world which they have never seen before, especially if the popularity of Vookum and other influencers continues.
For those who want to be an early bird on this potential trend and get started with watch reselling today, the first thing you'll need to know is where to buy and sell these watches.
If you are hoping to deal in person, you will have your best luck if you live in a major city. Mike Nouveau and Vookum live in New York City, and Phil Reid lives in London. Other hotspots for watches worldwide include Hong Kong, Miami and Dubai.
If in-person isn't viable, then online channels of distribution for watch reselling are also an option. A few of the popular platforms like eBay and StockX overlap with the sneaker market, making for an easy transition for current shoe flippers. Other platforms, such as Bob's Watches and Chrono24 that specialize in watches may not be as widely known to the average consumer.
Watch Reselling Pros and Cons 🧐
As with any venture, watch reselling is not perfect, so you should consider both the positive and negative aspects of the game before deciding to dive into it.
✅ Pros
An alternative investment class
Potential profits can be high
Networking opportunities: watch buyers and sellers can be well connected entrepreneurs or prominent figures
New channel for reselling which you can specialize in and build an audience around
❌ Cons
Up front costs for consistently profitable models
In depth knowledge is often required to participate and be respected among dealers and buyers for high end watches in particular
Exposure to high level scams including fakes and other fraud
The reselling market in the traditional sense is still being established
Watch Reselling: The Verdict
As we can see, the luxury watch aftermarket offers a unique opportunity for resellers. Although similar in some ways to reselling sneakers or trading cards, the luxury watch aftermarket has a higher barrier to entry in terms of cost, knowledge and networking. However, the profits can be much higher and the market tends to be less volatile and trend-dependent.
Unlike traditional reselling, which is often on a brief timeframe, reselling watches is only reliably profitable in the long term as an investment.  
The market may evolve to reflect that of hyped sneaker drops if Swatch continues releasing collaborations on a more consistent basis and expands its retail channels. The success of the Omega and Blancpain collabs, together with the occasional G-Shock collaboration releases, hints that this market transformation may be on the horizon.
An old piece of travel advice says to travel with a Rolex, because in many instances, it is as good as cash and a form of wearable international currency. So if you have the spare money and are looking for a place to park it, buying a piece with historic value and the potential for price appreciation such as a Rolex Day-Date is a good start. If you are starting with a lower budget, perhaps a Moonswatch or Scuba Fifty Fathoms will serve the same purpose.
Ultimately, only time will tell whether or not this trend will continue, but the recent consumer behavior, social media trends and Swatch collabs point towards a continuation of watch reselling.

👉To keep your finger on the pulse of the latest reselling trends, be sure to check out the top rated groups on Whop for expert advice here.