If you are here reading this, you know how competitive the sneaker app market has become in recent years. We are highlighting some of the best sneaker drop apps available today to help ensure you never miss another drop. New kicks are a hot commodity, and one of the best ways to stay in the know on sneakers and the latest styles is to utilize quality apps for sneaker drops. So without further ado, here are five of the best sneaker drop apps available on the market today.
Nike SNKRS
This is one of the best apps in the sneaker game. If you are a fan of the Nike brand, there's no better place to gain access to news about upcoming shoe launches, exclusive events, and other Nike-specific releases. Users can also learn about the heritage and inspiration of various designs, the history of numerous lines of sneakers, and product features and benefits as well – all directly from Nike.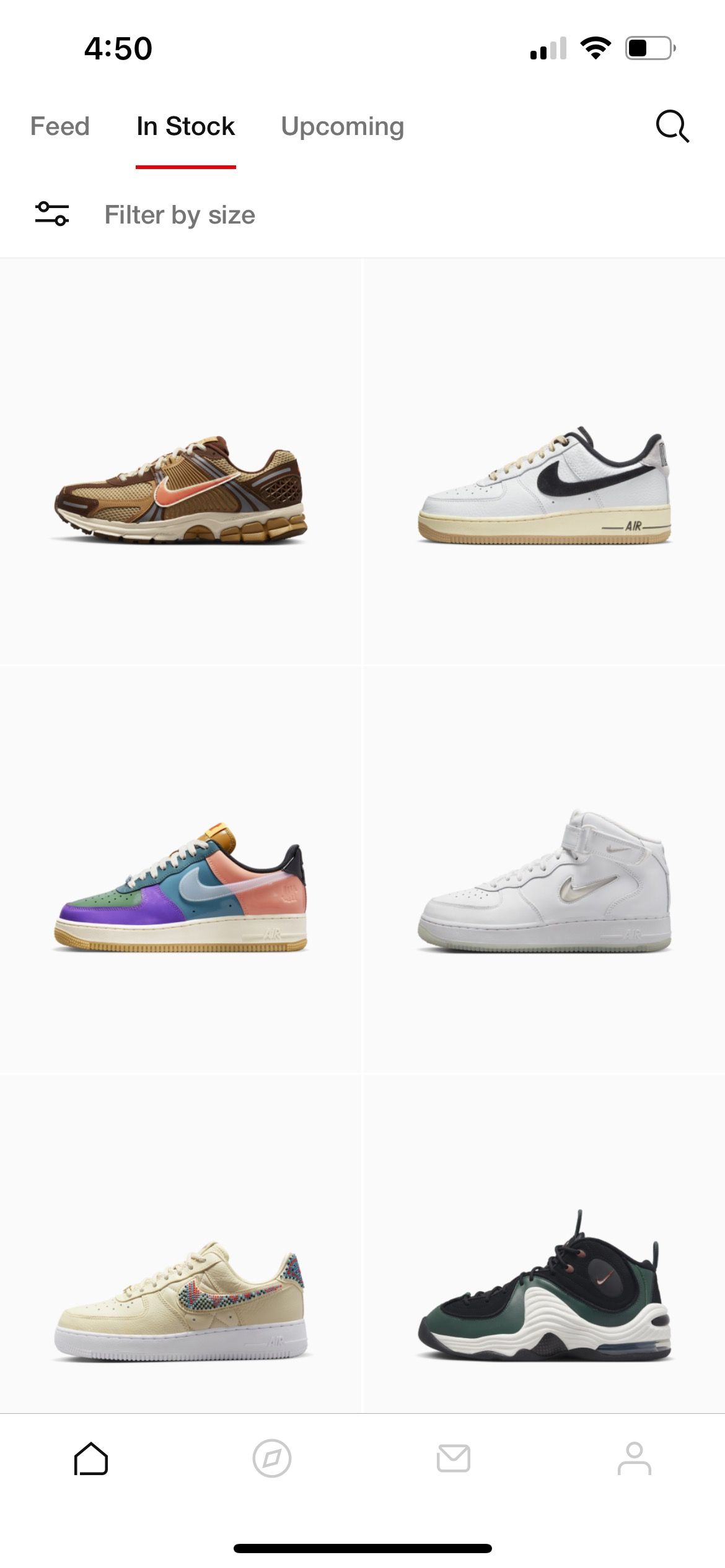 With over a million mostly-positive reviews in the iOS App Store and Google Play, there are plenty of customer testimonials you can peruse before downloading. Many users laud the app as one of the best and most equitable sneaker apps on the market today. The app receives regular updates to keep users in the loop about the latest exclusive collaborations, regular general releases, and other high-quality editorial content.
Sneakerheads can stay a step ahead when it comes to the latest news and trends by enabling notifications to remind users of upcoming releases, special events, and more. If there are any downsides to this app, it's that it is very popular among other Nike enthusiasts so it can sometimes be difficult to cop an exclusive release. But it shouldn't be easy to make out like a bandit from an exclusive release, right? That's what exclusive means!
For Nike and Jordan sneaker enthusiasts, there is no greater source to keep you informed on the latest sneaker news bytes and upcoming release dates. If you love Air Force 1s, Air Jordans, and other beautiful Nike sneakers and Nike collaborations, Nike SNKRS is likely the app for you.
GOAT – Sneakers & Apparel
While the GOAT – Sneakers & Apparel app also offers apparel and unique accessories in addition to new and vintage sneakers, GOAT is consistently a fan favorite because of its sleek design, seamless user interface, and robust selection of exclusive drops, vintage deals, new releases, and much more. Like the Nike SNKRS app, there are over a million mostly positive reviews in both the iOS App Store and Google Play. GOAT has also been featured as one of the best shopping apps available to consumers.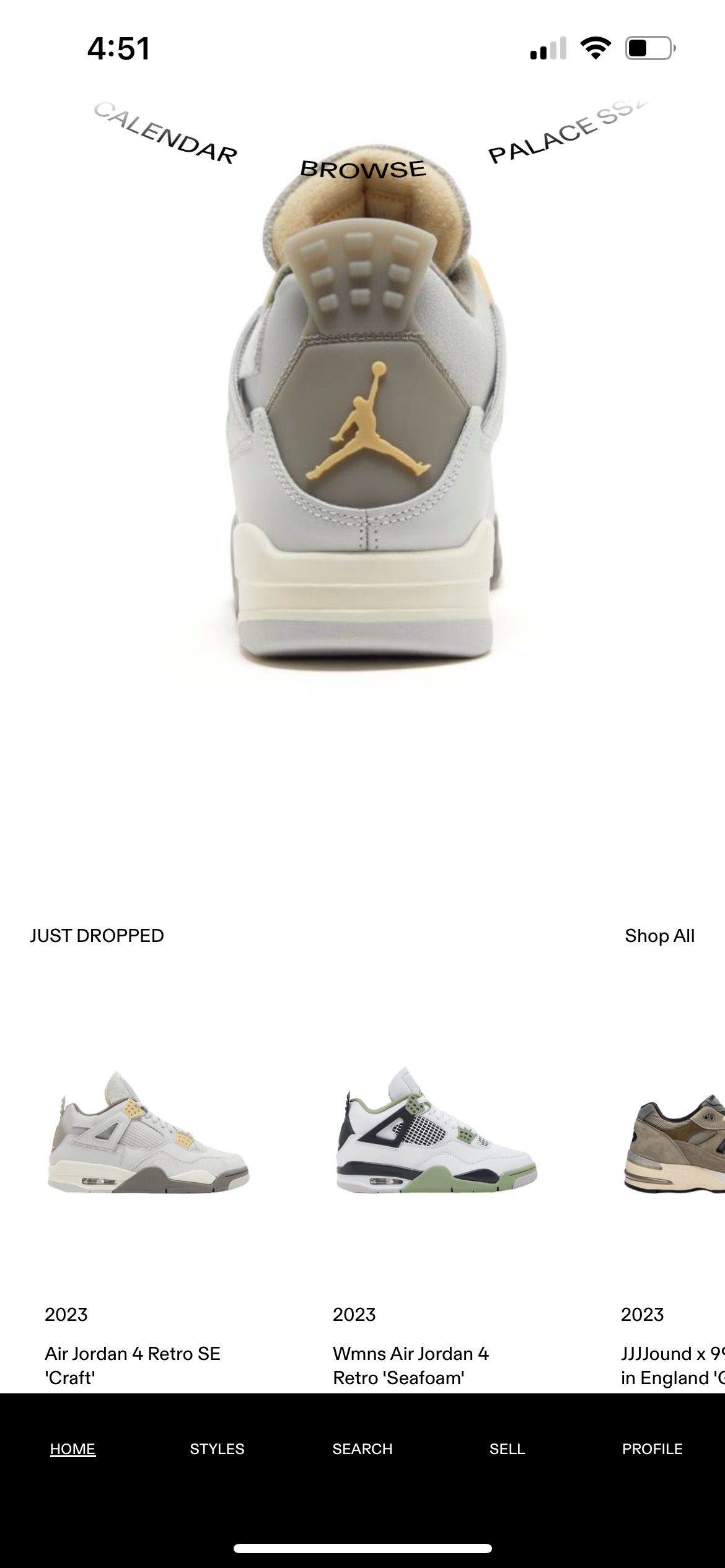 And with AR (alternate reality) features, users can even "try on" products to see how they look before making a purchase or an offer. Traditionally, consumers had to visit a brick-and-mortar retail outlet in order to try on an item before making a purchase. Now, thanks to advancements in AR and mobile phone technology, users can see how those new pairs of sneakers look without having to leave their sofa.
GOAT will also ship to over 170 countries around the world and the app is available in eight different languages – English, French, German, Italian, Japanese, Korean, and both Simplified and Traditional Chinese. With so many accessibility features, it's no wonder this app is so popular worldwide.
Additionally, GOAT offers some of the most fashionable styles from world-renown boutiques, retailers, and selected vendors. GOAT also offers buyer protection on all purchases – guaranteed. So if you are looking to get inspired or take your fashion game to the next level, GOAT – Sneakers & Apparel may be the app you've been searching for.
StockX
Touted by developers as one of the safest and quickest ways to buy, sell, and discover new and gently used sneakers and numerous other retail products. Users can track the estimated value of various shoes with real-time data to ensure they are buying or selling at the best possible price. And with a healthy lineup including brands like Adidas, Air Jordan, BAPE, Supreme, and many others, it's no wonder StockX has become one of the best apps for sneaker drops in recent years.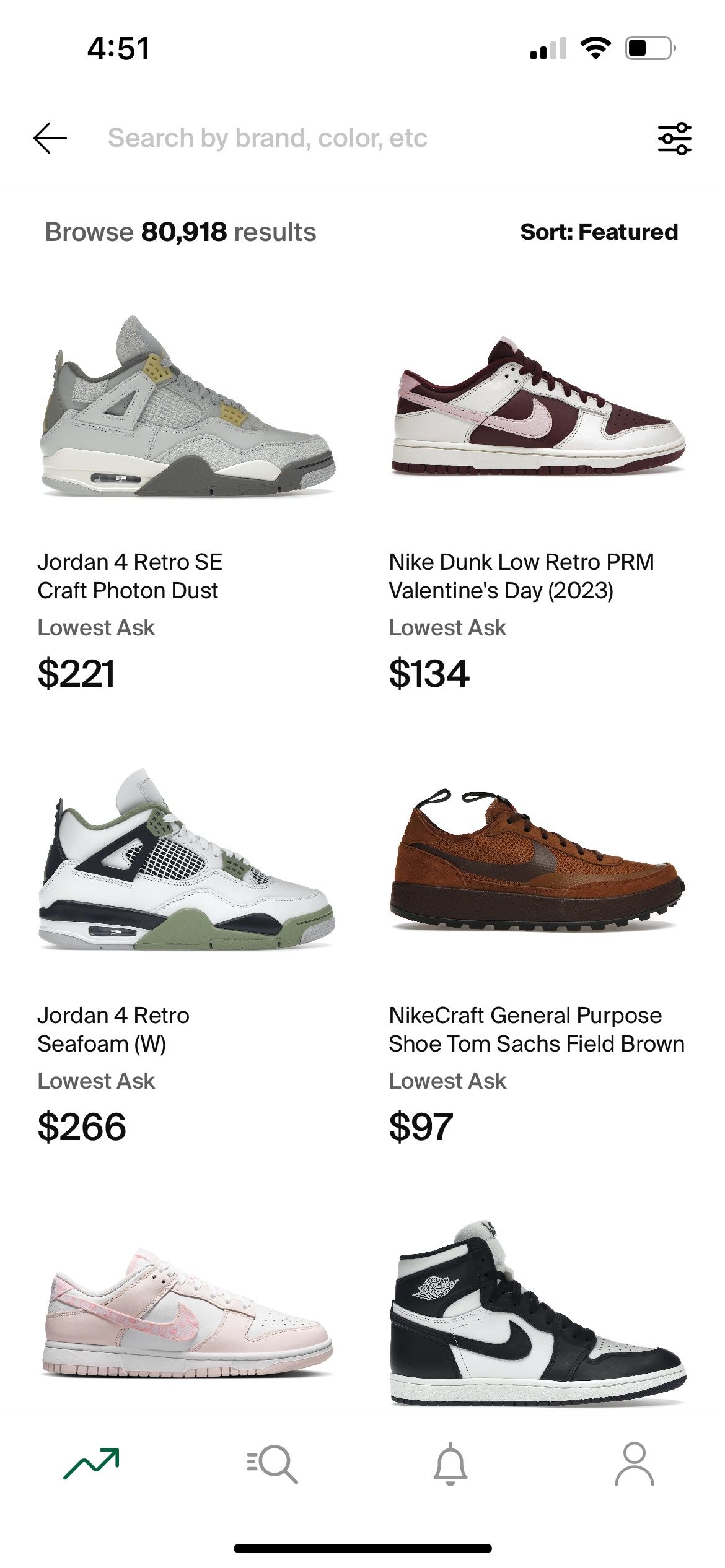 As the app's name seems to imply, much of the interface and functionality of the app are reminiscent of real-world stock market tickers. And similarly to how the stock market operates, pricing on StockX is largely determined by supply and demand availability. Users can create an account to buy or sell products with a system that utilizes 'Asks' and 'Bids' – when an Ask and a Bid 'meet' – that is, the bidding price matches the asking price – the sale is automatically and instantly executed. This process ensures that buyers don't pay more than they are willing to and allows sellers to ensure that their products are bought at the price point they prefer.
And because StockX provides users with access to market data in real-time, app users can make smarter, better-informed decisions when it comes to buying and selling goods. StockX also stands out as one of the leading sneaker apps because of its robust authentication process and successful customer engagement strategies. Developers also update the app regularly to provide performance improvements and fix any bugs to ensure a seamless experience for users.
Stadium Goods
For sneaker and streetwear aficionados, this is one of the best apps in terms of providing authentic products and an incredible variety. Stadium Goods' inventory includes numerous popular brands like Adidas, Converse, Nike, New Balance, Stussy, Vans, and more. In addition to sneakers and slides, Stadium Good also offers other footwear, apparel, as well as accessory items.
In addition to providing ways for users to buy high-quality shoes from around the globe, Stadium Goods offers weekly promotions and editorial content about upcoming releases as well as the hottest trends in footwear. You can open up the app, browse some of the latest styles and turn on notifications to ensure that you never miss a deal or sneaker drop date. Users can also sort by brand, style, product, and search a deep inventory of well-known brand-name items.
While not nearly as popular or widely used and downloaded as some of the other apps on our list, Stadium Goods still has tens of thousands of users and positive reviews on the iOS App Store. Countless reviews applaud the app's ability to facilitate a seamless, painless transaction, and when users do experience technical issues – customer service is there to help provide a timely solution.
And since there are fewer users, you stand to have a much better chance of securing an exclusive product or an item with relatively low inventory. If you are interested in an accessible, easy-to-use app to find new sneakers, socks, and other stylish items, consider Stadium Goods for all your streetwear needs.
Champs Sports: Kicks & Apparel
Previously known as Eastbay, the Champs Sports: Kicks & Apparel app is available for download on the iOS App Store and from the Google Play store. While some apps for sneaker drops focus exclusively on shoes and sneaker deals, Champs Sports is a great place to find new sneaker drops and other sporty apparel items at competitive prices.
App features include a substantial 'Release Calendar' with all the information sneakerheads need to stay up-to-date on upcoming sneaker launches and releases. Users can also find store locations near them and obtain FLX rewards when shopping and making purchases through the app. App users can also easily track orders and view purchase history directly within the app and you can even pick up where you left off the last time you were browsing so you don't miss out on the next hot deal simply because you had to slip your phone into a pocket for a second.
Champs Sports also offers a diverse array of brands from which to choose: Adidas, Champion, Nike, and Reebok, among many others as well. For some releases, you can also make reservations and keep track of them by utilizing the app's 'My Releases' feature. And when used in tandem with the 'Release Calendar', you can keep your finger on the pulse and never miss a shoe drop. And with a streamlined checkout process, you can buy goods from your mobile phone or use the app to locate a store near you.
Make sure you never miss a sneaker drop
It can be tricky to find a sneaker drop app with all the features, bells, and whistles you might want, but we hope this post provided you with some good ideas! When it comes to identifying the best sneaker app, it ultimately boils down to your personal preferences. What kind of shoes do you like? What new releases excite you? If you have a particular loyalty to one brand over another, you might consider using that brand's official app – or not, it's entirely up to you! Remember to have fun with the process; they're just shoes after all.
For more information about the latest in sneaker drops, sneaker bots, and sneaker drop apps, visit our blog.
Click here to view the sneaker reselling communities and bots in the Whop Marketplace.