Getting a hold of limited edition shoes is now harder than ever.
If you're not able to grab a pair during a drop, then you may end up paying far over the retail price to get a pair from a reseller.
Whether you're a sneakerhead looking for the latest and greatest or a sneaker seller seeking inventory, copping the latest sneakers quickly is what you have to do.
While it's certainly difficult to grab sneakers during a drop, it's doable with the right tools and planning.
In this guide, we'll share some of the best tools and strategies for getting sneaker drops in 2023. Let's jump in.
Sites to Shop
First up, you'll want to have a list of the top sites to shop for the newest sneaker drops. The exact type of shoes you want and the tools you use will influence the sites you focus on. Here are a few of the top sneaker drop sites for 2023:
Nike - Nike.com and the Nike SNKRS app are two common places to get Nikes and Jordans.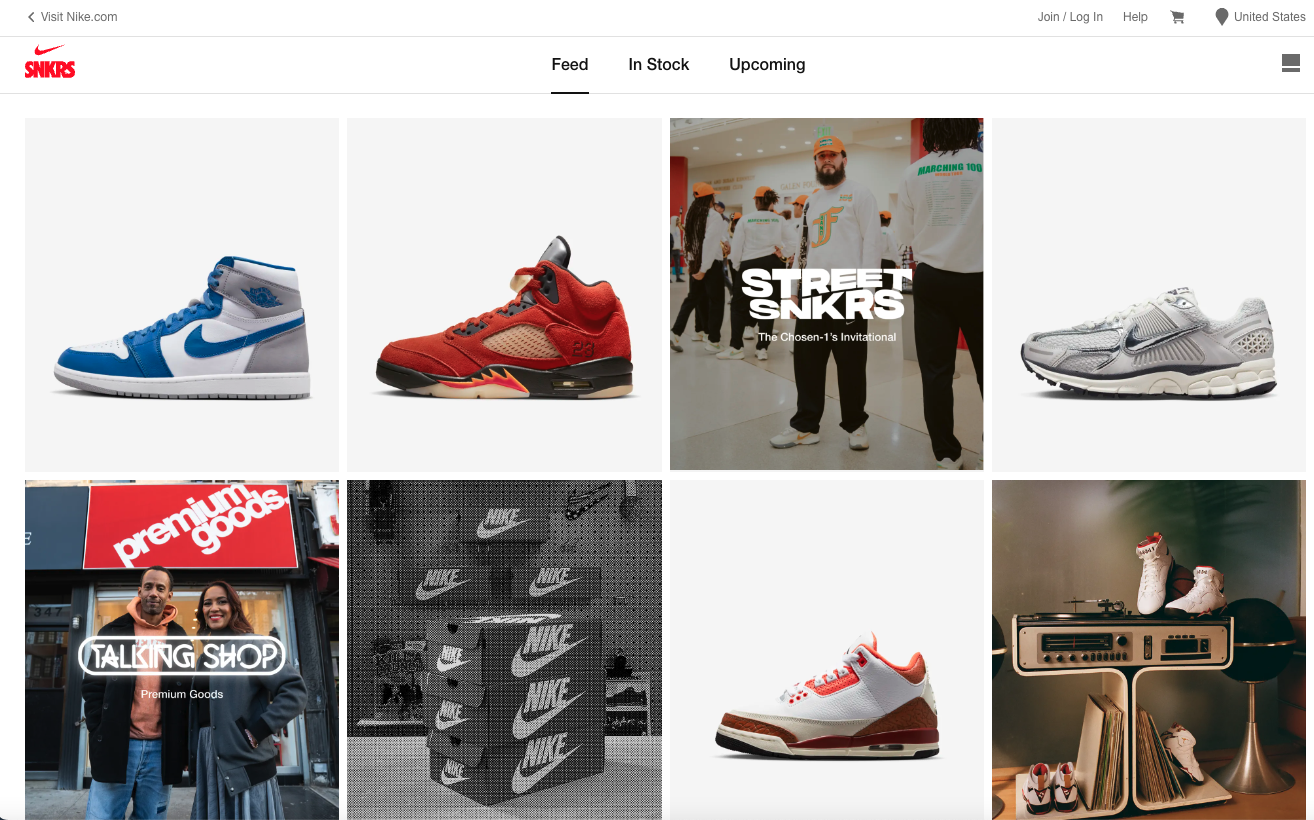 Footsites - Footaction, EastBay, Footlocker, and ChampsSports shoes.
Shopify - This huge eCommerce platform has tons of shoe shops from various sellers.
Mesh- Several sites use the Mesh platform including JDSports, Footpartol, and The Hip Store.
Supreme - the SupremeNewYork website releases its new drops on Thursdays.
Demandware- Demandware is the platform that hosts Adidas and Yeezy Supply stores.
Note that some of these retailers only ship to select locations. We'll discuss some tools you can use to order from any location, but you still may need to facilitate a middleman for shipping.
Sneaker Release Terms to Know
Experienced sneakerheads may not need a reminder on release terms, but for those newer to the space they can be helpful.
Types of Releases
For one, there are multiple types of sneaker releases. The "first come, first serve" style means that whoever completes the purchase first gets the item. That means you have to streamline the checkout process before the goods get sold out.
But some drops may operate in a "queue" style. For these, you do not purchase directly. The website uses a raffle system to determine who gets to buy the shoes next. To combat shoe bots and other helpful technology, some sites are moving toward this system. Be sure to know the system for the site you're buying from so you can plan the best approach.
Drops vs Restocks
Retailers often announce drops well ahead of time (but they may not always). A drop is the first release of a sneaker.
A restock, on the other hand, is when a sneaker is available again after it was sold out during a drop. Restocks are less predictable and can happen last minute. While you'll want to follow sources for both drops and re-stocks, restocks may require more agility.
Join Sneaker Communities
Staying up to date on the latest sneaker news and upcoming drops is vital for sneakerheads and sneaker sellers.
Sometimes, sneakers we don't expect to sell out become the hot new item. For example, the Adidas Ultra Boost back in 2015 was an unimaginable success. Its design did not fit the typical sneakerhead obsession, but it earned honors for the "best sneaker of 2015" and continues to be one of Adidas' top performers now.
Following sneaker trends, conversations, and communities can help shed clues on unexpected hot shoes. You can learn from more experienced buyers and gain endless insights for your sneaker drop shopping.
Sneaker Discord Cook Groups
Discord is a top app for sneaker communities. This video, talk, and a text chat app is a top place for connecting with sneaker communities.
Cook groups can offer key information about upcoming sneaker releases. Through the groups, you can find out where to buy shoes and when. You may also get a hold of early links or important keywords. Many group members monitor sites for restocks and resell tools like proxies.
Those who are serious about securing the latest shoes should join a cook group. Note that some sneaker bots even include access to a cook group. Otherwise, you can expect to pay $20 or more per month for access.
Aside from cook groups, you can also monitor several of the relevant Discord servers.
Over 25,000 discord members talk about the newest drops and sneaker fashion in the Sneakers Discord server. There are discord channels for discussing the latest drops as well as ones for reselling shoes.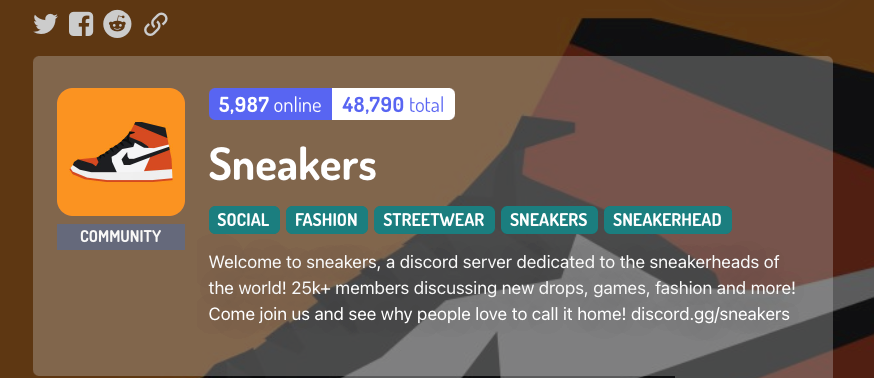 There are currently 8 servers tagged with "Sneakerhead'' on Discord to choose from. However, other helpful tags to consider include:
Sneakers
Sneaker Drop
Sneaker Seller
Another option is to create your very own Discord server. If you already have an online community through other social media or have a unique vision for a sneaker Discord, then consider launching your own Discord server. Down the line, you can even use Discord to make money by selling your sneakers there or turning your server into a paid one.
Social Media
Other social media sites, like Twitter, Instagram, and TikTok are still useful places to find helpful sneaker communities.
Searching through relevant hashtags may lead you to a few helpful sources. However, don't only focus on accounts with massive followings. Look for accounts that provide unique value, including advice, tips, and links to new resources.
Reddit
Reddit is one of the top internet forum platforms available. You can find content on every subject, including sneaker drops and sneakerhead news.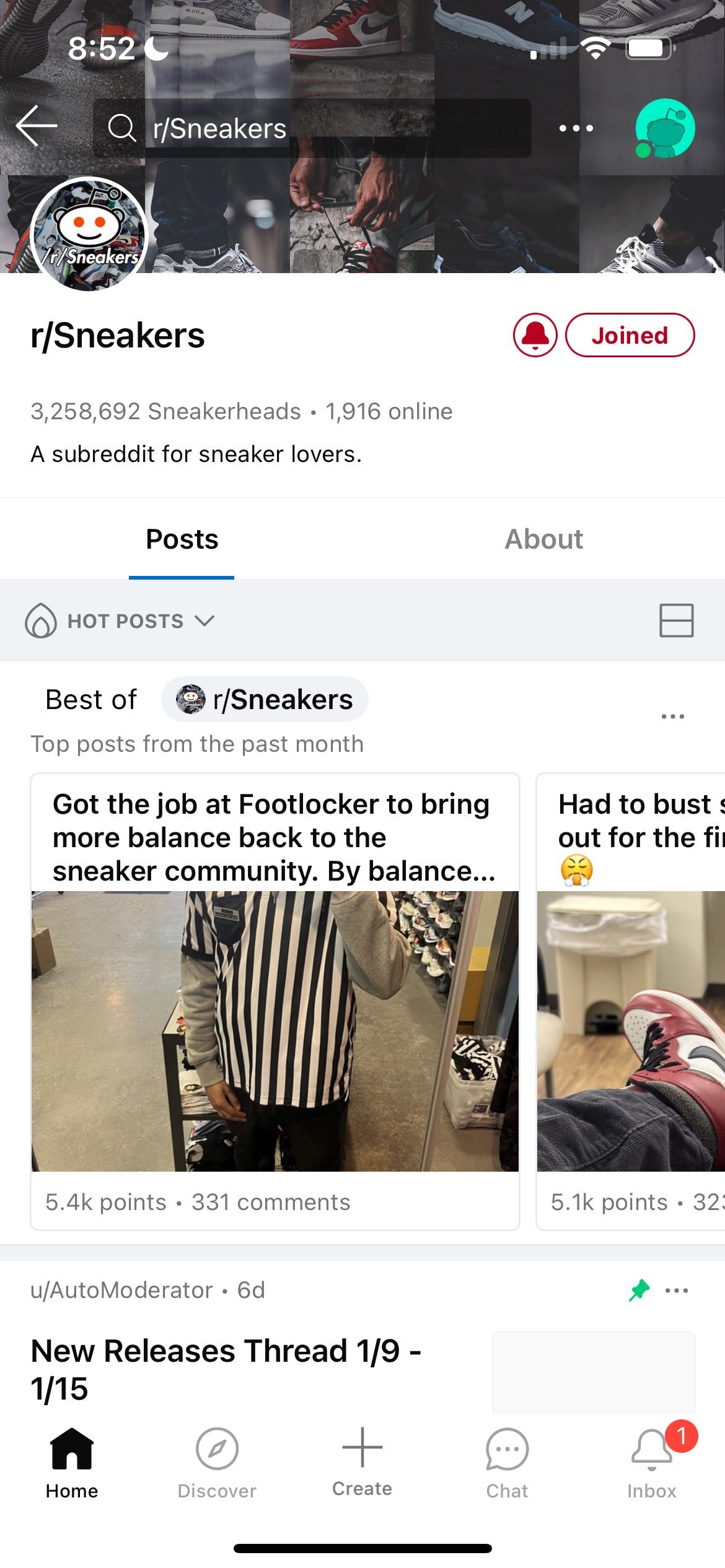 Under the r/Sneakers and r/sneakerhead communities, you can find endless questions about specific drops. People post about shoes they have, inquiring about the current value and interest, upcoming drops, restocks, and more. You could also post your own questions if you're looking to learn more about a specific topic.
Sneaker Bots
One of the most helpful tools for snagging a hot sneaker drop is a sneaker bot. Sneaker bots are helpful automation tools that can streamline the purchasing process. They are especially useful for highly competitive drops that are likely to sell out quickly.
What is a Sneaker Bot?
Sneaker bots are tools that help to automate the purchase process. You can use them to automatically fill out the purchase form with your billing and purchase information. This helps you complete the purchase faster, which can streamline the process when you need to purchase several times. Furthermore, it also reduces the risk of typos and errors that could cost you the purchase.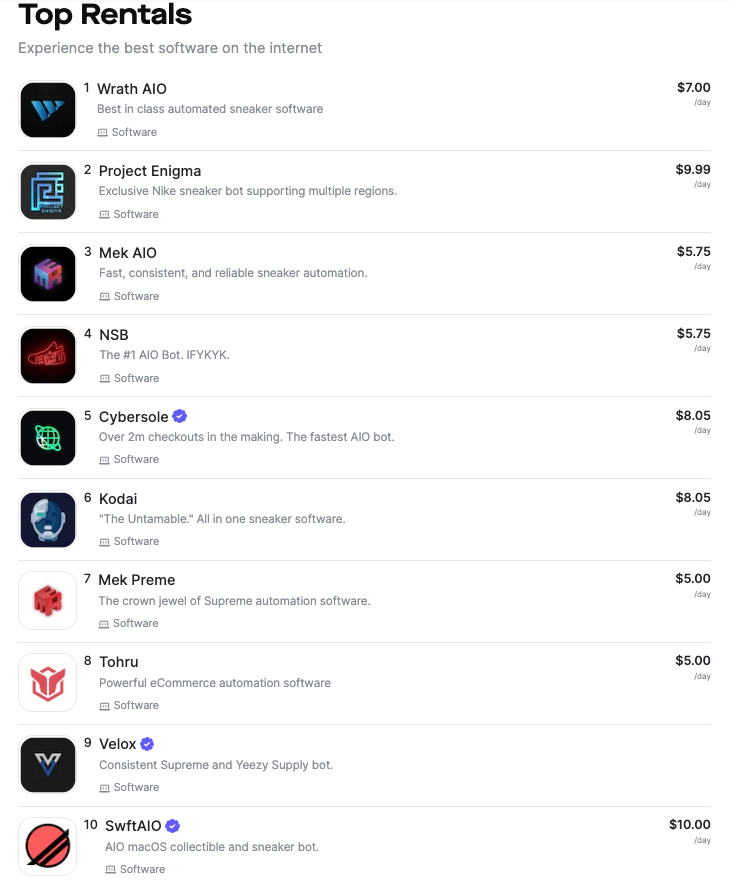 Note that sneaker bots are most helpful for the "first come first serve" model. That model relies on fast checkout speed. If a site uses a raffle/queue system, then the bot won't help.
Top Benefits of Sneaker Bots
There are several key reasons to use sneaker bots to get your 2023 sneaker drops. A few of the top ones include:
Purchase more inventory quicker, which is ideal for resellers!
Provide an edge against other competitive buyers who are after the same shoes.
Improve the reliability and speed of the buying process, reducing errors.
Reduce the stress of purchasing from multiple sources at once.
Facilitate passive income.
How to Get a Sneaker Bot
There are multiple sneaker bots available. For example, there are some bots specifically made for Nike, Supreme, Mesh, etc. You can also consider an all-in-one option that supports multiple websites. Note that most AIO bots don't include Nike, and you may need a Nike bot for that.
Sneaker bot software can be quite expensive and elusive. If you have the budget and plan to use it often enough, then purchasing your own sneaker bot may be worth it. Several online marketplaces sell sneaker bots, but be sure to compare the features and reviews before purchasing one.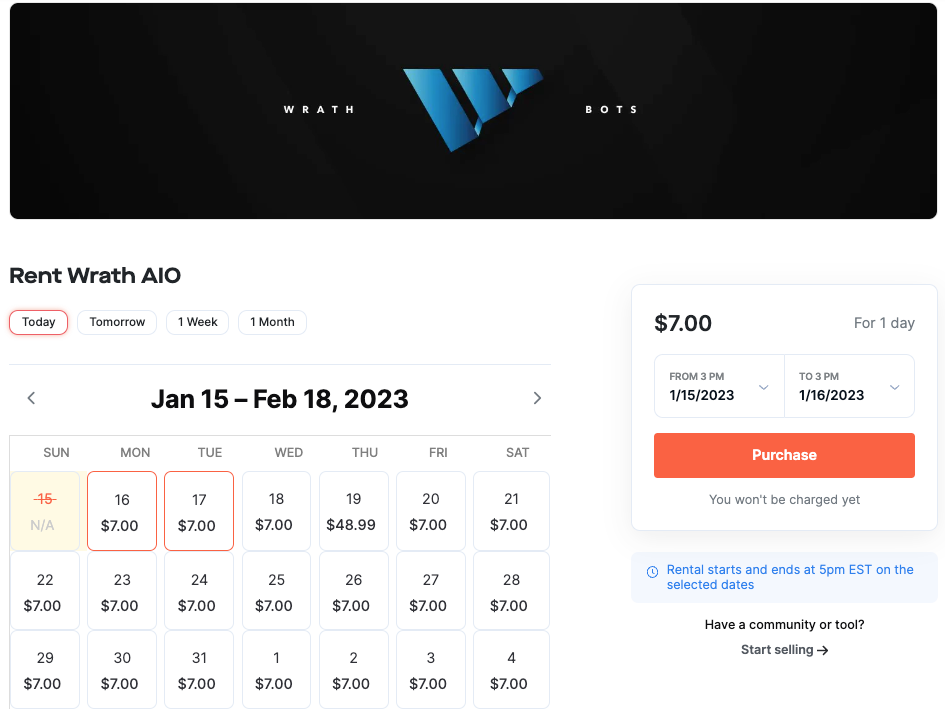 However, if you're just starting out, have a smaller budget, and will only use it occasionally, then consider renting a sneaker bot. Many of the same marketplaces that sell the sneaker bots will also rent them.
Proxies
Proxies are another helpful tool for snatching up 2023 sneaker drops. To power your sneaker bot, you may also need a proxy. Proxies hide your IP address, and can give your bot several different "identities." They are most useful for purchasing limited-edition shoes from reputable sites.
Top shoe retailers, like Nike or Adidas, drop limited edition items that sell out within hours (or minutes). Trying to buy them in bulk as a reseller is very challenging. You're up against a ton of other shoe sellers as well as sneakerheads who just want their own pairs.
Sneaker proxies help to speed up your order placement while also avoiding geo-restrictions and/or order limits.
What is a Sneaker Proxy?
Proxies hide your IP address and mask it with another IP address. This allows you to access site content that may block your IP address, either because of its geo-location or its previous history (like reaching the purchase limit). People use proxies for several reasons, including purchasing shoes online.
Sneaker proxies streamline the process of buying shoes online. They allow you to place several orders quickly, and to buy sneakers from a store that may be blocking your geo-location. Whether you're looking to buy one pair of limited edition sneakers or several, using a proxy the right way can help you get the drop you're eyeing.
Qualities to Look for in a Sneaker Proxy
Not every proxy is created the same. If you want one to effectively grab the latest sneaker drops, look for the following qualities.
Country of Origin - A sneaker proxy originating closer to the store you're buying from will offer a faster connection and eliminate geo-restrictions.
Speed - Ensure the proxy offers adequate speed. Sneakers buying a competitive space!
Connection Limit - Avoid proxies that limit the number of connections to a site. More connections equal a greater likelihood of success.
Proxy Type - Opt for a rotating proxy that changes your IP address each time you connect to a site.
Dragon Proxies
One example of a shoe proxy resource to consider is Dragon Proxies. For less than $10 per month, receive access to proxies specifically designed for sneakerheads. In December 2022 alone, the Dragon proxies community completed over 10,000 checkouts!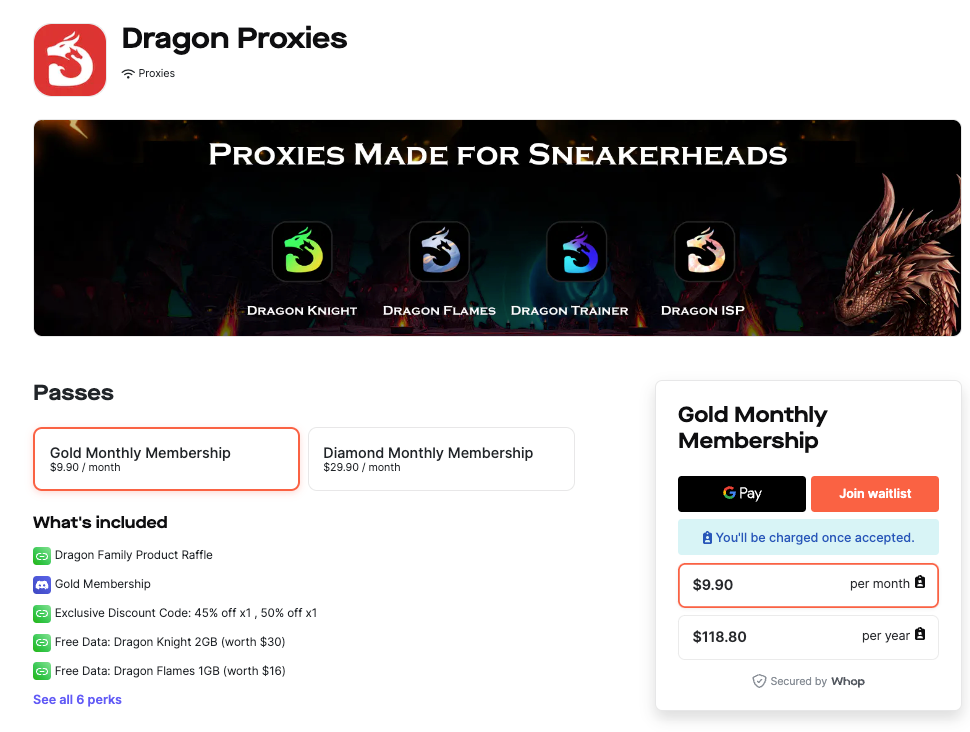 Sneaker Servers
For really competitive drops, or if you're looking to secure many pairs, then you may also need a sneaker server. A server is another device that you control with your PC.
Using a server can speed up your purchase process. For sites like Supreme, this is vital. The server reduces the ping to the proxies and retailers website, which can give you the edge when buying. However, for queue-based systems, this won't have much of an impact.
A server can also help you run more tasks on your bot. Servers are more powerful, and can handle more tasks, than a typical home computer. Running more tasks means you can grab more pairs of sneakers, including on multiple sites.
Most sneaker bots only operate on windows. By using a server, you can bot on a Linux or macOS computer.
Essentially, those who are looking to buy Supreme, run multiple tasks, and/or using a Mac can benefit most from a sneaker server.
Get Ready for 2023 Sneaker Drops
Getting the latest sneaker drops is both challenging and thrilling. You're up against other savvy buyers, and the space can get unpredictable. But getting the shoes of your dreams or building your shoe business makes the chase worthwhile!
When it comes to securing 2023 sneaker drops, research, planning, and preparation are all important. There are several technology tools that can help you stay ahead of the curve and ensure that you cop the shoes you're after.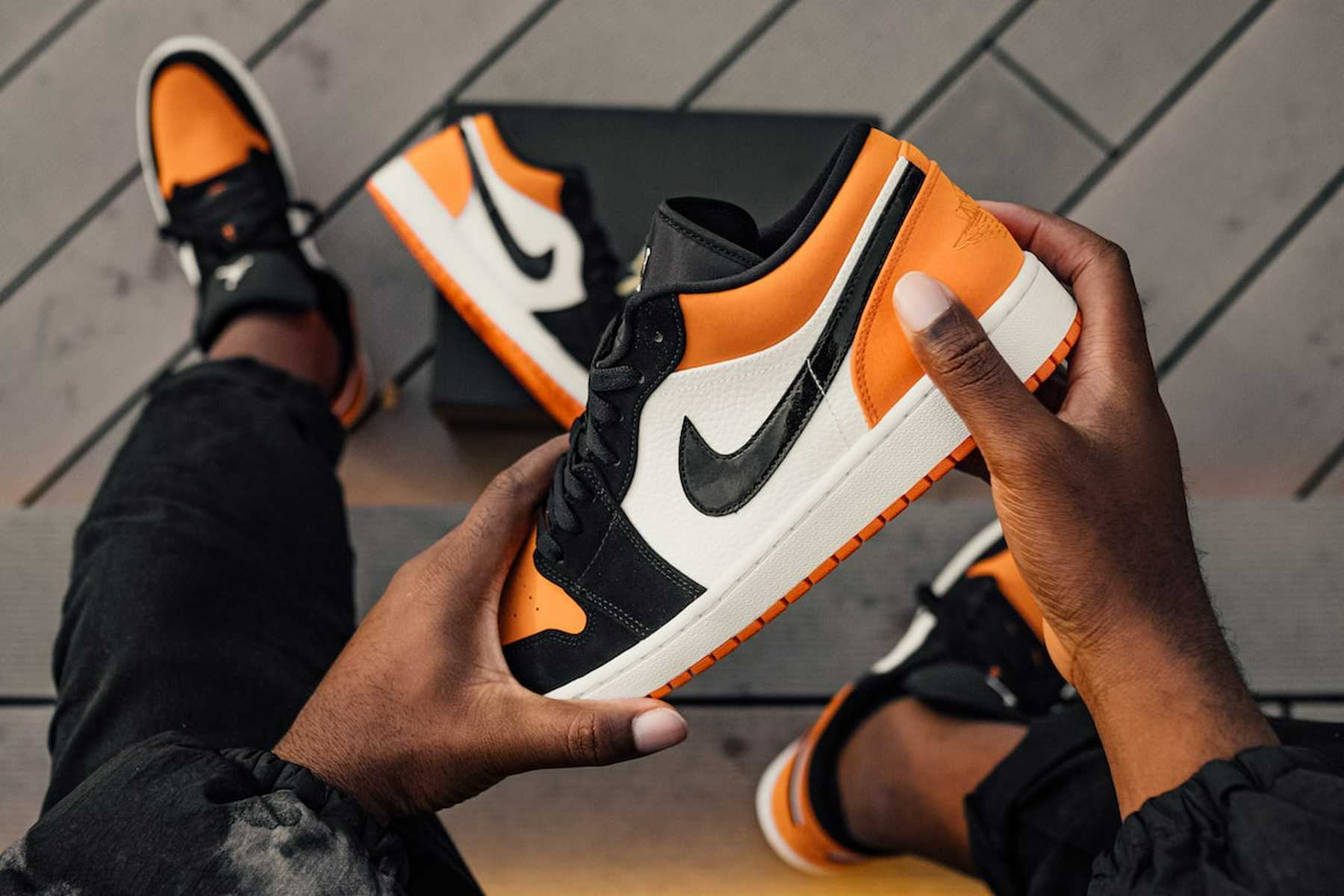 Joining Discord cook groups, sneaker bots, sneaker proxies, and sneaker servers are a few of the most helpful tools. By combining them, you can create an effective automation to speed up sneaker purchases and earn more than ever before.
Whop is here to help you get started. Turn to us for sneaker bot rental choices, top Discord servers, and much more. Visit Whop.com today and get ready for 2023's hottest sneaker drops!