If you're just getting started with purchasing and reselling sneakers, you're probably starting to hear the term "sneaker bot." Those who use sneaker bots seem to always be the first to snag all of the new drops when they show up on the retailer's website, and those without a sneaker bot are left paying much higher prices for the exact same pair of sneakers on eBay or another website after they sell out.
Thankfully, it's possible (and pretty easy) for any devoted sneakerhead to get their own sneaker bot if you look carefully and diligently. You'll need to get in on this little sneakerhead secret if you want to grab all of the best new releases. If you're new to the hustle, we know you're asking, "What is a sneaker bot, exactly, and what does it do?" Let's take a look at how this software can help you pick up all of the sneaker releases you want the moment they hit digital shelves.
What Is A Sneaker Bot?
A sneaker bot is a software component used to purchase limited edition stock before it sells out. Most devoted sneakerheads use a sneaker bot, or even multiple sneaker bots, to ensure that they are able to get their favorite releases the moment they hit stores, as well as grab some extras to resell.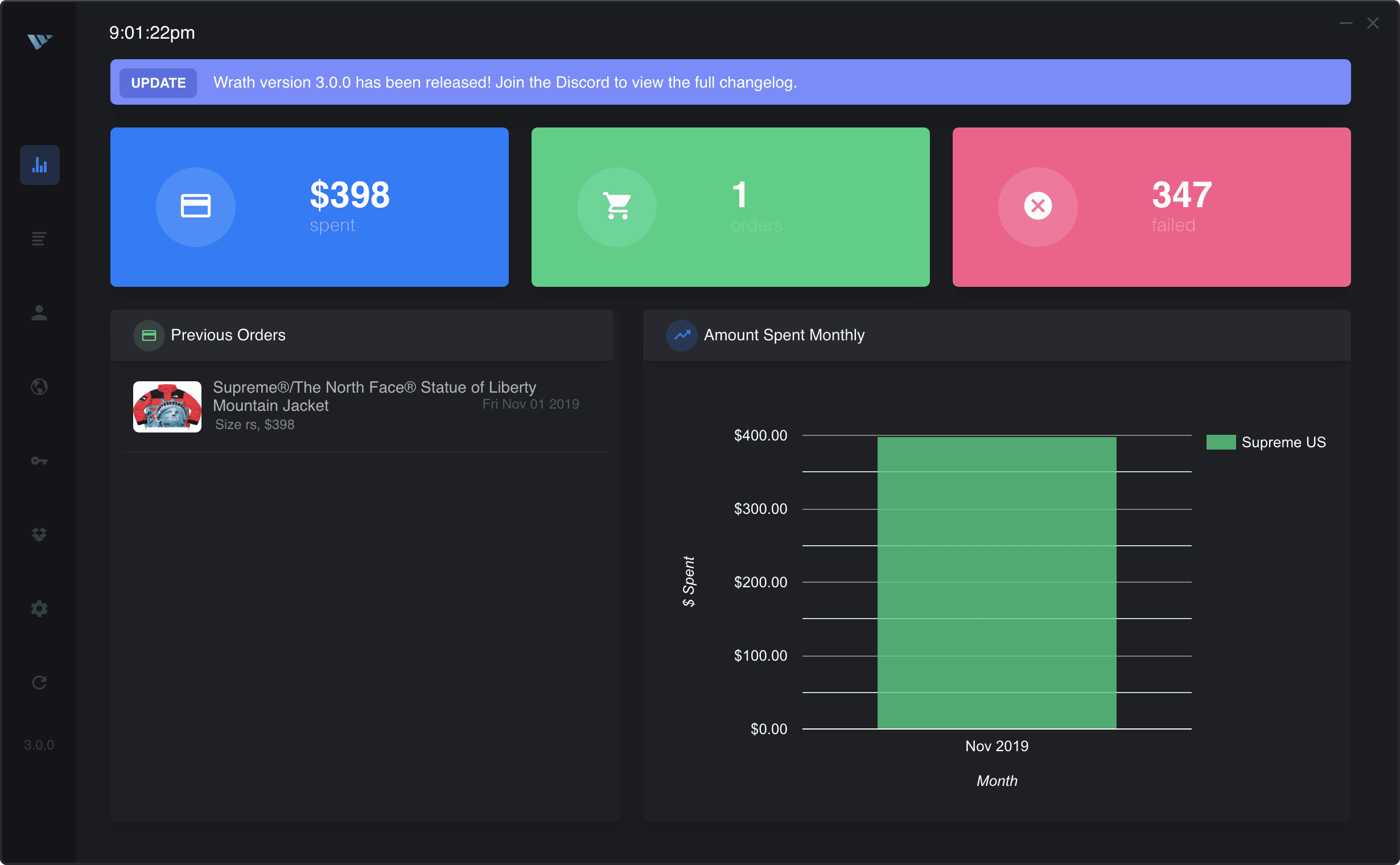 Sneaker bots are capable of completing various tasks, such as checking for restocks, informing the shopper of the restocks so they can better plan for the release, and even completing the checkout process entirely automatically. Sneaker bots are also sometimes called "shoe bots."
Why Use A Sneaker Bot?
When popular sneaker companies like Nike, Adidas, Vans, and Converse release new limited-edition products, they are typically in extremely high demand. There is less product available than the number of people who want to purchase the product; in other words, there is low supply and high demand. Once the sneakers are released - usually around 10 A.M. - they tend to sell out immediately. As a result, prices tend to increase as resellers post the product on eBay and other platforms.
Sneaker bots allow sneakerheads to buy the upcoming releases they are most excited about without having to pay the high prices that resellers tend to charge. Alternatively, many resellers use sneaker bots to get their hands on several copies of a product to resell on eBay, Facebook Marketplace, or another platform to make some money. If you want to get a pair of sneakers at MSRP instead of paying resellers' prices, or if you want to resell some shoes yourself, you'll need a sneaker bot.
How Do Sneaker Bots Work?
Sneaker bots are a sophisticated type of software, and they come in many different forms. Because each sneaker bot performs a different set of tasks, it is hard to pin down how they work. Most bots, however, simply gather inventory information from a retailer's website and then notify the operator - usually via email - of a restock. Even more sophisticated bots are able to actually add sneakers to a cart and purchase them, or hold them in a cart until the operator is able to manually make the purchase.
To go through with these tasks, sneaker bots require several components to function. In order to operate a sneaker bot, you'll need the following tools and software:
A sneaker bot
A proxy server
Proxy clients that provide IP addresses
The proxy server enables the bot to connect to multiple proxies, which each offer the bot an IP address. Typical human users use one IP address per household. Therefore, when a bot uses a proxy to connect to multiple IP addresses, it looks to the website like multiple people are trying to make the purchase. Proxy servers prevent sneaker sellers from identifying bots and banning them from their servers.
Are Sneaker Bots Illegal?
You might wonder whether sneaker bots are illegal in the United States, the UK, or any other countries around the globe. While sneaker bots do provide those who use them with an advantage, they are not illegal in the United States or any other country. Instead, they are readily available on the internet from reputable vendors.
In the United States, lawmakers introduced the Stopping Grinch Bots Act in 2018 to make shopping bots illegal, but the bill has yet to receive a vote. It looks like sneaker bots will remain legal in the United States and in other countries for the foreseeable future.
While sneaker bots are not illegal, many sites explicitly mention that they are disallowed in their terms and conditions. If you're shopping with a major retailer, or directly from your favorite sneaker company, chances are, they're well aware of the existence of sneaker bots and have taken precautions against them. Sneaker bot developers are apt at identifying these precautions and circumventing them, though, so if you use the most up-to-date bot builds, you'll be able to make your purchase from nearly any website you desire.
How To Get A Sneaker Bot
Now that you know what sneaker bots are and what they are, you probably want to know how to get your hands on one. Thankfully, it's easy to find sneaker bots online to help you get all of the new sneaker releases. Some people claim that the only way to get a sneaker bot is to purchase one directly from a seller or grab one on Twitter after they're released, but sneaker bots are far more widely available than you might think.
Many sneaker bot software developers post their products to marketplaces, such as Whop Marketplace. Whop Marketplace is home to tons of sneaker bots with options for every budget and every sneakerhead's needs. Whether you're a beginner to collecting and reselling sneakers or you've been a part of the hobby for a long time, Whop Marketplace is by far the best place to get your hands on quality sneaker bots that have all of the features you want and need for a truly affordable price. The software on our marketplace is user-submitted, so it's all made by users like you who are passionate about the hobby.
How Much Do Sneaker Bots Cost?
Sneaker bots vary widely in cost depending on which sneaker bot you choose to purchase. Some sneaker bots with very basic features might only cost $5-10. These basic bots are a great option for beginners, as they are cost effective and require minimal setup.
If you're a devoted sneakerhead, you might want to opt for a more sophisticated sneaker bot, which might set you back anywhere between $50-500 dollars. Yes, that's a wide range of costs - but there are a lot of sneaker bots on the market, with tons of features to choose from!
It's also worth considering that not all sneaker bots follow the same monetization strategy. While some sneaker bots charge a monthly fee, others offer their product for a flat fee. Before purchasing a sneaker bot, you should consider your budget and create a list of all the features you need so you can get the best bang for your buck.
Should I Buy A Sneaker Bot?
If you are a dedicated sneaker reseller, it's definitely in your best interest to purchase a sneaker bot. All of the top sneaker resellers use sneaker bots to snag the latest releases, and you'll no doubt lag behind the competition if you don't take advantage of this great software resource.
Sneaker bots are also a great resource for individual sneakerheads who want to make sure they can get their hands on the releases they want without worrying about waking up in time to grab the product or competing with other people. After all, if other people who want the shoes are using sneaker bots and you aren't, you'll likely lose out to the competition!
Can You Create Your Own Sneaker Bot?
If you don't want to shell out a one-time or monthly fee to purchase a sneaker bot, it's actually possible to create your own! To create your own sneaker bot, though, you'll need some coding experience. Creating a sneaker bot is not the easiest coding project out there by a long shot, but the plus side is that you can use almost any code language out there to make your sneaker bot.
Actually programming your bot is the hard part, and it will take a lot of trial and error thanks to the anti-bot systems on most sellers' websites. You will not only need to figure out how to automate processes like logging in and clicking on a product, you'll also need to identify the specific products you want as well as their ID numbers so the bot can automatically add them to the cart. This might sound like a lot of steps, but this is why we recommend only making your own sneaker bot if you already have some coding experience.
If you decide to create your own sneaker bot, you shouldn't keep it to yourself - you can make a lot of money by selling your product online. By listing your product on Whop Marketplace, you can start marketing your sneaker bot to the masses and potentially make even more money than you do reselling sneakers!
Best Sneaker Bots On The Market
Whether you're using Google or looking at Whop Marketplace's large list of sneaker bots, you'll definitely have a lot of options to choose from. As we previously mentioned, sneaker bots range widely in cost from as little as $5 to as much as $500. If you're interested in sneaker bots, you should consider your budget as well as all of the features you're hoping to find in your ideal product. To help you in your search, here are a couple to consider.  One is more premium where the other is more accessible for beginners. Check out our huge collection of other bots you can rent as well.
WrathAIO
If you've been around a while you've probably heard of WrathAIO, if you're new...You're hearing about them now. If you can only afford one high-quality bot, Wrath is a great option. It's known for its ability to successfully secure limited releases and they consistently deliver fast and accurate updates to bypass anti-bot security measures.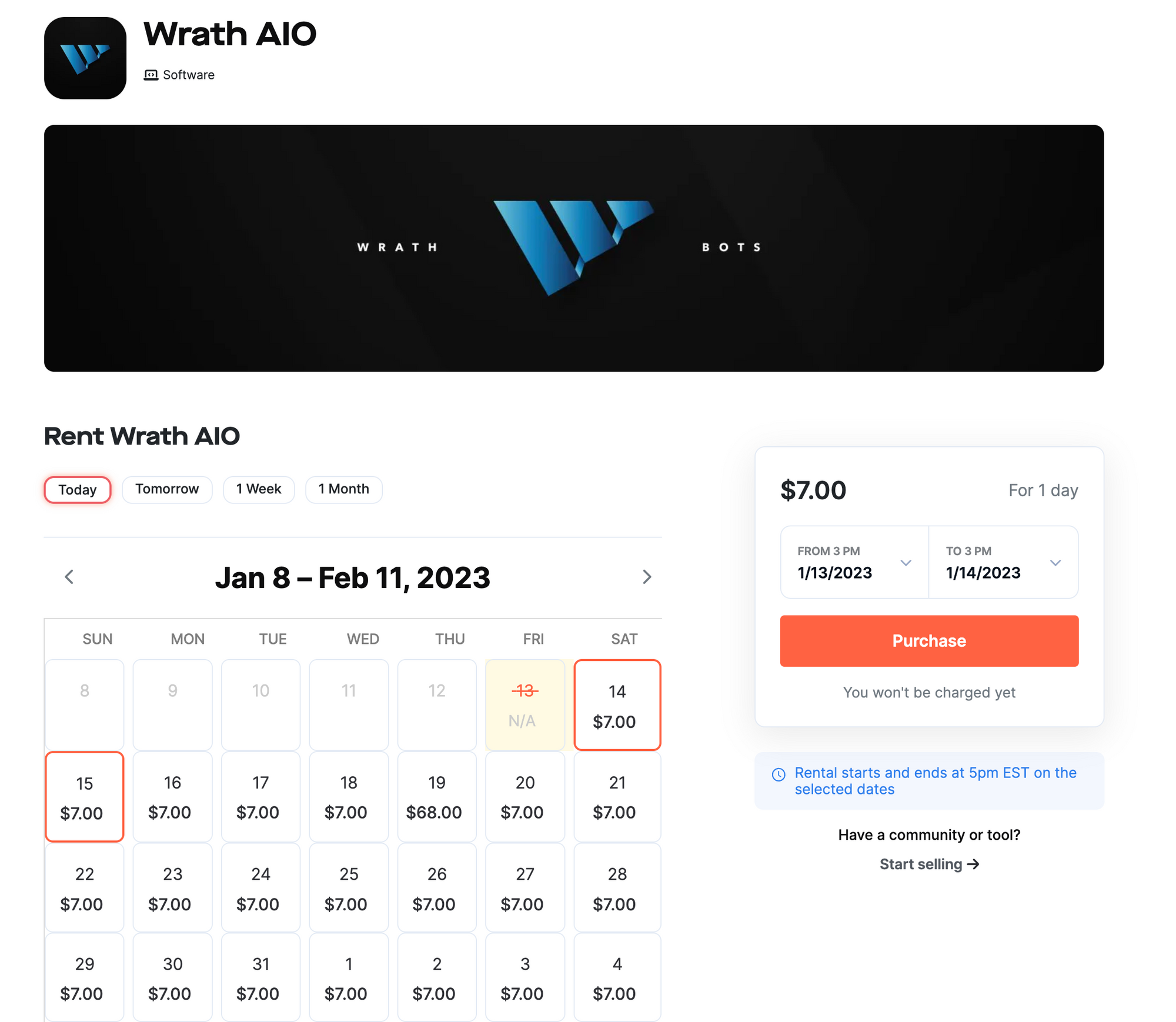 Wrath is effective on a variety of platforms and you can rent this sneakerbot for as little as $7 per day at the whop marketplace.
Sneaker Crush
For $20 a month, Sneaker Crush provides a very wide range of products for its customers. The software comes with the Sneaker Crush Bot, restock monitors with built-in add to cart functionality, shoe drop information, raffle links, and even 1 on 1 moderator support.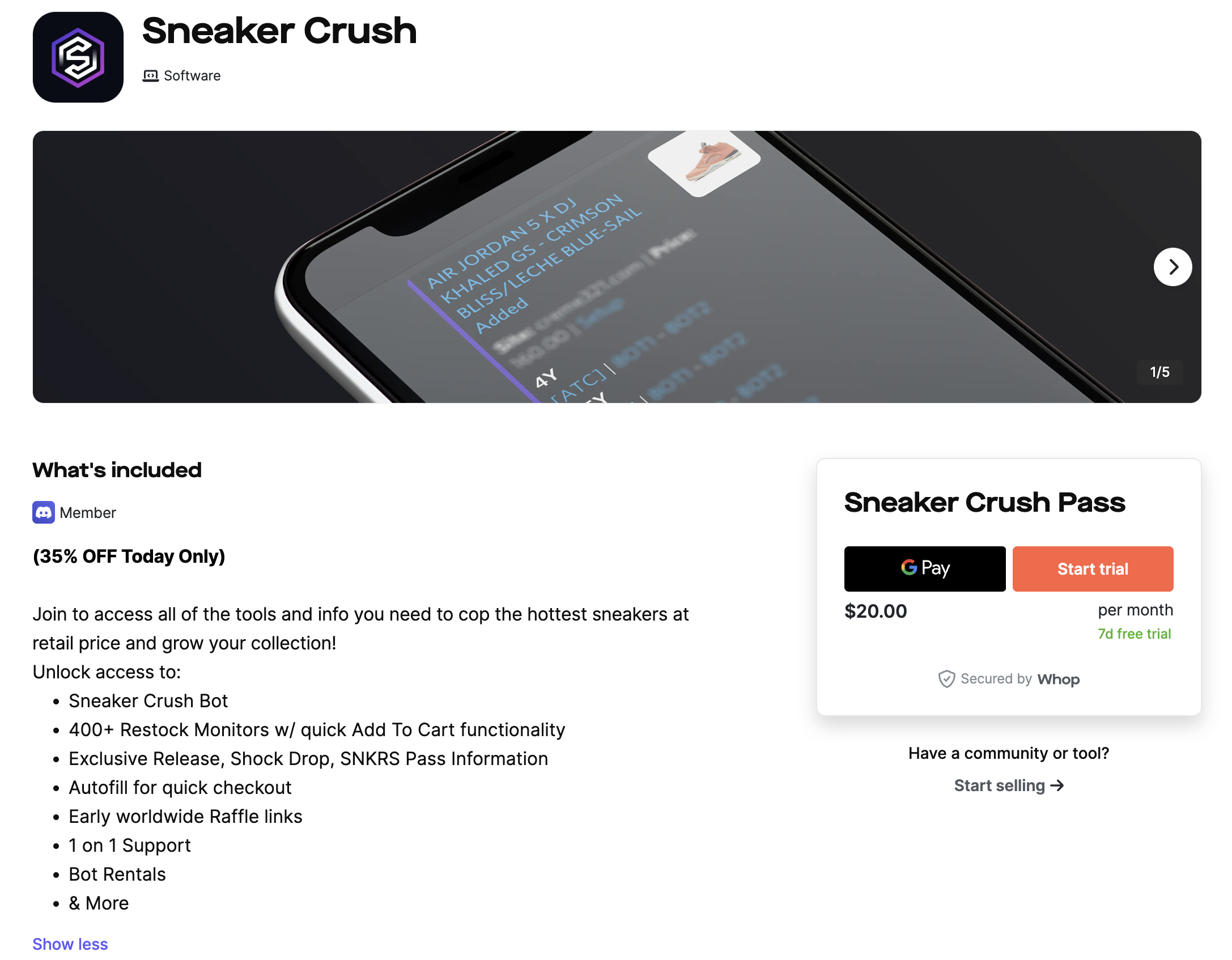 If you're looking for an affordable bot that comes with all the fundamentals along with a few extras, Sneaker Crush is a great choice. Plus, it comes with a 7 day free trial so you can get a taste of the software and what it does before you make a commitment.
Price: Only $20 per month
Find The Best Sneaker Bots On Whop Marketplace
If you're on the market for a sneaker bot, there is no better place to look than Whop Marketplace. Whop is home to hundreds of sneaker bots in price ranges that fit all budgets, with all of the features you need and want in a shoe bot. Each will give you a leg up as you try to land your first pair of sneakers.  Once you have them, learn the best practice on how and where to resell sneakers and actually make a profit.