The sneaker market has exploded in recent years, with collectors and enthusiasts willing to pay premium prices for limited edition and hard-to-find sneakers. This demand has led to the rise of sneaker reselling platforms like GOAT and StockX, which allow individuals to buy and sell their sneakers with ease. These platforms have become increasingly popular among sneakerheads, as they offer a wide selection of sneakers and provide a safe and secure platform for transactions.

Overall, the popularity of sneaker reselling platforms like GOAT and StockX reflects the growing demand for rare and highly sought-after sneakers. This also reflects the growing industry of sneaker botting professionals that resell them for a profit.
However, especially if you're just starting out with sneaker botting, you may want to choose just one of these platforms to post your sneakers on. That way, you will be able to see it all in one place, and it will be easier to manage as you find your footing. When entering the world of sneaker botting and reselling, it can be difficult to know where to start. In this article, we will talk about how GOAT and StockX came to be, the pros and cons of both sites, and how to get started on the sites. So without further ado, let's discuss which platform is better for you as you start sneaker botting and reselling sneakers online.
A Brief History of GOAT and StockX
GOAT and StockX are both sneaker reselling platforms that allow individuals to buy and sell sneakers online. However, their business models differ in a few key ways.
GOAT operates as an online marketplace, connecting buyers and sellers directly. Sellers can list their sneakers for sale on the platform and set their own prices, while buyers can browse and purchase sneakers from a wide selection of available listings. One of the biggest advantages of GOAT for both buyers and sellers is their authentication of resold sneakers, first by photographs and later by GOAT employees at distribution centers, ensuring that purchasers don't end up stuck with a fake that they paid way too much for. Another major advantage is that they offer cleaning and refurbishing services for a fee to make sure each pair of sneakers looks and feels like new.
On the other hand, StockX operates as a stock market for sneakers – and more. StockX is considered the "world's first 'Stock Market of Things,'" and it lives up to that title. Sellers list their sneakers for sale on the platform and set an "ask" price, while buyers can place "bid" offers at a lower price. When a bid and ask match, the sale is completed, and the sneakers are shipped to the buyer. StockX also charges fees to sellers, including a commission on each sale and a fee for authenticating the sneakers to verify their authenticity. One of the main benefits of selling on StockX is that they are committed to transparency and security, which is hard to find on some other resale sites.
Overall, GOAT operates as a traditional online marketplace, while StockX uses more of a stock market model. Both platforms offer a wide selection of sneakers for those looking to purchase sneakers that may be sold out on the original site. They are also great options for those looking to sell sneakers securely. They have established strong reputations in the sneaker community to both buyers and sellers, but their business models differ in the way they facilitate transactions between buyers and sellers.
Pros of selling on GOAT
There are many pros to selling on GOAT as opposed to other marketplaces.

Here are a few of the main benefits that GOAT offers sellers.
Relatively low commission. GOAT only charges a commission of 9.5% per sale, which is dramatically lower than eBay's 13%. While a few percentage points may not seem like much to the inexperienced eye, that 3.5% difference is really significant on larger transactions.
Cleaning and refurbishing services. For a fee, GOAT employees will clean and refurbish any pair of sneakers at one of their distribution centers.
Large existing audience. Currently, GOAT has approximately 7 million buyers on their platform, making it easy for sellers to get their latest find listed in front of lots of interested sneakerheads with a single post.
Pros of selling on StockX
StockX is a popular option for reselling shoes and other streetwear, so it's important for anyone exploring sneaker botting to explore its pros.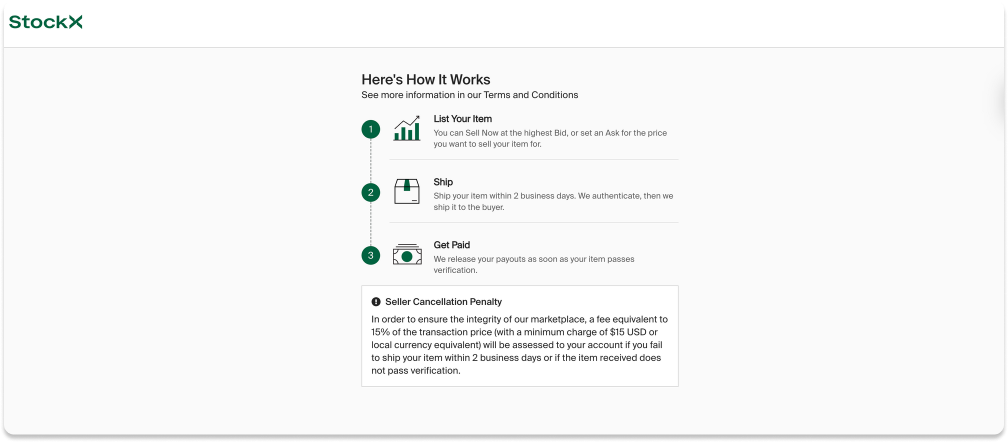 Here are some of our favorite benefits for sellers on StockX.
Speed of sale. When you list an item, you can sell it immediately for the highest current bid for that item or submit an asking price and wait to see if anyone matches it. This ensures that people who are looking for quick turnaround times can make sales happen quickly, as opposed to waiting for a shopper to select their listing.
Easy shipping. When a purchase is made, StockX sends the seller a pre-paid shipping label and packing slip to include in the box, which makes it relatively easy to ship out our product on time.
Fairly low transaction fee. StockX charges a transaction fee starting at 10%, but it goes down as your seller level increases. However, it's a bit higher than some other platforms offer for those just starting out.
Cons of selling on GOAT
While GOAT can be a great platform to turn sneaker botting into a profitable side hustle, every platform has their cons. Here are some reasons a seller may not prefer to use GOAT.
The verification process. While this process is meant to protect both the buyer and the seller, no system is perfect, which may cause stress and delays for sellers trying to get their shoes on the market.
The fee. While GOAT has a lower commission than other platforms, such as eBay, 9.5% is still a pretty big cut, especially on larger transactions.
Cons of selling on StockX
While StockX is popular among both buyers and sellers for a reason, it's not all perks and benefits. Here are a couple of cons you should be aware of before listing anything on StockX.
Higher starting transaction fees. While transaction percentages go down with time, for a beginner seller, GOAT and some other marketplaces may offer a lower transaction fee than 10%.
The verification process. While this system is meant to protect sellers and buyers alike, it may cause stress and unnecessary delays in sales being finalized.
Comparison of GOAT and StockX
Both of these platforms are popular and useful in their own right, but they aren't both right for every seller. There are some benefits that each platform offers, such as verification of authenticity on each item, transparent pricing for sellers, and lower transaction fees than general resale sites such as eBay. However, there are also several ways they are different that will benefit different types of sellers.
GOAT is generally a better option for those who prefer a traditional marketplace experience that involves photos, writing up a listing, and negotiating prices directly with potential buyers. It may also be a better fit for people who don't plan to sell a lot of sneakers very frequently, as it has a lower starting transaction fee than StockX.
StockX, on the other hand, is probably a better option for people who prefer to have pricing determined directly by supply and demand and want the freedom to make sales quickly when they want to. The ability to immediately sell for the current highest bid on that item can make it easier to move inventory quickly when needed, and then gradually lower transaction fees for sellers that do more business can add up over time, especially for those selling at high volume.
Before you jump into one site or the other, it is important to consider each of its pros and cons. Consider what exactly you are looking for when reselling sneakers. Is the cleaning and refurbishing service offered by GOAT worth the fees and long verification process, or would you prefer to sell your sneakers more quickly but have StockX charge higher starting transaction fees? Each person will prefer something different, and whichever you choose, you are sure to get a head start on your sneaker reselling.
So, how do I get started?
So, you know you want to get started, but you're asking, how, exactly? We are so glad you asked! In order to start sneaker botting and making a profit reselling sneakers on either GOAT or StockX, the first step you'll need to take is to purchase a bot. This step should be taken seriously, as the quality of your bot can make a big difference in the limited edition sneakers you're able to get before they are sold out. There are a few things to pay attention to as you look into getting a bot.
Sneaker botting basics
Sneaker botting is the practice of using automated software to purchase limited edition sneakers, often as soon as they are released. The software, known as a sneaker bot, is designed to perform shopping tasks quickly and efficiently, such as adding items to a shopping cart and checking out as soon as the sneakers become available for purchase.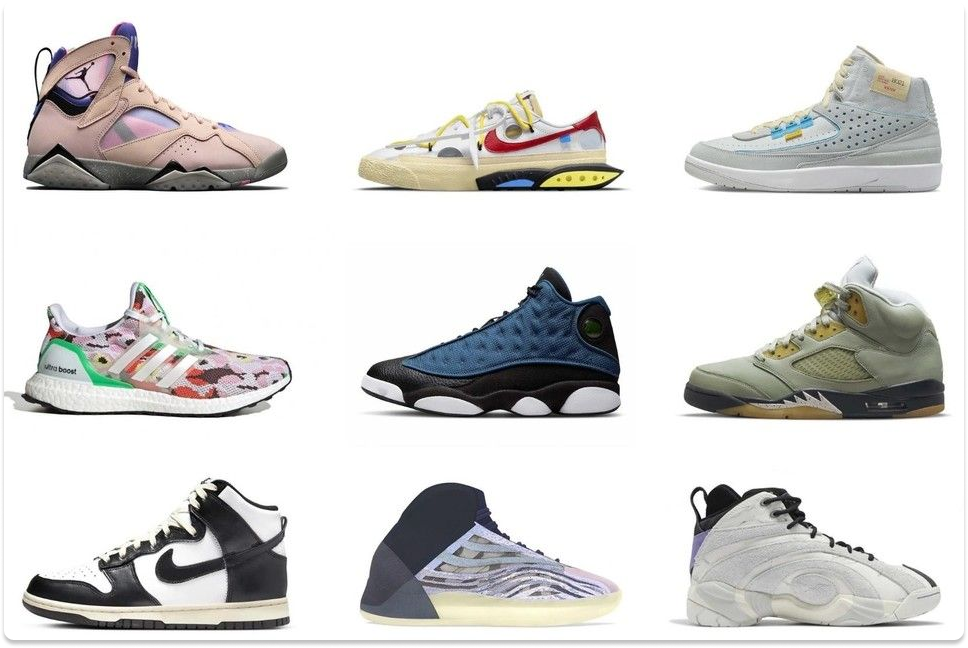 To use a sneaker bot, individuals typically need to enter their personal information, such as their name, address, and payment details, into the bot. They then specify which sneakers they want to purchase and set up the bot to automatically refresh the webpage and check for the sneakers' availability. Once the sneakers are available, the bot will quickly add them to the cart and complete the checkout process, increasing the chances of successfully purchasing the sneakers. Sometimes, sneaker bots are even able to complete purchases before the web page is available to the general public, ensuring that the user can get even the highest-demand sneakers before they are sold out.
Sneaker bots are a powerful tool that people can use to turn their passion for sneakers into a full-on side hustle! Because the right bot can dramatically increase your odds of successfully purchasing limited edition or highly sought-after sneakers, they also make it easier for you to purchase sneakers that can be resold, often for a pretty large profit. But how can you make sure you're getting the right bot for your goals?
Get your first bot on Whop!
You can purchase a number of high-quality bots on our platform to try out, and rest assured that we stand by the quality of the bots we offer. We are proud to offer some of the most effective and advanced sneaker bots on the market, which can help you increase the profitability of your side hustle.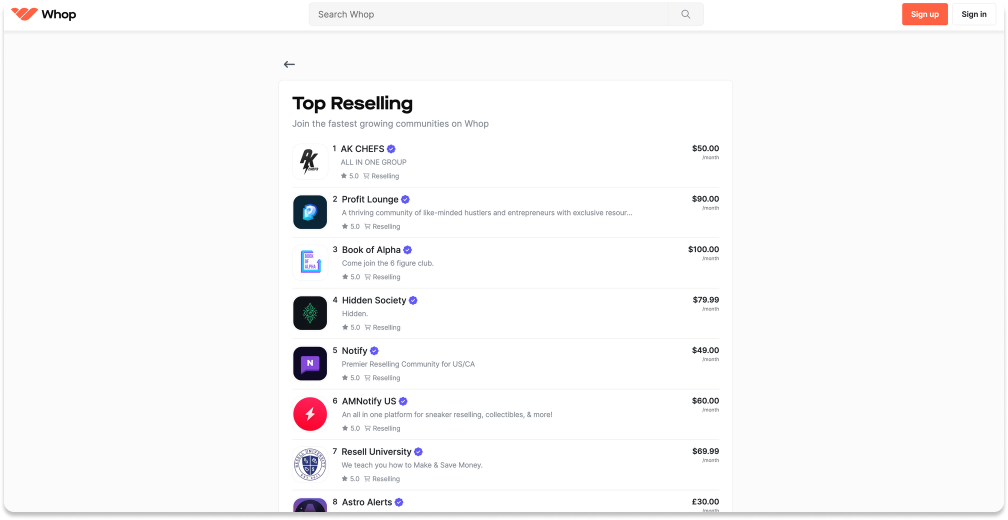 You can also carefully select the bot that will work best for you by reading the reviews available toward the bottom of each product page. There, you can see what other sneaker botters are saying about that specific bot and evaluate whether it will work for your needs.
Once you've made your purchase, you are ready to enjoy another of the biggest benefits that our platform offers sneaker botters: 24/7 support. We are available to assist you 24 hours a day, seven days a week, so you can reach out anytime on our Discord, through live chat on our website, and via email at support@whop.com. No matter what you're trying to get or what problem you're having, one of our team members will be happy to help you!
Wrapping Up
Once you have found the bot for you, you can get started on your sneaker reselling endeavor. You can use the bot to your advantage to buy newly released sneakers, and as they arrive, you can get your account started on either GOAT or StockX. By evaluating the pros and cons we mentioned, you can join the site that works best for you, and start selling your sneakers! Now, what are you waiting for? Purchase your first bot and start reselling sneakers on GOAT or StockX now! Visit us online to learn more!