Reselling is a broad term, and it's something we all love doing. Whether you're reselling a pair of sneakers, some sports cards, or just random goods you got on sale, there's plenty of money to be made in the reselling world.
The global sneaker resale market alone is estimated to be worth around $2 billion annually (according to Morgan Stanley), and that's just one small corner of the market.
While you can just go out and resell whatever you like, it may not be the most effective way of doing things. To maximize your profits and improve your skillset, you should join a reselling Discord server.
As there are many options in the wild for this, we've curated a list of the top 10 reselling Discord servers on Whop, which we'll discuss in this article (in no particular order).
Why Discord?
Discord is purpose-built for communities like reselling, as it's incredibly versatile and has many features you can't find anywhere else.
Its unique design allows server owners to categorize topics for quick access and lets users pick exactly what they want to receive notifications for.
Beyond text chat, it supports voice chat, voice notes, and screen-sharing. Unlike other platforms, Discord supports third-party bots and webhooks, allowing further customization to streamline the user experience.
Both bots and webhooks are very common features within these Reselling Discord servers, as you'll see in this article.
What Makes a Good Reselling Discord Server?
One of the critical parts of a good reselling Discord server is the community itself. Being surrounded by like-minded individuals who all share a similar goal can be very beneficial for learning and motivation.
Something else you'll see in most reselling Discord servers is monitors and tools. Monitors essentially scan certain sites for changes and alert you as soon as a change is found.
This could be things like price drops, product restocks, etc. These can help tremendously when it comes to reselling, as you can get things cheaper than other people and get things that others simply can't.
The Best Reselling Discord Servers On Whop 🏆
Profit Lounge
With a name like Profit Lounge you'd expect this group to help you effortlessly profit… and that's certainly the case! Profit Lounge claims to be the "#1 exclusive reselling community," offering reselling information, Amazon freebies, exclusive food deals, and much more, all under the same roof.
Profit Lounge houses over one hundred experienced staff members who strive to guarantee that members of this group succeed and make a profit. This group offers detailed information in many different areas and even has tools and monitors to alert members whenever money is to be made. Profit Lounge also boasts its freebies and heavily discounted items from sites like Amazon, which can be easily flipped for a profit. Speaking of flips, how could we talk about Profit Lounge without talking about their flips information?! These guys provide detailed analysis on a vast range of things, including comic books, vinyls, and sports cards.
Profit Lounge currently operates on a waitlist system, meaning you'll need to wait to be accepted into the group. If accepted, you'll be charged $90 monthly to stay in the group and can leave anytime. Using a waitlist for new members isn't uncommon for groups of this caliber, as they want to ensure that all members in the group are comfortable and happy with their membership.
You can learn more about Profit Lounge here.
Hidden Society is a very well-known group, as it's been around for multiple years and has successfully mentored thousands of members within that time. Hidden Society comprises over eighty experts who scout the market for the latest trends and offer insider knowledge. Within just a few years, Hidden Society has helped its members generate over eighty million dollars in profit (yes, that's $80,000,000+).
This group covers everything from NFTs/crypto and stocks to sneakers, tickets, and even sports betting. For each of these areas, Hidden Society has numerous professionals who are ready to help you, which leads us nicely to another thing we love about Hidden Society: their community. Something Hidden Society is known for is its helpful, tight-knit community. When you join this family-like community, you'll feel right at home while being surrounded by many like-minded individuals.
Hidden Society is available to join for $79.99 monthly and operates on a waitlist system. With a community like Hidden Society, it's no surprise they want to restrict the number of newcomers. They want to maintain their community's prestige reputation, and we respect it!
You can learn more about Hidden Society here.
GFNF

Another banger: GFNF! GFNF is a reselling community that targets the safest reselling opportunities, quick flips, and investments to bring members large profits with minimal risk. GFNF is operated by a team of over fifty professionals that offer members support, guidance, and, most important of all, ways to build experience. These guys have been running for over three years now and show no signs of slowing down any time soon.
GFNF aims to help members make thousands of dollars each month and do this by offering a diverse range of product categories. These guys claim to be the "#1 in reselling," and they push themselves to keep this title. If you take a look at GFNF's social media pages, you'll see members making money via sports betting, reselling concert tickets, getting free things via Amazon freebies and price errors, and much more. GFNF also hosts weekly Q&A sessions to ensure all members are best prepared to maximize their profits.
These guys have nailed their pricing, dividing their group into different sections so you only pay for what you need. There are currently four plans: "GFNF Membership" (full community access), "Concert & Event Tickets," "Sports Betting," and "Free Preview." The pricing for these is as follows:
GFNF Membership - $17.50 per week OR $60 per month
Concert & Event Tickets - $20 per week OR $50 per month
Sports Betting - $20 per month
Free Preview - Free (of course)
Having the option to pay weekly for some plans is one of the reasons this group stands out so much, as it helps cater to all budgets and allows you to have a taster of the group before you subscribe to a monthly plan.
You can learn more about GFNF here.
Frugal Szn

Frugal Szn is a community that does it differently. They claim to hold the ability to help members "unlock endless earnings" and "add an extra $1,000/month to [their] income," and they do this via price errors, Amazon FBA, and retail arbitrage. Frugal Szn has been operating for over four years (since 2019) and has reached over one hundred million dollars in savings across retail within this time.
This group's price errors are no joke. Fancy an Xbox for $44? How about an Apple Watch for $14? That may sound too good to be true, but Frugal Szn has been finding deals like this for years and has mastered this skill. They want to help every member earn an additional $1,000 per month by teaching the skills they've mastered and teaching new side hustles. If you want to diversify your income streams via side hustles you've likely never seen before; Frugal Szn may be the perfect group for you. Frugal Szn also includes online courses in their membership plan, covering things like how to get started selling on Amazon and how to navigate their Discord server.
Frugal Szn is available to join for $75 per month, with a waitlist that you'll need to go through before joining. As with all groups mentioned in this article with a waitlist, you'll only be charged if the group accepts you to join.
You can learn more about Frugal Szn here.
Notify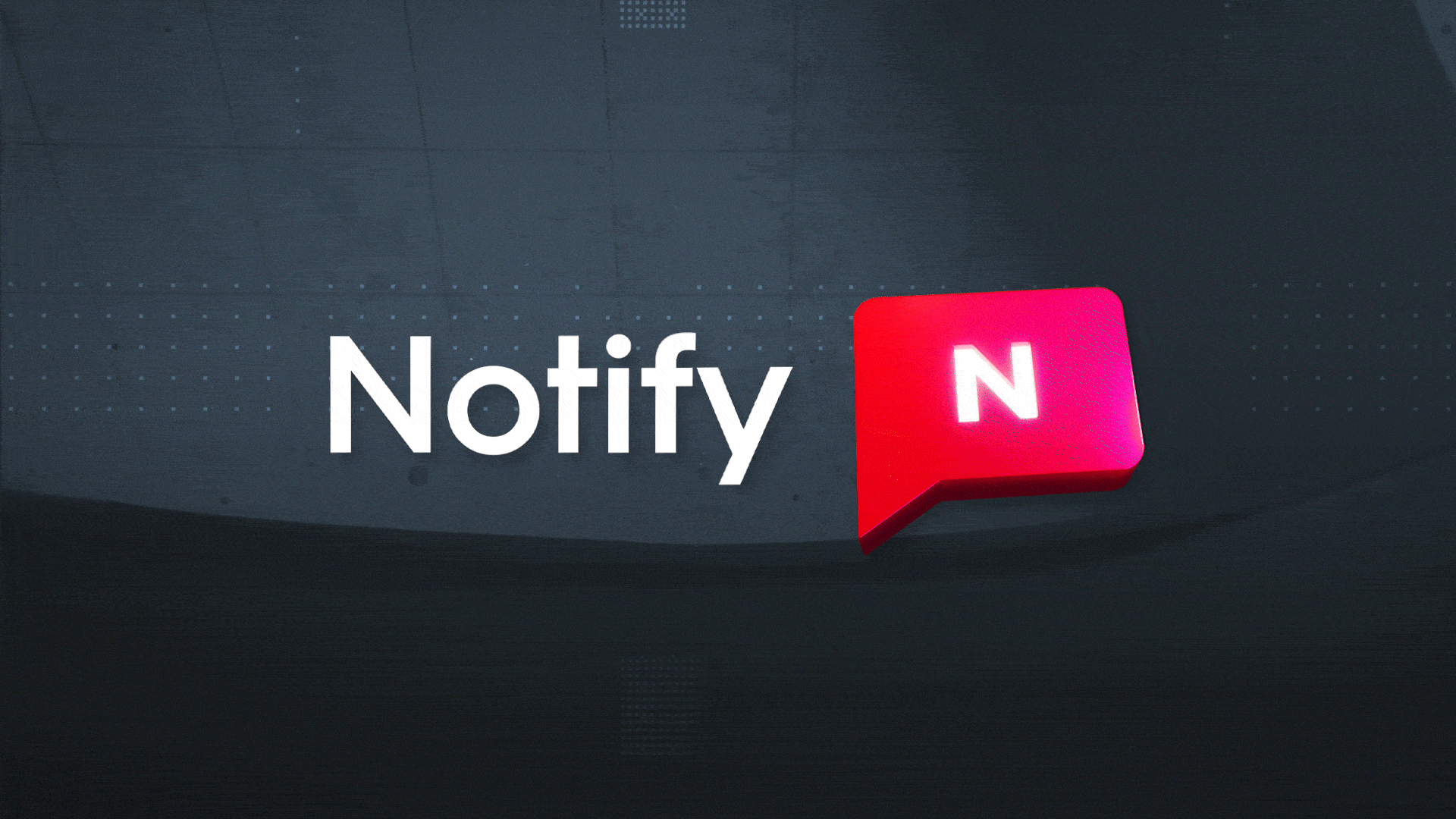 Now, if you're looking for a community that has been around for a long time, look no further than Notify. Notify has been around since 2017 (more than six years), and they've been killing it every single year. Whether you're looking for information/tools for sneakers, sports betting, ticket reselling, lowkey flips, etc., Notify probably has professionals in the field ready to assist you.
Notify has a brilliant reputation, with over 300+ five-star reviews on their Whop page alone. This is due to the sheer quality of their information and staff. When you become a member of Notify, you gain access to expert one-on-one coaching, sports betting picks, information for various niches, lightning-fast monitors, etc. This group seriously has it all - it's no wonder they have been seen in Vice, Wired, Goat, and even eBay. In addition to the group itself and over 100+ hours of video and text guides, Notify provides all members with access to their "Notify Companion" app. This app will notify you whenever there's money to be made, and it also provides you with drop guides and a feed full of the latest information curated to your reselling interests.
Notify currently offers a standard membership, which includes access to all of their features, and another, which just gives you access to their betting and options features. The full Notify membership can be purchased for:
$49 per month
$125 every 3 months
$239 every 6 months
The "Betting & Options" membership can be purchased for a static fee of $29 per month. Notify also offers a "Free Guide" on their Whop page, which includes a brief overview of the industry and information regarding what Notify has to offer, which we recommend checking out.
You can learn more about Notify here.
AK CHEFS
AK CHEFS is an all-in-one group covering sneakers, tickets, art, price errors, sports betting, Amazon FBA, electronic flips, and more. This group is home to numerous experienced professionals in various niches dedicated to providing members with the resources and insight needed to create sustainable profits. AK CHEFS has racked up a hefty 1200+ reviews on Whop and has an overall rating of 4.98 stars, which is extremely impressive - hats off to these guys!
AK CHEFS prides itself on how adaptable they are to market changes, which is a crucial skill needed to ensure the group is constantly ahead of the curve. Having been around since 2017, it's clear that they certainly are adaptable, seeing as the market has changed a lot since that time. AK CHEFS also offers early access to valuable information, which enables you to make informed decisions before other people have the same information - this can be invaluable to some. This group is suitable for individuals in the US, CA, EU, AU, and Asia, which is something you don't see often.
When it comes to pricing, AK CHEFS has nailed it. Not only does AK CHEFS have a 24-hour money-back guarantee, but they also offer discounts if you purchase multiple months in advance. Their pricing is as follows:
$12.50 per week
$20 every 2 weeks
$50 per month
$80 every 2 months
$120 every 3 months
$240 every 6 months
$480 per year
$1,100 one-time (lifetime access to the group)
AK CHEFS also offers a "FREE UPDATES" plan, which is free and gives you access to the latest trends in reselling. Check out this free plan, and if it seems appealing to you, try their weekly option to see if you like the group before upgrading to a higher tier. Whichever option you pick, having a 24-hour money-back guarantee is perfect for peace of mind.
You can learn more about AK CHEFS here.
Malice

Malice, "the ultimate personal development collective," is another one of Whop's best sellers in the Reselling category, which aims to empower individuals to reach their full potential. Malice has a different approach to things, claiming their focus is on "holistic wellness," which includes mental/physical health, education, and financial literacy. Due to this unique approach, on top of having experts in areas such as finance, Malice also offers members access to mental health professionals to help them be their best selves.
Malice stands for Media, Arbitrage, Learning, Investments, Collectibles, and Emerging Markets, which gives you a brief insight into the range of what they offer. Malice offers the usual top-tier information you'd expect from a group of this caliber, including courses, virtual events, and personalized coaching & mentoring exclusively to group members. No matter your skill or knowledge level, Malice aims to help everyone on their journey to become the best version of themselves and become financially free. Something else these guys offer that you don't often see is their virtual credit card service, which offers 3% cashback on all purchases - yes, seriously! Their virtual credit card service is a fantastic tool to help boost your profits when following Malice's information and guides.
You can join Malice's waitlist at any time, and once accepted, you'll need to pay $60 per month for full access to everything this group offers. This group doesn't currently offer any free trials or previews, so we'd recommend checking out their social media or asking a question on their Whop page if there's something you'd like to learn more about.
You can learn more about Malice here.
Resell University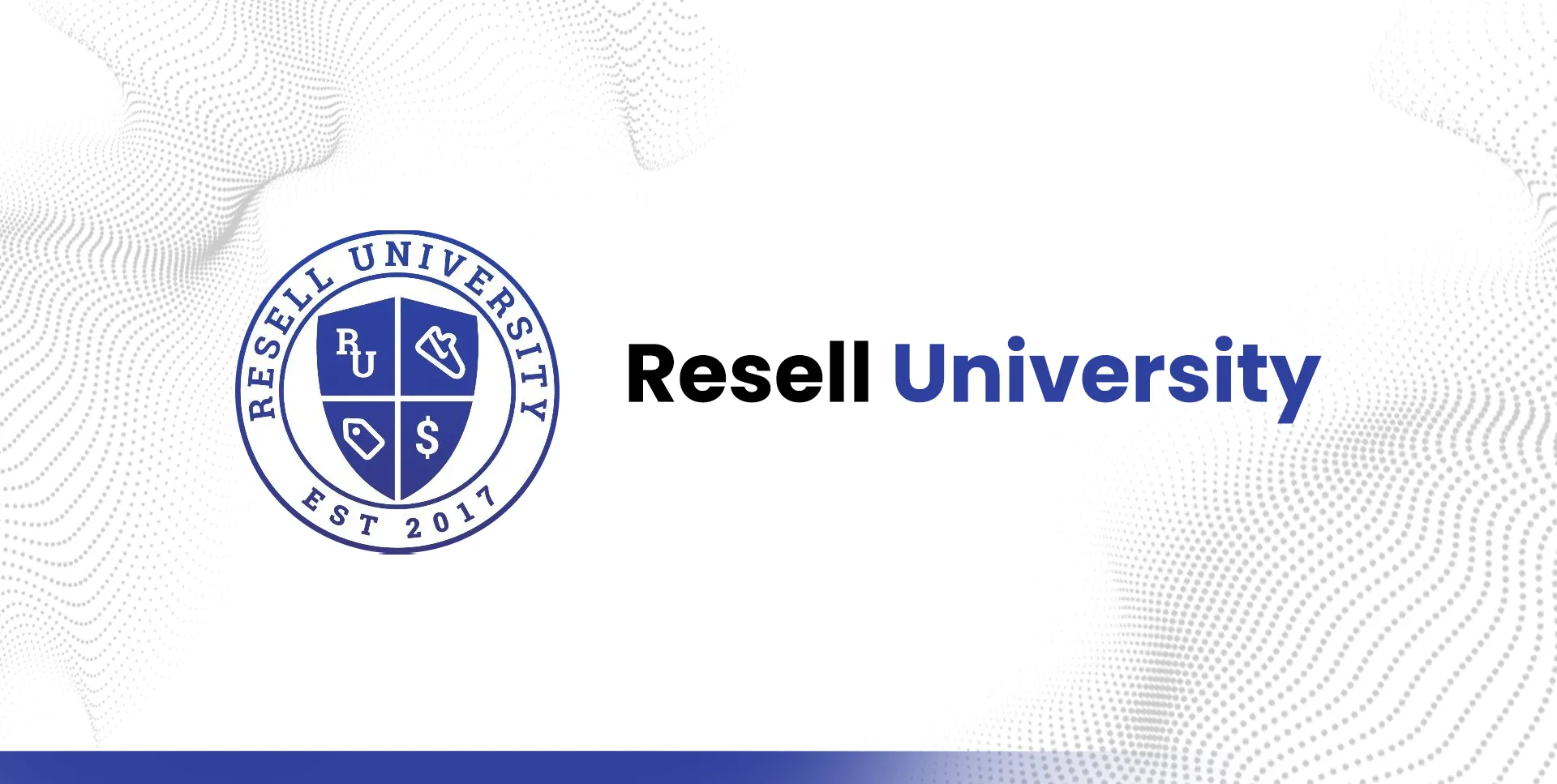 As the name may suggest, Resell University is devoted to teaching members how to make money and save money instead of simply spoon-feeding information. Resell University claims that, on average, a member will make back their membership fee within just a few days after becoming a member - a bold claim, but we don't doubt them! In this group, every day brings a fresh experience. Every night, Resell University posts a rundown for the next day so you're prepared and know which releases to go for.
Something we love about this group is their community. Not only is this community a brilliant place to network with other like-minded individuals, but it also feels like a family, as everyone is friendly and helpful to one another. One of Resell University's big selling points is its excellent smartphone companion app. This app contains a calendar that shows upcoming drops and the estimated profit for each one, a live feed of their Discord server, raffles, alerts, etc. Everything within Resell University is beautifully laid out and straightforward to follow, whether you've been there for ten minutes or ten months.
Resell University currently offers two plans, both of which are monthly subscriptions. First up is their standard membership, which includes everything aside from sports betting. This membership can be purchased for $64.99 per month and operates via a waitlist. The other option available to buy is their sports betting membership, which is available for $19.99 per month and does not have a waitlist - you can become a member immediately!
You can learn more about Resell University here.
Bandar's Bounties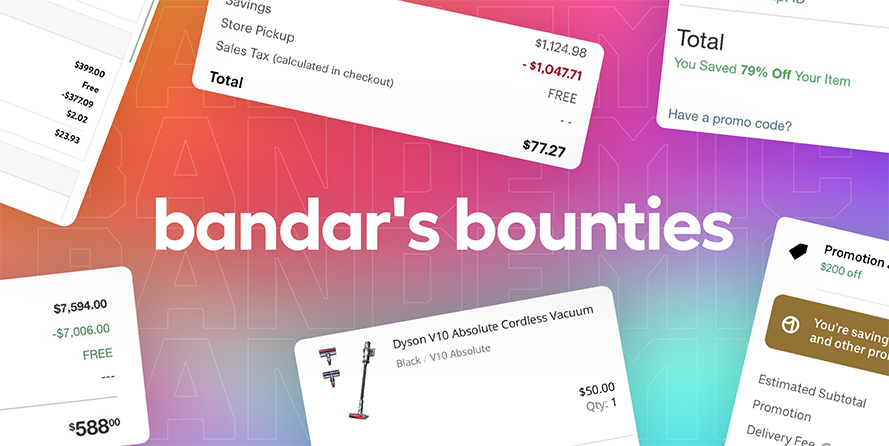 Bandar's Bounties is a very, very impressive group. Bandar's Bounties offers some of the best price errors, glitches, and freebies we've ever seen. These are this group's specialty, and some members have made five figures in a single day of clicking buttons.
So, how does this work exactly? Bandar's Bounties notifies members as soon as a price mistake is found, and all members have to do is purchase the items. That's really how simple it is. The products posted in this group tend to be at a discount of 75% or more, meaning there's plenty of room for profit. Just to add to the simplicity, Bandar's Bounties are partnered with a cashout service, which makes selling items in bulk a breeze. One of Bandar's Bounties' most recent finds was a price error on HP's website, where they were selling $3,800 laptops for just $10… you can bet their members had a field day with this one!
You can join Bandar's Bounties for $89 per month. As with many groups mentioned in this article, this group operates via a waitlist. However, having a waitlist here is beneficial for members, too, as having fewer members means less competition when running to purchase heavily discounted/free goods!
You can learn more about Bandar's Bounties here.
EscapeNotify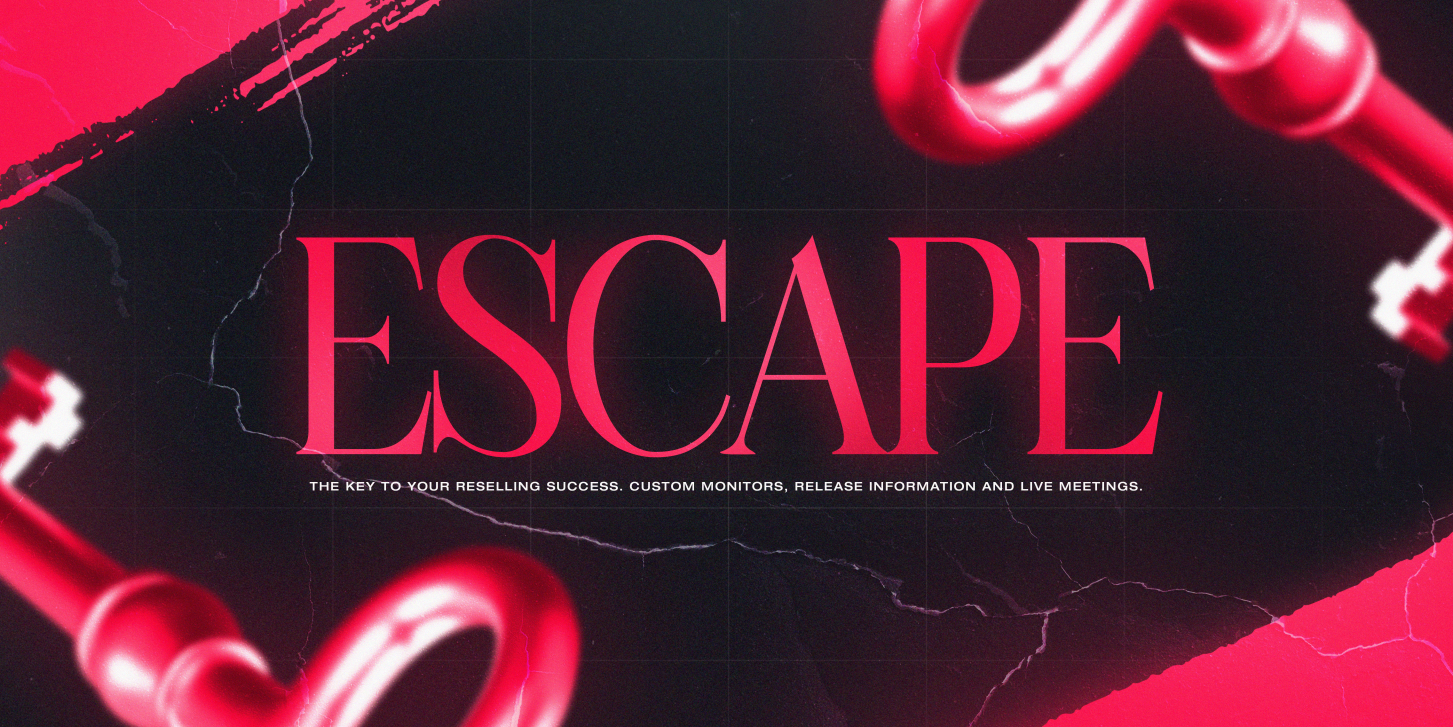 Europe, don't worry, we haven't forgotten about you! EscapeNotify is one of Europe's most popular reselling communities, offering information on random resell, concert tickets, sneakers, and much more. Having some of the best developers in the community in-house, you can expect to see a bunch of custom tools, apps, and monitors exclusive to EscapeNotify members.
When you join EscapeNotify, you'll be greeted by their friendly staff members, with the option to have personalized one-on-one coaching to unlock your full potential. EscapeNotify offers over 750+ custom monitors designed to notify you about product restocks as soon as they occur - giving you a competitive edge. They also provide an in-house mobile app that helps you keep everything you need at your fingertips: alerts, reminders, tools, announcements, etc. - the list goes on and on!
Fortunately, there's no need to join a waitlist to join EscapeNotify. The plans offered are €45 per month or €450 per year. Being a European group, the pricing for this group is in euros. We'd recommend trying out this group for a month, and if you enjoy it, consider upgrading to the yearly plan to save over 15%.
You can learn more about EscapeNotify here.
Which Reselling Discord Server is Best For You?
As the term "reselling" covers many different areas, it all comes down to which niche(s) you'd like to prioritize and what features are most important to you in a Discord server. Is it the community? Is it their monitors? Is it their information? Whatever it is, we're sure one of the best sellers in this article will be a good option for you. If this isn't the case, we'd recommend checking out Whop's reselling category. Nonetheless, we highly recommend reading more about each Discord server on this list so you can build your thoughts.
---
Conclusion
No matter what you want to resell or how you want to do it, there's bound to be a Discord server that caters to your specific reselling needs.
👉 With the help of a great reselling Discord server, the possibilities are truly endless, and we can't wait to see what you can achieve in your current or newly started reselling career. So, which color Lamborghini will you buy first with your reselling riches? 🤑