Creating a Discord Server From Scratch: A Full Guide For Beginners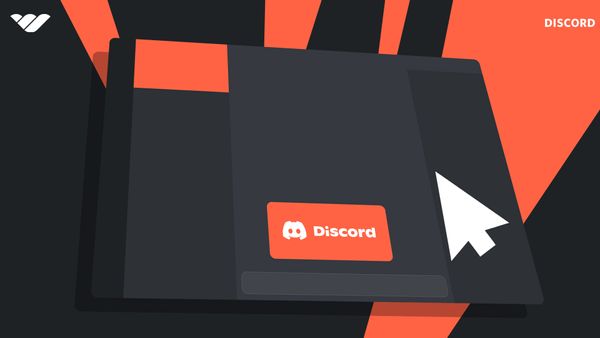 Introduction
Creating a Discord server is a straightforward and easy todo process. Discord servers can unlock huge benefits for your pre-existing community or can serve as a place to start your community from scratch. This guide will serve as a step-by-step walkthrough of, how you can start your Discord server from the ground up, manage your Discord community once created and how you can optimize your server through different tools and integrations.
Prerequisites
Before starting your Discord server, it is important that you sign up for a Discord account. This can either be done through downloading the Discord application or opening the Discord web-app. Once you have completed this, you are on your way to setting up your server.
Creating your Discord server
Creating a Discord server is as straightforwards as it gets, once you are in the application and have created your free account, simply navigate to the left-hand side of your window and click on the + symbol.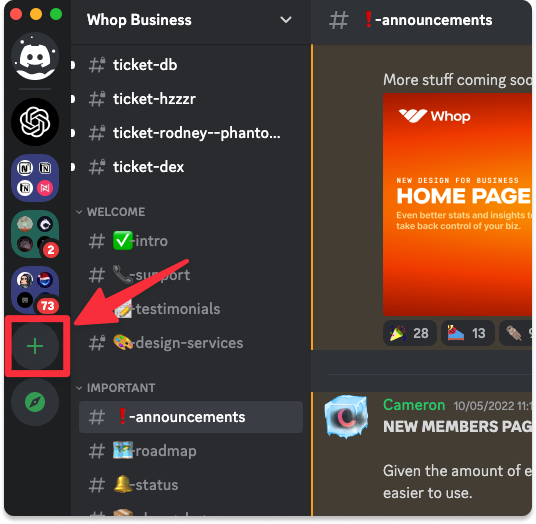 Once clicked, you will be presented with a plethora of different options you can choose to build your Discord server around. If you don't feel comfortable building your Discord server from scratch, we would recommend using one of Discord's pre-made templates (As shown below). In general, we would recommend you 'Create Your Own' and use the flexibility to make your dream community.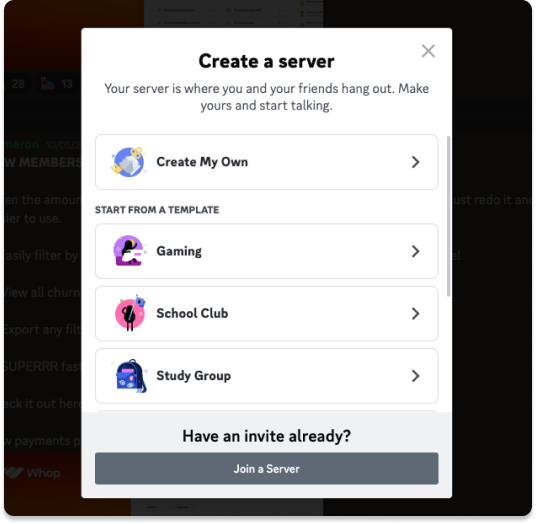 For this article, we will be basing off the following content assuming that you have decided to select the 'Create My Own' server option. Once clicked you will be prompted to choose whether your server will be used as a community or as a server for you and your friends. We would recommend selecting 'community', as community provides access to more Discord features.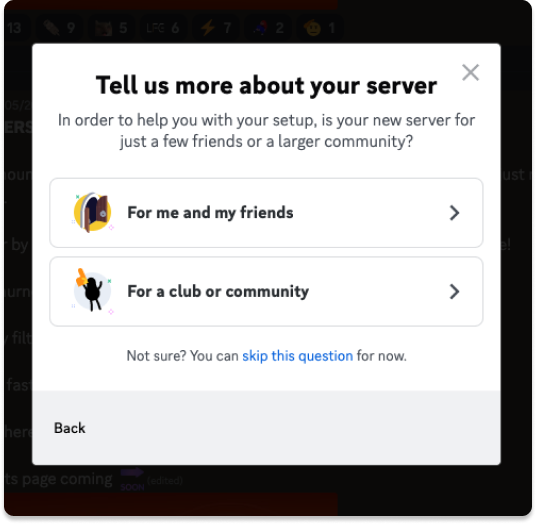 Lastly, Discord will prompt you to input a name for your new Discord server. For this purpose of this article I will be calling my server's name "Whop Demo". We highly recommend that you upload an image to your server to make it more recognisable to your friends and anyone else who might join.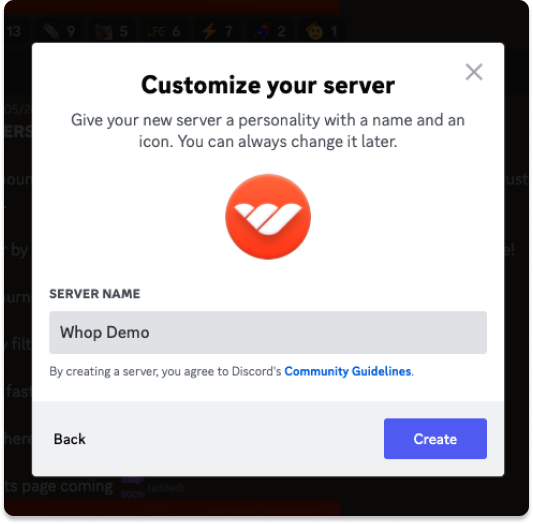 Discord server creation summary
Putting all of these steps together, it is a simple 6 process to create your Discord server;
Signing up for a Discord account and loading up the application
Locating and clicking the 'create server' plus symbol
Selecting a pre-set Discord server template or clicking the default 'Create My Own'
Selecting community, to get access to all features right out of the gate
Entering a name for your Discord server (And optionally, adding an icon)
Clicking 'Create' and launching your Discord server.
---
Making your Discord server presentable
Now, that you have done the initial stages of creating your Discord server, it is important that you begin the process of making your Discord server ready for other community members to join. In other to do this, it is important that you set up two fundamental parts to your server - channels and roles.
Setting up channels within your Discord server
Once you are in your brand new Discord server, you will be presented with a blank Discord server with only a 'general' text channel and a 'voice' channel. We would recommend deleting these two channels from the beginning, as chances are, you will be replacing them with your own alternative channels.
To delete channels (and/or the categories the channels reside in), simply right-click the channel and select 'delete channel'. Once you have deleted the default channels, you can add in any channels that you want in your server.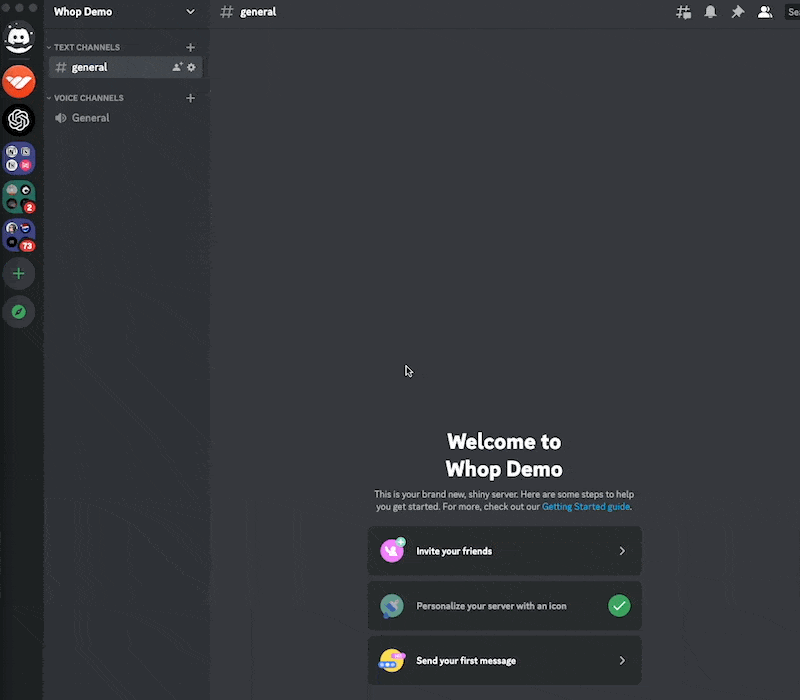 Starting with this blank canvas, we recommend you add some channels that are more presentable. To do this, simply right-click on the channel list and create a category. Then click the + symbol next to your new category to create your first channel.

For public servers or any server in general, we would highly recommend adding the following channels.
Creating roles for your Discord server
Once you have created your channels, it is time to starting thinking about the roles within your Discord server. Roles are an essential part of any Discord server as they determine which permissions certain users have, what they can access, and ultimately, how they will interact with your server. It is important that you take your time when allocating permissions, unless you want to have issues.
To create a role, simply head over to the server settings via clicking your server's name in the top left corner. Once there, select 'server setting' via using the drop-down menu and click on the 'roles tab' to be directed to the 'roles setting page' where the magic happens.
As you can see in the GIF below, once there, you can easily create a role to add to your server. Customization is easy, with Discord providing the ability to allocate a name, a colour and a unique set of permissions to your role.

To assign a role, simply go to 'Manage Members' and choose the users you want to have that specific role.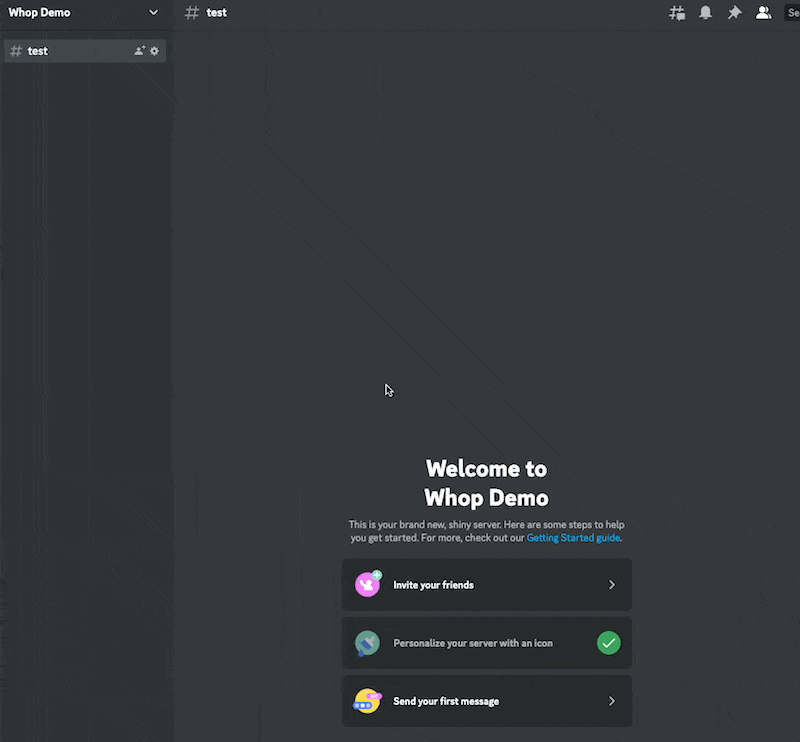 Extra ways to enhance your Discord
Now that you have set up the permissions and roles for your server, it is time to explore the extra ways you can enhance your Discord and the experience for your community members.
Discord bots
The first great way to enhance your Discord is to add bots to your server. Discord bots, can be thought of as unique add-ons for your server which serve to do different tasks. Two examples of these are Sapphire and the Whop bot, both serving two completely seperate functions, from managing workflow to monetizing your Discord server.
Our advice is always to find bots that work for your specific needs. The Discord app directly (accessible through server settings) will give you access to most of the available bots.
Discord server branding
Another great way to improve your Discord and it's user experience is to add custom branding and ensure your server stands out amongst the crowd.
Staying loyal to a theme or a brand throughout your server will help users identify your server, ensure that your server icon and any associated banners appear consistent and stick to the same brand guidelines.
If you aren't a graphic designer, our team at Whop provide free graphic design services for you to use in our Discord server.
Join 500,000+ entrepreneurs getting first dibs on the best digital products.
100% free. Unsubscribe at any time.