Sports betting is a fast-growing market for many reasons— it's exciting, there's the potential for financial gain, and it can be a way to connect with other fellow sports enthusiasts. It can add thrill to the game, and now that it is increasingly legal and rapidly available online, placing sports bets is easier than ever! Betting can help you feel personally involved in the game, helping you get excited and in touch with others who enjoy the same teams and sports that you do. It's an opportunity to cultivate community, make friends, and add extra enjoyment to watching sports. Furthermore, sports betting is something that you can do online and from the comfort of your own home.
Why Sports Betting?
Online sports betting is one of the quickest-growing forms of betting, and that trend is predicted to continue into the future and 2023. Many people already have many sports or particular teams that they are very passionate about, so sports betting can be a great way to combine those interests.
Perks of Sports Betting
There are many perks to placing sports bets! Here are some of the top benefits of sports betting:
Connect With Fellow Sports Lovers
One of the best things about sports is the fact that the entire thing revolves around the concept of a team. Sports fandoms can be passionate, friendly, supportive communities that provide a wonderful environment where people can cheer for their favorite team and connect with others. It's a great way to get involved with your city, local businesses, and even charitable causes. Sports teams aren't just about sports– for many people; they are a way of life!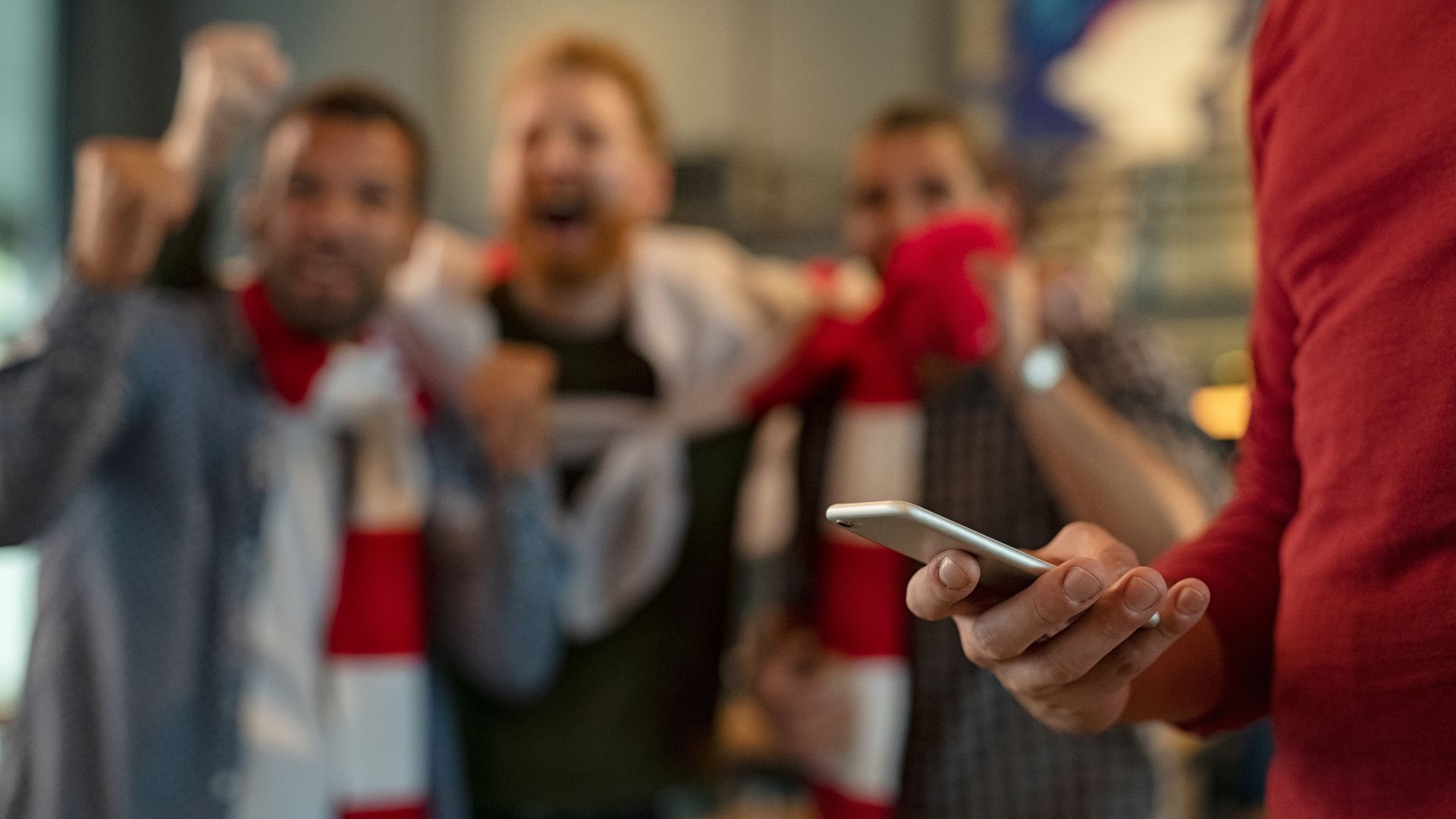 A multitude of online sports communities exists, including sports betting groups, like Discord servers. Here at Whop, you can browse our entire catalog and easily purchase access to great Discord servers to aid you in your sports betting journey. Meet other like-minded fans, learn betting strategies, and discuss all your favorite team-related topics, all via voice and text chat on the go with Discord.
Ability to Budget
Another great thing about sports betting is that you do not have to invest a ton of money into it. It is perfectly okay to only spend a little amount of money and have sports betting be a fun hobby you have during game time. It's always the best practice to set both realistic goals, as well as monetary limits for yourself so that you are able to stay organized while you are placing bets. Betting can be very exciting, and it can be easy to get caught or lose track of things if you are not budgeting carefully. Set a realistic budget for yourself and stick to it, and you will be sure to enjoy sports betting for the long haul!
Financial Gain
So can you actually turn a financial gain with sports betting? You can, but it depends on a few different factors. Obviously betting more money results in a bigger payout, but you should also never bet more money than you are ever comfortable with. Never sacrifice your mental health or personal well-being in order to place a large bet. Choosing good picks for your bets, having a budget in mind, and strategizing can all help to increase your odds of winning, but you always be prepared for the possibility of losing money. Remember, even when you do lots of research ahead of time, betting is still essentially the same as guessing, so there is always a fair amount of risk involved. Knowing your limit and setting healthy boundaries with yourself can help you to get the most out of your sports betting experience.
Entertainment
Placing sports bets can be a great way to add more entertainment value to your game-watching routine. It can help you get to know the specific stats of different players, as well as get you more invested overall. You will be more likely to appreciate your local teams and different sports, as well as make connections with other fans. Sports betting can help to enrich your experience as a sports fan and take your game-day excitement to the next level!
Expand Your Knowledge
As well as getting you pumped for the big game day, sports betting can also help expand your knowledge and teach you things that you may not have known before about your favorite team member or sport. Because you will spend time doing research and learning player stats, sports betting can help you appreciate the game more. More appreciation and understanding means that you will get more entertainment out of watching your favorite sports. You'll be able to grow as a fan, share knowledge, and enjoy a fun hobby related to sports teams you already love. What could be better than that?
Potential Downsides of Sports Betting Apps
As with anything, there are always a few downsides to utilizing sports betting apps. The biggest downsides are the need for a device, a stable internet connection, and scams. It's always important to remember to use a reputable site for placing your bets and to do lots of research beforehand. It's also vital to keep in mind that for some people, the convenience of online betting can be a little too convenient. Always be honest with yourself, and remember that it is perfectly okay not to use online sports betting apps if you feel like they are not the right choice for you.
So what are the best sporting apps out there?
1. DraftKings
Draftkings is a popular choice for sports betting. They have all kind of prop bets, a sportsbook and daily fantasy that are really fun to play and can be really cheap to get in. They also usually have pretty strong sign up offers of up to $500 so join when you see one!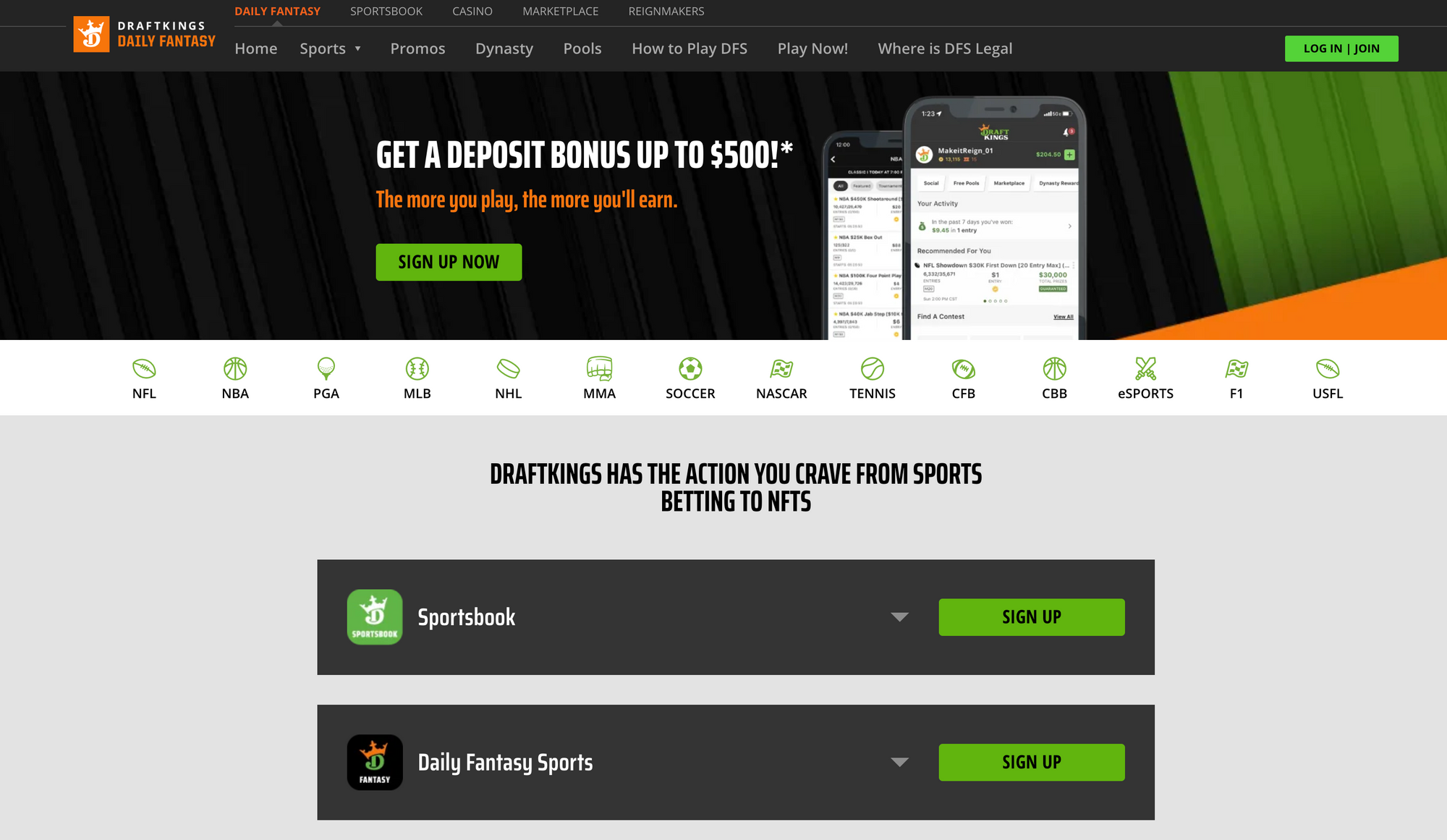 States allowed: AZ, CO, CT, IL, IN, IA, KS, LA, MD, MI, NH, NJ, NY, OH, PA, TN, VA, WV & WY
2. FanDuel
One of DraftKings biggest competitors is Fanduel.  Fanduel also has daily fantasy and a sportbook that are fun to play and make it very easy to place your bets.  It's almost like splitting hairs here.  If you want to get into sports betting you'll enjoy either of these options!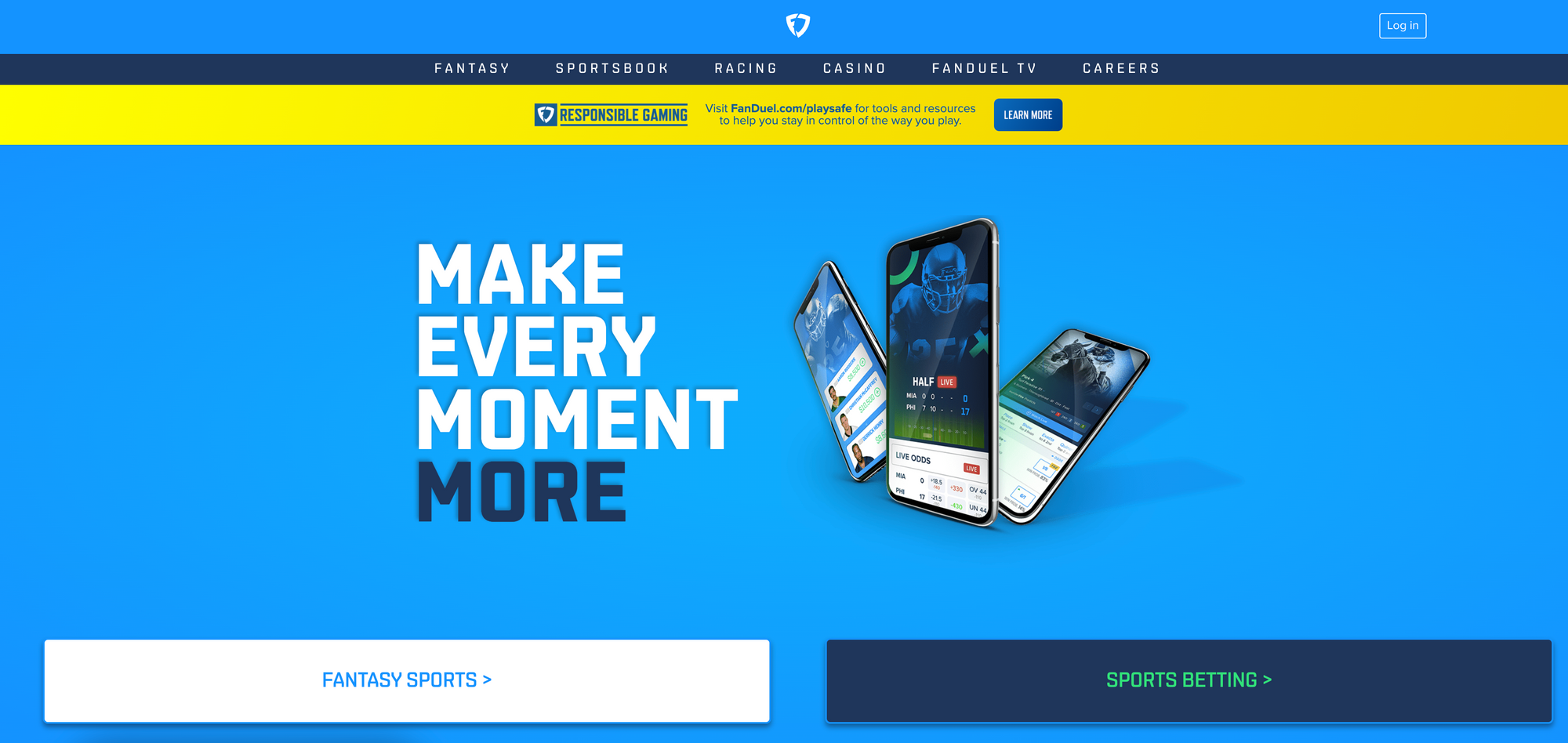 States allowed: AZ, CO, DC, IL, IN, IA, KS, LA, MD, MI, MS, NJ, OH, NV, NY, PA, TN, VA, WV & WY
3. BetMGM
BetMGM is a sports book that offers a lot of similar options but without the daily fantasy.  If you're serious about your betting then BetMGM is a great place to start. They cover all of the major action from NFL, NBA, PGA, MLB, and everything in between. They even include some easy parlays, and promotions that make it really easy to start.

States allowed: AZ, CO, DC, IL, IN, IA, KS, LA, MD, MI, MS, NJ, OH, NV, NY, PA, TN, VA, WV & WY
4. Caesars Sportsbook
Caesars is like BetMGM in that it doesn't have daily fantasy but it is a great sportsbook that is easy to use and place bets.  They are the official sports betting partner of the NFL so if NFL is you're game then Caesars sportsbook is where you want to be.  Their app is about as easy to use as the others and they have some really strong welcome / sign-up bonuses. Get started!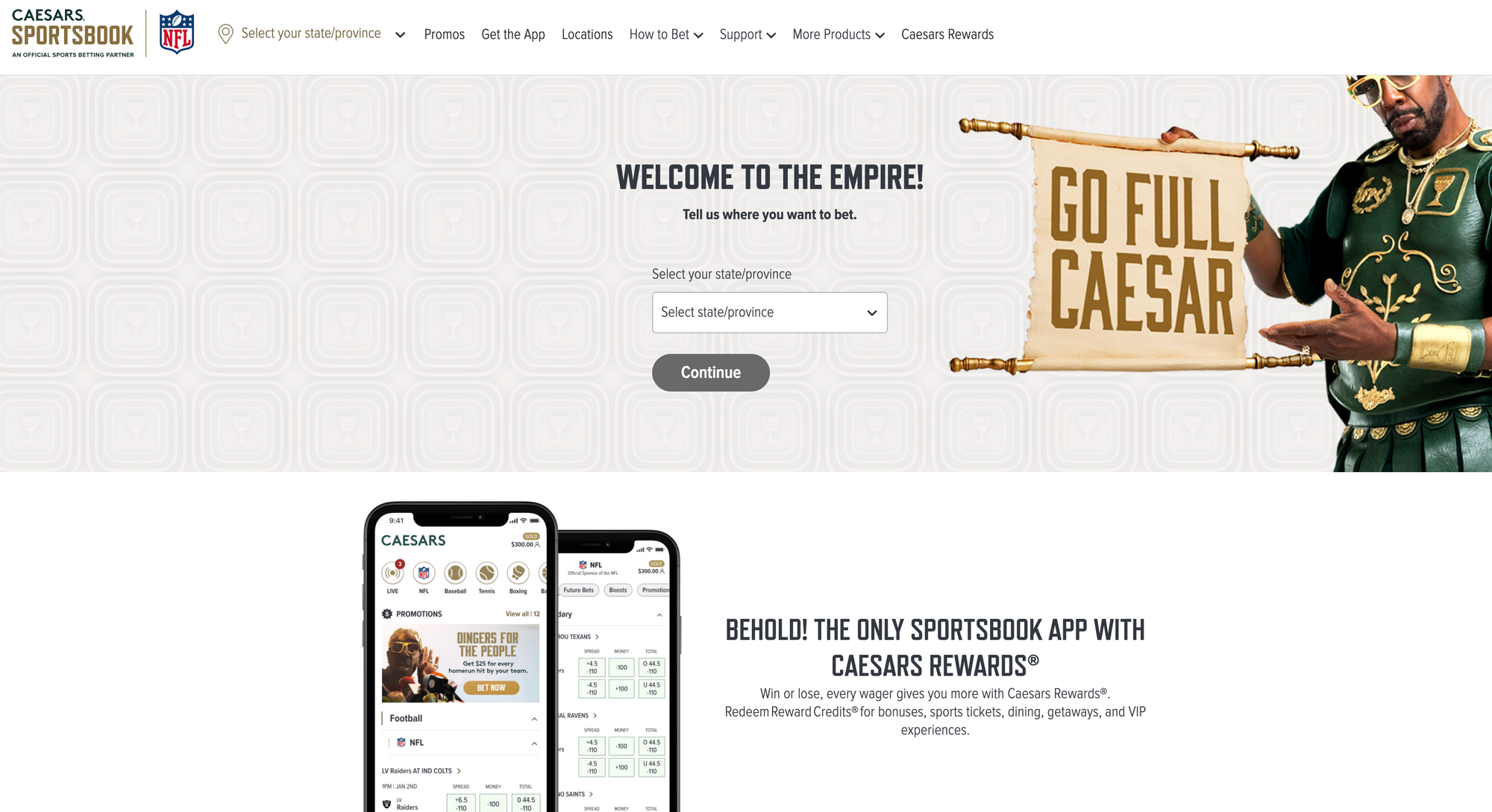 States allowed: AZ, CO, IN, IA, IL, KS, LA, MD, MI, NJ, NY, OH, PA, TN, VA & WV
Now that we've talked about a few of the more popular apps...let's talk about sports betting.
Is Betting Skill or Luck?
So is the art of sports betting really a skill, or is it all just blind luck? Well, the truth is a bit complicated, but in reality, it is usually a bit of both! Betting isn't a prediction; it's just an educated guess, so remember that when you are doing any sort of sports betting. However, there are absolutely steps that you can take to increase your chances of winning big. Getting to know other people in the sports betting industry, conducting web searches, and reading the Whop blog are a few ways to expand your knowledge and therefore place smarter bets in the future. There are also professional services, like sports betting handicappers, who research teams and sports statistics so they can help you with strategies and planning down the road.
A Word of Caution
Whenever you are placing bets of any kind, including as a sports fan, it is always essential to remember to set healthy limits for yourself. Never bet more than you can actually afford and always have a set budget. Betting responsibly is always the best practice and will help ensure sports are always available for you to enjoy years down the road.
Sports Betting Resources
Besides just apps and the like, other resources, such as access to a sports betting Discord server can be very helpful. Learning from other people who are already experienced and have insider knowledge to share is always a very smart idea. It's also a great way to learn directly hands-on. Likewise, free resources like video tutorials and the Whop blog can help you get connected with all the things you need for the ultimate sports betting experience. As with anything, taking the time to do lots of research and garner ample knowledge can help you make the most of your sports betting.
The Different Kinds of Sports Betting Apps
As we covered there are a ton of different kinds of sports betting apps out there (and plenty more than the 4 we recommend), so how do you know exactly which one to use? It can depend on a few things, but keep these few factors in mind to help you make the right decision:
Your Budget
Depending on your budget, some sports betting apps can be superior to others. For example, you may wish to choose an app that offers a weekly free bet or one that offers a new user promotion. Special perks like these can help create a personalized experience, as well as ensure that you get the most bang for your buck while betting.
The Sport You're Betting On
Certain apps are tailored towards different sports, so make sure that the app you pick has the sports and teams that you want before you sign up. Check for any extra promotions or deals that they offer ahead of time. The difference can equal a good betting experience versus one that is truly memorable!
The User Interface
A lot of what makes a particular betting app stand out from the competition is its great user interface. Whatever sports betting app you choose should be reliable, be updated regularly, and have a support team that you can easily get in touch with at any point if you have an issue or a question.
Your Personal Preferences and Style
Lastly, choosing a sports betting, app should come down to your personal preferences and style. Take into consideration things such as what state you reside in, the device you use to place bets, and overall what you find works best for you. Utilizing extra promotions and free betting opportunities can be a great way to try out different kinds of sports betting apps and find what exactly works best for you.
Best Sports Handicapping Services
Sport handicapping services can be another popular tool that sports bettors use, but what exactly are they? Essentially, sports handicapping services study and analyze games via footage, injuries, and raw data. They then offer their picks for sale. The idea behind handicapping services is that the more quality information that you have, the more informed of a bet you are able to place and the better your odds of winning are.
Utilizing a sports handicapping service can be a great way to take your betting to a more professional level and find an edge that works for you personally. It can help increase your odds of placing a winning bet, as well as help you learn even more about the game and form industry connections with other sports fans.
Best Handicappers
So what characteristics do the very best handicappers have? No matter what, they should have a few things in common:
Proven Track Record
Any sports handicapper should have a proven track record of success with their predictions. After all, if they're consistently wrong, what is even the point of using them? Don't be afraid to ask them what makes them stand out from their competition. After all, it's your bet!
Available Statistics on Their Data
Part of having a proven track record as a sports handicapper is making information available on your prediction history. Having an accuracy percentage can be especially helpful when you are trying to decide what sports handicapper to use. Many handicapper leaders also publish their results, either in real-time or in a review at the end of the year. Asking around and taking the time to do research will help you select the perfect sports handicapper for you.
Excellent Profit Margin
Also their profit margin should also be realistic. No one guesses correctly every single time— that just isn't realistic. So when you're looking for a sports handicapper, don't just see they have data available; take the time to actually look through it and interpret it. If their numbers seem too good to be true, they probably are, and it may be a scam. Take your business elsewhere and make sure you get a reputable, trustworthy sports handicapper.
Conclusion
Sports betting apps can be a powerful tool that you can use to help place your bets online. Whether it is by adding fun and excitement to game day or by motivating you to increase your knowledge of the game, sports betting can be a great way to get more involved in the world of athleticism. Moreover, it's one of the best ways to meet other fans from teams you like and network with them. Important things like utilizing sports handicappers and other betting resources, as well as being able to know your limit when betting, can help to ensure an enjoyable experience for you. Get connected with Whop and start your sports betting journey with us now!1.