Sneaker reselling Discord servers is becoming increasingly popular for sneakerheads to connect with one another, share their wins, losses, and thoughts about the upcoming drops. There are a ton of servers surrounding this topic so we thought we'd make it easy and recommend our fav 5 in 2023.
What Are Cook Groups?
Before diving into our top five sneaker reselling Discord servers for resellers in 2023, let's cover an important term you'll see throughout this article: cook groups. Cook groups are sneakerhead communities, often found on platforms like Discord. Individuals can discuss places to find their favorite sneakers, learn tips to improve their reselling skills, and boost their sneaker botting performance.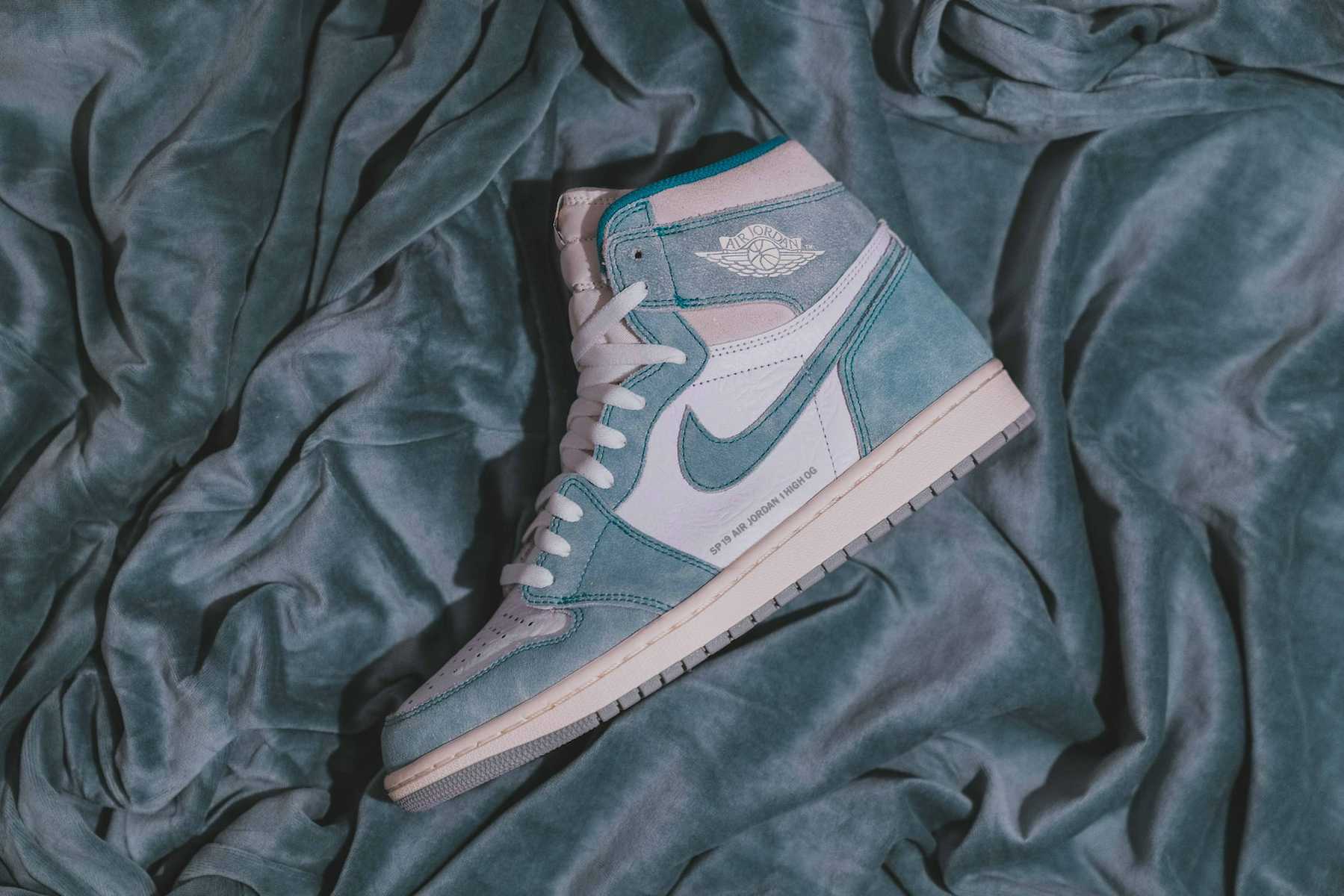 What is a Sneaker Bot?
The previous definition might have you asking: what is a sneaker bot, and what do they do? Sneaker bots help autocomplete your reselling purchases through auto-fill features, including the buyer's payment information and billing address. A sneaker bot is helpful for fast sales times, accurate purchases, and conducting multiple purchases simultaneously.
Additionally, sneaker bots are beneficial for resellers because they can detect sneaker listings across various websites to ensure that you can locate the items you are looking to find and make a quick purchase before someone else snatches them up.
Now, let's dive into our top five sneaker reselling Discord servers you can participate in during 2023.
1. Notify
This reselling Discord server is a premium group of resellers focusing on sneakers, cards, collectibles, and NFTs. Notify is full of advanced, premium features to make your sneaker reselling experience successful.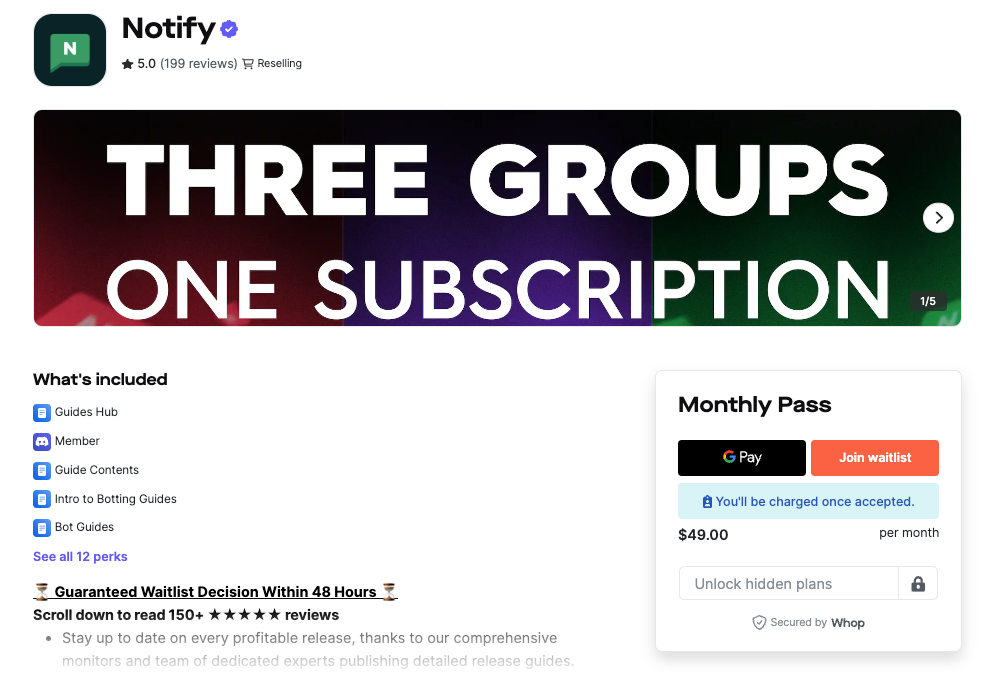 This cook group boasts some of the following benefits and assets for its team of resellers:
Sneaker flipping notifications to keep members up-to-date on profitable releases
Retail flipping notifications to ensure that members have the best exclusive information when reselling
Information and notifications on reselling collectibles
Free auto-checkout features to quickly secure profitable items when major sneaker releases happen
Guides for emerging markets, including NFT sellers, crypto investors, and stock traders
Updates from monitors and dedicated experts, along with detailed release guides
Unlimited 1-on-1 mentoring calls with Notify's knowledgeable staff for no additional cost
In-house ACO team who can help secure profitable items for every major sneaker release at no additional cost
Market updates and investment ideas
Expert educational services for making informed, long-term investments and decisions
2. KickFlips PRO
KickFlips PRO is a fantastic option for individuals looking to profit through a high-quality sneaker reselling Discord server of like-minded resellers.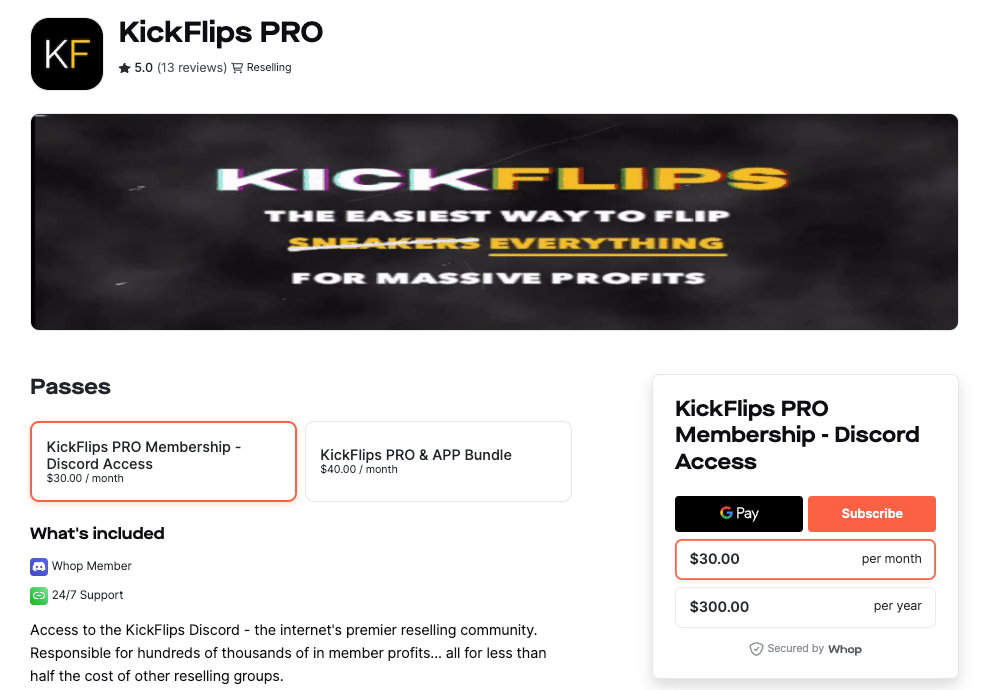 KickFlips PRO is a team of nearly 1,000 resellers focusing on, among other things, sneaker reselling and making a profit with the guidance and support of others in the community. KickFlips PRO has helped members gain hundreds of thousands in profits at less than half the cost of many other reselling groups, making it a phenomenal opportunity for anyone looking to join the reselling market.
KickFlips PRO goes beyond sneaker reselling services to offer members the opportunity to profit from the following reselling options:
Video game consoles
NFTs
Tickets for live events
Toys
Legos
Collectibles
Sports betting with guidance from a professional sports bettor
Stock and cryptocurrency trading/investing
Credit card reward hacks
Get paid to take surveys
Bots and monitors to help with restocks
Price error bots
Everything for less than $1/day
3. AK CHEFS
This reselling server is one of the best ways to profit from sneaker resales in 2023. If you seek a high-quality cook group and community of like-minded individuals, AK CHEFS might have what you're looking for.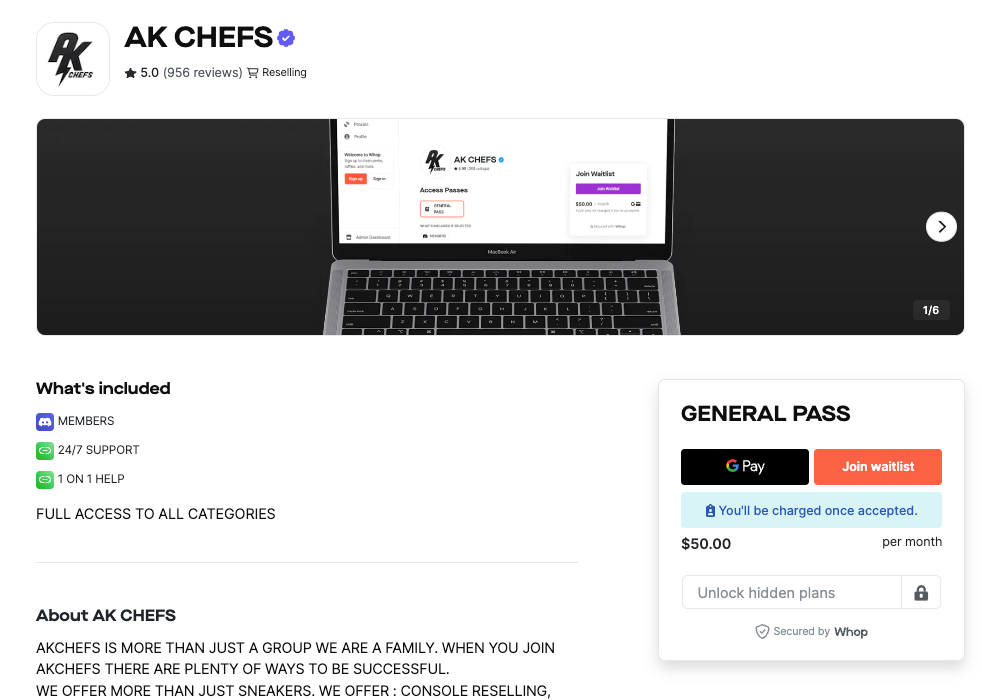 AK CHEFS offers many ways to become a successful reseller, going far beyond sneaker sales to ensure you have access to all your reselling needs. For instance, AK CHEFS offers the following for its close-knit members:
Console reselling
Crypto Investing
Stock investing
Pokemon reselling
Sports cards reselling
Graphics cards reselling
Sports betting
Hat reselling
Funko reselling
Hot Wheels reselling
Art reselling
Decentralized NFT selling
Ticket reselling
Profits and steals
Amazon FBA reselling
Additionally, AK CHEFS is a valuable option for resellers in 2023 because it has extensive information to help you achieve success when reselling sneakers. With over 950 reviews and a 5/5 star rating, AK CHEFS is undoubtedly one of the best cook group options for sneaker reselling Discord servers in 2023.
4. Plugged Inn
Another valuable option for a cook group to join in 2023 is the Plugged Inn Discord server. Members can learn essential information to resell sneakers and other valuable items, including electronics and event tickets. Additionally, Plugged Inn covers freebies, deals, and discounts to ensure that all its members can profit from doing what they love.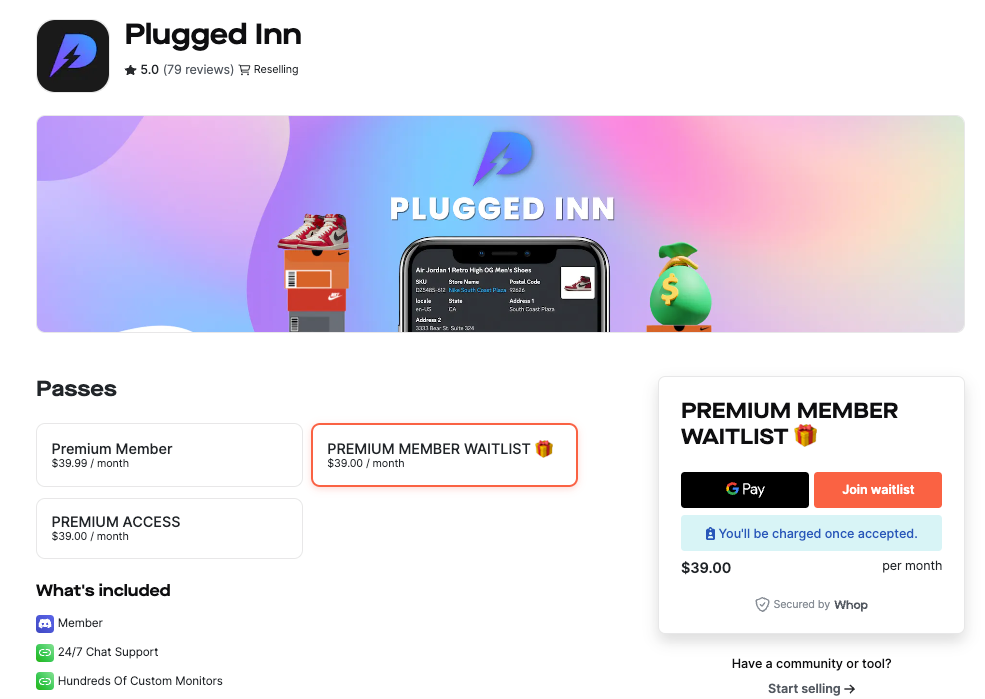 For numerous reasons, Plugged Inn is one of the best sneaker-reselling Discord servers. Among the best benefits of Plugged Inn is that members receive instant access to the following:
Auto checkout to eliminate the hard work
Fast shock-drop text alerts and sneaker-drop reminders
Monitors to help you catch shock drops restocks, and hidden releases you may otherwise miss
High-quality and exclusive sneaker release information
Extensive and comprehensive guides for profitable releases
Nike and FLX Shock checkers to help increase your in-store reselling success
Member-exclusive access to raffle links for sneaker drops
Free authentication
Additionally, members will benefit from the active community in the Plugged Inn Discord server. This community is ideal for individuals that want to have regular conversations with similar people who share their passions. For individuals that want to stay as involved and connected as possible, Plugged Inn is a fantastic option.
5. Cookology
Another excellent option for anyone hoping to join a sneaker reselling Discord server is Cookology. In this all-in-one community, individuals can come together to pursue reselling and achieve their business goals.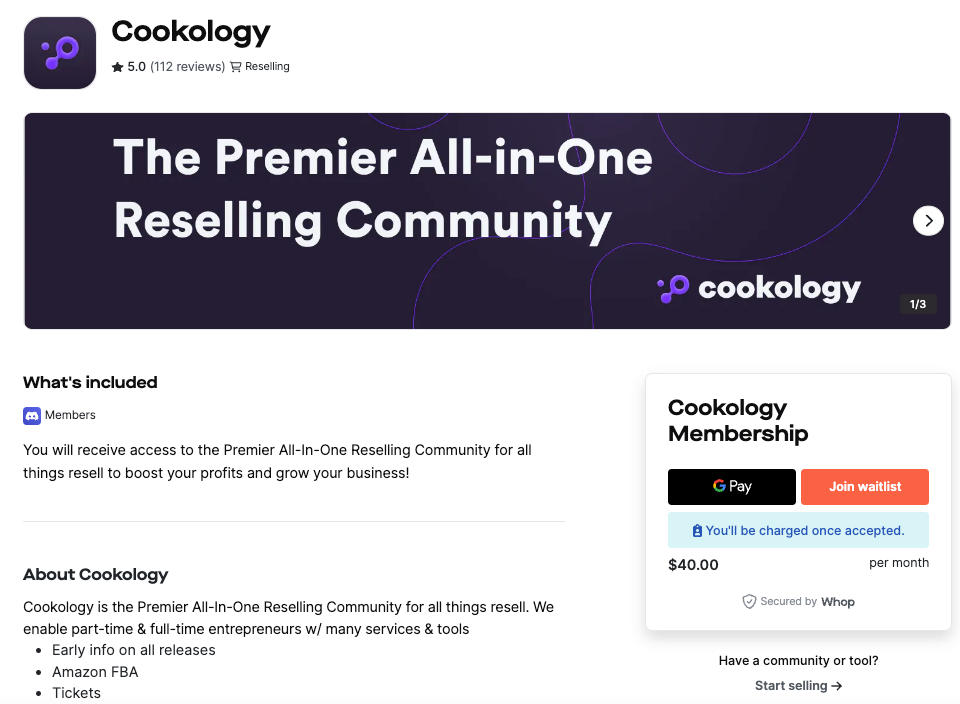 Cookology is essential for part-time and full-time entrepreneurs looking to boost their profits and expand their visibility in the reselling market. Cookology provides numerous services and tools to help entrepreneurs thrive when reselling, including:
Access to early information on all sneaker releases
Amazon FBA
Ticket reselling
Sports betting
Trading cards for sports, Pokemon, etc.
NFT flips, mints, and analysis
Highly profitable flips for collectibles, fitted hats, vinyls, and other unique items
Auto-checkout features and opportunities for sneakers, clothing, consoles and other resell items
Crypto and stock market calls and analysis
Support from dedicated staff members and accessible communication
Access Sneaker Discord Server Cook Groups Through Whop Marketplace
Whop Marketplace has what you need if you're looking for knowledgeable entrepreneurs, resellers, and high-quality sneaker Discord server cook groups.
👉 To access a pool of resources to help you build your business, check out the many options available through Whop Marketplace today.
🏆 Check out: Top 10 Best Reselling Discord Servers [2023]