Churn is one of the most powerful and even feared concepts in business - a mythical beast that can sink even the most promising ventures if it isn't monitored and fought against day after day. But what exactly is churn? And how can you not just prevent your business from its effects, but get a handle on it and stay ahead of the curve?
This guide will dig deep and explore churn. We will break down churn, show you how to measure it, outline its importance, and show you exactly how to bring churn down and protect your subscriber count.
Churn Rate Defined
The easiest way to define churn rate is this: it is the number of customers you lose over a given period of time. For subscription-based businesses, it's an excellent indication as to the sustainability of revenue over a billing period.
It's very possible to simply regard churn as the opposite of customer retention, but there's a little nuance to consider. Churn can be the result of various things, but is broadly categorized into two types—active churn and passive churn.
The difference between these two types of churn lies in the customer's intention to terminate or cancel their contract. Passive churn refers to churn that happens despite the customer not actively seeking to cancel. This could be due to transaction failures, or the expiry of the customer's credit card. Active churn is, by contrast, more voluntary in that the customer makes a conscious decision to terminate or cancel.
How to Measure Churn
In order to measure churn among your customer or subscriber base, you need to first decide what period of time you want to analyze. Most businesses relate their churn to their billing period, which tends to be a single month in the case of the majority of subscription-based businesses.
Now, look up your customer data and identify how many customers you had at the beginning of that month as well as the end of that month. You'll want to work out the difference between these two data points, which gives you the net change in your subscriber count. However, it's very likely that you'll have acquired new customers during this period as well, so subtract that number. The formula looks like this:
Churn = (Subs at beginning of the month) - (subs at end of the month) - (customers gained during the month)
You can now express this raw number as a percentage of the number of subscribers you had at the beginning of the month, giving you your churn rate. This is one of the most important KPIs or metrics you have at your disposal.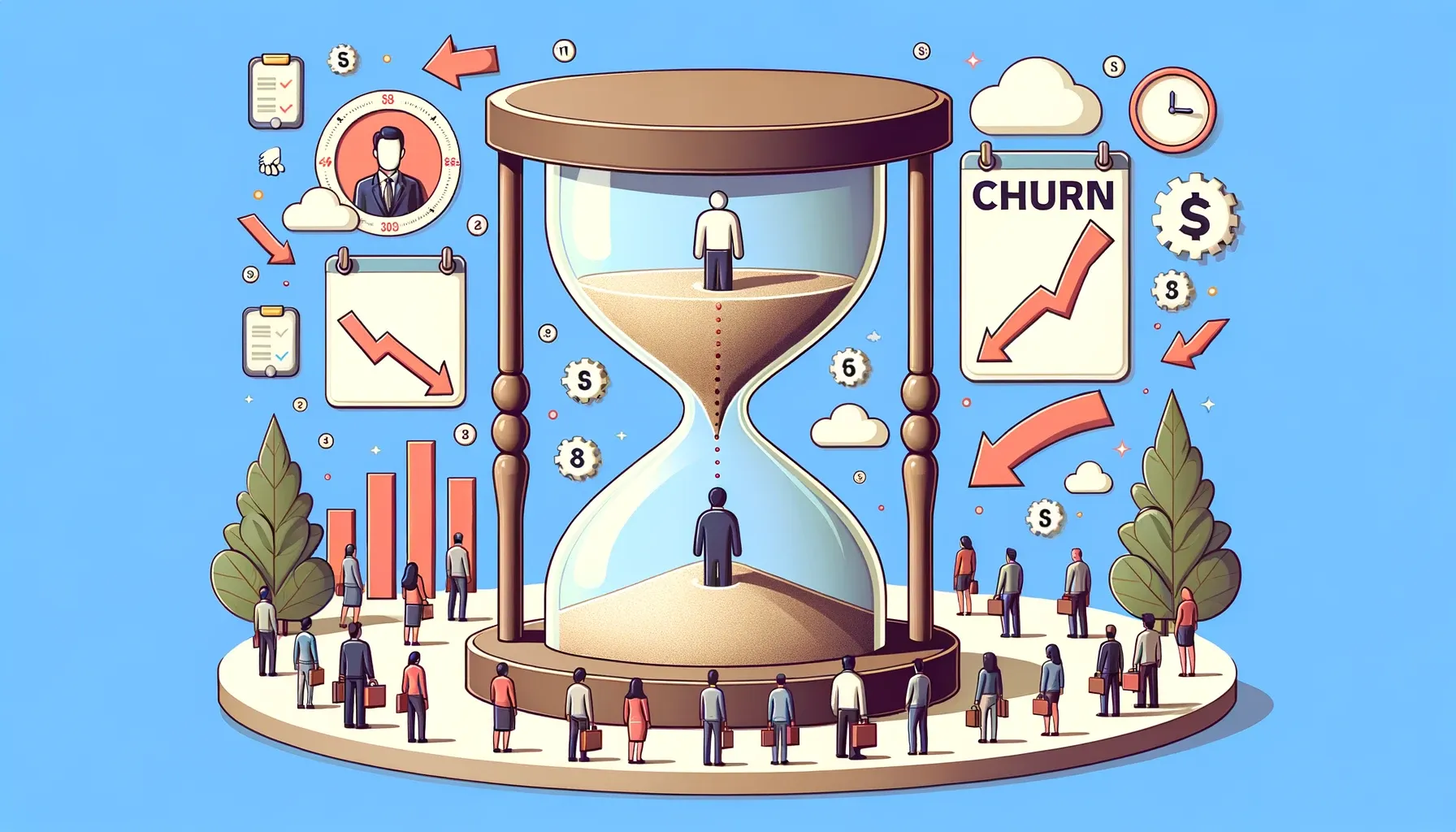 The Importance of Churn and Retention
Whether you're an entrepreneur, a content creator, or a SME owner, you're no doubt aware of the importance of your "top line" or revenue when it comes to the success of your business. Profit is the goal at the end of the day, but that's relative. Healthy revenue growth while keeping costs under control is your primary target.
Well, reducing churn and increasing customer retention is one of the most powerful strategies to accomplish that goal. Customer acquisition is important, but what's the use of bringing customers in if they're not going to stick around for long? If you're churning through customers too fast, they may actually be causing you a net loss—you're probably spending money via your marketing and sales budgets to bring those customers in, so there's a risk that they churn before even allowing you to recoup their acquisition cost.
Besides, it's also a lot easier (and cheaper) to retain customers than it is to acquire them in the first place. Come the end of the month, they both contribute the same amount to your top line—in fact, your retained customer probably contributes more because you've had the time to build loyalty and sell add-ons and upgrades, upsell, cross-sell, and so on.
Reducing churn, therefore, is key to seeing your revenue grow. It also gives you the peace of mind of knowing that all of your new customers are also more likely to stick around for the long haul, which means maximizing customer lifetime value.
How To Reduce Churn
Tracking churn properly and isolating the causes for both active and passive churn is the first step to bringing your churn rate down. You should acknowledge that, while ideal, churn is inevitable—but it's up to you to keep it down to as low a frequency as possible.
Benchmarking churn is something that you should do yourself, because every niche is different, and every business in that niche is different too. You could identify what you feel is a reasonable level of churn for your business, and then set yourself the objective of improving it as you continue to grow.
It's very important to be realistic here. If you're a SaaS firm charging monthly subscriptions you can hope for an extremely low churn rate, but if you're selling products with a long shelf life you should temper your expectations about how often you want to see your customers.
Then, try and identify any themes or common threads among the subscribers that you do lose. Is it due to any particular strategy you've implemented? Do they dislike the new features you've implemented in your SaaS software, or the experimental content you're putting out? It's important to try and isolate the reasons fast, so consider implementing a measure like an exit survey that might give you some insights.
Remember what we said about passive churn here. An exit survey could help you with active churn, but passive churn is a problem too—-and it's very hard to nail down. What does help is a solid subscription management platform. If you're in the SaaS business, check out our guide on the top subscription management software for 2023! Plus, read up on all the SaaS customer retention metrics you should be tracking for your business - including churn.
How Whop Helps You Reduce Churn 🏆
Signing up with Whop can help you in many ways, and keeping churn under control is one of them. Let's take a look at how:
#1. Real-Time Analytics
If you don't stay on top of your analytics and financial metrics, you may not even be able to track churn and retention. Whop helps you in this regard with its versatile, powerful business dashboard, giving you a fantastic overview of how well your business is ticking over. You'll see flags like increased churn and reduced retention right away, and can act on them to nip the problem in the bud.
#2. Cancelation Discounts
Active churn tends to make up the lion's share of churn for most businesses, and Whop gives you the ability to deal with it directly. If you enable Whop's cancellation discount feature, customers are given a one-time discount code at the point of cancellation. This may not sway every single customer into staying, but it'll help you retain customers who are closer to the fence!
#3. Customer Service
Keeping your customers happy is paramount when it comes to retention, but it can be difficult to deal with every single one as your business scales. That's where Whop's customer support comes in! Available 24/7 and with an average response time of just 3 minutes, Whop's team has a satisfaction rating of 97%. Ensure that your customers feel heard, valued, and satisfied with Whop!
#4. Flexible Payment
As a subscription business, competition is fierce, and you need to innovate to get ahead. Whop is the perfect platform because it allows you complete flexibility in terms of how you design your subscription plans and payment options—you can pick the duration, and there aren't any limitations on free trials, discounted months, or initial signup fees. When you're on Whop, you truly are the boss.
Get Listed on Whop Today!
If you're serious about maximizing your top line and optimizing the way you scale your subscription business, churn is a crucial concept both to understand and improve. Retention can bring in consistent revenue at minimal cost, and your existing customers are the best candidates for add-ons and upgrades, making them even more valuable to you.
So, bring your business to Whop today! It's the top destination for entrepreneurs and combines a sleek storefront and easy-to-use interface with powerful subscription management features that you'll find invaluable in keeping churn down.
👉 Whether it's real-time analytics, top-quality customer service, or cancellation discounts to reel subscribers back in, you're losing out if you're not on Whop. It only takes a few minutes to sign up!