Zeiierman Trading is an elite global trading firm founded by Zeiierman, a professional trader and former risk advisor for funds and risk capitalists. The group's goal is to empower traders with best-in-class trading tools and strategies so that they can gain an edge and become more consistently profitable. The eponymous founder of this leading trading firm is joined by a team of professional traders in developing and delivering cutting-edge trading indicators and strategies that continue to outperform the market.
Leveraging decades of market experience between them and with a track record of innovation since their founding in 2018, the Zeiierman Trading team is a truly world-class source of trading tools, strategy, and education.
Why Join Zeiierman Trading?
Zeiierman Trading's community is backed by their global trader teams, and has access to the latest and greatest tools and techniques in the fast-moving field of technical analysis. Joining them means being able to harness all of these tools yourself, along with the education needed to help you make the most of them.
That said, Zeiierman Trading isn't just going to outfit you with some indicators and bots and then throw you into the shark-infested waters of today's markets. You'll find a whole lot more in terms of value—from helping you find your style and identity as a trader, to the management of trading psychology and risk, you'll benefit from the complete package at Zeiierman. The ultimate goal of the group, after all, is to improve your performance significantly and take your potential as a trader to its ceiling and well beyond.
Best of all, Zeiierman Trading works with traders of all skill levels, so whether you're coming in with significant experience or just want to dip a foot in, you'll find yourself very well served. You'll be able to manage the learning curve fast thanks to the coaching and mentoring provided by the team, and experienced traders can link up with the team at a higher level to discuss and refine complex strategies and hypotheses.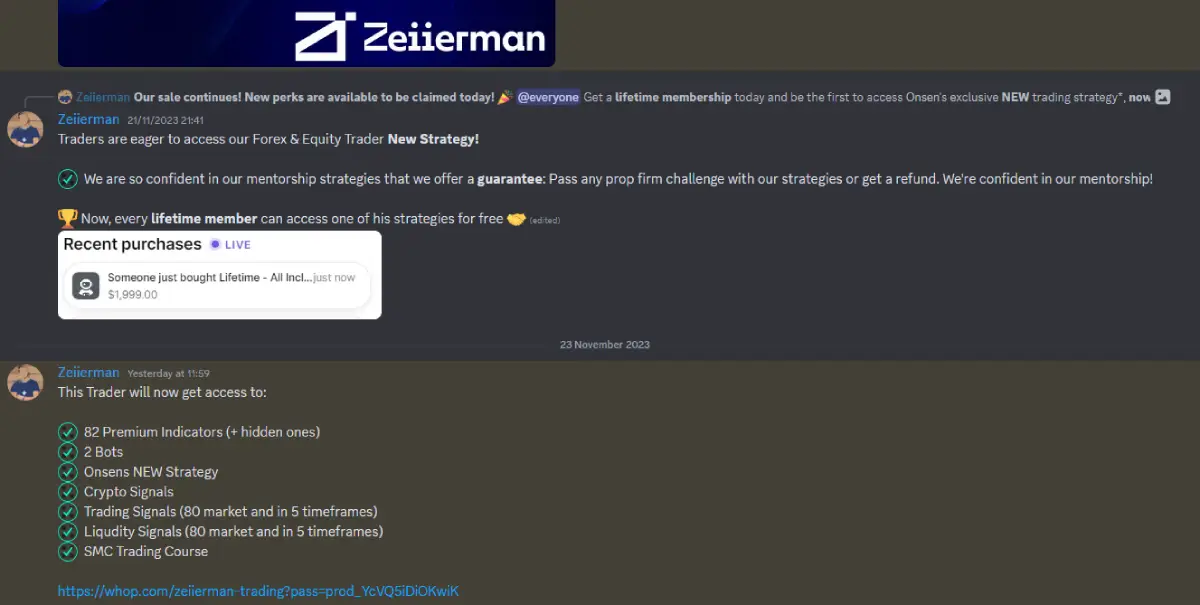 World-Class Trading Tools
Zeiierman Trading is home to some of the best technical analysis tools in the business, and that's not hyperbole—they're rated as one of the top users on TradingView, they've had a lot of indicators gain Editor's Pick status, and their Breakout Probability indicator was the number one trending indicator on the platform for months.
If you're still not sold, just check them out on TradingView. They've released plenty of free scripts, which not only demonstrates a sample of their quality but also backs up their value proposition—if a firm of their standing releases so many free scripts, you can be very sure that the premium scripts are very, very much worth the outlay.
This track record of releasing quality scripts and indicators along with the advanced market analytics they offer make Zeiierman Trading a compelling proposition, and they've got over 80 premium indicators, strategies, and features for you when you unlock that paywall. All of this is in one place, and it's a fantastic mix when paired with the level of coaching, support, and mentorship the team also provides. If you want to unlock your trading A-game, Zeiierman Trading will get you there quicker than anyone else.
What You Get With Zeiierman Trading
Joining Zeiierman Trading is a huge step forward when it comes to leveling up your trading career, and they're considered a market leader in technical analysis for a reason. Let's take a look at what you're signing up for:
TradingView indicators. Zeiierman Trading is unmatched when it comes to TradingView indicators, and the firm is recognized as a top contributor in this field. There are plenty of Zeiierman indicators for free, but you'll get access to all of the premium indicators when you join.
Proven strategies. You're also going to get access to top trading strategies that have been battle-tested in the markets and successfully used by professional traders and industry experts.
Weekly setups. The markets are always in flux, and Zeiierman's watching them right beside you, with setups shared on a weekly basis.
Pro signals. Zeiierman Trading also gives you access to top-quality signals, whether it's liquidity, crypto, forex, indices, or gold.
1 on 1 support. With so many products on offer, Zeiierman also makes sure to offer personalized support irrespective of where you are on your trading journey.
Access to expert traders. You can discuss strategies and trading ideas with experts, and learn from the best in the business!
Active community. Joining Zeiierman Trading also means full access to their VIP Discord server, and the chance to get support, share ideas, and discuss strategy with plenty of like-minded traders.
Picking the Right Package
Feel like getting on board with a top-quality trading firm like Zeiierman Trading and taking advantage of all the premium tools and benefits they offer? Well, you've got plenty of options to choose from when it comes to signing up. You'll get all-inclusive access regardless of what package you go for, but the question is how long to jump in for.
With Zeiierman Trading, going for one of the longer options can be a lot easier on the budget! There's a lot of incentive to pick up either the quarterly or the annual plan given the savings over the monthly plan—the three-month plan isn't even double the monthly option, and annual billing comes in at just around four and a half months' worth.
That annual plan might be quite the steal given the amount of value you're getting, and the consistent delivery of new indicators and strategies means that you won't miss out. In fact, you can even opt to never miss out again with the lifetime membership option priced at $1,699. That's less than four years' worth of subs, so it's a great deal, but we might still recommend that yearly option if you want a great deal and not hit the wallet too hard in one go!
Sign up to Zeiierman Trading today!
Zeiierman Trading is one of the top trading firms operating in the field of technical analysis and is recognized as one of the best providers of tools, systems, and strategies in the world. By joining them, you're getting access to the most useful tools that exist in the market, and giving yourself a very significant edge.
👉 So, if you want to learn more about trading, find out more about your style and profile, and truly unlock the potential trader in you, join Zeiierman Trading! Take a look at what they offer, then sign up using one of their subscription options here on Whop to equip yourself for a lifetime of trading success.