One of the reasons why people enjoy sports so much is the unpredictability. While players and teams have statistical evidence to suggest how plays, individual performances and games are likely to shake down, there's still a major element of surprise that comes with every game.
This combination of known odds and spontaneity could be the reason why so many people enjoy betting on sports and partake in sports gambling leagues. Any sport from the NFL Super Bowl to an average golf tournament can encourage people to bet and see who will win or what events will occur throughout the game.
Some of the most popular examples of sports betting are fantasy football leagues, betting on horses at the racetrack, and even college football. But are there advantages that can push one person to win the big bucks? Yes there are!
You may be thinking that all sports bettors have an equal likelihood of picking the correct scores, events, and wins. However, there are a group of people who go a step beyond to make the best guesses to place their bets on.
These people are referred to as "sports handicappers" and they are increasing in popularity as more and more online apps and services are available to help folks understand the game and help them study the options before them.
What exactly is a sports handicapper, though, and how can you spot or even become one yourself? Read on to find out how to become a professional sports handicapper!
What is a Sports Handicapper?
Handicapping in the world of sports betting has a few different meanings. For example, in a game like golf, a handicapper is the individual responsible for assigning players' handicaps, and then ranking them to allow them to enter competitions that are best suited to their skill level.
However, in the world of sports betting, a handicapper is something else entirely.
In this instance, the term refers to a person who studies and analyzes individual sporting events to find an edge when placing bets on games. Anyone can do it, but it takes time, energy, and practice. Some professional handicappers will spend hours looking over facts, figures, and statistics and weighing their options before confirming on a bet they want to place.
How Does a Sports Handicapper Decide on How to Place Bets?
There are several factors that handicappers will look into when considering a bet. These can include:
Past performance in similar games
The number of back-to-back away games a team has competed in
Injuries (both on and off the field)
The current "form" of individual players.
Some may even have gone the extra mile and developed their own statistical models to help them do this so that only they could understand the information at first glance.
Some handicappers keep their insight and information to themselves, while others may share them with other close friends who bet on the game so they can collect a pool of information and money if they are correct.
Some may build a community within the world of sports betting so that they can all pool their information together and have different people bet on different outcomes so their bases are covered. One popular destination to do this is through Meezy Picks, which is a sports betting Discord server.

That's sports handicappers at a glance, but if you're interested in becoming one–or even just concerned with vetting the skills of a friend who claims to be one–there's a lot more detail to cover.
Different Types of Sports Handicappers
Some handicappers will bet on every sports season as it comes around, making picks for football through the fall and winter, basketball in the spring, and tennis and golf during the summer, with some intermittent sports in-between when possible. These types of handicappers are often referred to as "generalists" as they do not specialize their bets on a specific sport.

However, most handicappers do prefer to specialize, focusing on a singular sport. This allows them to spend more time on researching, analyzing, and making their picks as they are dedicating their focus on the singular sport they intend to bet on.
A generalist sports handicapper has a broader range of options for winning, while a specialized sports handicapper may be better focused. Both groups have their pros and cons so it is up to the individual themself to determine which type of style works best for them.
How Handicappers Determine Their Bets
Some handicappers will place their bets based on models that they've developed themselves, feeding in data that they have collected in order to make predictions. These are not without their limitations and miscalculations, but many have strong track records in making winning picks for those that make accurate choices.
Other sports handicappers prefer to base their predictions on gut reactions and how they feel the day of the event. However, that's not to say they're making random guesses to place their bets. They will still use some basis of research to form these opinions, however they tend to prefer not having a prescribed system to make decisions for them.
Just like the choice between betting on only one sport or many: the types of bets that handicappers place and engage in can also be generalized or specialized in a similar way. Some may prefer to stay with one betting type, such as a moneyline or a spread, while others will vary their bet type depending on the odds, offerings, and insight gained from their hours of research.
The most common betting picks are:
Moneyline Picks
Over/Under Picks
Picks Against the Spread
Parlay Picks
Handicappers will typically go with options that will give them the quickest and most effective result with the least amount of damage to their personal betting funds. They will base their decisions on a variety of factors that will help them determine the when, how and who of their bets.
How to Become a Successful Sports Handicapper: Compiling Data for Good Betting Decisions
There are some pieces of information that will be more beneficial than others in making an informed betting decision. However, these criteria can be different depending on the type of sport and competitors.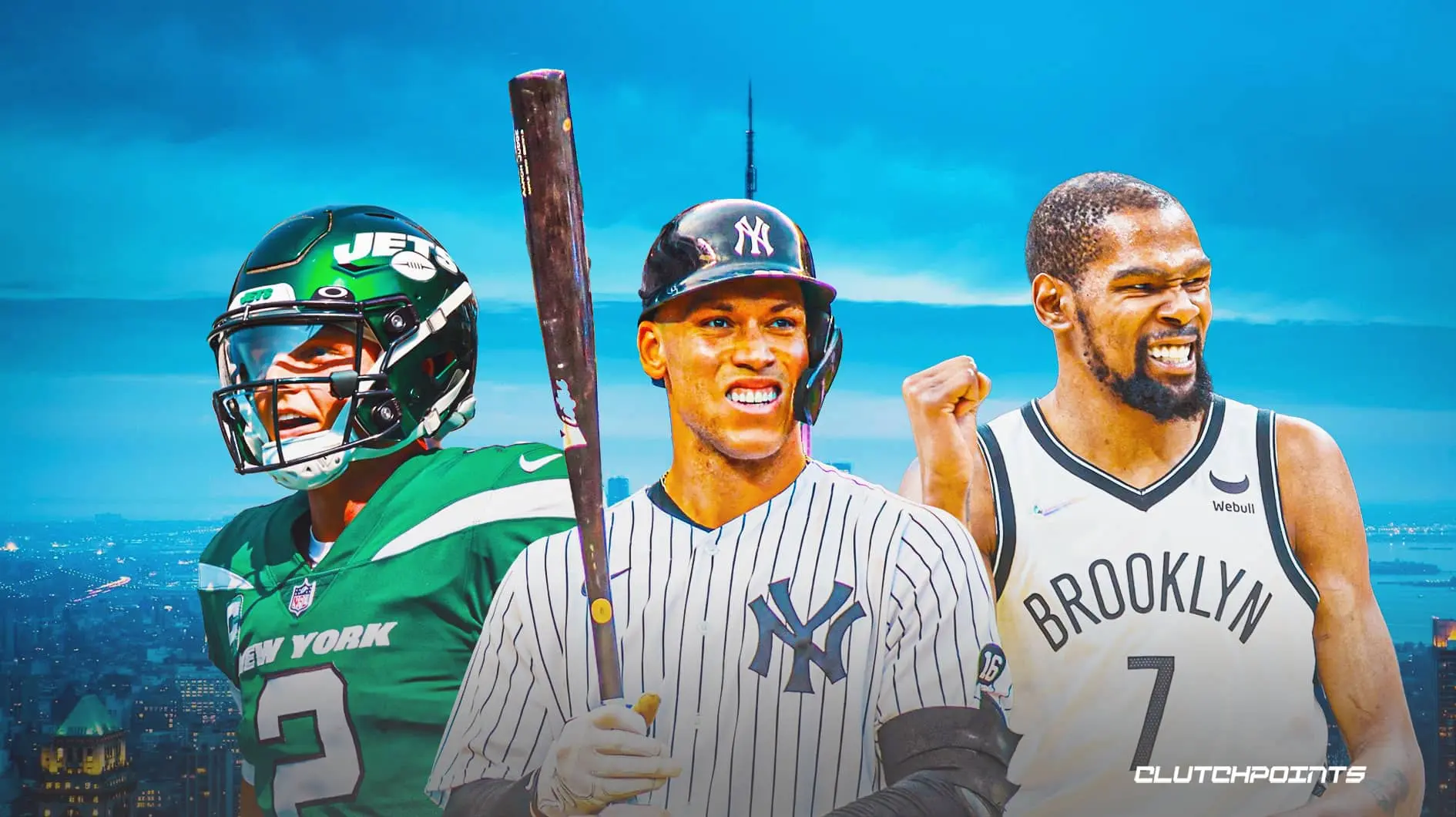 For Team Sports
For team sports these can include:
What are the teams' recent forms?
"Recent form" is a term that means how well each of the two teams or players have performed recently. This includes statistics along with the win-loss record. Injury news is also crucial here.
Do comparisons show any matchup advantages for one player or team?
Is there a significant home team advantage for players playing on their own turf?
This determination comes from looking at how both teams perform at home versus on the road.
Which team is objectively better?
In sizing up the competition, it can help to take an objective look at which team is overall superior to the other on paper, based solely on statistical information such as win ratios. This includes not just the two teams stacked up directly against one another, but also comparing how they have fared against common opponents.
Is it better to be early than lucky?
Typically, the best odds one gets on a straight bet on team sports are the earliest odds. This is important to consider as it can sometimes outweigh the greater accuracy that may come with waiting longer to bet.
For Individual Competitor Sports
For making bets on individuals or sports involving a single competitor, consider:
Have these athletes faced each other before in a competitive setting
If so, how did those events turn out?
How did this athlete fare historically in this particular event?
What weather conditions are predicted for the day of the event and how could that affect the game and how the individuals play?
Are both athletes healthy and free of injuries? Is either one recovering from a recent injury? What are their recent forms?
Does the field or turf suggest an advantage for either athlete?
Overall When Considering Bets
The best place to start is with a baseline level of information and then assign a numerical value to each piece of information.
If you have a model or formula you are working off of, run through that formula and evaluate the betting markets off your conclusion. Other types of bets will require you to tweak your approach, such as football point spreads.
For example, recording wins and losses should also consider the margin by which the scores were spread. This information can help one ascertain the likelihood of a repeat performance if circumstances are similar.
Handicapping is a process of customization along with trial and error, so there is no perfect answer or solution to this system. As you try and fail, you will find what styles work best for you and how your system functions in the style of betting you are focusing on.
Handicapper Networks
When you first set out to become a sports handicapper, it's actually other sports handicappers who can be your strongest resource. We at Whop host several different sports handicapper networks, each of them having their own unique benefits and audiences. Each of them also offers different price points for access into the network.
Sports betting Discord servers allow fans to discuss sports betting, track picks, and share advice with others. These Discord servers are built to allow users to chat and interact with one another through multiple text and voice channels, each of which represents a different topic, team, sport, etc.
The app and software program functions by providing a number of "channels", sorted into groups based on topic, for users to text or voice/video chat or send multimedia messages. These channels can be locked behind role access or, in other ways, creating a space that can be curated to fit a multitude of different needs.
Some may find it hard to find a specific Discord server, but there are some easy ways to access these particular networks. To find your perfect server, you may have to do some digging. These steps can help you connect to a Discord handicapping network: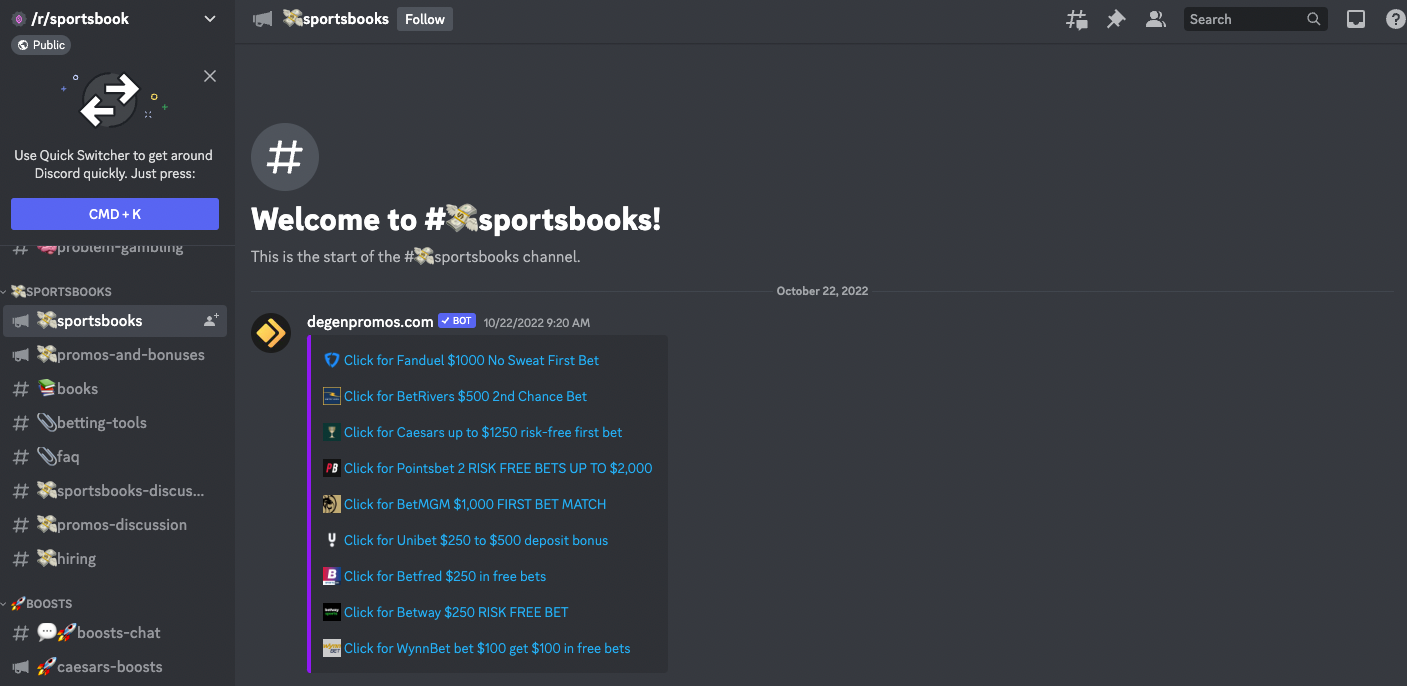 To find and join existing sports betting Discord server, follow these simple steps:
Find a Discord server you would like to join.
Do your research to find a good network. You can view a huge list of servers on databases like Whop Marketplace, Disboard, and more.
Create your Discord account if you do not already have one. Download the mobile Discord app, download the app to your computer, or login view the Discord website on your browser.
On the Desktop version, scroll to the bottom of your server list (on the left sidebar) and click the large Plus button. On the mobile app, click the hamburger button (three lines) at the top left, and then click the Plus button.
Click the Join Server button. Paste in the server invite link, which can either be given directly to you or found on Whop Marketplace, Disboard, or another site.
Click join and you will be added to the network after approval by the owners of the channel.
Aside from the networks hosted on platforms like Discord, there are also other resources that like to gather information for the larger population of handicappers to utilize, such as sportsbooks and podcasts.
These communities also are a great place to sell sports picks as you can provide more information that others would pay good money to get their hands on. Your Unique Betting Knowledge can be profitable with the right strategies. You also do not have to limit yourself to Discord. There are sites such as Flippick, CapperTek, and Cover.bet that are great platforms for  selling your sports picks.
Conclusion
There are so many resources out there that can help you make informed bets and on how to become a professional sports handicapper. It may take a bit of research and work, but it can be done!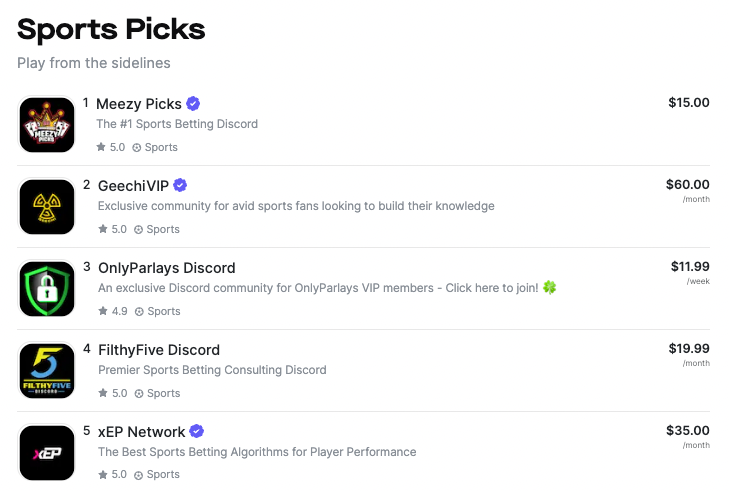 If you are interested in joining a network for handicappers, we have many options available on Whop.com that can get you set up and betting. Besides sports, there are several other options available on our digital marketplace platform including fitness, entertainment, and arts.
👉 Check out our top picks in the Sports Category, and while you are there, check out some of our other offerings to see what peaks your interest!