The field of Software-as-a-Service (SaaS) sales is as unique and specialized as selling smartphones in the early 2000s. Nobody thought they needed them until marketers made them realize they did, and here we are today, with 86% of the world's population owning a smartphone.
Selling SaaS products means getting customers to realize they need your product–that they cannot do what they need to do without it. Finding out how to market these products can feel like looking at a complex cipher. We're here to help you crack that code.
What Makes SaaS Marketing Unique?
Unlike other areas of marketing, like traditional e-commerce or retail, SaaS marketing takes an entirely different approach to sales. The first goal is to build awareness of your product. You need to get your brand and product out there so that customers know you exist.
This sounds similar to other marketing fields, right? Not so fast. Once you've built up that awareness, you need to generate leads.
Then, you need to turn those leads into customers. This is where traditional marketing tactics need to be thrown out so you can take the SaaS approach. With SaaS products, you need to retain customers because your products are sold on a subscription basis. Your marketing goal is not just to garner new users but to keep them on for the long term, which means focusing on marketing that reduces churn.
Develop a Unique Angle
Before you can begin following a strategy and using different marketing tactics, you need to deeply analyze and understand your customers and your competition. This will give you an edge over your competitors because you will be able to directly target the customers most likely to be interested in your product over theirs and to stick with it.
Who Are You Marketing To?
To develop your unique marketing angle, you will need to research and determine who your ideal customers are. Figure out what motivates them to purchase a product, and analyze what features they are most interested in. It is also a good idea to determine what your ideal customer's pain points are so that you can market your product as the solution.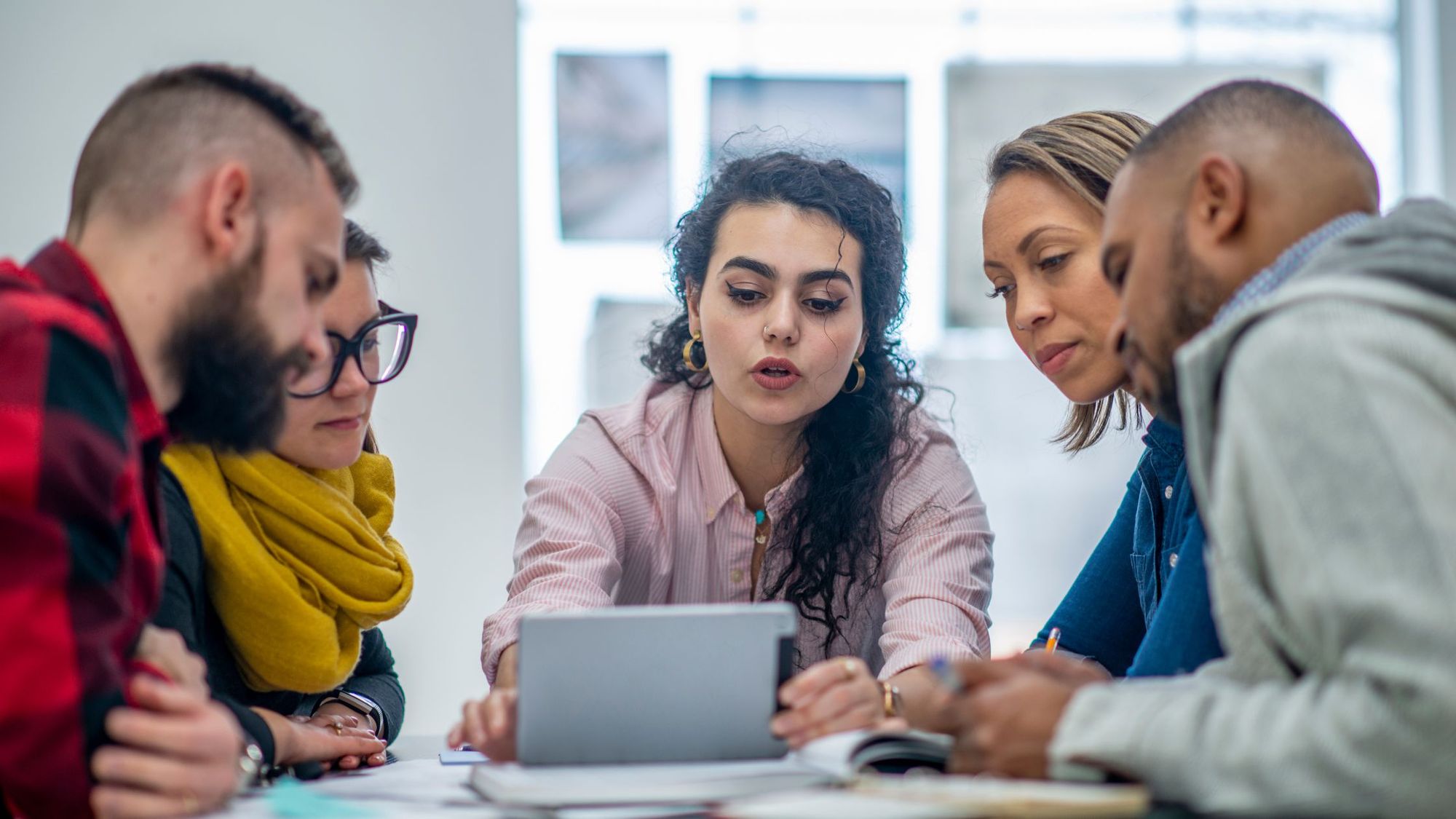 Many SaaS sellers find that creating a buyer persona helps them identify the best way to market their product. Buyer personas are fictional profiles of ideal customers based on research. To create one, you will want to research key demographics and patterns of your current customers and make educated guesses about their motivations and reasons for using your product.
With an idea of who your ideal customers are, you can form your marketing strategy and tactics around that and target the right people to reduce churn.
Who Are Your Competitors?
Your next step is to research your competitors, and there will most likely be quite a few of them. Notice their brand images, what they highlight about their product, and what their customers say about them. Use this information to set your company and product apart.
Build a brand image that is different, but not opposite, from your competitors. Suppose you notice any kind of image similarity between well-respected competitors for a specific type of SaaS product. In that case, you have to assume that customers like that style or image, so don't create an image that is the complete opposite of that. Nevertheless, you want your brand to be unique so customers will choose you over the competition.
Create Your Strategy
These two points of research will be the basis for your marketing strategy. Use the information about your ideal customers and your competitors to guide the specifics and content of your SaaS marketing tactics. Remember: you aim to make customers realize your product is their solution.
6 Key SaaS Marketing Tactics
Alright. Now that you know how to frame your marketing strategy, let's take a look at six of the vital SaaS marketing tactics you need to follow to improve sales and user adoption.
#1 Content Marketing
This might just be the most important tactic you need to know about. Content marketing covers everything from building your brand image to attracting new customers and generating leads to retaining current users.
The first part of content marketing is getting your company and product out in front of an audience. For this purpose, you'll want to develop blog articles on your website, regular social media posts, ebooks, videos, and possibly podcasts. Use these channels to set your company apart from the competition and build an audience base.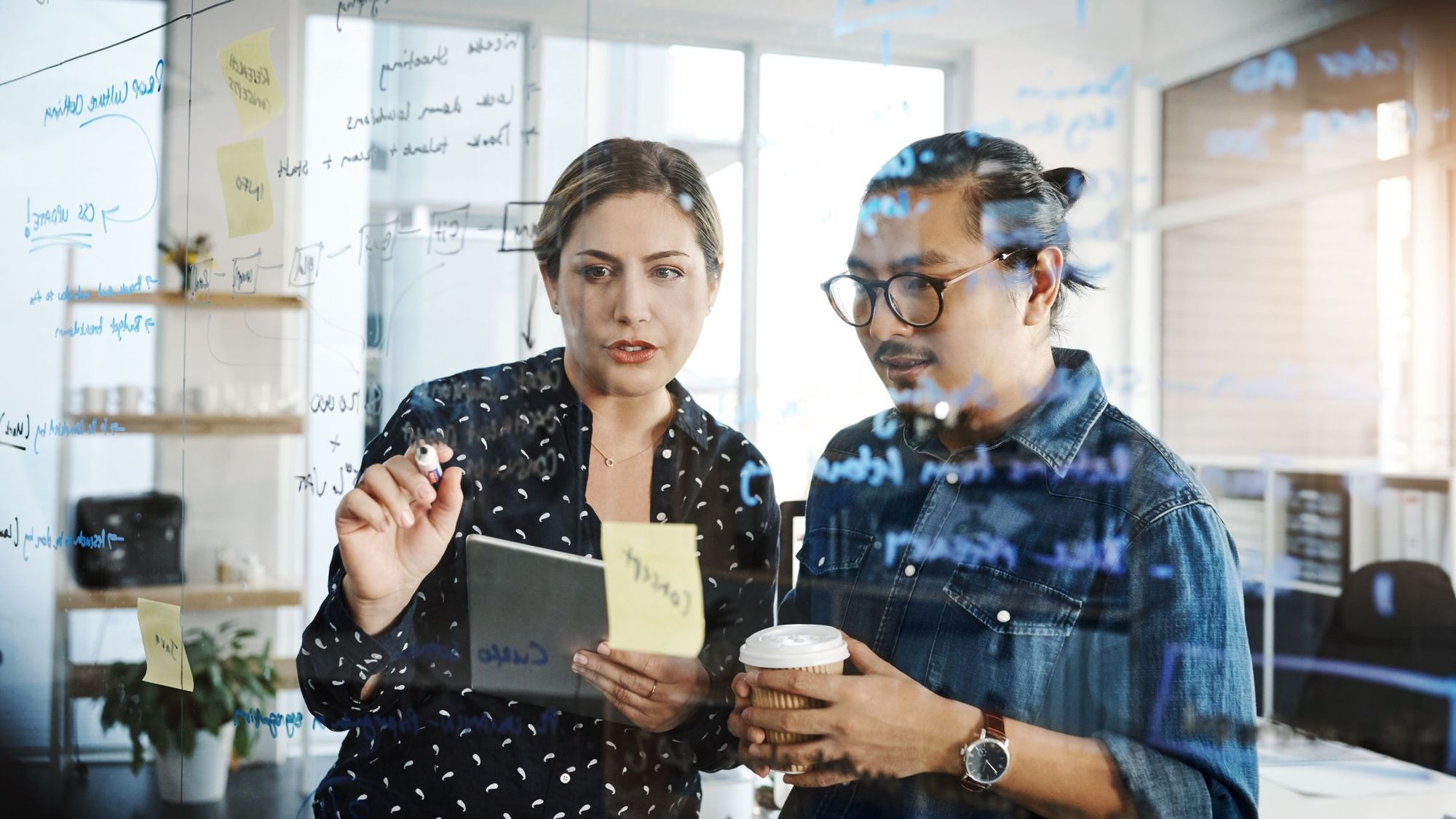 For content marketing on the internet, you will also want to follow SEO best practices. Create your website with SEO in mind so that it will show up when customers perform organic searches. SEO is great for acquiring new customers, but retaining current ones will require focusing on quality content that emphasizes why they should keep using your product.
With that said, blog articles and social media posts should be geared toward new customers and current ones. Content marketing that provides current users with advice on how to use a feature, or contains a case study of a customer like them using your product, is one sure way to keep users from churning and boost adoption.
#2 Free Trials
The second marketing tactic we recommend is to offer free trials of your product. Probably one of the most successful strategies in SaaS marketing is when a company provides a way for customers to try out their product and get a feel for how it works. Free trials generate leads and are a great way to prove to customers that your product can give them real value.
The key to doing this effectively is to not offer something that will negatively affect your revenue in the long run. Don't offer a free trial for a year with access to all features because you won't make any money doing that. Instead, provide a temporary trial that only gives the customer access to some key features. That way, they would need to pay to upgrade or have longer access to your product, but they would still get a chance to figure out your product.
#3 Referrals
Referrals are considered one of the best ways to generate leads. Unlike other tactics, this one requires a consistent, dedicated user base for your product. What you want to do is to offer a referral program with some kind of incentive to get your happiest customers to refer their friends and colleagues to your product.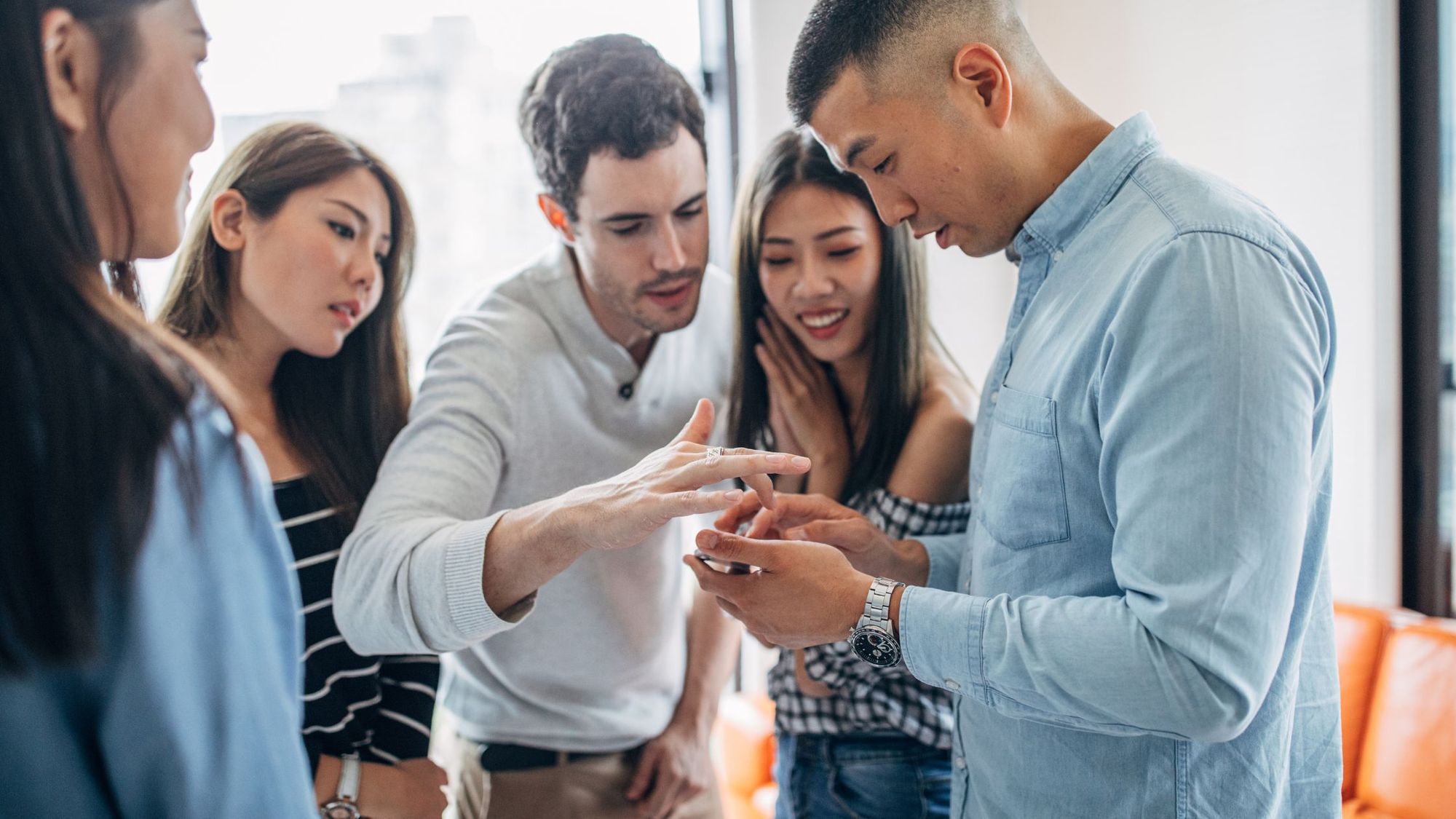 Most people won't refer a product to a colleague unless they find a significant amount of value in it. They also won't generally go out of their way to recommend a product without a good reason to do so. That's where an incentive comes in. Whatever you use as an incentive, whether it's 20% off their next month's subscription price or access to a unique feature, make sure it is cost-effective before launching your referral program.
#4 Reviews & Case Studies
Like content marketing, highlighting reviews and case studies on your company website is another dual-purpose strategy. This fourth tactic is best for attracting new customers but can also help retain existing ones. Not only do reviews and case studies prove your product's worth to potential users, but they can demonstrate how a specific customer used your product. Case studies can show current users how they might make the best use of your product and if there is a different way to use it that will bring them more value than they had initially thought.
#5 Easy Sign-Up
Once you've gathered an audience around your product, you need to turn them into leads by getting them to sign-up. This SaaS marketing tactic is where you convert eyes into buys. Make the sign-up process super easy–the easier you make the sign-up process, the more customers will do so.
Additionally, onboarding should be straightforward and intuitive. You want customers to get to that "aha moment" when using your product as soon as possible and with as little "fluff" as they need to get there.
#6 Brand Image
Finally, you want to build a complete and unique brand image for your company and product. With over 17,000 SaaS companies in the U.S. alone, you have to compete against a vast number of rivals. The key to getting customers to come to your product is to develop your brand image. Be unique in your space without putting customers off. Provide customers with visual and written content that makes them connect with you and your product.
Acquire & Retain
These six SaaS marketing tactics can help you find and acquire new customers and retain existing ones. However, there is one more strategy that gives you the ability to combine all of the best marketing tactics in a single easy-to-use solution.
Harness the Power of the Whop Marketplace
Do you want to start selling your SaaS product instead of spending hundreds of hours creating and implementing all of these marketing strategies? Have you heard of the Whop marketplace? No? Well then, it's time you heard about it.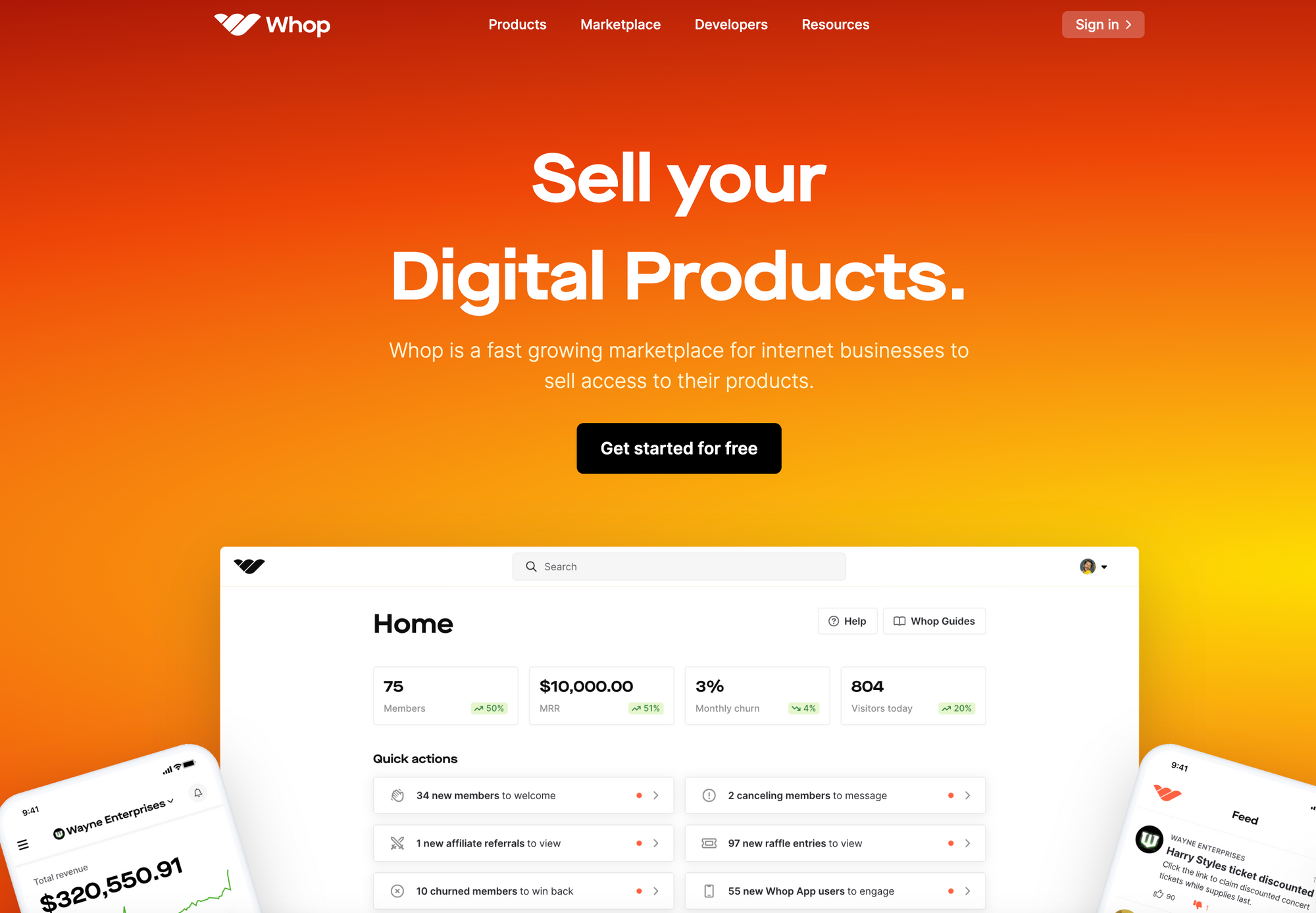 Whop is the one-stop location for SaaS sellers and customers. It is an online marketplace solely dedicated to digital products. Selling on Whop is easy, and you can get started for free. Why would you do this? Because selling on Whop means your product will be instantly in the sight of over 1.4 million eyes. Furthermore, Whop sellers can fulfill all of the SaaS marketing tactics we've covered by doing the following:
Create user guides and a landing page for content marketing + the Whop platform takes care of SEO.
Offer free trials with Whop's simple checkout capabilities
Provide promo codes with Whop for referral programs
Collect written reviews for your product on Whop
Make sign-up easy with Whop's platform
Customize your brand image on Whop with a custom domain, video embed, and a product logo
Don't take on SaaS marketing alone. Start selling on Whop today!