In today's world of subscription-based commerce, memberships continue to thrive, as corporations and entrepreneurs alike find out about the power of recurring revenue. Even not-for-profit organizations lean on donations that follow a subscription or membership-based model, so managing memberships is likely a key area no matter what the nature, location, or scale of your organization.
Membership management has come a long way in recent years, but with such evolution in terms of software options to manage memberships, there are also a large number of alternatives on the market. How do you choose which one is right for you?
Well, this guide is going to help you with that, first outlining the benefits of a robust membership management software, and then outlining our picks for the top 10 on the market today. So, read on to find out more about membership management software and how you can find the best solution for you.
What is Membership Management Software?
Membership management software is software that collects, tracks, and analyzes information about your organization's members. The best membership management software takes care of these functions but also communicates with members, collects donations, processes payments, helps you plan and schedule events, and a whole lot more.
The main role of membership management software in your organization is to bring various key administrative functions and processes together into one cohesive system with maximum possible automation. It needs to give you as comprehensive an overview as possible of your organization's functioning, status, financial position, and analytics, while also freeing you up to focus on your products or pipeline. Essentially, membership management software takes care of the mundane, time-costly tasks for your business.
Different types of organizations may need specific feature sets, or focus on select areas over others. If you're running a physical business like a gym or spa, the demands may be quite different if you're a content creator or running a SaaS company. Some membership management software may therefore be less or more suitable for you—but the truly top-notch platforms ought to be able to do a good job for you irrespective of the business you're running.
Benefits of Using Membership Management Software ✅
If your business relies on a membership structure, a solid membership management software can be an absolute lifesaver. Some membership-based businesses like older golf clubs are still in the dark ages of extensive paper records and filing cabinets, but as 2024 rolls around even a spreadsheet can feel a little outdated since you still have to do so much work yourself. This is how membership management software changes the game:
Automation
Membership management software takes over a lot of tasks that would otherwise require an army of administrative assistants. Not only does it digitize what used to be analog, it performs various actions that can save you time. The best membership management software can collect and crunch data, track membership information, chase and collect dues and fees, process payments, and even communicate with members and prospects on your behalf. It can also take over the scheduling and logistics around various events and activities, lightening your load tremendously.
Member Experience
When you look at various processes from a member's perspective, it becomes very clear that membership management software solves a lot of problems. From allowing members easy access to any sort of information that they want to simplified and extremely easy ways to pay dues, the membership experience is elevated significantly by good software.
At Sign-Up
While membership management software can make the sign-up process quite impersonal, it's actually not too difficult to set up the logic for giving prospective customers incentives like one-time discounts or free trials if they need an extra push in order to sign the dotted line. Once they do choose to begin a free trial or sample membership plan, your software can then automatically contact them about signing up for the full package.
Member Retention
A truly outstanding membership management software can give your membership program a massive boost when it comes to retention. Analytics can help you make sure that your members are on the plan that's right for them, and certain signals can prompt your software to cross-sell or upsell. You can also keep customers informed about any sort of updates, events, or things you have going on, keeping them as fully engaged with your business as possible.
Dunning
Memberships can become a passive income stream for your business, but by the same token, they can also become something of a passive expense for your members. You'll be charging them every month or so, but at some point, you may run into issues when, for example, a member's credit card expires and they forget to provide their new card details. This sort of thing can be tackled by membership management software, which can send your members an alert when their card is expiring and even ping them directly to recover missing dues. This is an extremely important function because these members are likely to stay with your membership program if you (via your membership software) give them that little alert or reminder.
Cancellations
In contrast to dunning, which is passive churn, you will inevitably lose a few members over time to active churn, or a conscious decision on the part of the member to cancel their membership. This is unavoidable, but a good membership software may be able to give you insights about why they're quitting through analytics. You also might be able to score a few members back by offering a cancellation discount or pre-termination incentive to stay.
With all of these advantages in mind, we've scoured the internet for the top 10 membership management software solutions that can help your organization make the most of its membership.
---
Top 10 Membership Management Software Solutions 🏆
#1. Whop

Whop is a fantastic alternative for any membership-based digital business because it takes care of the basics in a simple, efficient manner that's easy for both you and your members. Despite the simplicity and ease of signing up, you're actually getting an extremely powerful suite of membership management tools and utilities while also benefiting from Whop's Merchant of Record services.
Whop has a business dashboard that is perfect for you as a membership-based organization, giving you the ability to deploy membership plans and tiers, offer coupons and other special discounts, upsell and cross-sell, automate customer emails, and so much more. You can even try and get in front of cancellations by configuring a one-time discount, prevent disputes with the Whop Dispute Fighter utility, and stay on top of your business' health with extensive analytics.
Crucially for a modern business, Whop comes with an easy-to-use API based on a JavaScript SDK that's extremely easy to integrate with whatever other digital solutions and software you're already using. Your tech team is definitely going to thank you for choosing Whop!
That being said, your customers are probably going to be pretty happy as well—Whop's customer service team has a 97% satisfaction rate and an average response time of just 3 minutes, so you can be sure they'll be taken care of promptly, 24/7. On top of that, Whop also expands your payment range by taking over 130 currencies and integrating with various payment providers. As a Merchant of Record, Whop even assumes liability for those payments, taking even more off your plate!
💡
As the landing page pictured above says, you can
get started with Whop
in mere minutes. Check it out right now!
Whop at a glance:
Takes payments from national currencies from 135+ countries as well as crypto
Improves customer retention via membership management features
Allows upsells and cross-sells
Enables discounts, promo-codes, trials, upgrades, and more
Serves as your Merchant of Record (MoR)
Easy set-up with JavaScript-based Whop API
Integrates with other services including Stripe
24/7 customer support with a 97% satisfaction rating
#2. Wild Apricot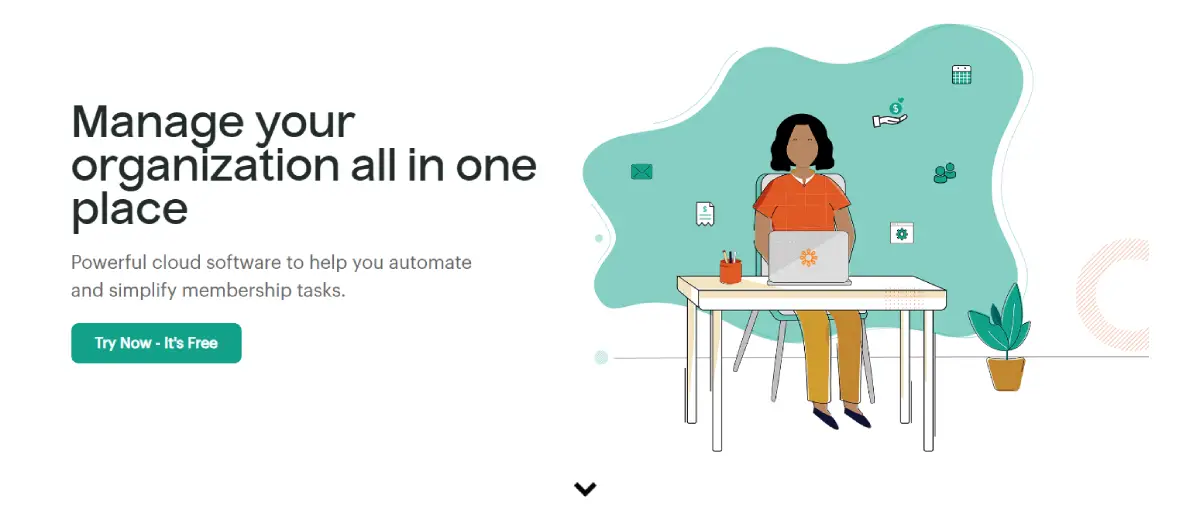 Wild Apricot is a web-based membership management software that specializes in smaller associations, including non-profits, allowing you to manage memberships, events, and other club activities. It also helps you out with template-based website design, giving you a lot of options that are quick and easy to execute.
The focus of Wild Apricot might be on smaller organizations and associations, but that's actually a very good thing—they've got tens of thousands of satisfied clients behind them, and have won numerous category awards. In addition, they're extremely competitive with pricing and you can sign up for a free trial anytime.
Wild Apricot at a glance:
Cloud-based members and contacts
Extensive event management and member functions
Simple, easy-to-use website builder with WordPress integration
Handles payments, donations, and provides financial reports
Offers various pricing options and allows the sale of products and services
#3. Stripe Billing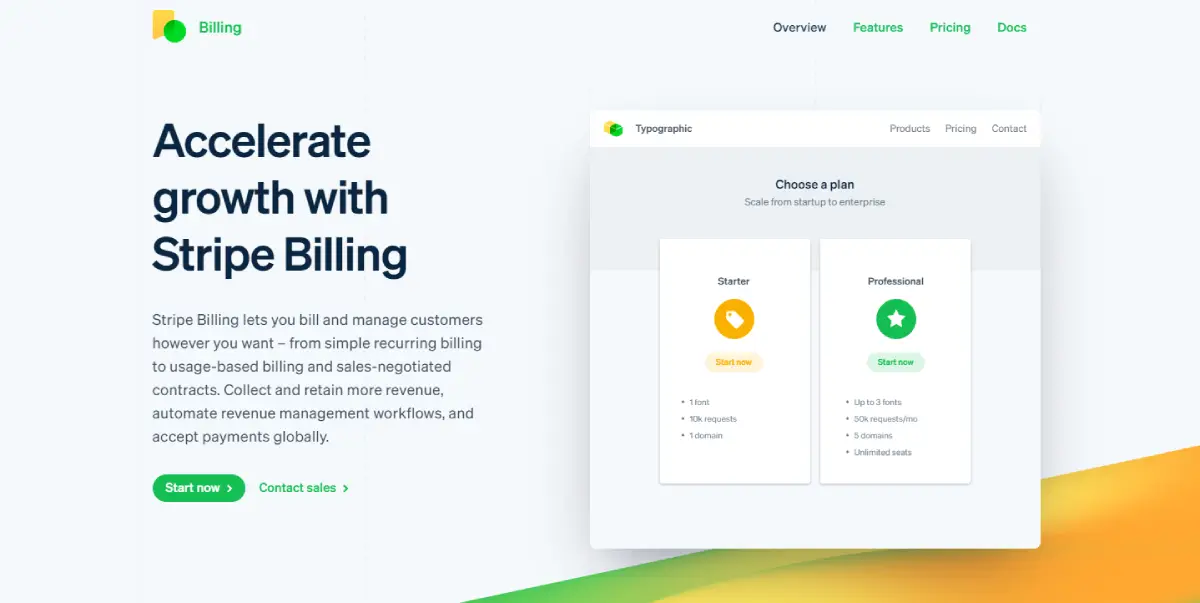 Stripe Billing is the customer management feature provided by the payment provider Stripe. It's an extremely convenient option for you if you already use Stripe for payments, and although several other membership management software on this list offer easy integration with Stripe, there's something to be said for keeping everything under one roof.
This direct link to one of the top payment providers in the business can be a significant advantage for Stripe Billing, and if payments are your main concern, you can't really go wrong here. However, the software isn't a dedicated membership management tool—it's more of a general software that can be used by any business that wants recurring billing.
So, you should put Stripe Billing under the microscope before signing up since there's a chance it may not have the features you especially need. Particularly niche options aren't likely to be found on Stripe Billing, but it's fantastic if you're just after the basics and integrates very easily with most other third-party software solutions you might also be using.
One thing to keep in mind is that Stripe Billing currently charges a percentage fee per transaction. That's something you'll have to keep in mind with your financial modeling, and organizations that hit a certain size or threshold of dues might find flat-fee platforms more attractive.
Stripe Billing at a glance:
Easy set up
Flexible payment options
High security via 2FA, encryption, and fraud detection
Automatic dues, billing, and invoicing
Integration with a variety of other platforms
Detailed analytics and reporting tools
Supports different subscription models
Charges percentage fee per transaction
#4. Vagaro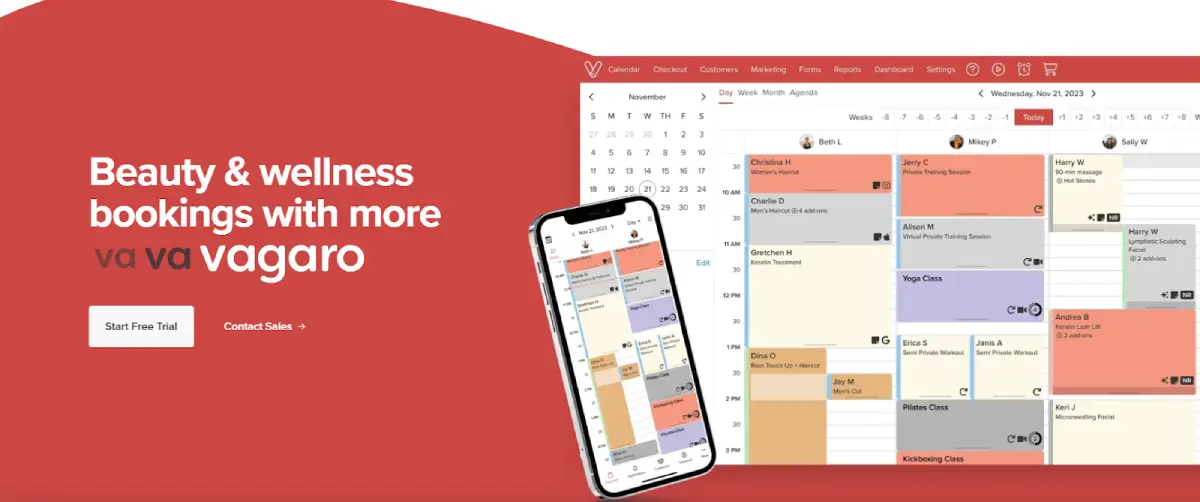 If it's an in-person business that you're running rather than an e-commerce venture or digital membership platform, you shouldn't look too far past Vagaro. It's a brick-and-mortar specialist with a focus on fitness, beauty, and wellness, and although many of its listings are based in California, getting on Vagaro means exposure to over 20 million marketplace visitors.
It's also easy to sign up and get set up with Vagaro, and as an in-person platform, you're looking at access to various convenience features such as online booking, payment processing including integration with contactless payment, customer tracking, notifications of appointments with customers, and a fantastic, always up-to-date scheduler.
Vagaro at a glance:
Brick-and-mortar specialist
Scheduler and online bookings
Robust analytics including customer tracking
Easy to deploy marketing strategies
Access to 20+ million marketplace customers
#5. Zuora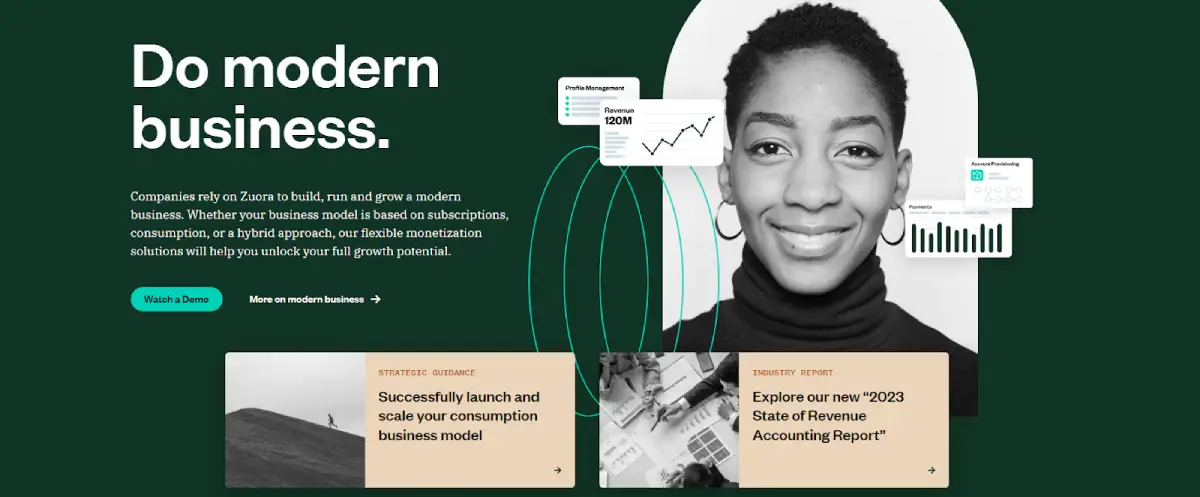 Zuora is one of the premium options when it comes to membership management, so if you're a larger organization ready and willing to deal with one of the best in the business, they might be right for you. If you're just starting out or on the smaller end of the scale, you may not have too much joy with them since pricing is completely on-demand.
That said, Zuora is a powerful and extremely high-quality option if things mesh. They can scale billing to a very large number of customers, and handle payments through over 40 gateways including support for over 180 countries. So, if you're looking to support a huge global member base, you might be in luck.
Zuora isn't a dedicated membership management software, but rather a monetization solution provider. This means that they work with organizations in a variety of industries rather than just memberships, but their software should be able to handle most if not all of your needs.
Zuora at a glance:
Supports various pricing models
Scales billing to very large amounts of customers
40+ payment gateways and support for 180 currencies
Zuora CPQ software for quoting throughout the subscriber lifecycle
Easy integration with an existing application ecosystem
On-demand pricing
#6. YourMembership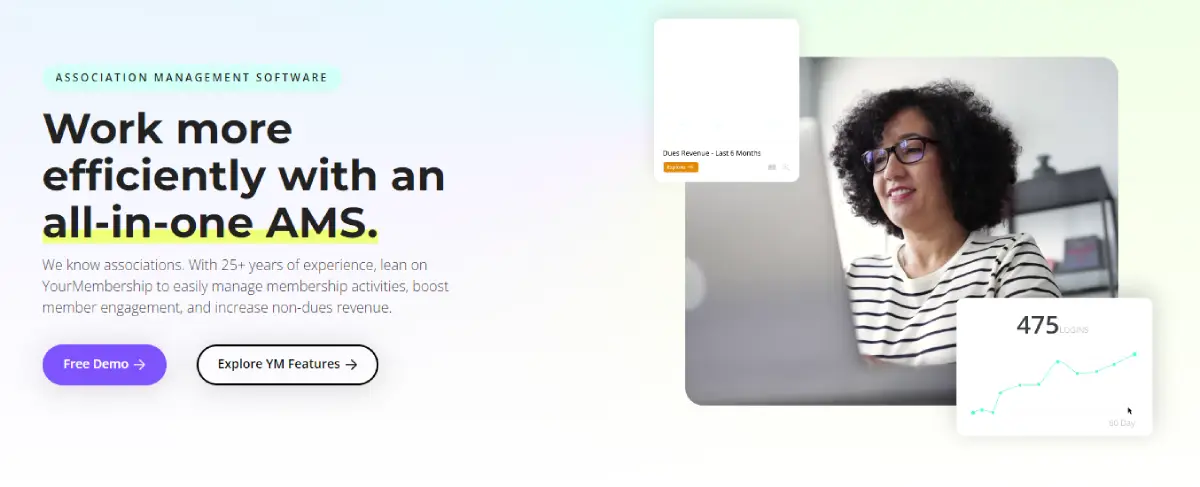 YourMembership is a membership management solutions provider focusing on associations, so they're worth considering if Zuora's a bit too much. YourMembership serves both members and back offices with their feature set, not only letting members administer their accounts to a powerful extent but also communicate with each other and share files.
All of this is made possible on one easy-to-use system, allowing you to stay on top of everything in one place. You can easily create, host, and manage events, deliver content both live and on-demand, and develop your online community and let it flourish. YourMembership also places a significant emphasis on safety, with a dedicated data team and top-notch safety measures to protect your members' data.
YourMembership at a glance:
Supports complex pricing models and membership plans
Emphasis on data security
Streamlined, easy-to-use system for all functions and features
25+ years in the industry, 25 million members
Powerful learning management system and content delivery options
Diversified revenue sources incl. Fundraisers, store, events, etc
#7. Neon One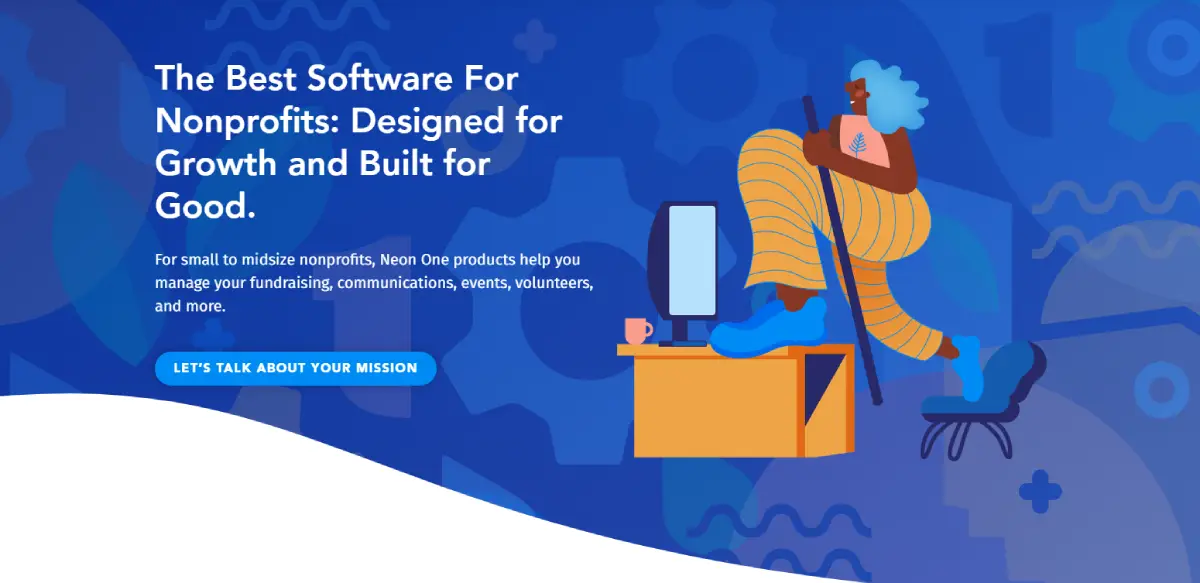 If you're in the nonprofit sector, Neon One's Neon CRM might be one of your best options. Specifically targeting nonprofits, Neon CRM is a customer relationship management software (hence the CRM part) that can help you perfect your fundraisers, engage with donors, take donations online, and provide perfect receipts. A lot of this tends to be manual work, so if you want a time-saver in order to focus on what's truly important, NeonCRM might be it.
Neon One also allows you to monitor campaigns closely and deploy analytics to perfect your strategy. The platform began as Neon CRM but has evolved into several discrete solutions, with Neon CRM being focused on supporter management, including communication and payments, while Neon CCM takes over the analytics. You can also manage your nonprofit by linking up with Neon One as a full-stack partner, adding Neon Websites to the mix.
Neon One at a glance:
Option to use Neon One full-stack
Simplifies handling of payment processing including dues and donations
Centralized and customizable financial reporting
Focused on nonprofits
Manage fundraising, supporters, and events
#8. Mighty Networks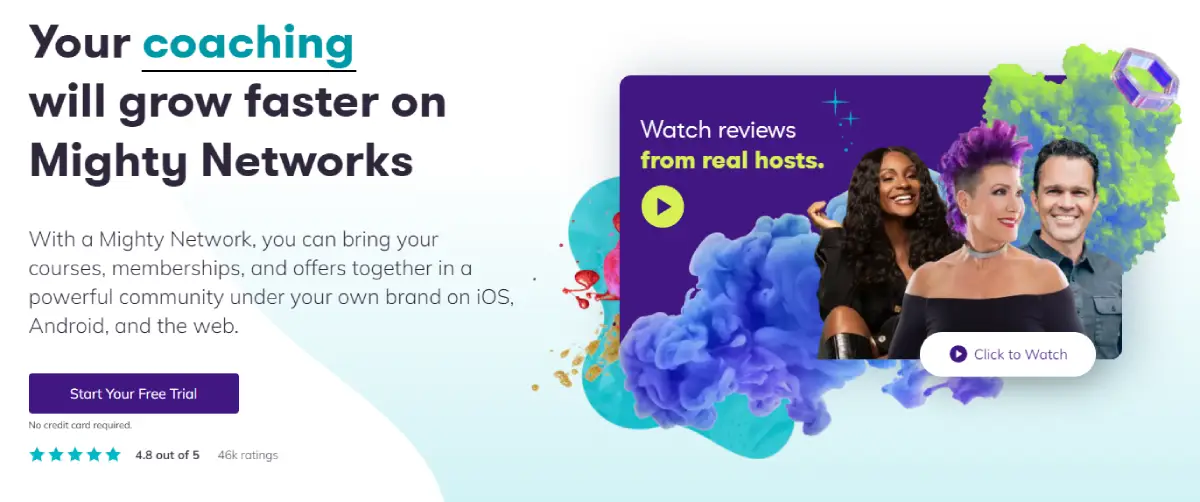 Mighty Networks is a membership platform that'll work for you whether you have a free or paid membership site. Adding a strong suite of membership tools with extras like content and courses, Mighty Networks offers a compelling option to both serve your members a top-notch experience and power your business from the back end.
You've also got access to payments in over 135 countries with Mighty Networks, and it's got all of the tracking features you need with downloadable member data analytics and activity logs. There are plenty of ways to keep your members engaged, too, with the ability to set up exclusive content for members, post videos and other content, and even host discussions.
Mighty Networks at a glance:
Payments from 135+ countries processed
Live streaming, events, exclusive content, on-demand video
Downloadable analytics
Automation of functions like membership applications
Android and iOS app
#9. MemberClicks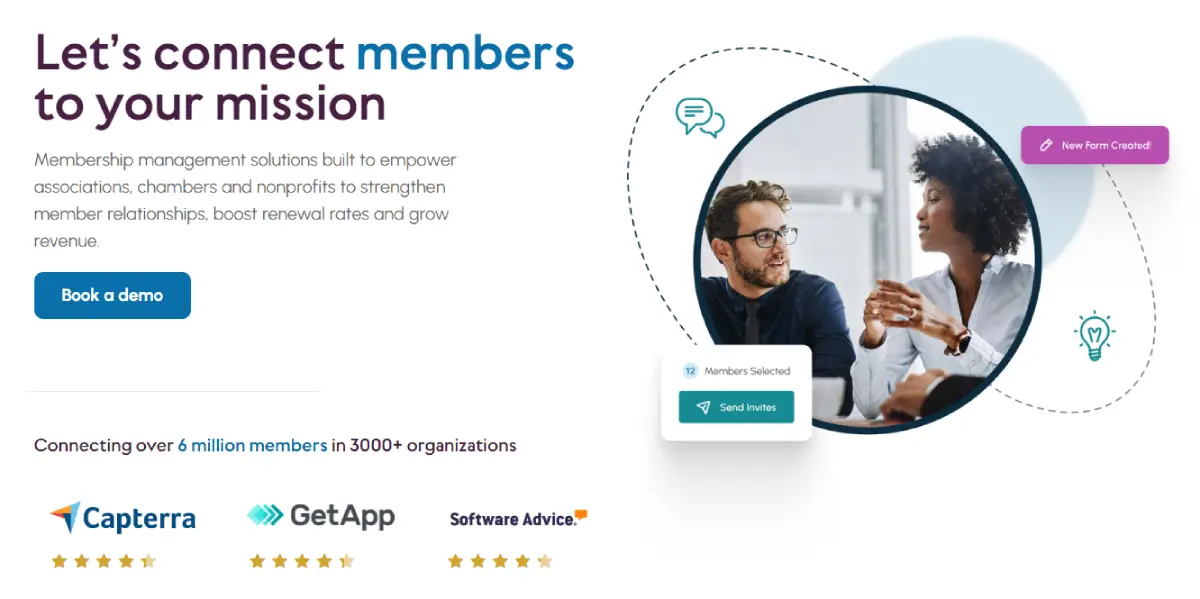 MemberClicks is a membership management software that primarily targets professional and trade associations. Positioning itself as software that takes care of the entire member journey, it allows you to drive acquisition and event revenue while also streamlining your admin and crafting even more engaging member content.
Just like a couple of other entries on this list, it helps to facilitate networking and connections between members, which is extremely important given the profile of membership organizations MemberClicks targets. From dues and renewals to event management, event marketing, payment processing and reporting, and even offering add-ons like job boards, MemberClicks is a fantastic option if you're representing a trade or professional association, or even a Chamber of Commerce.
#10. Recurly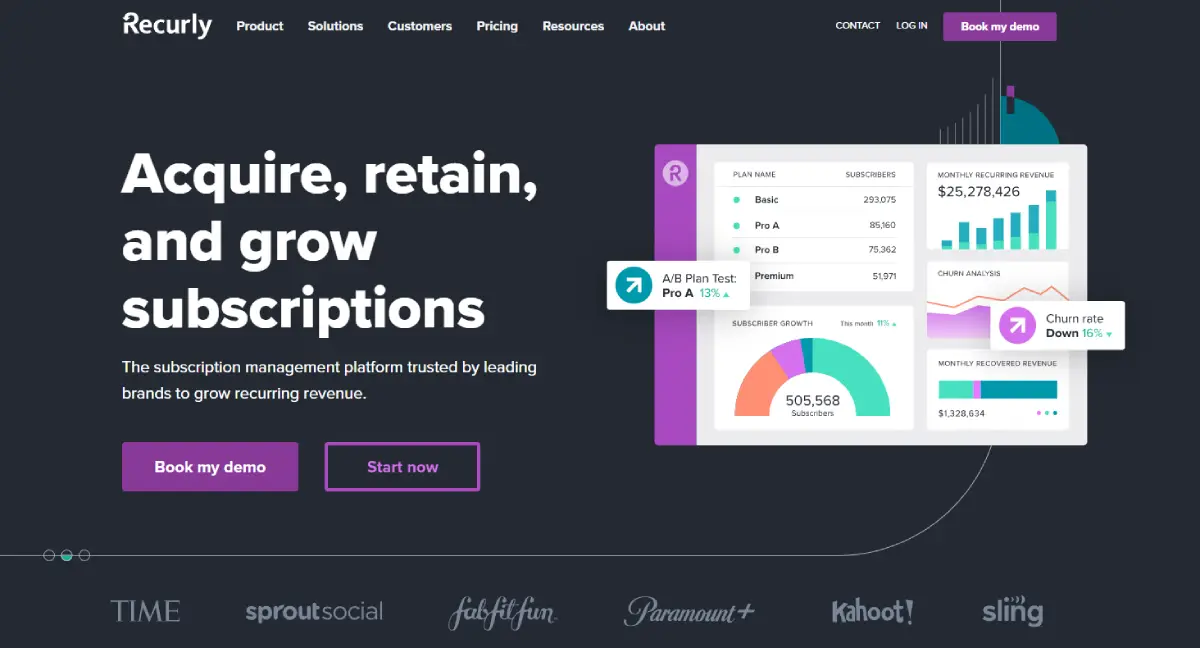 Generally known as a billing platform, Recurly can nonetheless serve as a robust membership management platform if your main objective is to straighten out and simplify your billing and collection of dues. In fact, it might be the platform for you if your membership options are highly stratified, as Recurly specializes in complex billing options and subscription plans.
Recurly is also very customizable, and its API can be configured to suit your needs much more easily than most other software options. It integrates extremely easily with other software too, so if your tech stack is a worry, then Recurly is a good choice.
Recurly at a glance:
Supports complex billing options
Set up any kind of subscription plan
Customizable API
Integrates easily with other software
Different pricing options to choose from
---
How to Select a Membership Management Software 🤔
Membership management software tends to exist in the realm of SaaS, which is a field that has seen meteoric growth in the past few years. The market has been flooded with software that promises a solution for practically every imaginable problem, so how do you choose?
You could just follow our top 10 and work your way down, but even then, the order could change depending on the profile and nature of your organization and membership system. So, here are some steps you could follow in order to select a membership management software:
Step 1: Identify Your Needs
Just like how you would approach any other SaaS or business-related purchase, it's important to define exactly what you need in the context of your own organization and business model.
Your needs may be extremely different, for example, if you're a content creator versus running an online coaching business. In the latter, you may rely on membership as a primary source of income and provide all of your content to paying members, while as a YouTuber or Podcaster memberships are only going to make up part of your income.
The nature of your business or organization will therefore play a big part in your needs, but so might its size and scale. If your membership runs into the hundreds of thousands, you'll need a robust software solution that automates everything that it can, processes payments, and more—at that sort of scale, you can't spare much of your precious time on admin anymore.
Step 2: Translate Needs Into Features
Once you have a solid idea of what your real business needs are, you can convert that into a list of key features you're expecting from your membership management software. Need analytics to keep on top of churn and provide data-based metrics to investors? Prioritize software that gives you a serious analytics suite. Whatever your needs, make sure that the membership management software you choose has dunning management features.
Step 3: Check Integrations
As a modern online entrepreneur, it's likely that you already have a set of software in operation that helps to keep the wheels of your business turning over. Bringing in a new software solution, especially something as significant and important as a membership management software, can be challenging. For this reason, it might be a good idea to prioritize software that can be easily integrated with your existing tech stack.
Step 4: Avoid Common Pitfalls
Data breaches and hacks are a serious problem, and it's an especially vital consideration for you since you have members who are trusting you with their data. This means that you have an obligation to ensure the security of their data not only by employing best practices on your end but also by choosing membership management software with all of the requisite safety and security features in place.
Look for vendors who have a proven track record, and make sure the software has 2FA, fraud detection, password encryption, and the latest security protocols and licenses.
Step 5: Ensure You're Getting the Real Deal
Membership management software is extremely powerful and can take over multiple facets of your business, making life a lot easier for you. However, a lot of people mistake membership management software for recurring billing software or payment processing software and don't get anywhere near the functionality that they should.
Therefore, it's a good idea to make sure the software you're choosing really does offer all of those membership management functions, not just payments and billing.
Step 6: Check for Member Functions
Somewhat tied to the previous point, unless you're looking for a basic subscription management software, it's a good idea to check if the software you're looking at has specific functions related to memberships. This means functions like member portals where members can log in and manage their own membership functions, change their plan, and so on.
---
Let Whop Manage Your Memberships!
Whether memberships are the lifeblood of your organization or it's just a nice little secondary income stream for your business, picking and using the right membership management software can be a true game-changer. It'll help you retain members better while also ensuring that each and every one is on the perfect plan, and even keep your members engaged by taking control of communications and keeping them informed about what's new.
👉 So, if you want to get serious about membership management and reap all the rewards that come with it, check out Whop! Whop has all that you need to take great care of your membership roster, with communication options via top social media networks like Discord and Telegram, business analytics, payment and billing services, and easy integration via a lightweight API. Don't miss out, visit Whop today!