Imagine being able to sell a product that has unlimited inventory and potentially infinite profit margins–this isn't a fantasy, it's what has been made possible through the new economy of digital products.
A growing number of entrepreneurs are choosing to start a digital products business - or even add one to their existing business model - because of how profitable they can be.
Let's dive in with a full guide where you will learn what digital products are, why they make great products, and finally, the best places for you to sell them in 2023 and beyond.
Digital Products Explained📟
Simply put, a digital product is any good that is purchased and delivered entirely online. Examples include, but are not limited to:
eBooks
If you want to forego the hurdles of traditional printing and publishing altogether, you can get your book idea to market straight away with an eBook simply by typing it up and formatting it for delivery, normally in a PDF format.
Private memberships
In recent years, private and paid communities where experts discuss topics and drop insider tips within profitable niches such as trading, sports picks, and reselling have emerged, benefitting both members and owners. These memberships are often hosted on Discord or Telegram and paid on a monthly basis.
Online courses
In addition to selling information in eBook format, entrepreneurs who have topical authority in a niche might choose to create a full online course, typically by video. These videos are hosted on a Learning Management System, or LMS, which makes them easy to sell, purchase, and access.
SaaS and other software
For those who are technically inclined and like to create solutions with programming, SaaS and other software is a great digital product category. One benefit to SaaS is that recurring revenue is a standard model that is an easy sell to customers if your product is good enough.
Consultations
If you prefer personal connection and custom advice, you can sell niche consultations to those who want to learn about your expertise. You can offer them one-on-one or in groups, and they are a good way to test and validate ideas for an online course.
Data and analytics
Another way to use technical chops to create a digital product is to aggregate data and package it in an attractive interface for consumer purchase. You can sell this data within a web app interface or as a private report in something like a paid email list.
Many entrepreneurs find themselves drawn to selling digital products after realizing (either through direct experience or by projection) the difficulties of engaging in a physical products business.
Unlike physical products, you don't need to keep stock of any real inventory, and if you pick a solid platform to sell with, there is no need for any unnecessarily complicated logistics. So, you can reach a worldwide audience instantaneously.
These are just a few of the benefits of selling digital products–let's go on to even more reasons why you should sell them.
Benefits of Selling Digital Products💵
Joining the growing group of entrepreneurs who are digital product business owners can be one of the best business decisions you can make today. By doing so, you will be able to take part in ecommerce, which is now a multi-trillion-dollar industry. The whole of digital commerce is projected to reach nearly $20 Trillion by 2032, and digital products are a growing slice of this pie.
Here are some of the top benefits of selling digital products:
Diversity
One of the biggest attractions for entrepreneurs to the digital product world is the diversity. Just about anyone can find an area in this world in which they can excel.
There's a digital product for anyone: If you're confident on camera and have a strong personal brand, creating a video course is a no-brainer. For those who are more camera-shy but still enjoy teaching, an eBook is a great choice. Anyone who is into solving consumer problems through the magic of software would be keen to make a SaaS company, which can take on various forms across just about any online industry.
Simply put, if you have a certain level of professional knowledge, you can productize a helpful offering into a digital product. While learning how to make one is a skill on its own, the payoff is often worth it.
Income potential
Certainly, the money is an obvious draw when it comes to digital products.
When naming the largest corporations that were birthed in the shortest amount of time, you will inevitably mention companies that are monetized primarily through software, which is perhaps the most mainstream category of digital products.
Even though you likely won't compete directly with Silicon Valley unicorns, these companies have normalized the widespread consumption of digital products, namely software subscriptions and advertisements.
Many solopreneurs or founders with small teams have created six or even seven-figure digital product businesses in as little as one year. Whether the product is an online course, membership, or software doesn't quite matter as all of these have the potential to reach impressive levels in a reasonably short amount of time. Once you hit a product-market fit within a niche that you are a relative expert in, the money can come in faster with better profit margins than traditional businesses.
Sky high profit margins
There is essentially no cost to produce a digital product apart from your time invested and whatever tools–many of which are free–you use to make them.
Once you have made one digital product, it makes little to no logistical difference for you to fulfill an order for 1 or 1000, so you can discover scale fairly quickly and along with it, profit margins that will make anyone with a physical products business incredibly envious.
Because of these profit margins, you can sell either low-ticket or high-ticket products–sellers have had success with $5 eBooks as well as $5000 video courses. The more expensive your product is, the more you will have to invest in resources to sell it, which will likely include advertisements in addition to salespeople to help close customers who are on the fence about buying.
Passive Income
Additionally, gaining a stream of passive income is perhaps most realistically possible with a solid digital product offering– you ca read our free guide on this topic here.
One of the most sure ways to secure passive income is through a subscription model, which can be incorporated into your SaaS or offered as a private membership. The recurring revenue that a subscription model offers will allow you to build out a team and sit back and collect income on a regular basis without trading much time for money.
👉 For those that already have a digital product, sign up with Whop today and join one of the fastest-growing marketplaces for every kind of digital product you can dream up–you can start the process right here.

Where Can I Sell Digital Products in 2023?👩‍💻
Once you have your digital product ready for the masses, you will have to pick a platform to sell on.
Let's go over the different marketplaces where you can sell digital products in 2023, which types you can sell on each platform and each of their pros and cons.
Whop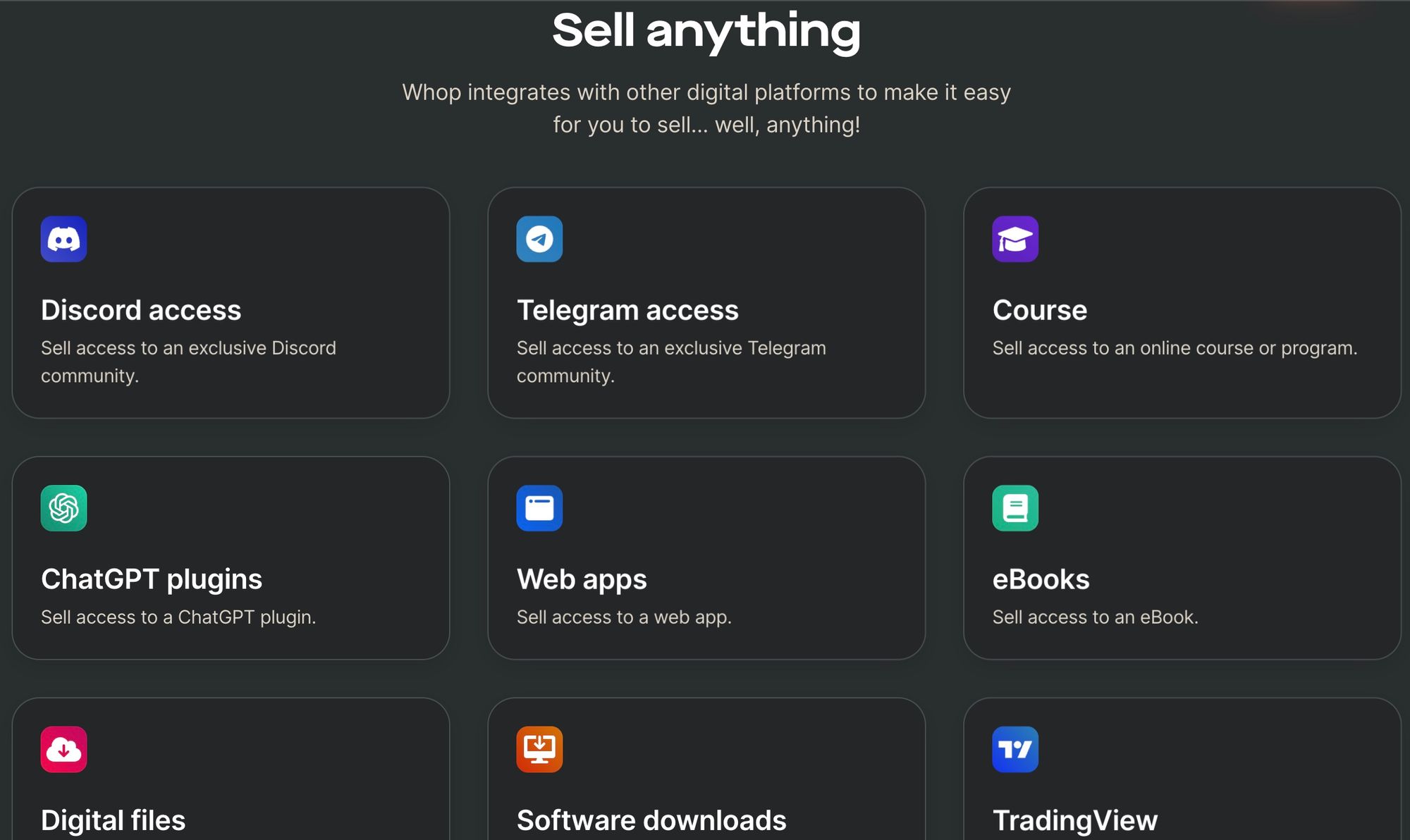 Pros:
No monthly payment to sell, with an industry-leading 3% fee
Extensive selection of products
Ability to integrate API with existing business
Powerful and incredibly user-friendly dashboard
Intuitive online course hosting and navigation
Payment gateway which includes crypto payment support
Native ability to authenticate and manage payments for license key granting or private group access
Unparalleled customer support which includes 24/7 live chat and free video calls
Cons:
Home to high-quality products, so branding needs to be top-notch
Audience can be discerning, with a preference for quality offerings
Highly visible and talented competition which might be hard to sell against as a new seller
Founded in 2021 by sneakerheads and resellers Cameron Zoub, Steven Schwartz, and Jack Sharkey, Whop is the leading and fastest-growing marketplace for all digital products.
Each of the founders has direct experience selling their own digital products to whopping levels at young ages–in their early teens, Zoub and Schwartz created the sneaker bot SoleStrike which reached $2 million in annual revenue at its peak shortly after its formation.
Frustrated by a lack of a trustworthy, go-to marketplace for digital product sellers, especially in the reselling game where scams ran rampant, Zoub and Schwartz recruited multi-talented developer Sharkey who helped build out what is Whop, "a comprehensive online platform aimed at connecting sellers and buyers within the digital economy," Schwartz told TechCrunch in an email interview. "Its mission is to centralize all products on the internet, offering a one-stop solution for anyone looking to participate in the digital economy."
Today, Whop has expanded beyond the paid communities and now supports the sale of more digital products than any other platform. Product categories range from ChatGPT plugins and online courses in all formats to various types of SaaS and other software. With a thoroughly documented and powerful API, Whop can also be easily integrated with an existing website's backend for whoever wants to take advantage of the intuitive seller dashboard and native payment gateway.
To top it off, customer support is unmatched, with live chat 24/7 with knowledgeable agents and the ability to schedule a video call with support specialists who can help with any questions for existing or potential sellers.
Fees are set at a flat 3% per sale, with further discount incentives for high-volume sellers who process more than $100,000 per month. Other perks include affiliates, auto dispute fighting, and free graphic design.
Sellfy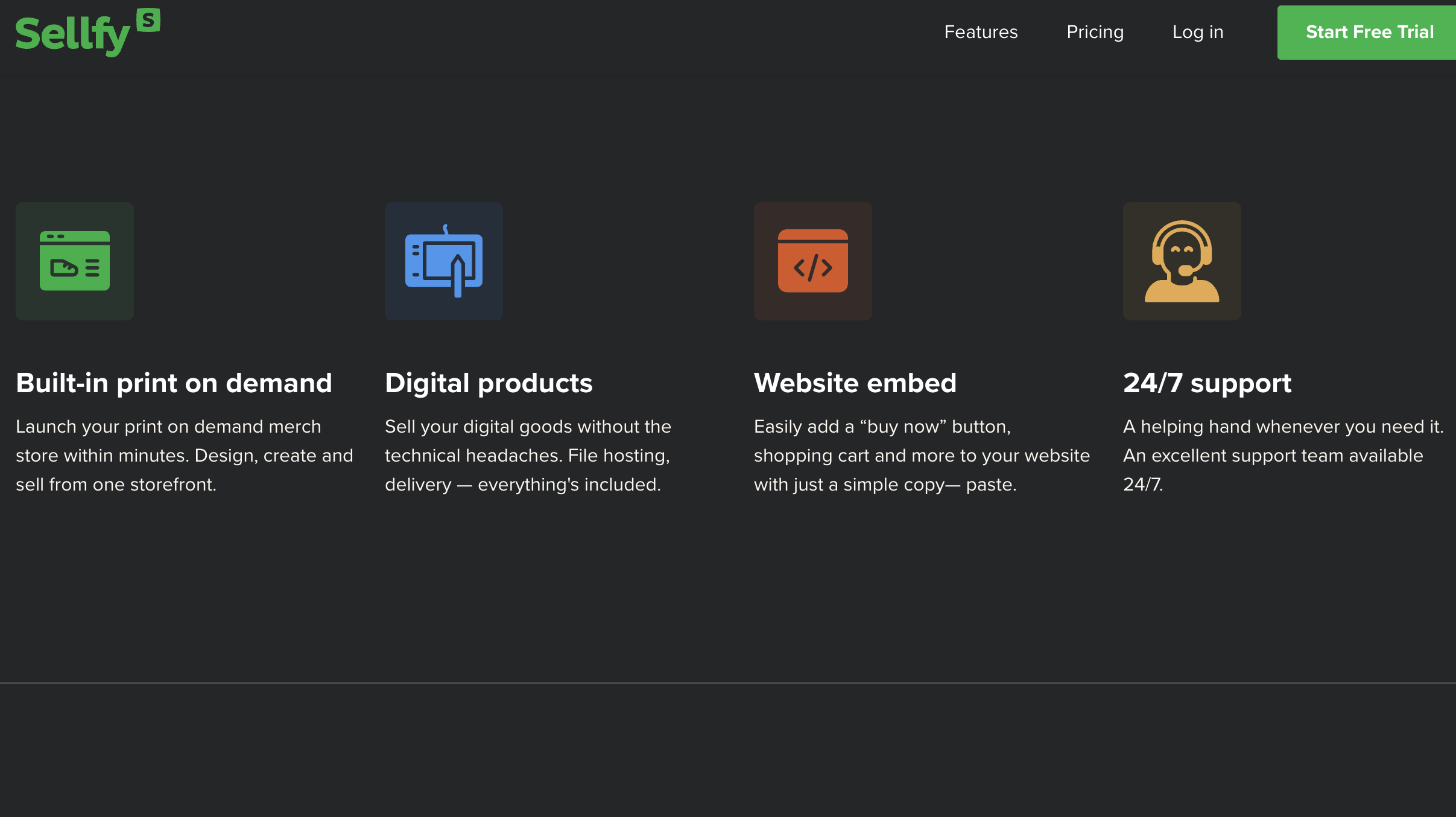 Pros:
Fast and simple store setup
Ability to integrate with existing website, most easily with Wix
14-day trial option
Email marketing and upselling features for premium plans
No transaction fee apart from payment processor
Cons:
No free plan
Flat monthly payment
Payment gateways limited to Stripe and PayPal
Limited sales ceiling–highest tier plan caps at $200K in sales revenue per year.
Sellfy is an ecommerce service made for both physical and digital products. Its product support includes subscriptions and print-on-demand merchandise. Sellers can choose to build a store on Sellfy or integrate its service into an existing website. It has a fixed subscription model, where users pay a monthly fee to be a seller, ranging anywhere from $29 to $159 per month.
Pricing is based on revenue, and higher-tiered subscriptions include perks like email marketing and upselling. Although the pricing is straightforward with no transaction fees apart from the standard payment processing fees, the sales volume is quite limited, making it a poor option for those who have high hopes for their store.
One unique feature of Sellfy is its pay-what-you-what pricing option, which can be an interesting way to test pricing or to use as a business model.
Shopify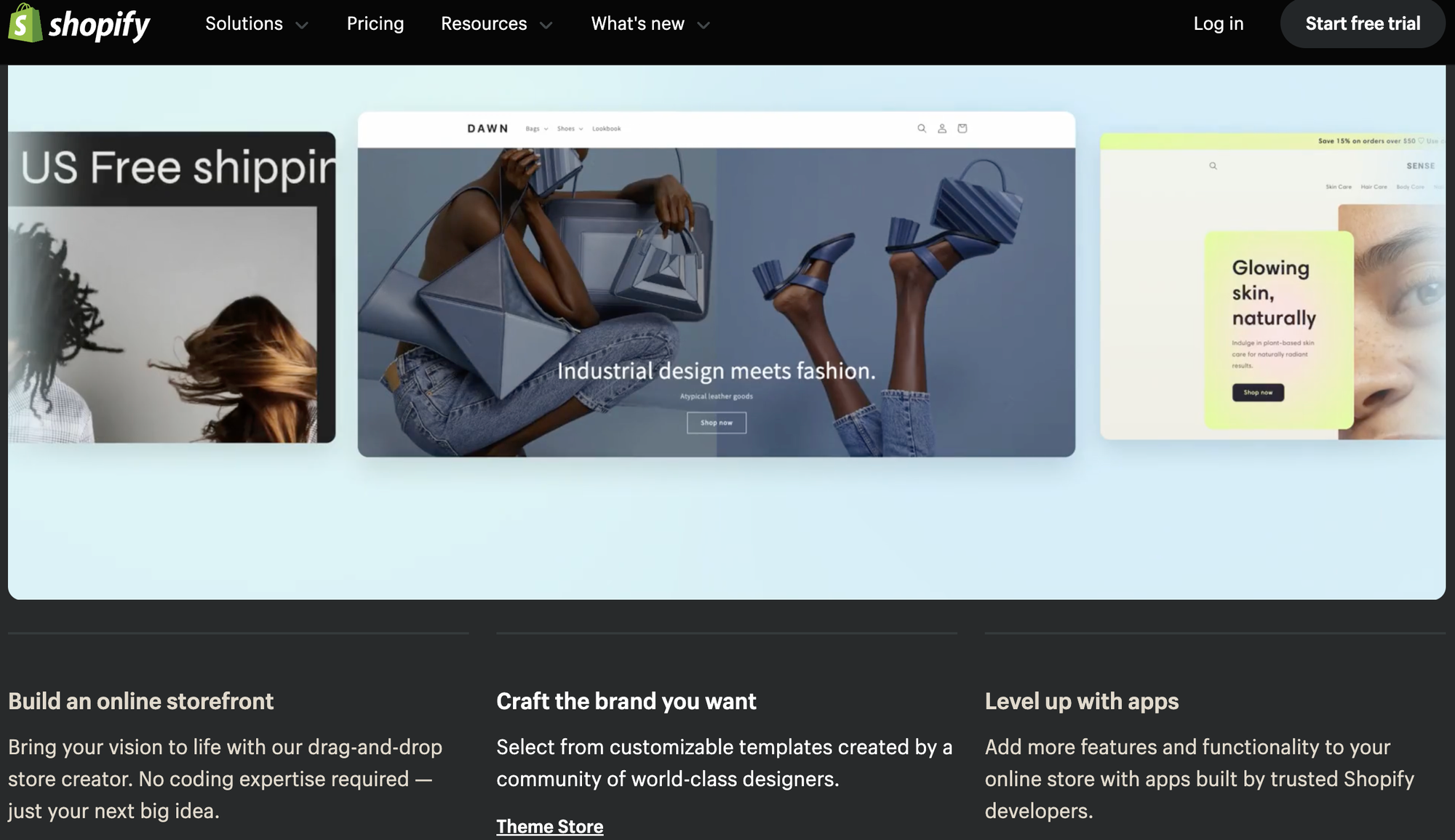 Pros:
Trustworthy platform with a good reputation
Good customer support
Decent free themes
Cons:
More known for (and supportive of) physical product selling
Storefronts and themes can get complicated and expensive
Development costs can be expensive and specialized as Shopify has its own coding language (Liquid)
Shopify was founded in 2006, making it one of the oldest online ecommerce solutions for independent entrepreneurs. It originally started as a platform for selling physical products, and it is still mostly known as that because it only recently started to support the sale of digital products.
Its plans range from $25 to $399 per month. The free trial is quite short at just 3 days, and there is no option to run a store on a free plan.
A broad marketplace of themes both free and paid exists for the platform, and users can customize their storefronts quite a bit. However, customization requires the knowledge of a coding language that is unique to Shopify, called Liquid, which is based on Ruby. Because of this, store owners might need to hire specialized developers if they want to make customizations to their stores.
Gumroad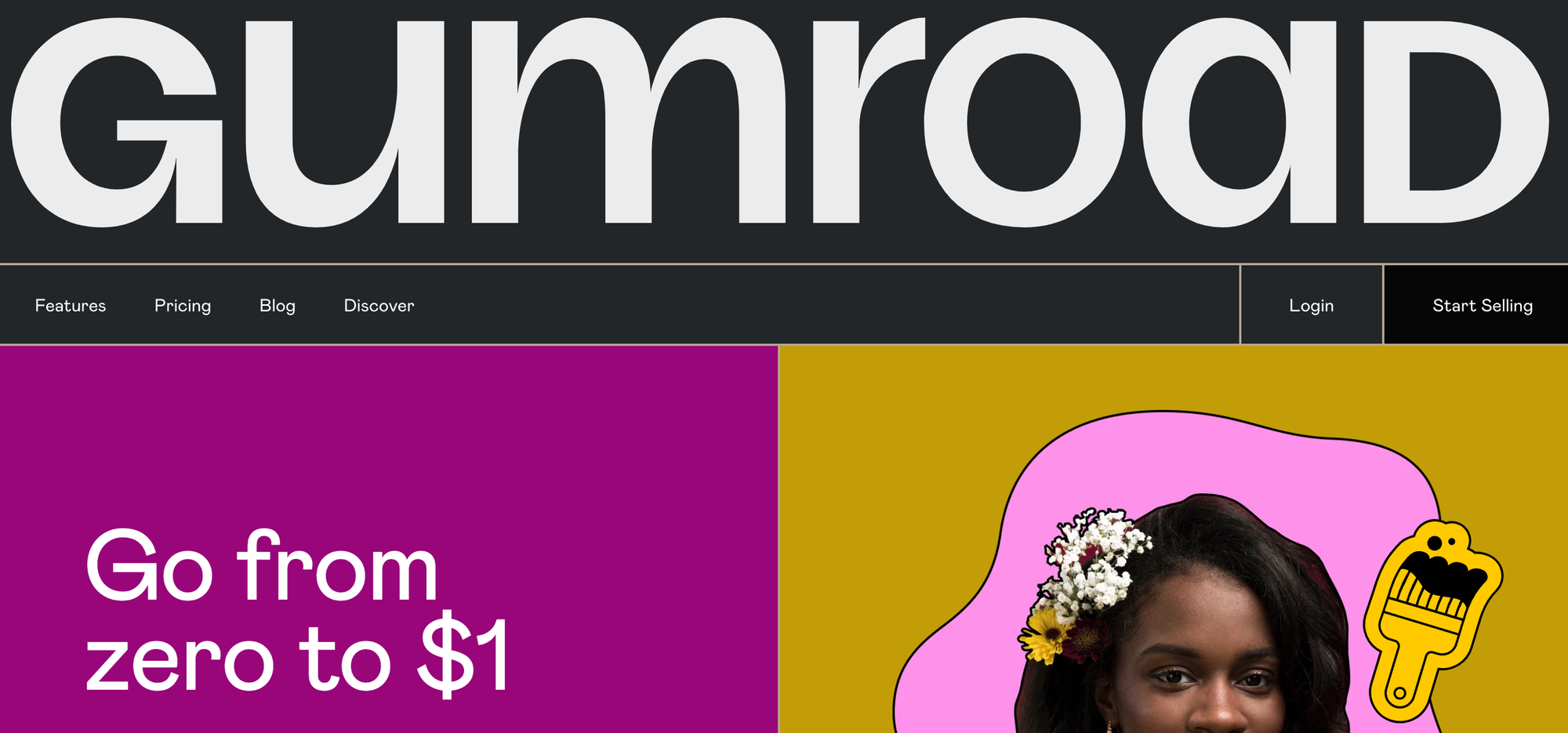 Pros:
Free to sign up with no monthly fee
Sell anything from physical products to digital products, including eBooks, blog posts, and audio
Focus on simplicity
Good platform to start small and test ideas
Zapier integration
Straightforward pricing
Cons:
Cheaper audience, not known for higher ticket products
Limited to hosting products on the platform
Harder to sell multiple products in a coherent format
Gumroad's primary focus is simplicity and a fun attitude, which is apparent in its playful branding and marketing messages. The platform also encourages users to start small by selling something like a blog post instead of an eBook.
Users have the ability to sell physical products, but the marketplace is most known for digital products, which have a diverse range including audio, video, and products in all kinds of text formats. While users can sell multiple products, the store design isn't friendly towards a storefront with a variety of products and is best for someone who is only selling one or a few products that are closely related.
The fee is incredibly straightforward to understand: There is a 10% transaction fee associated with every sale. It's free to sign up, and there are no monthly charges. While it's possible to customize your Gumroad store and to make integrations with your existing sites using Zapier, customization is quite limited compared to other platforms, and the design doesn't fit the tone for more serious or high-ticket brands.
Thinkific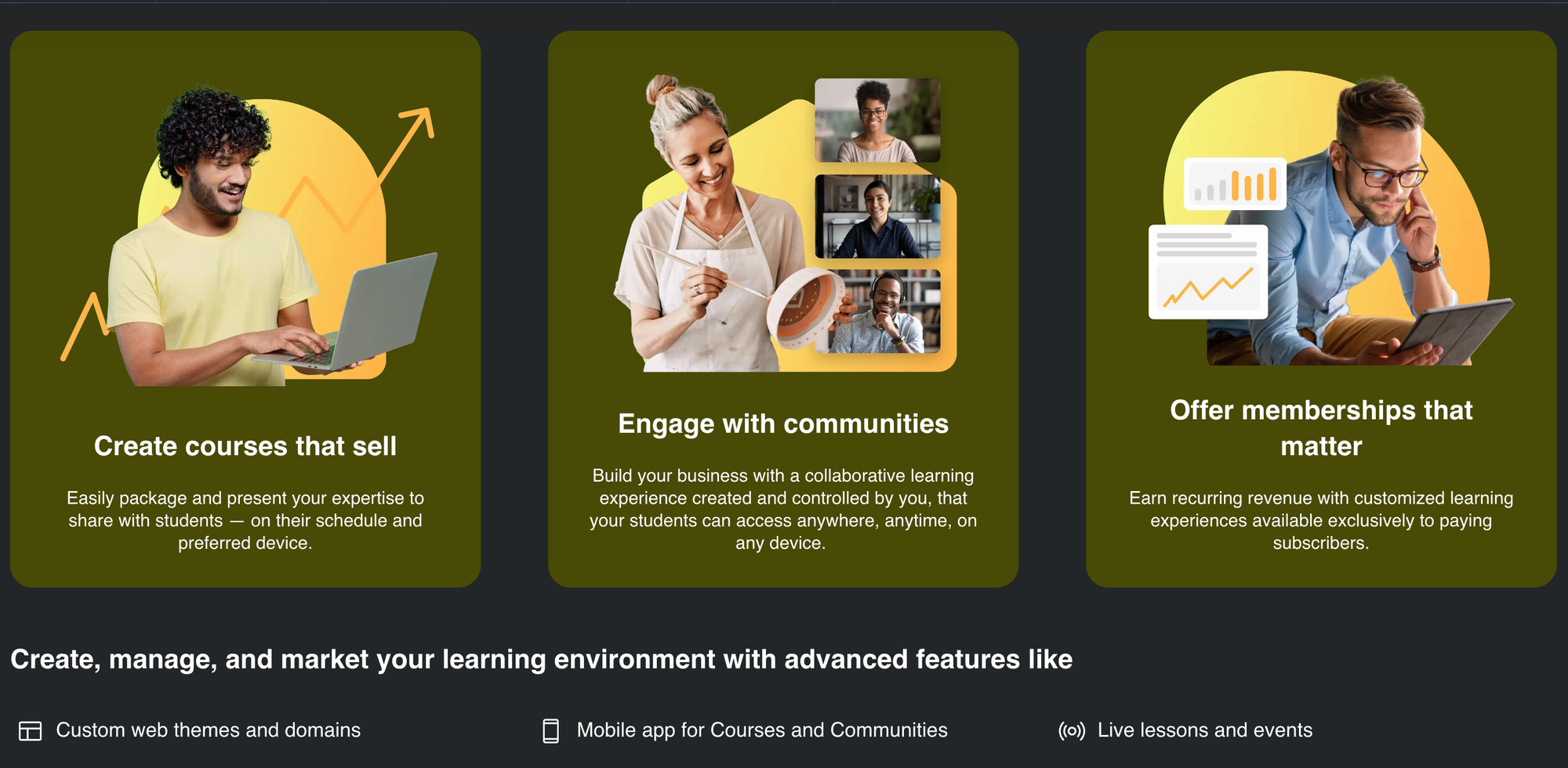 Pros:
Strong focus on online courses
Ability to create a branded mobile app
Highly professional branding
No commission on courses sold and a truly free plan is available
Cons:
Limited mostly to those who have extensive video courses
Inability to sell private communities, software, or other tools
Minimal customization
Integrations are limited to its app store
With solid and professional branding right out of the box, it doesn't take much to design a good-looking course with Thinkific. A few other standouts for the platform include its truly free plan, which has $0 in monthly fees and 0% transaction fees on courses.
The seller dashboard has a nice look and has simple and easy-to-understand reports. Once your content is ready, making a course is easy to do with a step-by-step process that makes it simple.
Although the design is good out of the box, for those who need a look more custom to their brand, Thinkific is limited to just a few templates.
Integrations are possible within its app store, and although this is quite useful in some cases, it can be time-consuming and require upkeep.
Amazon (Kindle)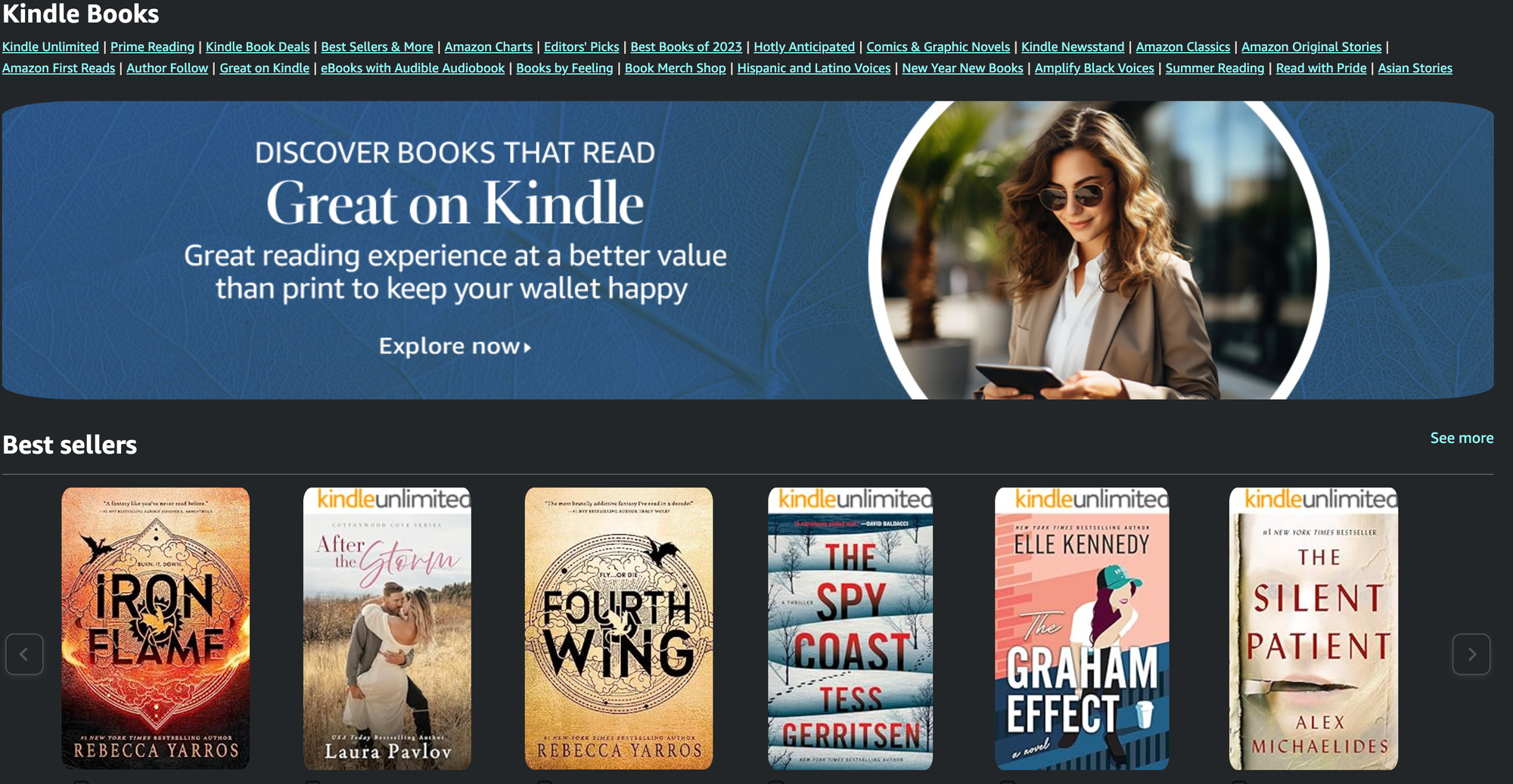 Pros:
Largest online marketplace for eBooks allows you to reach a potentially huge worldwide audience
Relatively easy to upload correctly formatted books
High buyer trust
Cons:
Pricing ceilings
High fees
Inability to sell video courses or any other digital products
Amazon, which dominates the market for physical product ecommerce, started as a bookstore. It's keeping its roots alive with a modern adaptation for digital products with the Kindle eBook store, which boasts hundreds of millions of readers, many of whom use Amazon's Kindle device religiously to read eBooks.
If you sell on Amazon, you'll be part of the largest online marketplace, but because of this, expect serious competition and potential crickets when you launch your book if you don't have much organic promotion ready to push your product.
While it's a massive marketplace, Amazon limits digital products to eBooks in Kindle format, which has its own limitations, most notably the inability to price over a certain dollar amount and fees that can be quite high. The baseline royalty for your eBooks sold via Kindle is 70%, which is already a 30% fee to Bezos & co., but this can increase to even more as you need to pay an additional sales commission. On top of that, you will have to calculate the taxes you owe based on the region you are selling in.
Etsy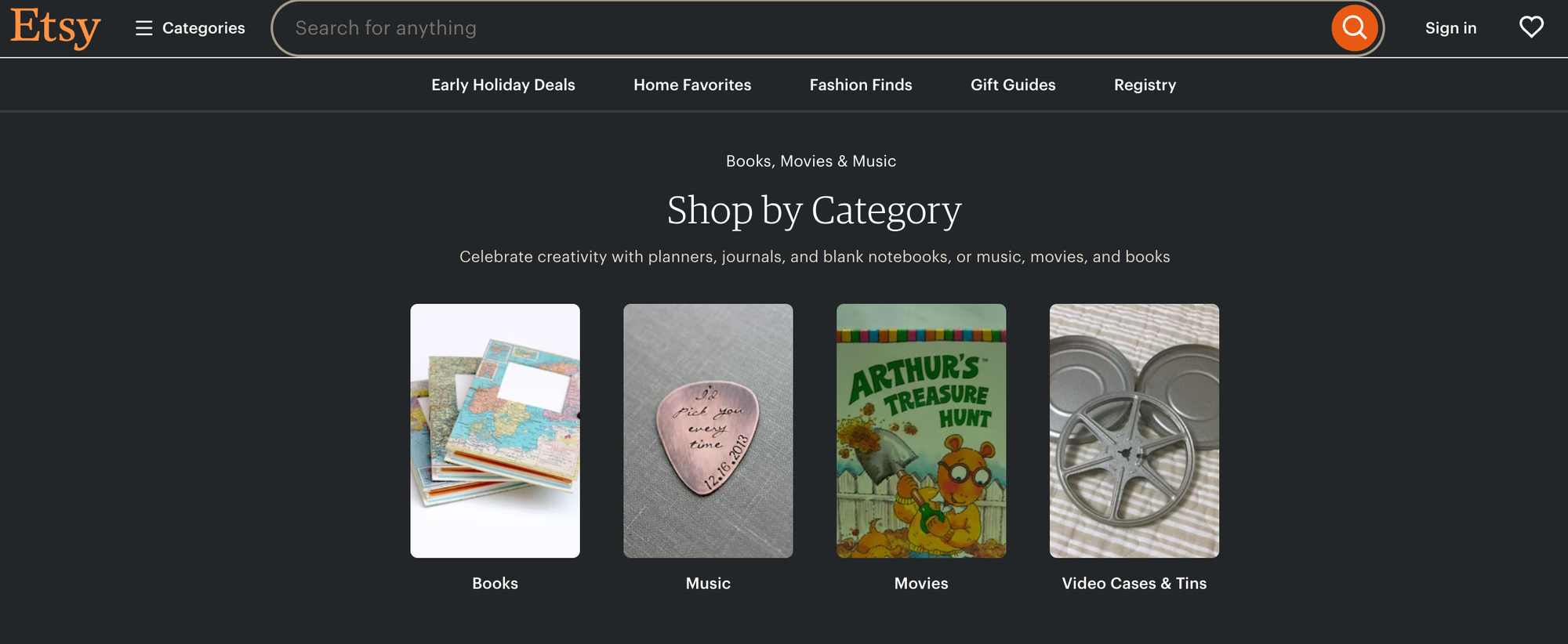 Pros:
Relatively cheap and easy-to-understand native advertisements
Ability to utilize SEO to organically rank for keywords on both the platform and Google
Free plan available
Collecting and handling of VAT of certain countries
Cons:
Still known mostly for physical, handmade products
Saturation and price wars amongst popular product categories
Delivery of products can confuse buyers who might still be expecting a physical copy mailed
Only good for certain niches
Confusing and extensive fees
Originally founded as a marketplace exclusively for handmade items by artists in 2005, Etsy has evolved to include digital products in recent years, namely planners or digital templates across various niches. Additionally, sellers can advertise merchandise or artwork that is printed on demand and fulfilled via dropshipping.
While the platform has become more popular for digital products, many buyers still expect physical products and might be confused when buying a digital product, even if the product is correctly described.
One of the biggest benefits of Etsy is its free plan and a relatively cheap premium plan of $10/month. Etsy also handles VAT on digital items purchased in most countries. Fees, however, are confusing and extensive and include a 6.5% transaction fee, a $0.20 minimum fee per sale, and an additional 12% offsite marketing fee for sellers who process over $10,000 in sales per year.
Udemy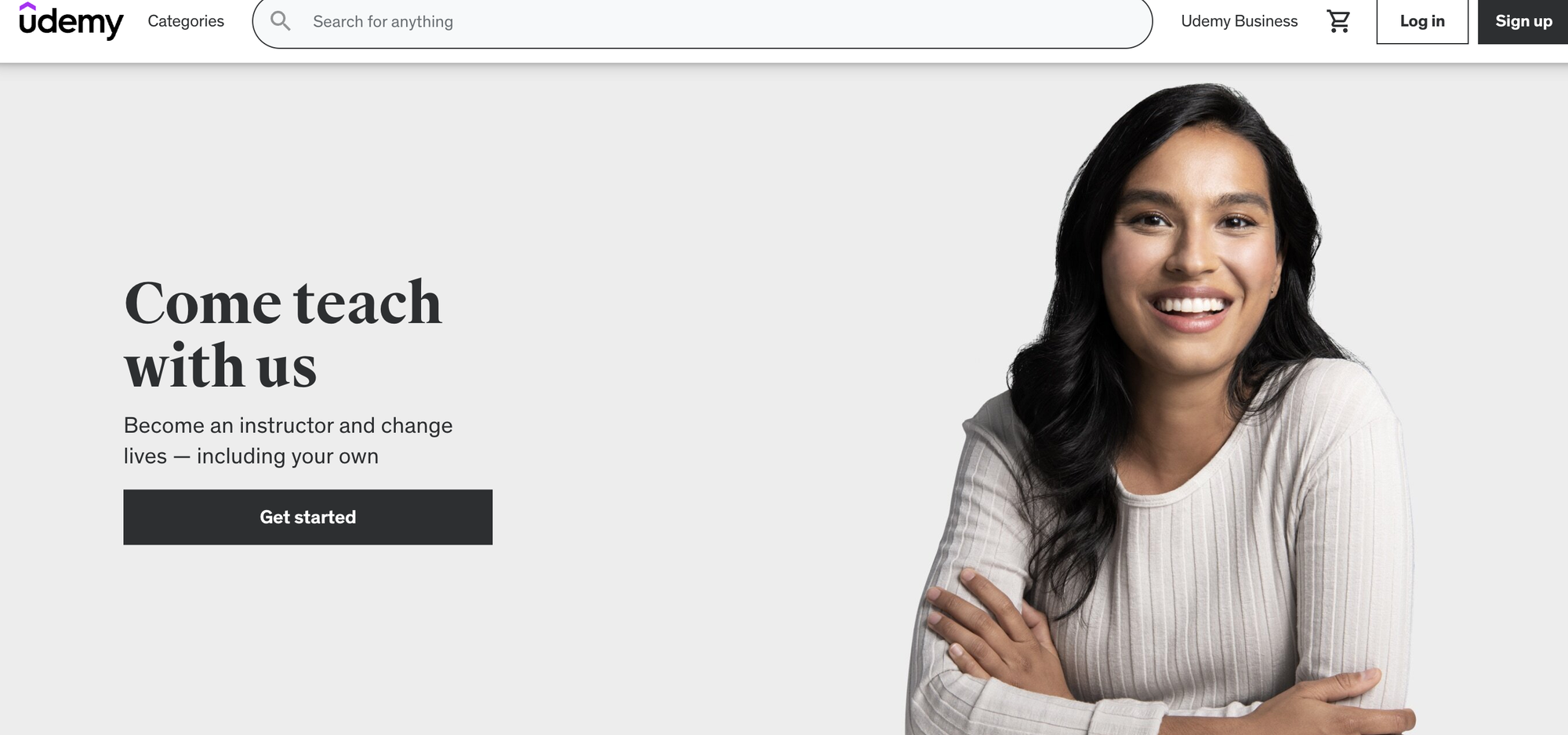 Pros:
Trustworthy and historic resource that many know by word of mouth
Easy-to-follow system for uploading content
Public search engine with high traffic volume makes it possible to reach new students
Free for an unlimited number of courses
Cons:
Promotions and discounts that are out of your control can significantly cut down your pricing without prior consent
Popularity is quickly fading as modern solutions are adapting to the market better
Abundance of high quality, low cost, or free courses makes breaking in as a new seller difficult
While it used to be the go-to platform for independent online course selling, competition has been chipping away at Udemy's market dominance and it has now become a place where people go for mostly discounted and free courses.
Sales are out of the control of sellers and can give significant discounts, regularly 75% or more, and sellers only receive a small portion of the proceeds of the post-sale transaction, meaning that a course originally priced at $50 can be taken down to less than $5 in revenue per order due to sales.
One perk that makes up for all the downsides is that it is entirely free to list and host as many courses as you'd like, so Udemy can be a good environment for testing and validating ideas.
Skillshare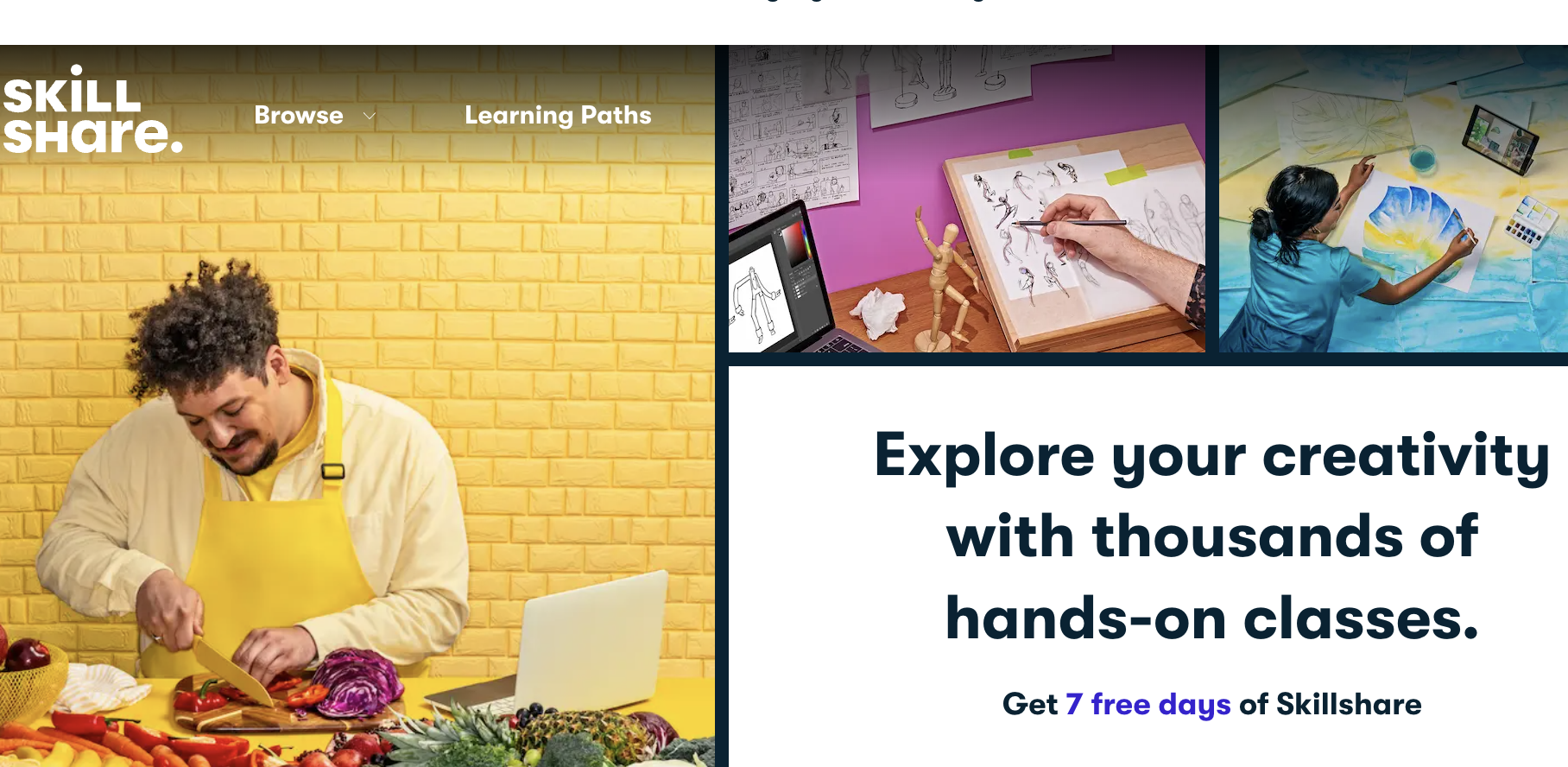 Pros:
Free to create and sell courses
Unique revenue share model and royalties
In-platform marketing for quality courses
Strong student base
Cons:
Inability to set higher prices
Could water down brand value as courses are offered amongst many others
Limited to selling online courses
Skillshare is a digital products platform that is focused primarily on education and the student experience. It offers an array of courses for those who choose to sign up for a monthly membership, similar to how Netflix offers a library of videos to paying subscribers.
For digital product sellers, the platform has a unique monetization model based on course popularity and viewership that is similar to how YouTube pays its creators. However, instead of a share in the ad revenue, you will get paid a royalty of the membership fee that customers pay–Skillshare reserves 30% of the membership revenue for instructors. The estimated income range you will make as a course creator is between $0.05 and $0.10 per minute watched per student.
Because the platform has a strong focus on recruiting students and driving membership revenue, it wants to incentivize talented and knowledgeable creators with perks like no fees and a competitive revenue share.
Teachable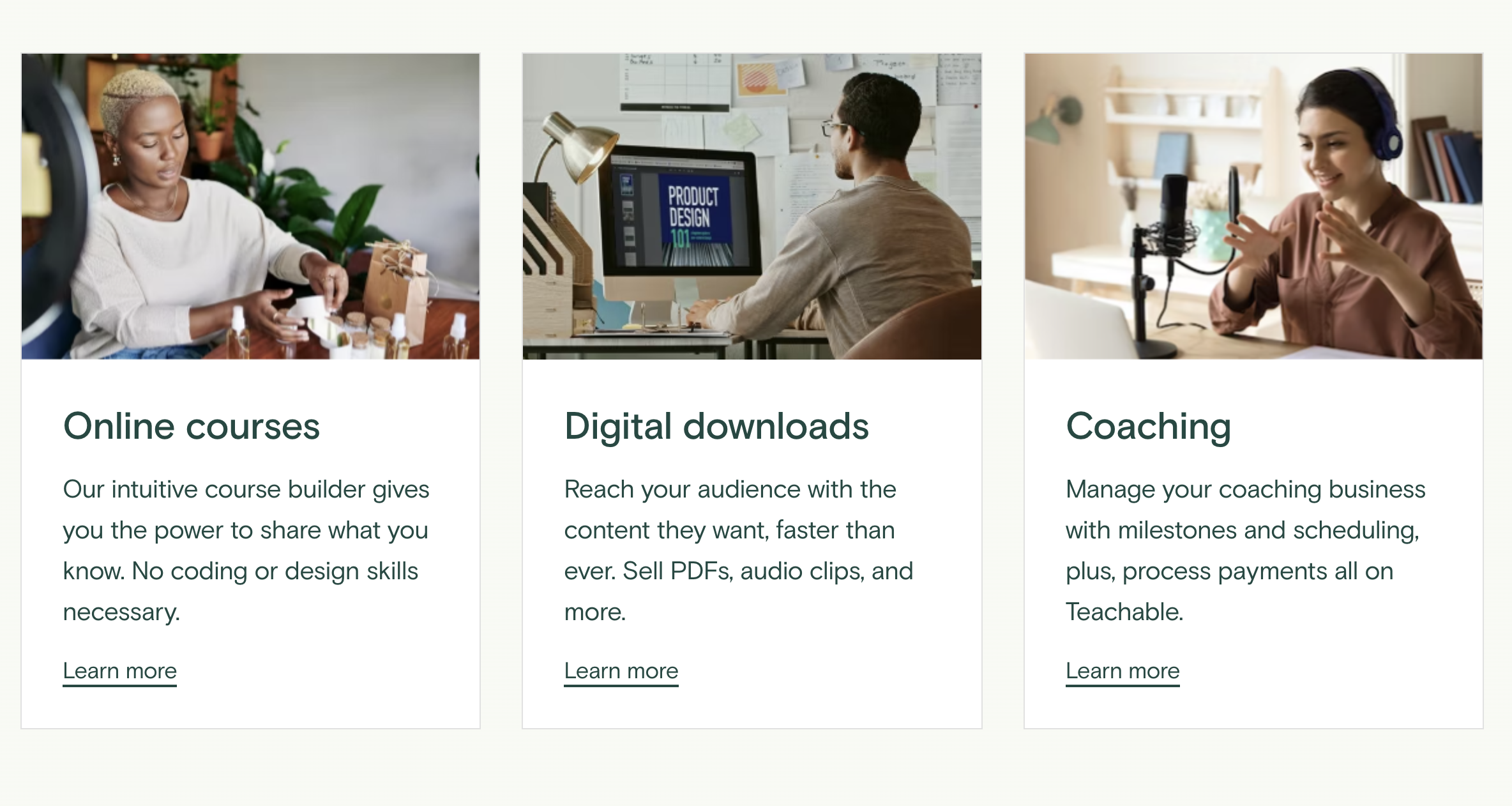 Pros:
Professional design
Easy-to-follow templates
Reputable platform with strong word-of-mouth
Free plan available
Cons:
High transaction fees unless paying for an expensive plan
Limited customization
Can only sell online courses
Teachable is a resource for online course sellers who want a professional and easy-to-design solution. It is most similar to and a direct competitor of Thinkific. Because of its strong marketing efforts toward students, the platform has a word-of-mouth advantage and SEO advantages.
Sellers can sign up with a truly free plan, but the transaction fees for the free plan are set at a high 10% + $1 per sale. Although plans with no transaction fee exist, their monthly cost starts at $119 monthly, making it only worth it for higher volume sellers.
Creating a course with Teachable is fairly simple with an easy-to-follow template, but further customization is limited. Instructors are easily able to make quizzes and upload supplementary files for student convenience.
EasyDigitalDownloads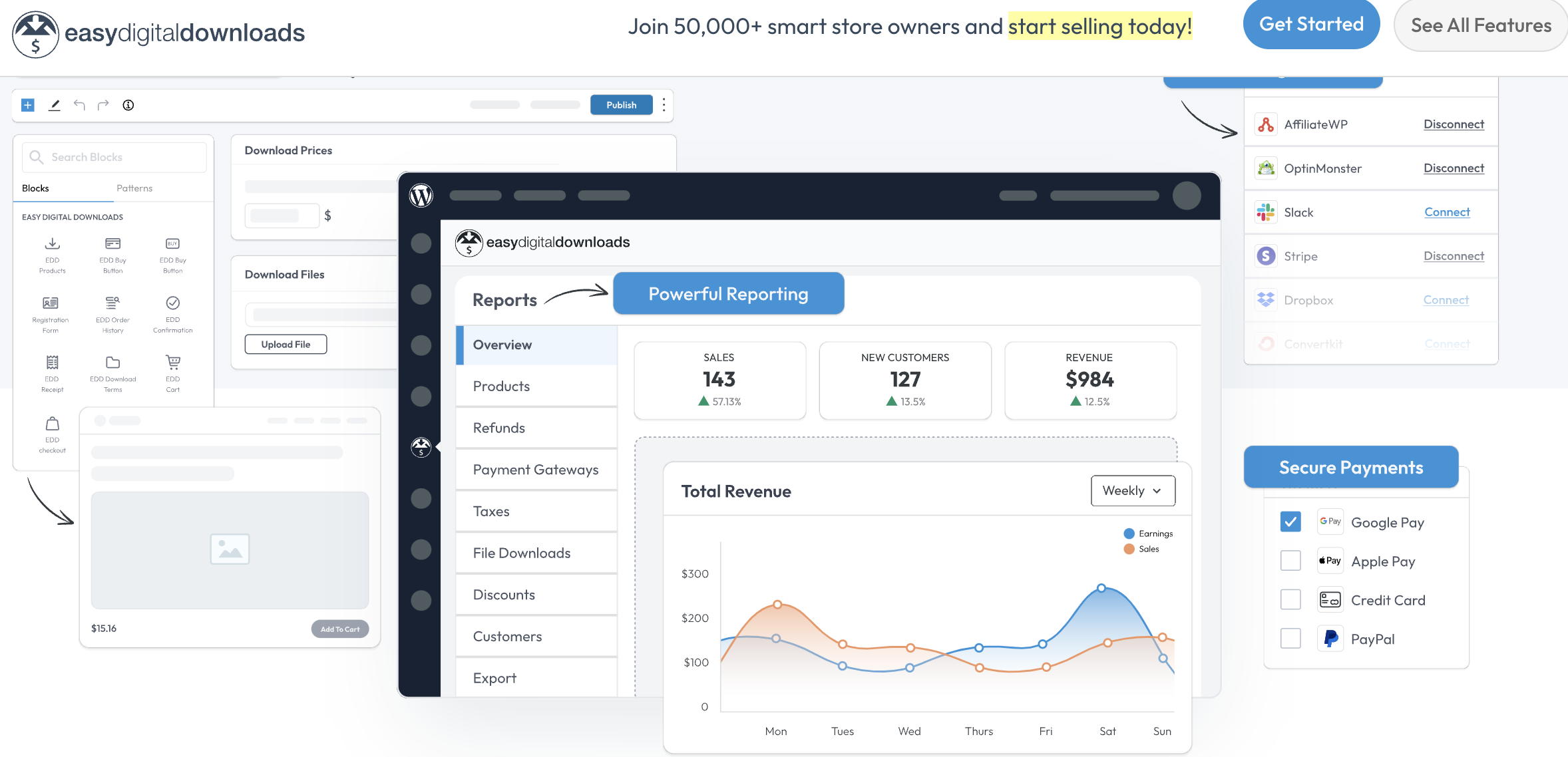 Pros:
Secure hosting, storage, and delivery of many different types of digital files
Highly customizable
No transaction fees
Large variety of customer payments accepted
Cons:
Sold only as a Wordpress plugin, so limited to those who are on it
No free plan, cheapest plan is $99 paid upfront annually
Lackluster customer support
EasyDigitalDownloads has a mission to live up to its name, and it does a fairly good job at it with easily hosted private digital files that are seamlessly delivered to customers. However, the platform is limited to Wordpress, which means that you need to have a higher degree of technical know-how than many of the other platforms mentioned which are largely low or no-code to create a professional-looking course page. Those that hire a developer or know how to code will be able to customize EDD fairly extensively.
The platform supports the selling of files in multiple digital formats, including PDFs, videos, and audio. There is no free plan, and prices start at $99 per year. A variety of payment gateways can be integrated, including Apple Pay and PayPal Credit, and there is no additional fee on top of the standard payment processing.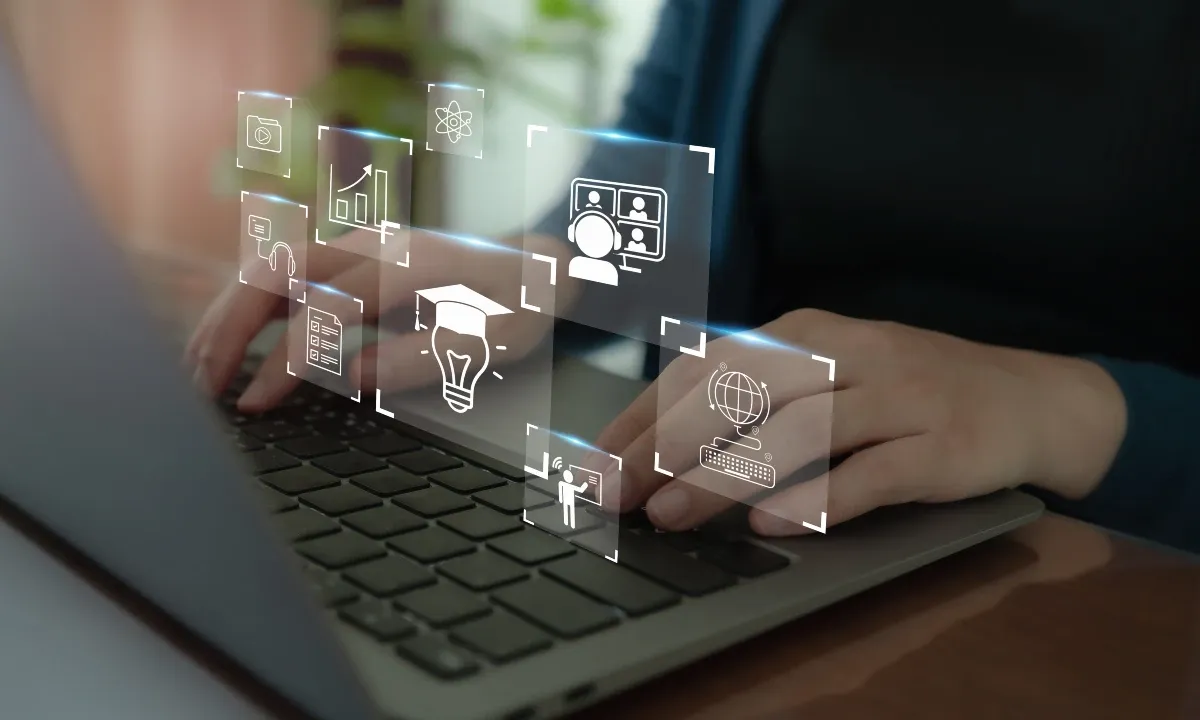 Finding the Right Digital Product Platform for You✅
Picking a platform to sell your digital product on is an important early consideration that can make or break the foundation for long-term business success.
In order to make an educated decision on what the best digital product platform is for you, you need to consider the following factors:
Storage and hosting
One of the most important considerations when choosing your platform is the storage and hosting that your platform provides for selling your digital products. The products should be stored and delivered in a secure manner, and it should be easy for paying customers to access product and at the same time difficult for non-paying customers to find their way in or have paid, private products shared with them.
The digital products need to be privately hosted behind a paywall, with authentication or license key granting if applicable.
Integrations
While you can direct customers to a digital products platform outside of your business website, it is more professional to be able to integrate the platform in the backend of your existing site with an API. Integrating a payment gateway that is native to your chosen platform is an added perk that simplifies the process for both you and the customer.
Fees
One of the factors that will affect your bottom line and profitability is the fee associated with selling your product. These can include both listing fees and individual transaction fees which are on top of any fees that are associated with payment processing. Be sure to sign up with a platform where the fees are reasonable and transparent, and try to ask or research any hidden or unexpected fees that a platform might have before signing up with them.
Customer service
No matter how easy a platform might initially seem to be to use or how well it might be working initially, you will inevitably run into an issue that will require customer service support.
The worst customer service will require submitting emails or tickets and potentially waiting for days, and the best will offer live and knowledgeable chat with real customer support agents via chat, phone or, at the highest end, video.
Reviews
Be sure to read thorough and unbiased reviews from real users of digital platforms. In addition to reading firsthand experience via Googling, browse forums and watch video reviews of whatever platform you are considering. Video reviews will provide an added benefit of seeing the user interface and process for sellers.
In addition to checking for reviews of the platform itself, your platform should make it easy to display and highlight customer reviews of your own product. It should also be easy for customers to leave reviews whenever they want to. Reviews are among the most important factors when it comes to the conversion rate of your product.
Start Selling Digital Products Today With Whop!🤑
If you want to join the group of modern entrepreneurs who are taking advantage of the opportunity to participate in the multi-billion dollar industry of digital products, join the community of sellers using Whop as the home for their digital products business.
The mission statement of Whop is to be the number one marketplace for digital products, and the stats are backing this with nearly $200 million in seller revenue and over 3 million memberships just two years after our founding.
👉 You can join here today – it takes less than 10 minutes to sign up and we have fast-responding live support to answer any questions that you might have along the way!
---
Selling Digital Products FAQs
Let's wrap up with some of the most common questions that come up regarding digital products. Hopefully, these answers will give you the confidence to proceed and start your business sooner rather than later!
What kind of idea do I need to sell a digital product?
Digital product ideas can range from educational to useful, the former of which will take the form of an eBook, other online course, or membership, and the latter taking the form of SaaS or another form of software that might include a plugin for an existing company like ChatGPT.
Pick an idea that you are good at in a niche that you have a competitive advantage in knowledge of. Competition is fierce and consumers are becoming more savvy, so having an authentic brand driving your idea will allow you to stand out.
Is selling digital products difficult?
While selling a digital product can be a fairly simple part-time side hustle, if you want to scale to a liveable income, you will have to assume the role of a business owner who needs to wear numerous hats. Playing this role well is not easy, as it includes carrying out the continuous development of quality products and the marketing of them, all while warding off competition.
Despite the difficulty, selling digital products can be incredibly rewarding as it has the potential to offer significant income and a flexible working schedule.
How much expertise do I need before I sell a digital product?
If you have been paid as a professional in any niche, you can likely make a digital product in it. Use the thought exercise of what topic someone would buy you lunch for to discuss as a rule of thumb for justifying the selling of your skill.
The more expertise you have in a niche, the greater your advantage will be amongst the competition, so be sure to strive for excellence rather than just being good enough when you create your offering.
How much money can I make selling digital products?
While income will vary wildly based on how much effort you put into your business and how big and hungry of a market segment you are targeting, it is possible to make substantial income selling digital products.To roughly project your digital product income, multiply your product price by your expected converting customer base, which will equal your overall reach times your conversion rate, and project it to a realistic period of time.
For example, if your eBook is $10, and you expect to reach 100,000 in 6 months with a conversion rate of 0.3%, you will have a converting customer base of 300 customers, who, at a $10 purchase price, will drive $3000 in revenue. If you continue to reach 100,000 people in a shorter time period, for example, on a monthly basis, with the same conversion rate, you can make $3000 per month by selling 300 books per month. Tweak these numbers up and down based on industry standards to project your digital product income.
Is it really possible to make passive income with digital products?
It is possible to get your digital products business to a certain point that you won't need to actively work on it, which will bring you to a certain degree of passive income. However, in order to reach this level, you must take the time to set up a team and systems that will allow you to sit back and collect income without having to sacrifice your schedule.
The income will never be truly passive in the way that collecting interest or something similar because you will always need to maintain your systems and be on call when necessary, but it is certainly possible to make money around the clock as your products sell in the background of your daily life–especially if you are selling a recurring membership.
Can I sell digital products if I am already selling physical products?
Some physical product business owners are drawn to the digital product model for the positive reasons that we previously described, so they wonder whether or not they can incorporate digital products into their business model.
One of the easiest transitions from physical to digital products is selling an NFT, however, with current market sentiment and loss of value in many NFTs, you won't be able to charge a high price or expect much profitability. Selling supplementary guides or courses to your niche can work well, but be sure to ask your audience in the form of a survey or via email to see if they have an interest in a digital product before launching it to them.
How can I market my digital products?
Effective marketing of your digital products can mean the difference between a part-time side hustle to a full-fledged, highly profitable business. While it's easy to lose money in things like ad campaigns or sponsorships, one can and should take advantage of the free reach that organic platforms provide.
Creating free and valuable educational content on Instagram, TikTok, YouTube, or on a website indexed on Google will open up an organic marketing channel which takes a little more investment than your time to create the content to distribute on the platform. The best method to market your digital products will be to distribute content on a regular basis, get your initial traction from platforms, and then move on to ads or sponsorships.
Additionally, where you list your digital product will help immensely in your marketing efforts. The reputation and trust that comes with a marketplace can greatly increase your conversion rate and give you exposure to a brand-new audience–these are all perks that come with signing up with Whop!